What The Cast Of Step Brothers Is Doing Today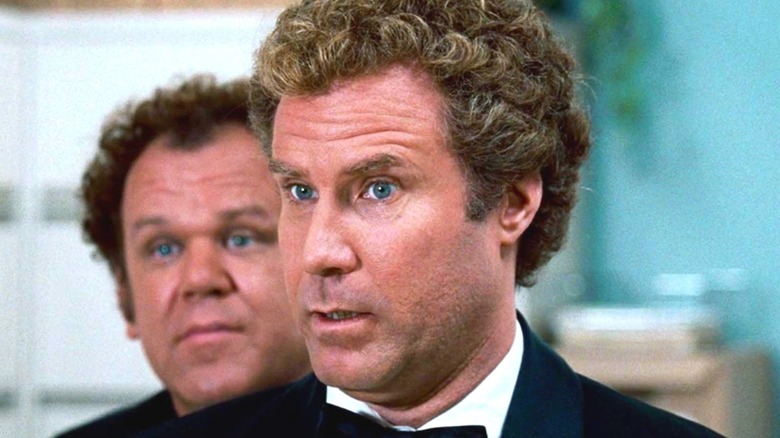 Sony Pictures Releasing
For a brief, shining moment, feature-length comedy reigned supreme in the culture. Thanks in large part to the films of Will Ferrell, comedy was big business. Ferrell starred in such flicks as "Old School," "Talladega Nights," "Anchorman," and "Step Brothers," to major box-office and critical acclaim. "Step Brothers" was the apotheosis of the manchild trope in these comedies. Two adult men living with their sole remaining parent, Brennan (Ferrell) and Dale (frequent collaborator John C. Reilly) are forced to grow up when their folks get married. 
"Step Brothers" featured scads of talented performers in roles big and small. The courting parents at the center of the film were played by serious thespians Mary Steenburgen and Richard Jenkins. The main cast was rounded out by people who became mainstays of comedic television. And almost every one-scene character was played by an Upright Citizens Brigade regular, including Seth Morris, Danielle Schneider, and Ian Roberts. After a decade of toying with the idea, it appears a sequel to "Step Brothers" is finally off the table. Here's what the cast has been up to since that fateful Catalina Wine Mixer.
Will Ferrell continues to helm big comedies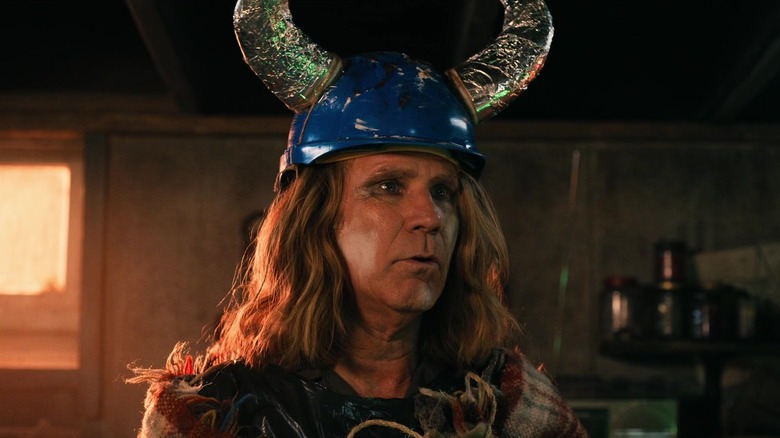 Netflix
Will Ferrell was one of the two leads with arrested development in "Step Brothers," playing Brennan Huff. Brennan's mother falls for Dale's father, which forces the two men to live in close quarters. After a contentious start, the relationship blossoms when Dale stands up to Brennan's jerky younger brother Derek (Adam Scott). Ferrell and co-star John C. Reilly bring exactly enough sweetness to the roles, allowing viewers to root for these two losers instead of resenting them for coasting through life. Hidden sweetness, after all, is one of Ferrell's specialties. 
Ferrell's career has slowed a little since his "Anchorman" heyday, but he's still one of the few comedy dudes who can open a movie. After "Step Brothers," Ferrell starred in movies that both soared ("Daddy's Home," "The Lego Movie") and flopped ("The House"). In 2018, Ferrell reunited with his "Step Brothers" co-star Reilly for "Holmes & Watson." The movie was neither a critical nor a financial success, but then again, they can't all be winners. In 2020, Ferrell starred opposite Rachel McAdams in "Eurovision Song Contest: The Story of Fire Saga," which was nominated for an Academy Award. Never count Will Ferrell out.
John C. Reilly joins the Disney canon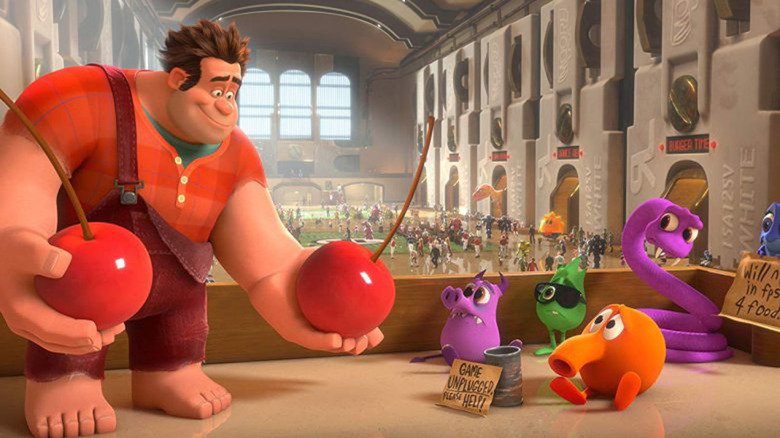 Disney
John C. Reilly's Dale Doback made a big impression on the Huff family. After confronting Brennan's little brother Derek, Dale earns the admiration of both Brennan and Derek's wife. She demonstrates her affection more ... directly, starting an affair with Dale. After Dale and Brennan's shortsightedness causes their parents to separate, Dale works for a catering company. He learns enough on that job so that when "Prestige Worldwide" reforms, it can be a successful karaoke/catering company.
Before working on Frat Pack movies with Ferrell, Reilly was mostly known for his dramatic roles. He'd had breakout parts in Paul Thomas Anderson joints like "Boogie Nights" and "Magnolia." After "Step Brothers," Reilly continued to keep fingers in both the comedy and drama pies. Reilly starred in the Adult Swim show "Check It Out! with Dr. Steve Brule," spun off from "Tim & Eric" and produced by Tim Heidecker and Eric Wareheim. But he also had key roles in movies that blurred the line between comedy and drama, like the zombie dramedy "Life After Beth" and Yorgos Lanthimos' "The Lobster." Perhaps his biggest role has been in joining the Disney canon as the titular Ralph in "Wreck-It Ralph." Not everyone can go from licking dog turds to starring in Disneyland parades, but Reilly can.
Mary Steenburgen explored music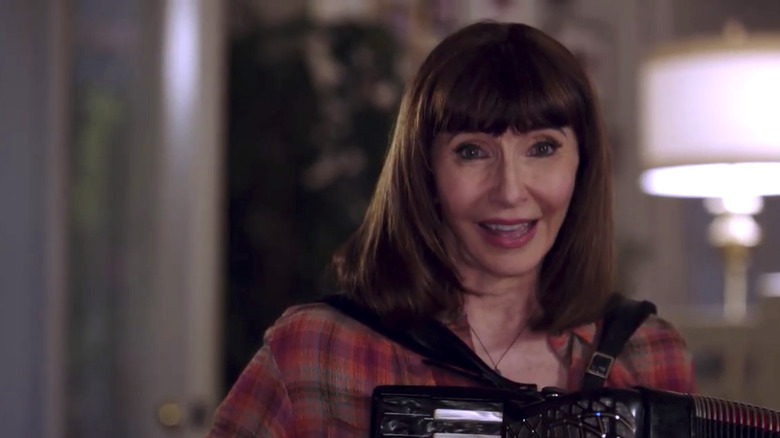 Sagawards2021/Getty Images
Mary Steenburgen has one of the hardest parts in any wacky manchild comedy, that of the long-suffering mother. It's hard to find the balance between loving your idiot son, having self-respect, and being funny. As Nancy Huff, Steenburgen manages to make her character human and allows her to get frustrated with her screw-up son when it's appropriate. Other actresses who have threaded that particular needle include Sissy Spacek ("Hot Rod") and Kathy Bates ("The Waterboy"). That all three are Oscar winners should tell you something about the difficulty of the mom role in a bro comedy.
A year before "Step Brothers" came out, Steenburgen was put under anesthesia for minor surgery on her arm. After waking up from surgery, her brain had been completely transformed. "The best way I can describe it is that it just felt like my brain was only music, and that everything anybody said to me became musical," the actress told IndieWire. "All of my thoughts became musical. Every street sign became musical. I couldn't get my mind into any other mode." Steenburgen wrote the end song in the 2018 film "Wild Rose," which earned her a Critics Choice Award (per Billboard).
Richard Jenkins keeps earning critical acclaim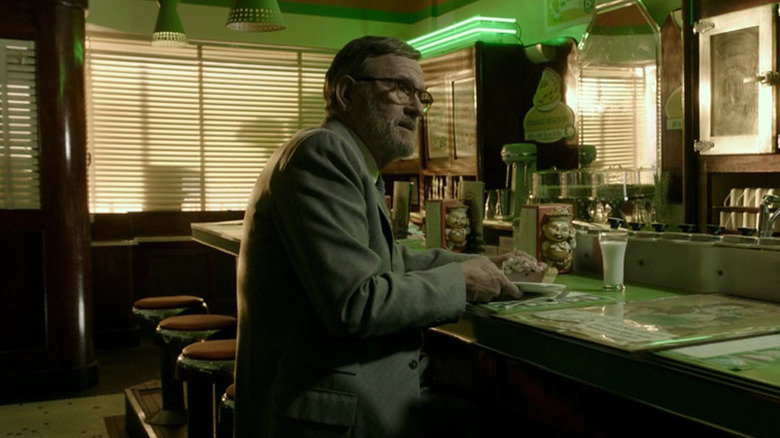 Fox Searchlight
Richard Jenkins plays the male foil to Steenburgen's Nancy. As Robert, the widowed dad of Dale, Jenkins has to sell affection for his gigantic baby of a son while still seeming at all normal. Robert is also responsible for getting the stepbrothers to reunite, after their attempts at growing up goes too far and kills their inner children. Jenkins is an innately grounding presence in any movie he's in, which is maybe why he keeps showing up in truly wacky fare.
After "Step Brothers," Jenkins used his no-nonsense charm to great effect in "The Cabin in the Woods." He played one of the two men controlling the bizarre ritual sacrifice of college coeds. Jenkins and Bradley Whitford play the humor and pathos of their roles, two guys whose job is to save the world by murdering a few twentysomethings. Jenkins also used his grounding superpowers to bring pathos to the sci-fable of "The Shape of Water." The Best Picture-winning film is about a deaf woman's love affair with a fish dude, so Jenkins' presence really helped balance the tone.
Adam Scott is the world's best supporting player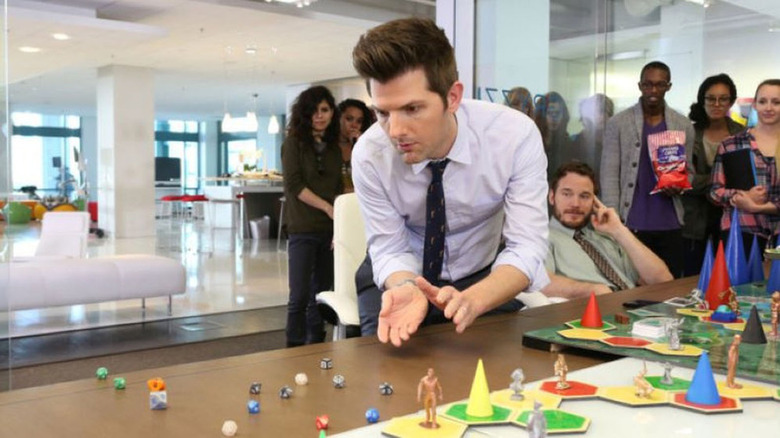 NBC
As the uptight younger brother Derek, Adam Scott is as close as "Step Brothers" gets to having a villain. You know, besides the two brothers' general lack of adulting skills. Derek should be a voice of reason in his family, but he's so smug about being right that it's hard to actually take his side. Before "Step Brothers," Scott had played lots of supporting roles in films like "Monster In Law" and TV shows like "Boy Meets World" and "Veronica Mars." After "Step Brothers," Scott became one of the more well-known TV comedians of his generation.
Scott joined the cast of "Parks and Recreation" in Season 2. As bean counter Ben Wyatt, Scott initially clashes with Amy Poehler's Leslie Knope. But romance blossoms and Ben became the calzone-munching, Dunshire-coning romantic lead we all needed. Besides "Parks and Rec," Scott led the cult classic "Party Down" on Starz, saw a gremlin on the side of his plane on Jordan Peele's "Twilight Zone," and got demonic on "The Good Place."
Kathryn Hahn was Agatha all along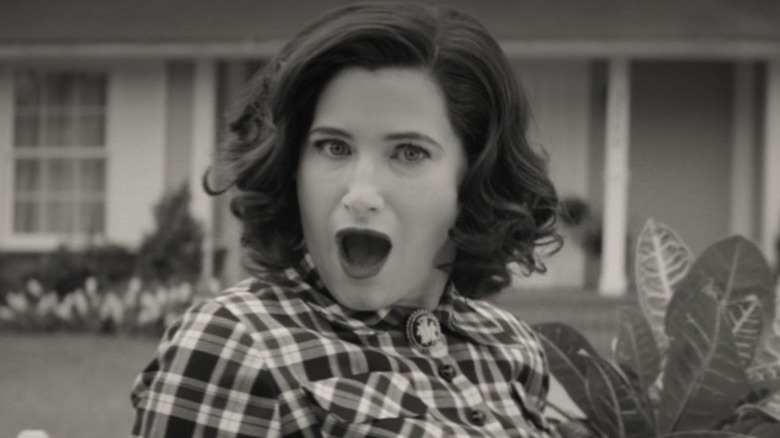 Disney+
2021 was the year everyone figured out how great Kathryn Hahn is. The comedic actress has been the secret sauce in some of the 21st century's best comedies, and this was prominently on display in "Step Brothers." As the borderline unhinged and sexually frustrated wife of Derek, Hahn excels.
After "Step Brothers," Hahn worked with basically every comedy clique working today. She joined the ex-State players in "Wanderlust," playing the pregnant Karen. She also guested against her "Step Brothers" hubby Adam Scott on "Parks and Recreation" as political operative Jennifer Barkley. Hahn is one of the three leads in the "Bad Moms" franchise, along with Kristen Bell and Mila Kunis. Hahn has helmed two prestige dramedies where she plays a middle-aged woman exploring her sexual prime: "I Love Dick" for Amazon and "Mrs. Fletcher" for HBO. However, she stole "WandaVision" as everyone's favorite wicked witch/wacky neighbor, Agatha Harkness.
Andrea Savage had her own TV show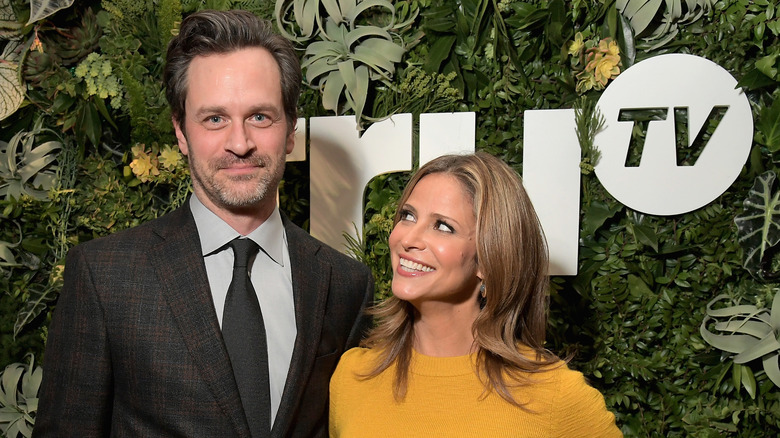 Charley Gallay/Getty Images
Andrea Savage played Brennan's therapist/love interest Denise, a huge conflict of interest that pops up in media all the time. As a therapist, Denise is always speaking truths that no one is ready to hear, calling his mother an enabler and maintaining professional boundaries with Brennan. That is, until she doesn't. But Savage is adept at playing less-than-savory characters.
After "Step Brothers," Savage starred in the "Hotwives" series on Hulu, which parodies Bravo's "Real Housewives" franchise. In "Hotwives of Orlando," she plays Lisa Vanderpump expy Veronica Von Vandervon. Like Vanderpump, Veronica is vaguely British and is very emotionally involved with her dog. Meanwhile, she's more of a Yolanda Hadid parody in "Hotwives of Las Vegas." Savage also starred in her own show on TruTV, "I'm Sorry." Savage created the series, which is about a wife and mother who constantly puts her foot in her mouth. "I'm Sorry" ran for two seasons, but was cancelled due to the COVID-19 pandemic, according to Deadline.