WandaVision's Kathryn Hahn Weighs In On The Agatha Harkness Rumors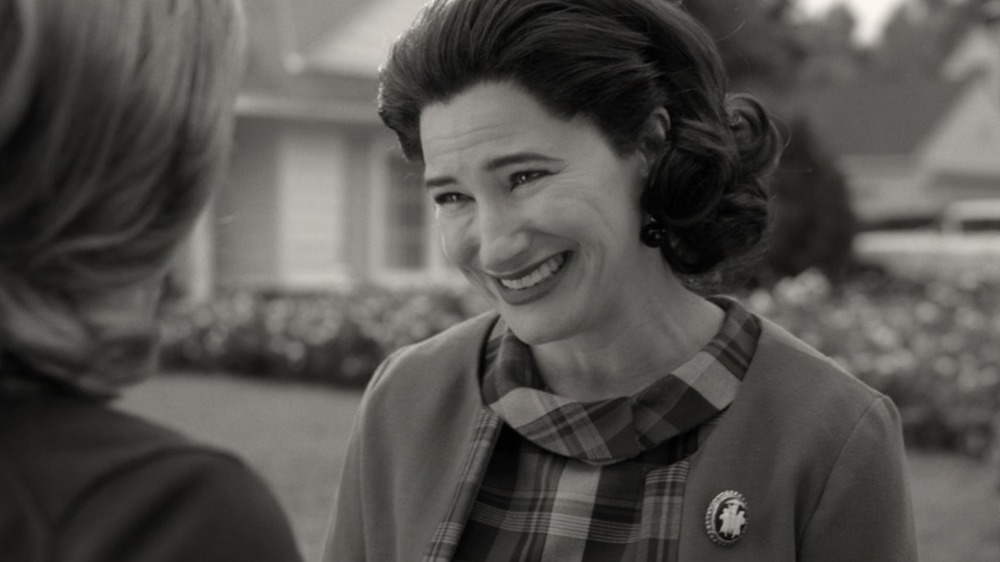 Marvel Studios/Disney+
Contains spoilers for WandaVision
When it was first announced that various Marvel series would debut on Disney+, there were many reasons to be excited. Shows like The Falcon and the Winter Soldier, Loki, What If...?, and more promised fresh adventures with popular characters from the film side of the Marvel Cinematic Universe. However, none of the series slated to come out brought as many questions with them as WandaVision, which has been the first property out of the gate for Marvel's Phase 4. 
The WandaVision trailer promised something unlike anything we had seen before. Months prior to the first episode airing, MCU fans were wondering how Vision (Paul Bettany) was around when Thanos (Josh Brolin) had killed him in Avengers: Infinity War. Another mystery formed when fans speculated as to the real identity of Wanda and Vision's so-described nosy neighbor Agnes, played by Kathryn Hahn. By all accounts, it appears as though she's playing a prominent role in the series, and one of the most popular fan theories to emerge in recent months is that Hahn is actually playing Agatha Harkness, a powerful witch from the Marvel comics. 
Agatha's had more than her fair share of run-ins with Wanda Maximoff over the years — she even served as Wanda's witchy mentor — so it would make sense for her to appear in a series with Wanda in the lead. While plenty of answers still need to be revealed in the show, Hahn recently took some time to weigh in on the rumors, and one thing's abundantly clear: the remainder of WandaVision is going to be one wild ride. 
Kathryn Hahn says there are 'so many levels of surprises' left to come on WandaVision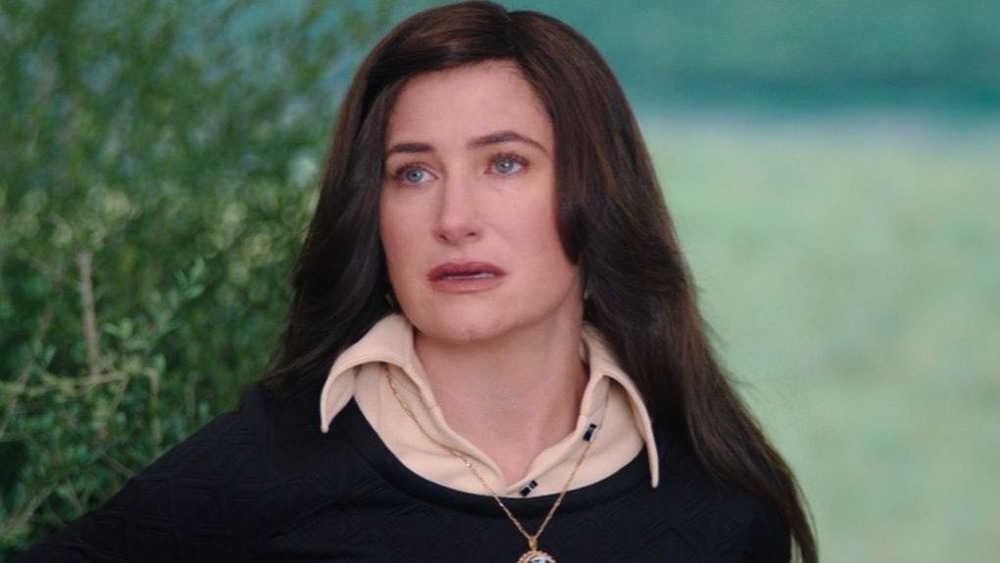 Marvel Studios/Disney+
Ahead of the premiere of WandaVision episode 4, Hahn sat down with TVLine to discuss her character — and she revealed that she's well aware of the theories connecting her to Agatha Harkness. Naturally, Hahn didn't come out and just say whether or not Agnes is a witch, but she did hint that there's more to Agnes than meets the eye. 
"I can safely say that there are so many levels of surprises, and so many layers, that people will not see coming," Hahn teased. This is in line with previous comments made by her co-star Paul Bettany, who portrays Vision; the actor promised some big twists and turns, including the arrival of a major actor. 
The idea that people aren't going to see what's coming does seem to promise that Agnes' true identity may not be precisely what people have in mind. Perhaps WandaVision has made some changes to Agatha Harkness' background, or maybe Agnes makes a metaphorical and/or literal deal with the devil (possibly Mephisto, a character already connected to Wanda and Vision's twins Billy and Tommy) in a later episode to gain her powers in the first place. 
No matter how the story unfolds, it seems everyone involved with WandaVision agrees that the show will be a rollercoaster ride until the very end. As Hahn told TVLine, "I am just so excited for fans — and people that are new to this world — to go on the ride. It's just a real, multi-level trip, and I'm so excited for people to go on the journey."