The Fake Parks And Recreation Product That Briefly Became A Reality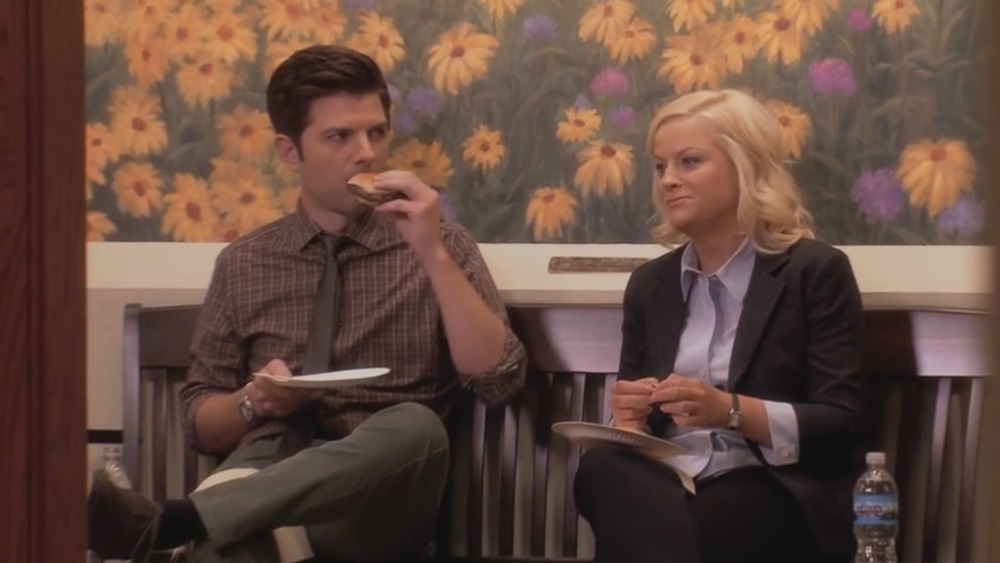 NBCUniversal
A mockumentary sitcom is only as memorable as its characters, and Parks and Recreation excels in that department. Endless quotes from Ron Swanson (Nick Offerman) and April Ludgate (Aubrey Plaza) ring loud in the Internet's hallowed halls; Leslie Knope (Amy Poehler) remains a lovable beacon of earnestness; and Tom Haverford (Aziz Ansari) and Donna Meagle (Retta) continue to inspire with their mantra "treat yo' self."
Ben Wyatt (Adam Scott) is no slouch in the character department, either. Initially a guest star alongside and perfect foil to Rob Lowe's hyper-energetic Chris Traeger, Ben becomes irrevocably integral to the Parks and Rec story as early as season 3. Pawnee, Indiana is a city rife with issues Leslie alone can't solve; having a level-headed thinker like Ben on her team helps to temper and hone her idealistic enthusiasm. (And that's not to mention the fact that Ben and Leslie – spoiler alert — end up getting married.)
As viewers come to learn, however, Ben isn't as well put-together as he may seem. When he becomes temporarily unemployed, he loses all sense of direction and turns to his nerdy habits to keep him afloat. The result is one of Parks and Rec's most enduring legacies — so enduring, in fact, it translated to real life at one point.
Cones of Dunshire is a nerd's dreams come true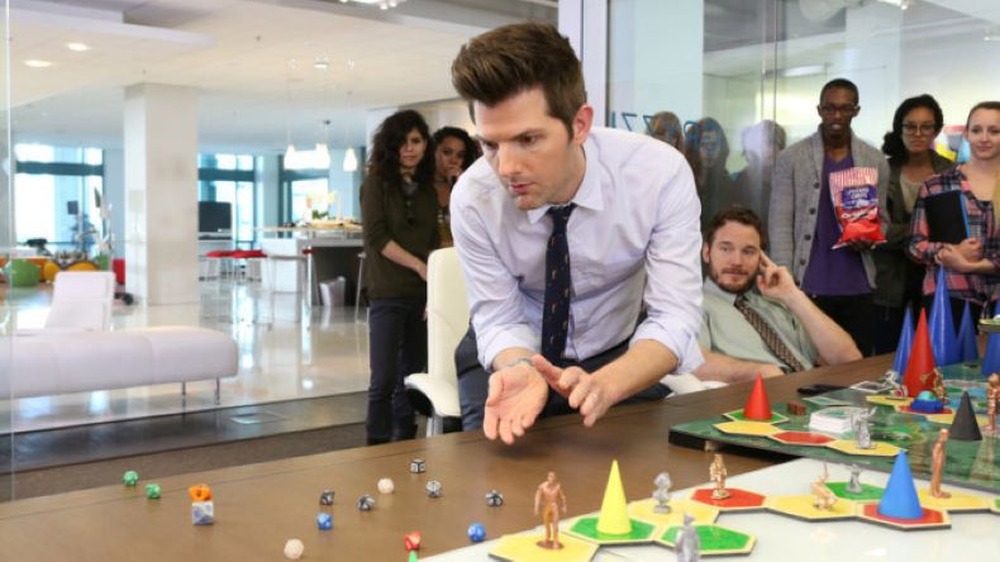 NBCUniversal
Ben never tries to hide his nerdy side, even when it comes back to bite him in the form of co-workers' unending mockery. As the man infamously connected to the "Ice Town" incident, he's able to plow through a few snide comments here and there. He's not just your everyday nerd, though. Yes, Ben can quote sci-fi films like the best of them and freaks out when Leslie gifts him with a replica of Game of Thrones' Iron Throne, but that's not where his nerdom stops.
As mentioned, Ben's unemployment injects him with restless energy, which he channels into a board game of his own making: Cones of Dunshire. Modeled after his love of real-life board game Settlers of Catan (which appears on the show), Cones of Dunshire is complicated, crazy, and colorful. Ben brings it to the accounting firm he works for at the time, and it's an instant hit with the equally-as-nerdy employees there. Later on, Cones of Dunshire gets patented, unbeknownst to Ben — and even though he hasn't played since his unemployed days, Ben's knowledge of the rules is still unparalleled.
In 2014, Mayfair Games — publisher of Settlers of Catan — and several Parks and Rec producers brought Ben's board game to life (via The Verge). In keeping with the spirit Ben is in when he first conceives the game, Mayfair's version is extremely imaginative — something someone with a lot of time and nerdy knowledge on their hands could plausibly come up with. A charity tournament was held with the game at 2014's Gen Con, raising upwards of $20,000.
Unfortunately, Cones of Dunshire has since been unavailable to the public. However, Mayfair owns the trademark for the game, so who knows? Maybe some future Parks and Rec anniversary event will see the release of a more polished version of Ben's magnum opus.