Brooklyn Nine-Nine Fans Took Their Dedication To A New Level To Save The Show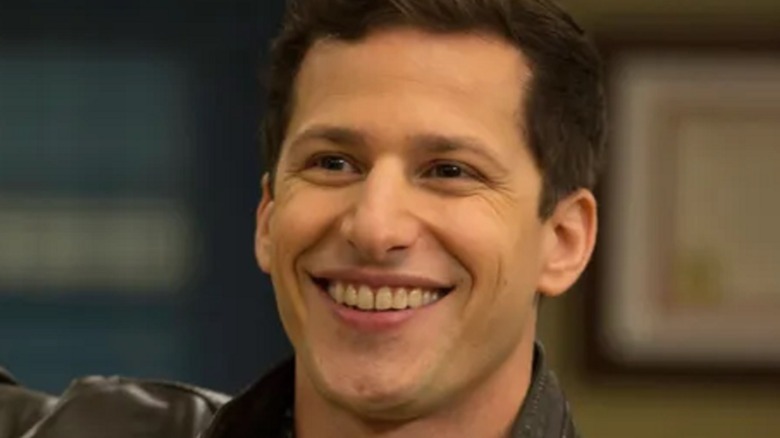 NBC
The "Brooklyn Nine-Nine" gang is ready to risk their lives (and their butts) to save each other. And the show's fans proved their own dedication when the show's very existence came under threat.
Anyone who has loved and lost a TV series knows that there's a long list of TV show cancellations that never should have happened. Shout out to "Good Girls Revolt," "Firefly," and "Castle." In most situations, viewers feel powerless to stay the execution on their favorite. However, there have been instances when rebellions from fans have inspired other studios to step in and rescue series from the chopping block. 
That's what happened when "Lucifer" fans took their dedication to a new level to save the show. And it's what happened with "Brooklyn Nine-Nine." This is how fans saved the show about the most lovable NYPD detectives to ever patrol the streets of New York (and, occasionally, Florida) and what happened behind the scenes that worked in their favor.
Brooklyn Nine-Nine fans refused to accept defeat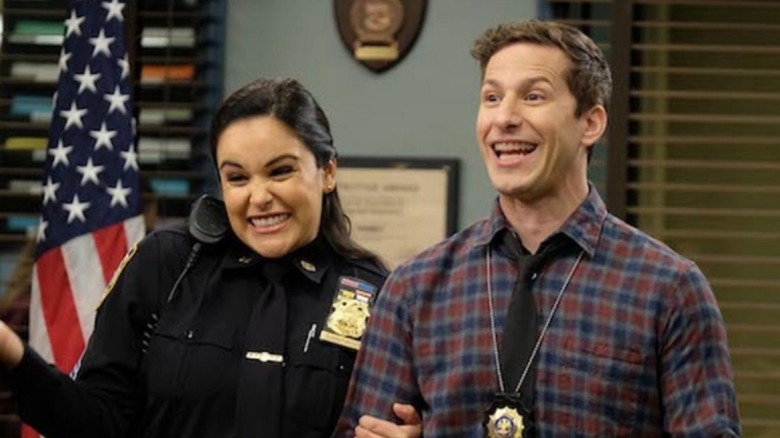 NBC
Previously, on the fight to keep "Brooklyn Nine-Nine" on the air: On May 10, 2018, with two episodes left of Season 5 (via IMDb), Fox announced that it was canceling the cop comedy, effective immediately (via Deadline). The response from fans was fast and furious. United around the hashtag #SaveB99, they took to Twitter to share their outrage. There were perfectly all-caps howls of betrayal and threats of generational revenge, and a former extra who may have just wanted to keep working but also seems to also genuinely enjoy the show.
Some celebrities even took time out of their Very Important Famous People Activities to join in the fight. A slightly unexpected gang of famous fans formed. "Hamilton" creator Lin-Manuel Miranda, Luke Skywalker/The Joker/rumored real person Mark Hamill, Samwise Gamgee/Bob-in-"Stranger-Things" Sean Astin, comedian Seth Meyers, and magical realism-loving director Guillermo Del Toro all tweeted in support of saving "Brooklyn Nine-Nine" (via Mashable). (It was reported that Miranda started a group chat, which even included a cameo from Andy Samberg, i.e. Jake Peralta himself.)
It quickly became clear that although "Brooklyn Nine-Nine" didn't generate enormous ratings — which was part of the reason Fox decided to cut it — the fans it did have were loud, proud, and ready to start the 2018 version of a pitchfork-wielding mob: a Twitter stampede.
NBC saved Brooklyn Nine-Nine — until it didn't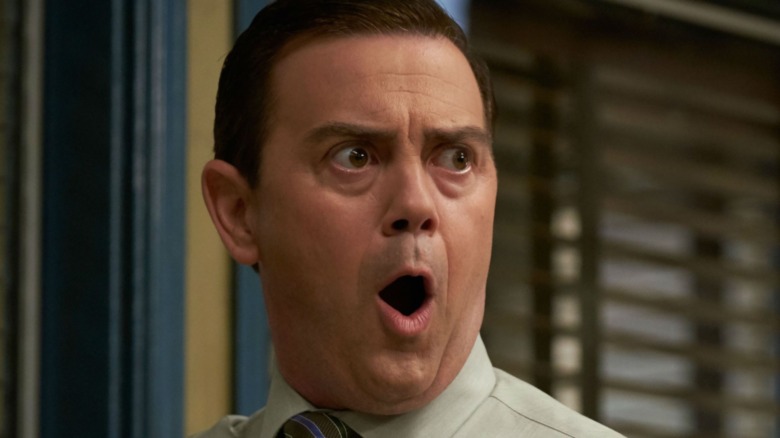 NBC
Despite the hoards of Twitter users shouting at them across the internet, Fox didn't budge. But a new (and also old) hero quickly jumped to the rescue.
On May 11, "Brooklyn Nine-Nine" co-creator Dan Goor announced on Twitter that NBC had saved the show. He added, "Thanks in no small part to you, the best fans in the history of the world!" The pitchforks came down and the cheers of "Nine-Nine!" went up around the Twittersphere.
However, as the aptly named Vulture pointed out, there were some behind-the-scenes details that made this a relatively easy choice for NBC, fans or not. As the outlet reported, NBC's sister studio Universal Television had been making "Brooklyn Nine-Nine" since before it even had a network. When the show went on the market in 2012, Fox outbid the other networks.
Back then, the main revenue stream from a new show was commercials. But by 2018, that had changed. The real reason Fox canceled "Brooklyn Nine-Nine" was that the network could only make money from commercials, and "Brooklyn Nine-Nine's" middling ratings made that unlikely. In contrast, NBC, through Universal Television, could make money from streaming deals. Knowing that the show had a dedicated (somewhat maniacal) fanbase that was likely to want to re-watch it over and over made that even more appealing.
Like all good things and most bad ones too, "Brooklyn Nine-Nine" had to come to an end. In February 2021, NBC officially canceled the show, and this time, the cast and creators — if not the fans — seemed to accept it. This is probably because the real reason "Brooklyn Nine-Nine" is ending is related to the shift in public perception around policing. "Nine-Nine" had its moment, twice, but its run is done.