Another Star Wars Actor Has Joined Indiana Jones 5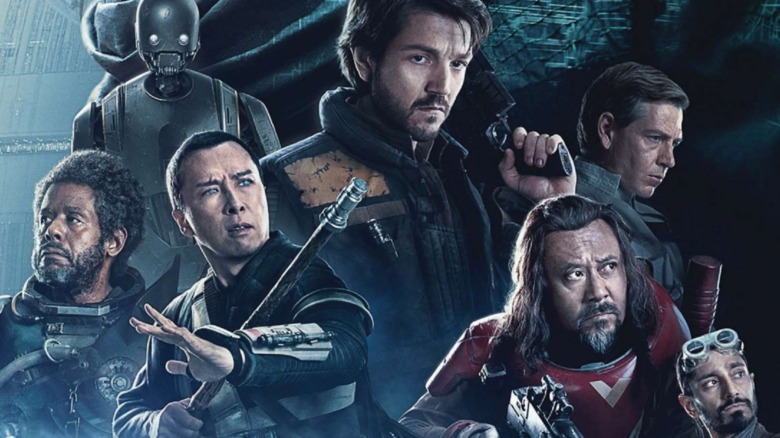 Disney/Lucasfilm
After years of behind-the-scenes turbulence, Indiana Jones 5 is finally getting off the ground in a real way. The new adventures of the world's most famous archaeologist are set to begin filming this summer, with Logan's James Mangold directing, Harrison Ford attached to reprise the title role, and the whole thing set for a tentative July 29, 2022 release date.
Over the past few weeks, Disney and Lucasfilm have been making tons of announcements about the upcoming film. In news that helped reassure fans that the new film will be in keeping with the Indiana Jones spirit despite Steven Spielberg's absence from the director's chair, John Williams, the man responsible for the original films' legendary musical themes, is confirmed to be returning as composer for Indiana Jones 5 (via Collider). And, just a few days ago, Phoebe Waller-Bridge was announced as the movie's female lead. The Fleabag creator and star is returning to the Disney-Lucasfilm family after voicing L3-37 in Solo: A Star Wars Story.
Now, as reported by Deadline, Disney and Lucasfilm have tapped yet another supporting player from a Star Wars spin-off movie to star opposite Waller-Bridge and Ford in Indiana Jones 5. Danish actor Mads Mikkelsen – who is, of course, known for tons of roles beyond his Star Wars stint — is playing a currently unknown character in the new film.
Mads Mikkelsen played insurrectionist Imperial scientist Galen Erso in Rogue One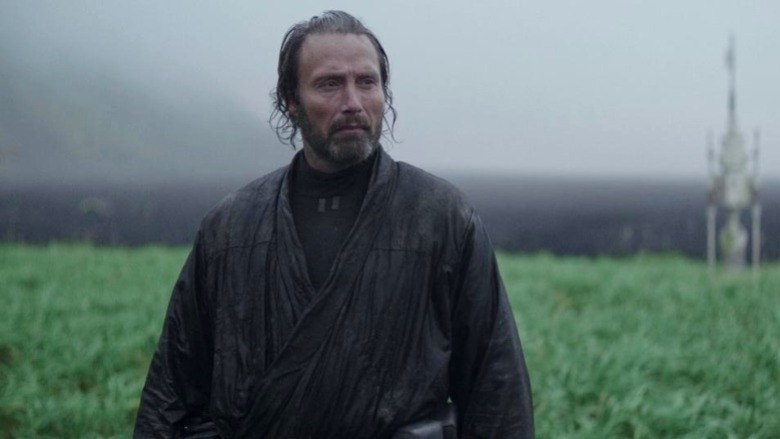 Disney/Lucasfilm
2016's Rogue One: A Star Wars Story was simultaneously a bold new effort for the Star Wars franchise and arguably the Disney-era film that best captured the original trilogy's spirit. Its story of the rebels who steal the Galactic Empire's plans for the Death Star begins at the home of Mads Mikkelsen's character, renowned research scientist Galen Erso, who's facing pressure from the Empire to complete the weapon of mass destruction. He refuses, resulting in his wife being killed, but his daughter Jyn (Felicity Jones) narrowly escapes when a Rebel friend rescues her. The film then jumps to 15 years after this event, charting Jyn and other Rebels' mission to extract Galen from the Empire so he can fill them in on the Death Star plans.
Galen and his relationship with Jyn function as the primary emotional core of Rogue One. As a brilliant scientist struggling to fight against despots exploiting his work, Galen is more conflicted and tragic than your usual Star Wars hero, which explains why the makers of Rogue One made a point of casting an actor of Mikkelsen's caliber to play him. His performance is among the most heartbreaking and memorable in the whole franchise.
Mads Mikkelsen knows a thing or two about starring in blockbusters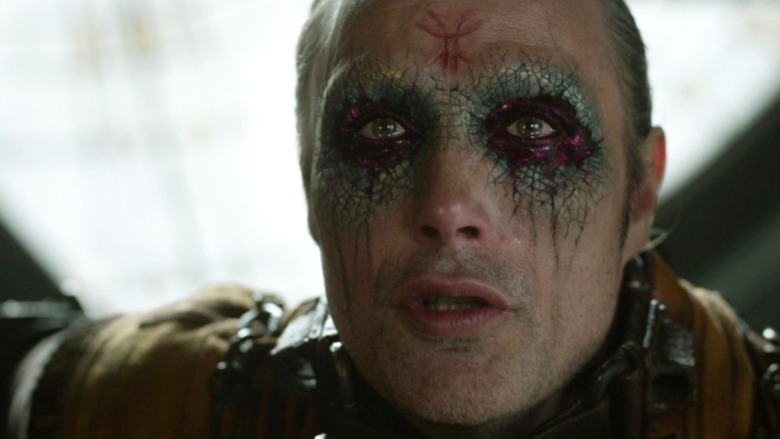 Disney/Lucasfilm
Mads Mikkelsen has established himself as one of cinema's greatest actors, most recently earning raves and awards for his turn in Thomas Vinterberg's surprise Best Directing Oscar nominee Another Round. But there's another, equally important side to his career.
Following his unforgettable James Bond villain performance as Le Chiffre in 2006's Casino Royale, Mikkelsen has become a dependable presence in Hollywood blockbusters, lending prestige and gravitas to all manner of action, adventure, and fantasy tentpoles. He made an appearance in Paul W. S. Anderson's star-studded action take on The Three Musketeers, and worked with Disney once more in 2016, in Marvel's Doctor Strange. More recently, he played Mayor Prentiss in the Tom Holland and Daisy Ridley dystopian adventure Chaos Walking, and was announced as the new Grindelwald, replacing Johnny Depp, in Warner Bros.' Fantastic Beasts film series.
Curiously, every single one of those films had or will have Mikkelsen playing villains — perhaps in part due to the shadow cast by his Casino Royale work, or to his parallel work as TV and cinema's premier charismatic cannibal on NBC's Hannibal. Therefore, it wouldn't be so out-there to speculate that the makers of Indiana Jones 5 might give Mikkelsen a role in that same wheelhouse. Then again, he's also played action heroes multiple times — such as in the Danish Western The Salvation and the recent, similarly-titled-yet-unrelated action flicks Arctic and Polar — so it's really impossible at this point to know for sure what kind of contribution he'll be making to the Indyverse.