Every Ending In The Fast And Furious Movies Explained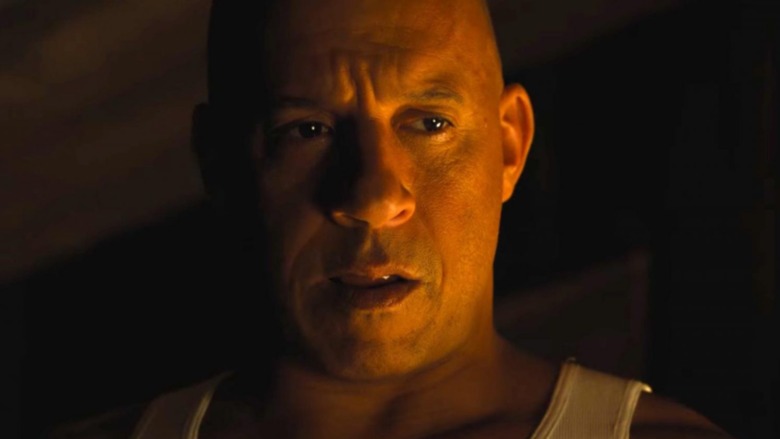 After numerous delays due to the coronavirus pandemic, F9: The Fast Saga will finally race into theaters on June 25, 2021. By that point, it will have been more than four years since the release of its direct predecessor, The Fate of the Furious, and nearly two years since the franchise's first spinoff, Fast & Furious Presents: Hobbs & Shaw. With that much distance, a large ensemble cast, and the fact that the Fast and the Furious franchise already contains nine films spread out over nearly two decades, it's fair if Fast fans need a bit of a refresher on where we wound up after each one.
Adding another layer of complexity into the mix is the fact that the Fast and the Furious movies don't go in chronological order, a fact which looks like it's going to be particularly relevant in F9. In short, being prepared for F9 is not just a matter of remembering how each movie ended, but also where it fell in the Fast and Furious timeline. Fortunately, whether you're completely lost or just need a brief refresher, we're here to recap and explain the ending of every Fast and Furious film, firmly orienting you in the Fast and Furious world as we prepare to speed toward the end of the saga.
The Fast and the Furious (2001) ends with a cop turning from the law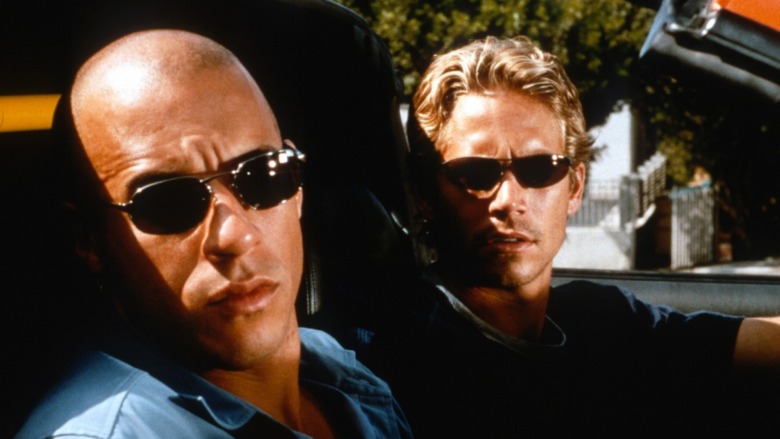 Despite functioning for most of its runtime as practically a beat-for-beat Point Break remake, The Fast and the Furious notably diverges from the iconic surfer thriller in its ending. While the 1991 film sees protagonist Johnny Utah (Keanu Reeves) release sympathetic antagonist Bodhi (Patrick Swayze) only to certain — albeit welcome — death, The Fast and the Furious has its law enforcement hero, Brian O'Conner (Paul Walker), let his law-skirting frenemy go free, and even gives him an assist on his way out.
After initially getting close to Dominic "Dom" Toretto (Vin Diesel) only as a means to ferret out the details of his high-speed heist operation, Brian eventually comes to realize that, against his better judgment, he actually cares about Dom and his crew. Although Dom and his sister Mia (Jordana Brewster) feel betrayed when they learn Brian's true identity, and subsequently attempt to cut ties with him, Brian ultimately chases Dom down in a winner-takes-all quarter-mile drag race, with the implied stakes being that if he wins, Dom will cooperate with being arrested. Instead, even though Dom crashes his car and Brian wins the race, Brian opts to give Dom his own car, allowing him to escape instead of arresting him. The film ends with Dom driving free in Mexico, and Brian having chosen their friendship over his career as a police officer.
2 Fast 2 Furious (2003) reunites two childhood friends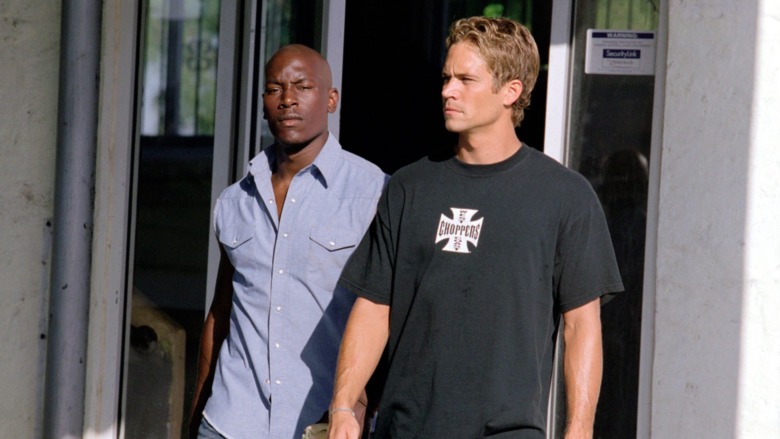 Following his decision to facilitate Dom's escape at the end of The Fast and the Furious, Brian goes on the run, making a living competing in underground street races. However, eventually his past catches up to him and Brian is arrested, but cuts a deal with the FBI to go undercover and help bring down a drug lord in exchange for a clean criminal record. To assist him in this endeavor, Brian recruits his childhood friend Roman Pearce (Tyrese Gibson), who is on parole and could use a similar deal.
With the help of U.S. Customs agent Monica Fuentes (Eva Mendes), Brian and Roman ultimately take down the drug lord, leading to his arrest and full pardons for the two ex-convicts. Unbeknownst to the FBI, though, Roman has set aside some of the drug lord's laundered money for himself, although he does turn over the rest. Free once more — but no longer a law enforcement officer — Brian suggests the two of them use the money to open a garage together in Miami... although that doesn't seem to last for long.
The Fast and the Furious: Tokyo Drift (2006) ends with a shocking death and a surprising connection
The only main Fast and Furious film not to center around Dom or Brian, Tokyo Drift follows teenage problem child Sean Boswell (Lucas Black), who is sent to Tokyo to live with his dad after destroying two cars and most of a subdivision in a drag race in Arizona. However, relocating to a different continent doesn't do much to curb Sean's speedster ways, and he quickly falls in love with the Japanese street racing scene, which takes things up a notch from what Sean is used to thanks to the Japanese drivers' use of drifting, which allows cars to maneuver around curves and corners using controlled skids.
After initially sucking at drifting, Sean eventually masters the skill with the help of a local racer with deep pockets named Han (Sung Kang). Unfortunately, not long after Han has taken Sean under his wing, the Yakuza come after Han for stealing from them. A high-speed chase ensues, and Han is (presumably) killed. The final act of Tokyo Drift sees Sean challenging a member of the Yakuza to a race, which will determine which of them is allowed to remain safely in Tokyo. Using his newfound drifting skills, Sean wins. Now established as the Drift King of Tokyo, Sean continues racing for fun, and the film closes with an American arriving to challenge him to a race — Dominic Toretto, who surprisingly claims that he used to work with Han.
Fast & Furious (2009) sees Brian walking away from law enforcement forever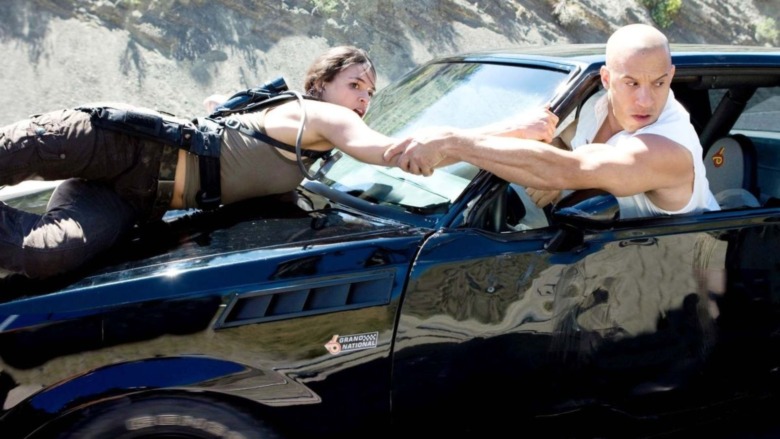 One of the darker Fast and the Furious movies, Fast & Furious functions as a prequel to Tokyo Drift; along with Fast Five and Fast & Furious 6, the fourth film in the franchise takes place between 2 Fast 2 Furious and Tokyo Drift. After Tokyo Drift ended with the reveal that Dom and Han used to work together, Fast & Furious cuts back to that time, five years after the end of the first film, with Dom stealing fuel tankers in the Dominican Republic with a crew that includes Han as well as Dom's girlfriend, Letty (Michelle Rodriguez). Meanwhile, after getting his criminal record expunged at the end of 2 Fast 2 Furious, Brian O'Conner is now working as an FBI agent.
Dom and Brian's paths eventually cross again when Dom hears that Letty has been killed, and the search for her killer leads him to Mexican drug lord that Brian is also attempting to track down. Together, the two team up to apprehend the drug lord, and Brian ultimately manages to arrest him, with Dom's help. However, in the process, Dom kills one of the drug lord's henchmen whom he blames for Letty's death, making Brian's attempts to clear his name futile. The film ends with Dom being sentenced to 25 years to life in prison. However, unable to accept this outcome, Brian resigns from the FBI and teams up with Mia, along with a couple members of Dom's crew, to break him out of prison. The film ends with Brian leading a group of cars to intercept Dom's prison bus.
Fast Five (2011) pulls off a massive heist and a lucrative ending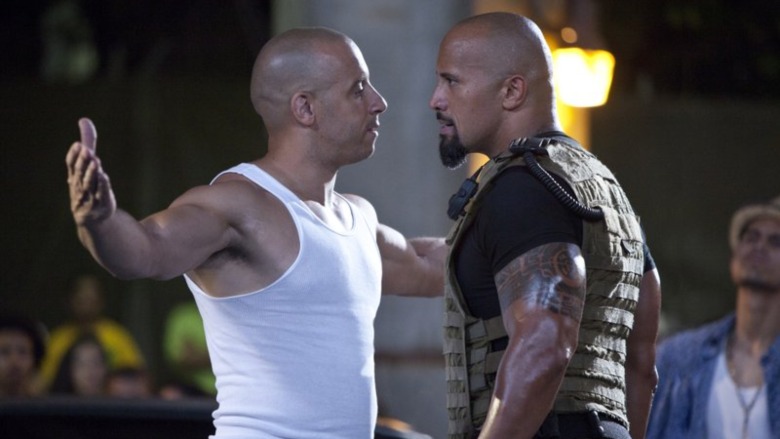 Picking up directly on the heels of Fast & Furious, Fast Five opens with Brian and his accomplices breaking Dom out of prison, and together with Mia, the three of them flee to Rio de Janeiro. By this time, Brian and Mia have rekindled their romance from the first film, and during the course of the film, Mia reveals she's expecting their first child. While in Rio, Dom and Brian hatch a scheme to steal $100 million from a major crime lord, which requires them to recruit a crew to help pull off the heist. This includes Han from Tokyo Drift and Roman from 2 Fast 2 Furious, along with Tej (Ludacris), Gisele (Gal Gadot), Leo (Tego Calderón), and Santos (Don Omar). Meanwhile, Diplomatic Security Service Agent Luke Hobbs (Dwayne Johnson) and local Brazilian police officer Elena Neves (Elsa Pataky) are in pursuit of Brian and Dom, intent on arresting them.
However, after the crime lord's men murder Hobbs' team, he and Elena agree to join forces with Brian and Dom to help with the heist. In a spectacularly theatrical and destructive series of events that involves dragging a safe through the city streets behind fast-moving cars, the group is ultimately successful in stealing the money. After killing the crime lord in retribution, Hobbs agrees to give Brian and Dom a 24-hour head start, provided they leave the money. The duo agree, but only because they've already secretly swapped out the money. The real loot is divvied up amongst the crew, who scatter across the globe, each with a hefty pile of cash. At the end of the film, Dom and Elena (who are now romantically paired) relax on a beach with Brian and Mia. Meanwhile, unbeknownst to them, Monica Fuentes from 2 Fast 2 Furious gives Hobbs a file that shows that Letty is actually still alive.
Fast & Furious 6 (2013) ends with a death that brings the past few movies full circle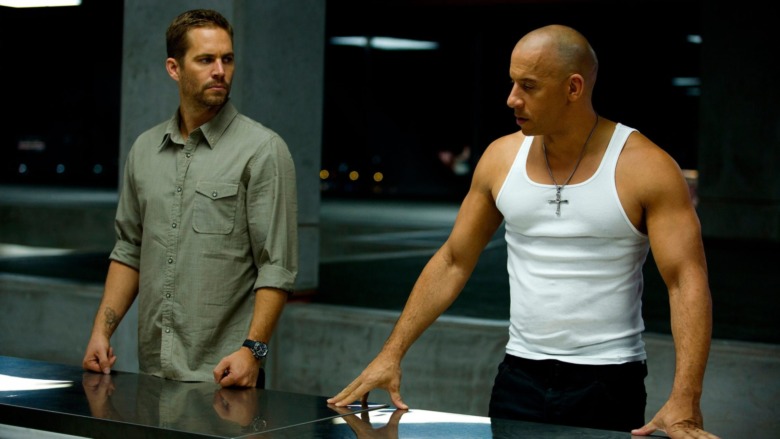 Scattered to the wind and living large following their successful multi-million dollar heist at the end of Fast Five, Dom's crew is eventually reunited by none other than Luke Hobbs, who reaches out to Dom for assistance in capturing a terrorist named Owen Shaw (Luke Evans). Working as a member of Shaw's crew — which feels sort of like a dark mirror version of Dom's crew — is Letty, who has completely lost her memory of her life before she disappeared in the fourth movie. Motivated by a desire to find Letty and restore her memories (a slightly awkward goal, considering that he's still with Elena), Dom, Brian, Hobbs, and the rest of Dom's crew all team up and track down Shaw, although he eventually gets away. In the process, Dom saves Letty's life, prompting her to decide to switch sides and stay with him.
The final act of the film sees Dom's crew pursuing Shaw's crew to a runway, where Dom's group is determined to keep Shaw's plane from taking off with its weapons of mass destruction. They're ultimately successful in stopping Shaw, but Gisele (who was in love with Han) is killed in the process. Shaw is grievously injured after being thrown from the plane and is subsequently arrested by Hobbs, who then secures pardons for Dom and his crew in exchange for their assistance. At the end of the film, although Letty still doesn't have her memories, Elena graciously steps aside to allow her and Dom to be together. 
Meanwhile, a grieving Han decides to take his Fast Five money to Tokyo, where he and Gisele had once talked about moving, which is what puts him there at the beginning of Tokyo Drift. In a mid-credits scene, it is revealed that the person whose car crashed into Han, killing him in Tokyo Drift, was driven by none other than Owen Shaw's brother, Deckard (Jason Statham), who is now seeking vengeance on the crew who injured and captured his brother.
The ending of Furious 7 (2015) bids farewell to a beloved friend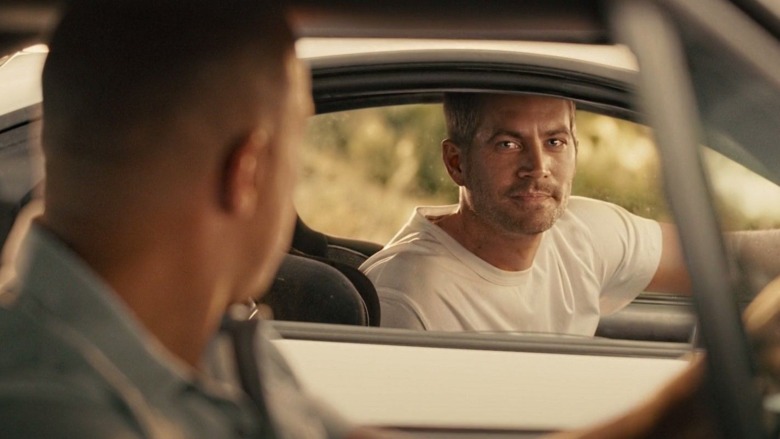 The seventh Fast and the Furious film picks up just a little before the sixth film ends, showing Deckard Shaw stealing files of Dom's crew from Hobbs' office, where he fights and injures Hobbs in the process. Shortly after that, Shaw kills Han in Tokyo, which we previously saw both in the middle of Tokyo Drift and at the end of Fast & Furious 6. As Shaw targets the rest of Dom's crew, a mysterious government operative named Mr. Nobody (Kurt Russell) offers to help Dom stop Shaw if Dom's team can assist him in recovering a computer tracking program called God's Eye and its creator, a hacker named Ramsey (Nathalie Emmanuel), who has been kidnapped by terrorists.
After rescuing Ramsey (who subsequently joins forces with Dom's crew), Dom's team manages to help Nobody stop the terrorists and subdue Shaw, who is taken into custody by Hobbs. In the process, Letty finally regains her memories, revealing that she and Dom actually got married before they parted ways in the fourth film. Meanwhile, Mia has announced that she's pregnant again, and Brian decides that it's time for him to walk away from his dangerous life of heists in order to spend time with his family. The film ends with the crew bidding a fond farewell to Brian as he drives off into the sunset, as Dom thinks back on all the happy memories they've shared together. This ending also served as an emotional eulogy for Paul Walker, who died in an unrelated accident during the film's production.
The Fate of the Furious (2017) brings the Fast family back together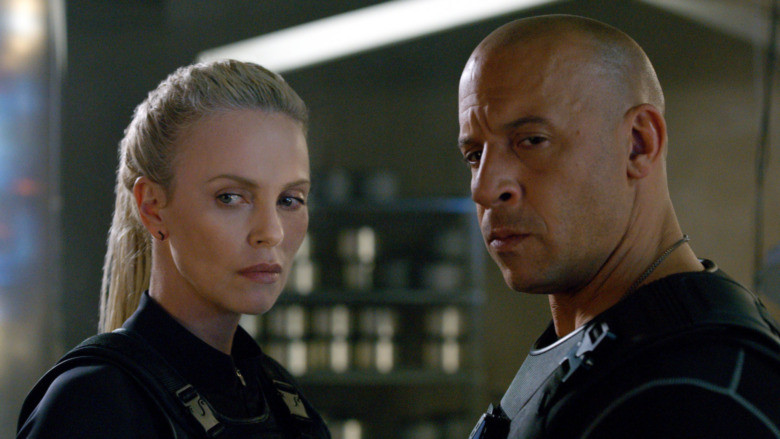 As she's finally regained her memories of their wedding, the eighth Fast and the Furious film opens with Dom and Letty taking their long-overdue honeymoon in Havana. Unfortunately, while they're there, Dom is confronted by a cyberterrorist named Cipher (Charlize Theron), who blackmails him into betraying his crew and helping her steal various weapons. The rest of Dom's crew — along with Hobbs and, surprisingly, Deckard Shaw — are recruited by Mr. Nobody to help them stop Cipher.
Eventually, it's revealed that the leverage Cipher has over Dom is that she has captured Elena and her infant son; it turns out Elena was pregnant when she and Dom split up, and she never told him. However, while outwardly cooperating with Cipher, Dom quietly tries to undermine her, which leads to her having Elena executed. Ultimately, though, Dom is able to get the upper hand by requesting assistance from Magdalene Shaw (Helen Mirren), the Shaw brothers' mother, who then tasks her sons (including Owen Shaw, who has finally recovered from his injuries in the sixth film) with rescuing Dom's son from Cipher. 
Once the Shaws have recovered the baby, Dom turns on Cipher, thwarting her plans to incite nuclear war and reassuring his team and his wife that he'd never really turned on them after all. However, Cipher manages to escape before she can be apprehended. At the end of the film, Dom announces he's naming his son Brian, while Hobbs decides to walk away from his job with the Diplomatic Security Service for good.
Fast & Furious Presents: Hobbs & Shaw (2019) ends by hinting at an exciting future for the characters
Following the events of The Fate of the Furious, Deckard Shaw learns that his sister, Hattie (Vanessa Kirby) — an MI6 agent — has disappeared along with a programmable supervirus, and is tasked by the CIA to team up with Hobbs in order to find her. However, once they locate Hattie, they learn that she only infected herself with the virus in order to keep it from falling into the artificially enhanced hands of Brixton Lore (Idris Elba), a terrorist who has been cybernetically augmented with superstrength. Brixton frames both Shaw siblings along with Hobbs as terrorists, and the trio flees to Hobbs' childhood home in Samoa to figure out their next steps, with the help of his estranged family.
There, they prepare to make their stand against Brixton's organization, Eteon, alongside Hobbs' many brothers. As they work to defeat Brixton and his soldiers, one of Hobbs' brothers figures out how to extract the virus from Hattie, a process which takes up much of the battle but is ultimately successful. After his defeat, Brixton is killed remotely by the unseen director of Eteon, his own organization, who then insinuates that they'll be coming after Hobbs and Shaw. However, Hobbs and Shaw are unintimidated by Eteon's threats, and the film ends with the Shaw siblings breaking their mother out of prison and Hobbs learning about the existence of another, potentially even more dangerous supervirus.