Small Details You Missed In The New F9 Trailer
It's been a longer wait than anyone would like, but at long last, the Fast Saga is back. Following a number of delays, F9 is scheduled to hit theaters on June 25, 2021, and Universal is starting to ramp up the hype by releasing a brand new trailer.
While F9's previous teaser, released over a year ago, laid out the movie's basic plot and shocked fans by confirming Han's highly anticipated return, the new trailer delves deeper into the relationship between Dom Toretto (Vin Diesel) and his brother, Jakob (John Cena), and still finds time to tease a madcap chase scene powered by magnets. The biggest twist, though, comes at the end: Yup, after years of rumors, it sure looks like the Fast & Furious crew is headed to the final frontier.
There's a lot happening in the new F9 trailer, so you're forgiven if you overlooked some of its smaller touches. After all, this isn't really a franchise known for its subtlety. And yet, underneath all the mayhem, the latest trailer is packed with treats for longtime fans of the series to enjoy. Here are a few that you probably missed.
The boy with all the toys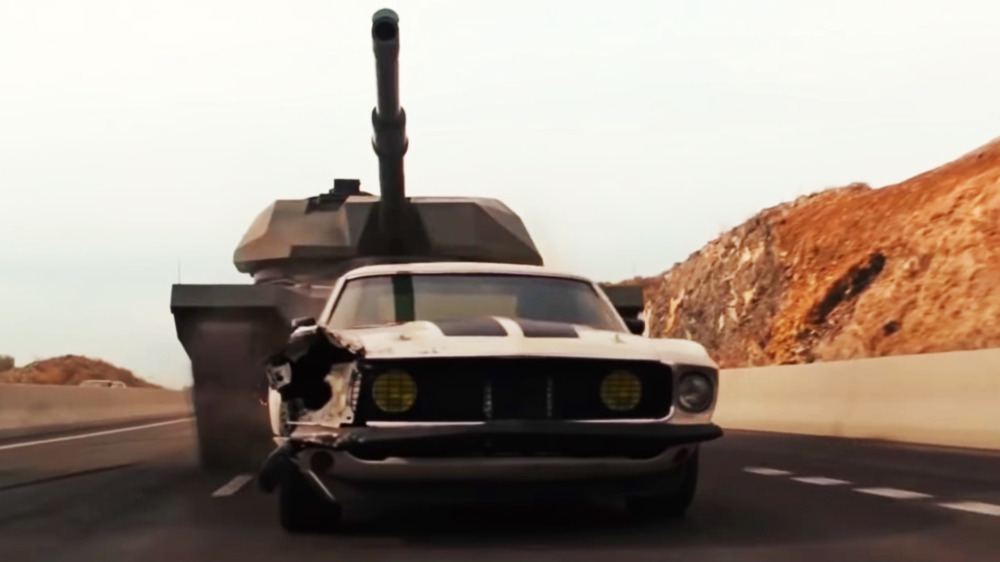 Universal Pictures
The new F9 trailer begins with a few scenes of domestic harmony: Dom and his found family enjoying one of their famous backyard barbecues; Ludacris' Tej Parker and Nathalie Emmanuel's Megan Ramsey dropping in at the Toretto family farm; Dom wistfully watching a video of Brian O'Conner, portrayed by the late Paul Walker, in his garage; Letty, once again brought to life by Michelle Rodriquez, playing with her and Dom's son, Brian.
You might want to pause the video on that last one, because there's a little more going on in that scene than you might realize. Letty and her son, Brian, aren't playing with just any toys. Look closer, and you'll see that they're enjoying a tank, a car, and a space shuttle. There's some significance there. For one, the car looks a lot like Dom's beloved Dodge Charger. The tank, on the other hand, is a callback to a memorable scene from Fast & Furious 6 that's one of the most paused moments in the series, and it gets another shoutout a little later in the trailer.
That space shuttle, though, is even more interesting. As the new trailer's final seconds reveal, F9 is finally taking the franchise into space, something that fans have wanted for years. As little Brian makes the toy car fly through the air, it even lands on the back of Letty's shuttle, mirroring the way the rocket-powered car rests on the back of the jet during the trailer's last scene. As such, this small vignette isn't just a piece of fan service — it's actually foreshadowing the trailer's big climax.
Dom and Jakob at cross purposes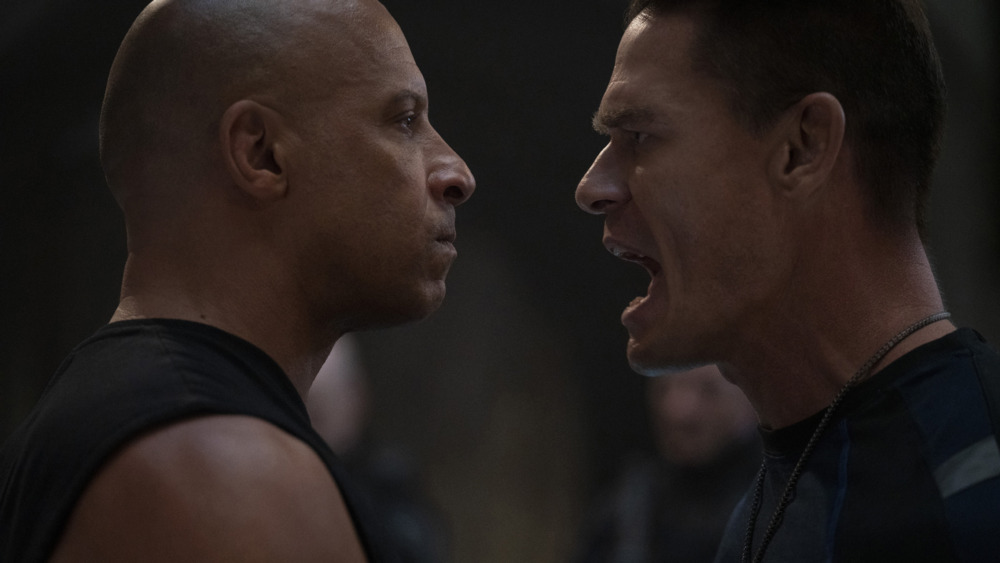 Universal Pictures
John Cena may be a newcomer to the Fast & Furious franchise, but his character, Jakob, isn't. In F9, the former pro wrestler and current DC antihero plays a master thief, an assassin, a high-performance driver and, most importantly, Dom Toretto's long-lost brother.
Both F9 trailers make Dom and Jakob's relationship explicitly clear, but just in case you're still not sure about the connection between the two, check out Jakob's costume. In his first scene in the new trailer, Jakob wears a silver cross necklace that looks exactly the same as the one Dom wears throughout the series. Dom's been sporting that piece of jewelry since The Fast and the Furious in 2001, and it's been used as a plot point a few different times. In Fast & Furious, the fourth movie in the series, Dom gives the necklace to Letty, and later finds it at the scene of her (supposedly) fatal car crash. In Fast & Furious 6, Dom uses the necklace to restore Letty's missing memories, and it's implanted with a tracking device in The Fate of the Furious, so that Dom can keep tabs on his son.
For Dom, the necklace is a potent symbol — in the first F9 trailer, Letty gives it to their son — so it's a big deal that Jakob wears one too. After all, despite their differences, Jakob and Dom are family — and, as we all know, that's what the Fast Saga is all about.
It's not Fast & Furious without a little NOS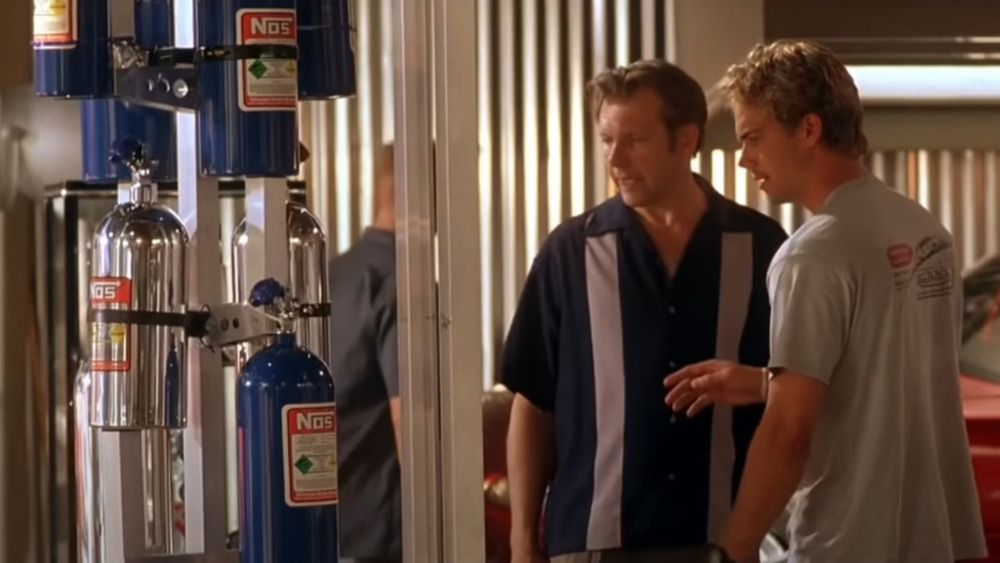 Universal Pictures
Oh, NOS. Is there anything you can't do? According to the Fast Saga, not really. In the first Fast & Furious movie, Brian O'Conner uses the substance, which is also known as nitrous oxide (and is, remarkably, a real product), to up his speed during his first race against Dom Toretto. It doesn't quite work; it's too much power for Brian's car, which overheats, costing him the race — but NOS has been a franchise staple ever since.
While NOS' primary purpose is to give vehicles a quick speed boost, it's had a few other uses in the series as well. In 2 Fast 2 Furious, NOS powers the ejector seats in Brian and Roman's cars. In Fast & Furious, an NOS-fueled explosion blows up a number of vehicles, creating a distraction that Dom uses to secure his freedom. In Fast Five, NOS provides power as well as speed: Dom hits the NOS in order to drag the vault the crew is stealing, which lets the other drivers get away.
Now, it looks like NOS will send the Fast crew to the stars. In the new F9 trailer's final scene, there's a canister of NOS, complete with its distinctive logo, sitting between Tej and Roman. Presumably, that's what fuels their rocket-bound car and gives them the push they need to escape the atmosphere. Scientifically speaking, that's probably not all that accurate, but it is fun. We'll let it slide.
Name that tune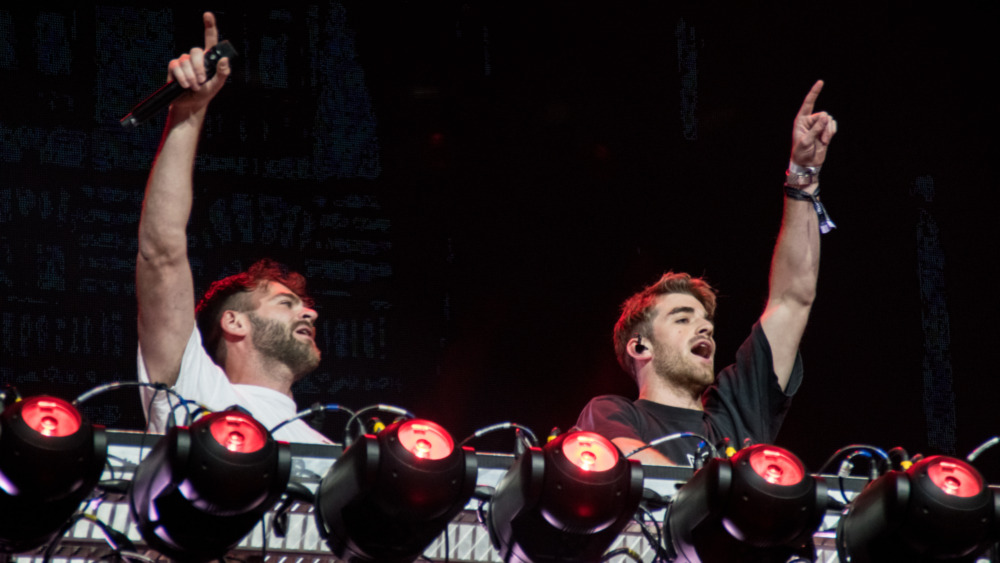 Shutterstock
Over time, music has become just as important to the Fast & Furious franchise as souped-up cars, breathtaking stunts, and impossibly cool heroes. Sure, the series' fast-paced action scenes would be exciting even in complete silence, but the thumping basslines and slick beats take everything to the next level.
So, unsurprisingly, the F9 trailer sports some pretty great tunes, too. At the beginning of the trailer, while the extended Toretto clan assembles, you can hear The Chainsmokers' "Family" playing in the background. If you know anything about the Fast Saga, you know why that's appropriate. With lines like "I know water that's thicker than blood" and "I know some people, they would die for me," the entire song is an ode to the type of found family that gives these movies their heart. It's hard to imagine a better choice.
Once the action gets going, so does the music. The trailer's second half kicks in with Migos' "Is You Ready," which feels like a great fit for a fast-paced action movie for a very good reason: It was originally released alongside the 2018 Mark Wahlberg movie Mile 22. A little later, you can hear what seems to be a mashup of DJ Snake's "Frequency 75" and Kanye West's "Selah." And, yeah, lyrics like "We got the product, we got the tools" and "We goin' wild, we on the loose" sum up the Fast Saga pretty darn well.