Dwayne Johnson Is More Ripped Than He's Ever Been In New Black Adam Training Pic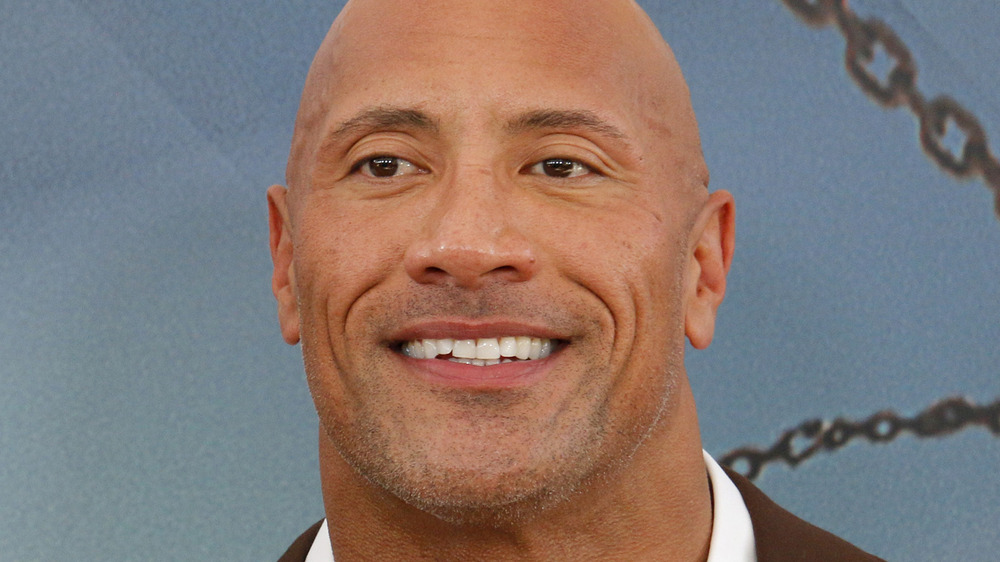 Shutterstock
At the risk of understating the obvious, Dwayne "The Rock" Johnson is known for being in really good shape. He looks like a He-Man action figure come to life. And in a new photo he posted on Instagram, he's in peak physical condition as he prepares to play the titular DC Comics super-antihero in the movie Black Adam, which is about to start filming.
In the impressive photo, Johnson is captured taking a breather during one of his famously intense workouts in his gym, "the Iron Paradise." His personalized Under Armour long sleeve shirt is saturated with sweat, and he's holding chains he drapes around his neck for extra weight in his right hand. But those details are all supporting characters to the stars of the photo, which are The Rock's sculpted thighs. They're rippling and massive, with every muscle between the bottom of his short shorts and the top of his high socks clearly defined. It looks like somehow even his kneecaps are muscular. If you punched his quad, you'd break your hand.
"Black Adam ready," Johnson captioned the photo. "It's always the work we quietly put in when no one is watching that changes the game." He then added, "Grateful for the grind. (and the face of my Warrior Spirit always watching my back)." That was a reference the tongue-out face on the banner behind him, a Samoan symbol that's also tattooed on his chest and is part of the logo of his energy drink, Zoa.
"#BlackAdam #DCUniverse #ChangeTheGame," he closed out the post. "Production kicks off this week."
People had a lot to say about Johnson's impressive physique
A bunch of celebrities added their two cents in the comment section. Fellow musclebound actor Frank Grillo said "You should just compete in the Olympia bro," referring to the famous bodybuilding competition most closely associated with Arnold Schwarzenegger.
"Leg day," said Olympic gold medal-winning skier Lindsay Vonn, someone who knows a lot about leg days.
Rapper and fitness junkie Busta Rhymes posted a string of flexing arm emojis.
And Johnson's San Andreas co-star Carla Gugino didn't even have the words to express how the post made her feel, commenting with emojis of fire, a camera, and a man.
Non-famous people had some funny comments, too. Somebody asked "Broe doesn't your body hurt." Someone else joked, "Just like looking in a mirror." And bodybuilder Joey Swoll said, "Beast! Looking insane brother! #makesuperheroesjackedagain."
Getting into superhero shape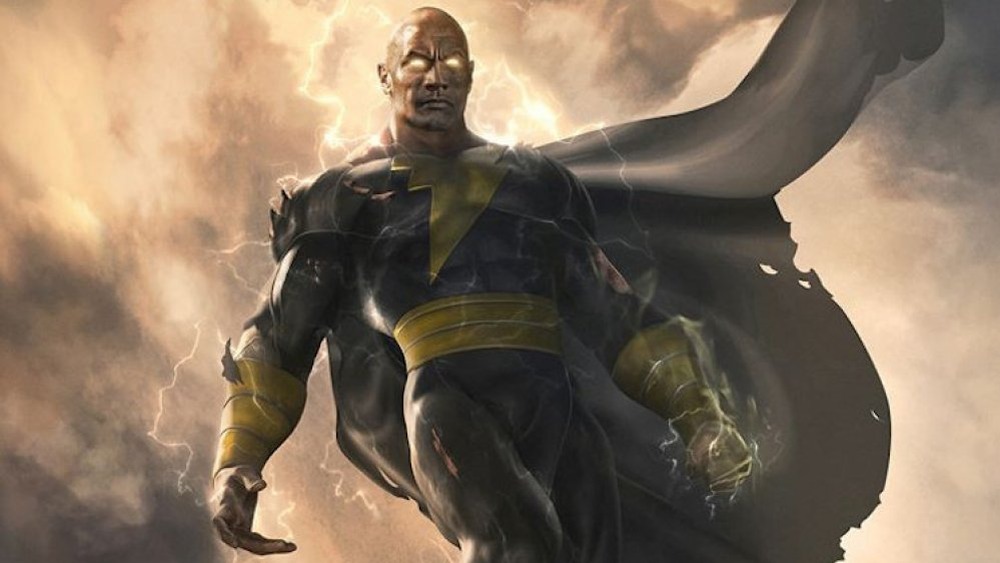 Warner Bros./DC Films
Black Adam will be the first time Johnson plays a straight-up comic book superhero, so he's putting in even more work in the gym than usual to build the body Black Adam needs.
Johnson has been documenting his fitness journey to become Black Adam on Instagram for months. Men's Health compiled and analyzed his posts and pieced together the full workout plan he's doing to get extra-jacked for the superhero movie. It's really, really intense, six days a week of heavy lifting. Saturdays are leg day, which Johnson says is the hardest workout of them all. To get those giant thighs, Johnson does "giant sets" (back-to-back sets with no rest) of leg extensions, curls, and presses, squats, and lunges. Sunday is his day of rest and dietary cheat day, and he likes to eat two giant cheeseburgers.
Black Adam is scheduled for release on July 22, 2022. The film follows Shazam's nemesis, who was originally slated to appear in the Zachary Levi-led 2019 film but was spun off into his own origin story movie. The characters will intersect in a later movie, though. In the comics, Black Adam is a complex antihero with powers derived from ancient Egyptian gods.
Johnson posted an animated teaser for the film on Instagram on March 28, previewing some of what's to come in the film's plot. Five thousand years ago, Black Adam was the liberator of the oppressed people of Kahndaq, an uprising that led to his imprisonment. Now, he's free. "And I give you my word," Johnson-as-Adam says. "No one will ever stop me again."
The film's cast also includes the Justice Society, with Noah Centineo as Atom Smasher; Aldis Hodge as Hawkman; Quintessa Swindell as Cyclone; and Pierce Brosnan as Doctor Fate. It's directed by Jungle Cruise's Jaume Collett-Serra.