Here's When Shazam And Black Adam Will Meet In The DCEU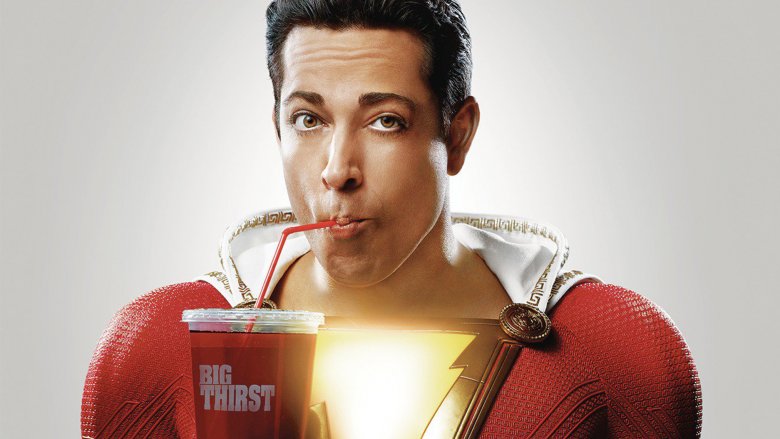 Shazam has made reservations for a date with his arch-nemesis way in advance.
Speaking during the Comic-Con Experience event in Cologne, Germany, actor Zachary Levi revealed that his caped crusader character Shazam and his long-standing rival Black Adam will finally meet in the DC Extended Universe in a third Shazam! movie. 
Levi — who brought Shazam, the grown-up superhero alter ego of Asher Angel's teenage Billy Batson — explained that Warner Bros. is prioritizing launching a standalone franchise for Black Adam, to be played in the DCEU by Dwayne "The Rock" Johnson, ahead of bringing the two characters together. He stated (via ComicBook.com), "I can say that as far as I know, Black Adam is not going to be in the second Shazam!, because the idea is that they want to go and do a standalone Black Adam movie first. And then it would kind of be, if we do a third Shazam! and a second Black Adam, kind of [parallel] like that, that's where we would [meet]."
The reason for the wait is largely down to who Black Adam (real name: Teth-Adam) is to Shazam, and what their meet-up would mean for them both. 
Just as the ancient wizard Shazam (played in the David F. Sandberg-directed movie by Djimon Hounsou) bestowed upon young Billy the wisdom of Solomon, the strength of Hercules, the stamina of Atlas, the power of Zeus, the courage of Achilles, and the Speed of Mercury, he also granted Black Adam powers from Egyptian deities — these being the stamina of Shu, the speed of Haru, the strength of Amon, the wisdom of Zehuti, the power of Aton, and the courage of Mehen. Of course, Black Adam's powers also spell out Shazam, making him the "ultimate" opponent to Levi's character.
In the comics, Black Adam has gone head to head with Shazam time and time again, first fighting the hero when he was still going by the Captain Marvel moniker before Marvel Comics re-claimed it. In the Shazam! movie, the existence of Black Adam is teased when Shazam (the wizard) selects Billy Batson as his champion and explains that he must be extremely careful in passing on his abilities because the last time he did, the champion betrayed him and used his powers for evil. This was a clear nod to Black Adam.
Black Adam was meant to appear in Shazam! long before Sandberg came on board as director, but those plans ultimately fell through — and Levi feels its for the best. From the actor's perspective, having Black Adam and Shazam meet so early on would leave nowhere for the film series to go thereafter, since both characters would have already squared off against their biggest adversaries. The third Shazam! movie is when the crossover showdown should happen, according to Levi, so as to not take the Shazam! franchise to its apex prematurely. 
"[Black Adam is] like the ultimate bad guy for Captain Marvel, Shazam. Like [Shazam and] Black Adam, they're doppelgängers, right. The evil twin to who I am. So that's got to be like the final battle," said Levi. "If we do that in the second movie, then where do we go after that? It would just be a movie of us sitting around playing video games for the third one, that would be very boring ... Yeah, I think that's the idea. We'll definitely [cross over] — the plan is to get there, but just to pace it out however it needs to pace out."
Hiram Garcia, Johnson's longtime producing partner under their Seven Bucks Productions banner, feels exactly the same way. 
"As we were developing an actual Black Adam and Shazam movie, we were just realizing that both characters are so special that we didn't want to compromise either of them by cramming them both into the same movie," Garcia previously shared with Collider. "So that's why we made the decision to let Shazam have his own standalone movie and kind of launch him properly, and then we'll do the same for Black Adam. And so that kind of really freed things up. It allowed us to develop the right version of both."
Though Shazam and Black Adam won't share the screen for at least a few years, there's plenty to be happy about. First off, the Black Adam movie is in the early stages of development, with director Jaume Collet-Serra reportedly eyeing an early-to-mid-2020 filming start date. Secondly, a Shazam! sequel is already in the works, and has Sandberg attached as director and Henry Gayden on board to write the script. And finally, Johnson has promised that fans are in for a wild ride once Black Adam makes his DCEU debut, previously saying that everyone who crosses his path will get a brutal beating. "That day of reckoning is coming for everyone," he said — and that includes Shazam.