Why Martin Kove Doesn't See Cobra Kai's John Kreese As A Villain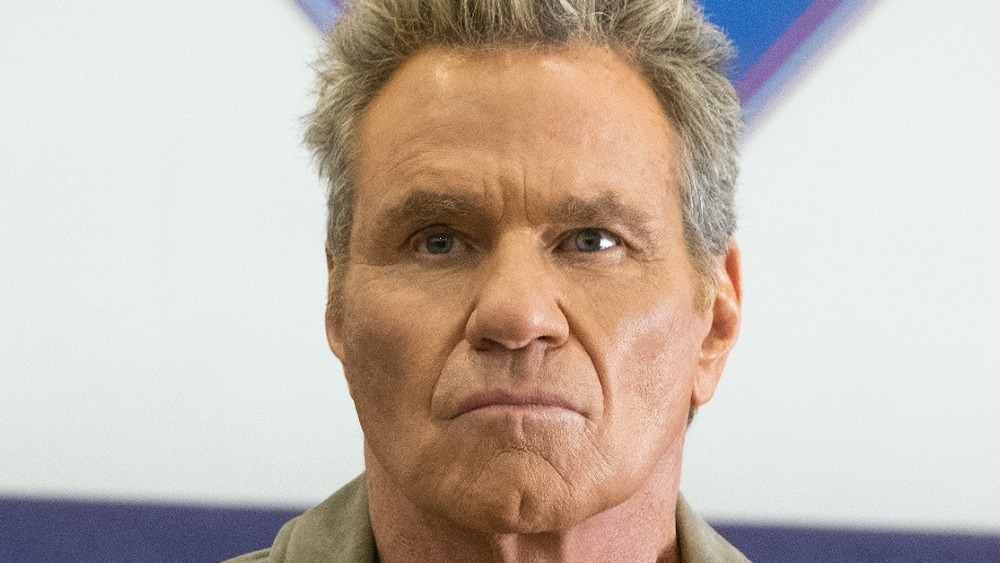 Netflix
The hit Netflix series Cobra Kai is much more than the Karate Kid spinoff we never knew we needed. Its premise could have easily been played solely for laughs: Decades after his loss at the Under 18 All-Valley Karate Tournament, Johnny Lawrence (William Zabka) restarts the infamous titular dojo in order to help bullied teen Miguel (Xolo Maridueña) become more badass. In response, his arch-nemesis Daniel LaRusso (Ralph Macchio), now the owner of the most successful car dealership in the valley, opens his own dojo based on the teachings of his late mentor Mr. Miyagi — leading to clashes not only between the two senseis, but between their students as well.
What might have been a one-note comedy sketch has quickly become one of the best shows on television thanks to smart writing, fantastic martial arts choreography, and the excellent performances of its young cast, particularly Maridueña, Mary Mouser as Daniel's daughter Samantha, and Tanner Buchanan as Johnny's estranged son Robby. But at the heart of the series remains the complicated relationship between Johnny and Daniel — one that has been complicated yet further thanks to the arrival, at the conclusion of the show's first season, of Johnny's nefarious ex-sensei John Kreese (Martin Kove), who has developed over the second and third seasons into Cobra Kai's primary antagonist.
In the Karate Kid film series, Kreese was written rather thinly as a one-dimensional villain. Yet, Cobra Kai's writers and Kove's nuanced performance have fleshed the character out nicely, slowly revealing that there's more going on underneath the surface than we might have initially thought. He may have swiped the Cobra Kai dojo from Johnny, directed his students to perform heinous acts of vandalism and assault, and come within seconds of actually trying to kill Daniel, but Kove would like you to know that Kreese doesn't deserve the label of "villain."
Martin Kove thinks Kreese is misunderstood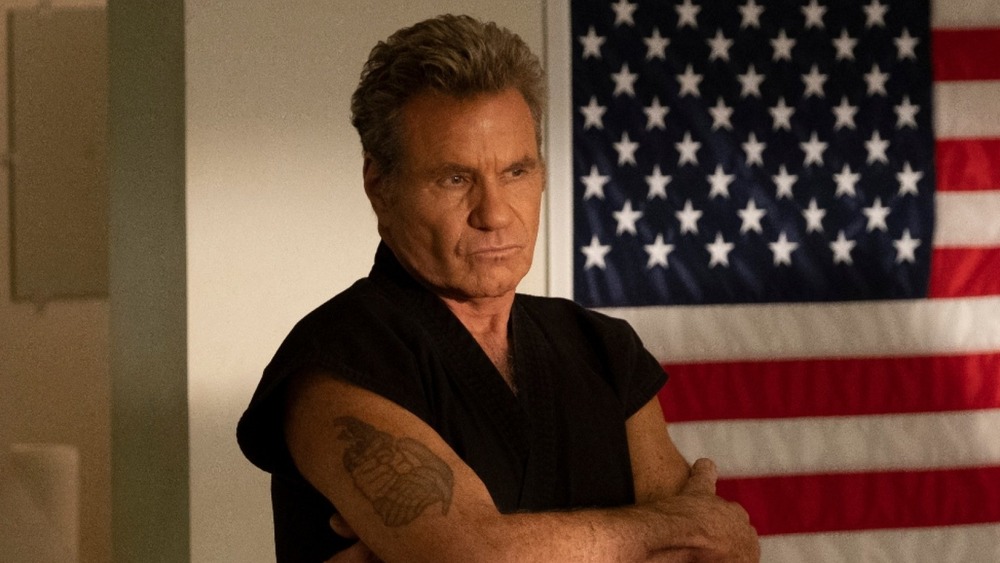 Netflix
In a 2020 conversation with The Hollywood Reporter, Kove revealed that Cobra Kai's writers had to persuade him to take part in the series, and that he had conditions — the most important of which was that he didn't want to play Kreese as a straight baddie. "I was quite leery to do it as written for the movies," Kove said. "But my basic insistence to the writers was, 'Are you going to write this character vulnerably? Are you going to give him some versatile situations?' And they did ... [Kreese] lives in a shelter because he has no money. Then [Johnny] follows him one day, and they have a great scene in the shelter where I'm in tears, and [Johnny's] in tears. He takes me back into Cobra Kai. This is after [the first episode of the second season], where we had a big fight, and I threw him through glass."
Kove elaborated on those remarks during a January 2021 chat with Page Six. "I was only interested in doing this role if he was a multifaceted character," he explained. "I don't look at him as a villain. I look at him as a misunderstood character." Kove went on to allude to one of season 3's most interesting storytelling devices: a series of flashbacks in which Kreese's early life is explored, shortly before and during his deployment to Vietnam, where he was captured and forced to fight his commanding officer to the death. "People don't really hate my character," he said, "especially now they have a fuller understanding of what made him the way he is."
The actor who plays young Kreese wants him to be sympathetic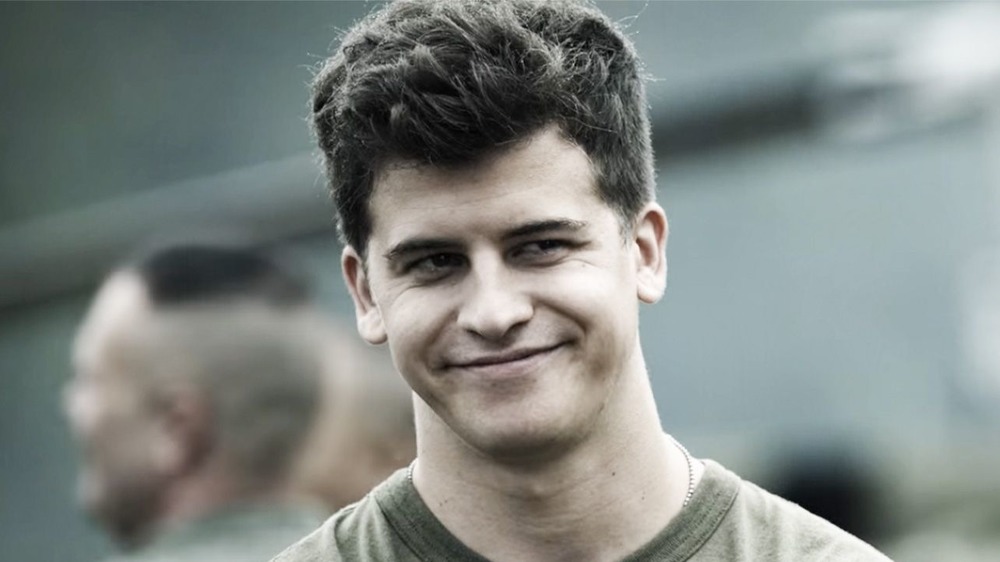 Netflix
Barrett Carnahan, the actor who portrays Kreese in those flashback scenes, has spoken extensively about what he's tried to bring to the character with his limited screen time, and his views on what makes Kreese tick line up very nicely with Kove's. In those scenes, Kreese is seen pre-deployment being bullied himself, then getting into a fight with his tormentor (who is actually portrayed by Kove's son Jesse) for the honor of his future girlfriend, Betsy (Emily Marie Palmer). After departing for Vietnam, he not only endures his capture and brutal punishment, but also learns that Betsy was killed in a car crash — all traumatic circumstances which would have a way of changing anybody's outlook on life.
In a chat with SyFy, Carnahan explained how Kreese's troubled past molded him into the hard-edged, flint-eyed badass we've come to know. "After you see what happens to him in [his early years], you come to understand that what this guy has seen and what he has experienced could potentially brand you for life," Carnahan said. "If you're in a situation where you know that danger could be lurking around the corner... you're going to strike first, with no mercy."
Carnahan went on to share how that first flashback scene, in which Kreese's bully shares some familiar philosophies on conflict resolution, was designed to subvert audience expectations regarding Kreese. "When Jesse Kove walked in the diner and started talking about never showing your opponent mercy, everybody jumped the gun and assumed that was young Kreese," he said. "To have that switch on the audience, and to have Kreese be the one who was bullied, I think that was really a brilliant move because, from the very get-go, you question what you thought about Kreese in the past."
We don't yet know if we'll see more of young Kreese in Cobra Kai season 4, but one thing seems certain: the show's writers, and Kove, will likely continue to challenge everything we thought we knew about John Kreese.