Sebastian Stan's Best On-Screen Performances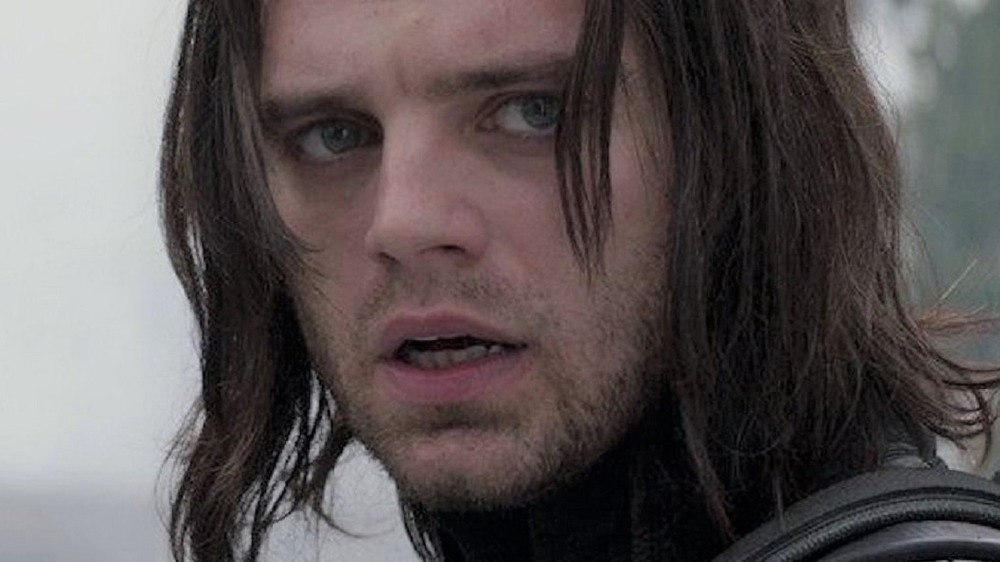 Over the years, Sebastian Stan has played everything from morally ambiguous eye candy to a brainwashed assassin to mundanely terrifying villains. And he's had a fascinating career, going through some distinct phases based on both his own interests and his constantly evolving image.
Decider once called him "one of TV's most stalwart scene-stealers," a supporting actor who can catch viewers' attention even when they're supposed to be looking at someone else. That's a consistent strength of his, whether it's put to use in indie films or MCU blockbusters. He's called his career the best of both worlds, and his eclectic filmography has gifted us with some incredible characters. Whether he's breaking new ground or knocking a familiar role out of the park, he's always riveting. 
From his work on incredible TV shows to some of the highest-grossing films ever made, let's take a look at Sebastian Stan's best on-screen performances.
Sebastian Stan got to be the bad boy on Gossip Girl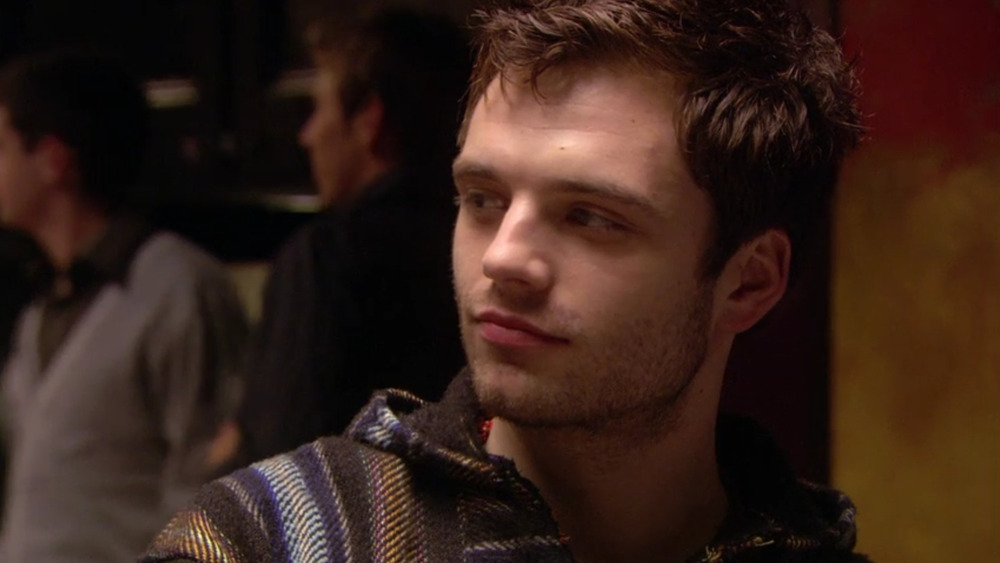 Soapy, scandalous, and deliciously dramatic, CW's Gossip Girl ran for six seasons, and for the first three, Sebastian Stan made regular appearances as suave, duplicitous bad boy Carter Baizen.
Stan remembers the show fondly. In 2016, he confirmed that he would be up for making an appearance if the old cast were to reunite for the HBO sequel series. "Sure, I would do it, why not?" Men's Health quotes him as saying, adding, "It was one of my first jobs in New York, and I'll always have a soft spot in my heart for that show." Sadly, he isn't currently listed as being involved in the series, but perhaps he'll appear later on down the line. After all, it was a significant heartthrob role for him. He may have just been a recurring guest star, doomed to have Serena van der Woodsen finally exile him into obscurity, but Gossip Girl gave him a huge chance to do morally dubious things and look good doing it.
Kings put the spotlight on a rising star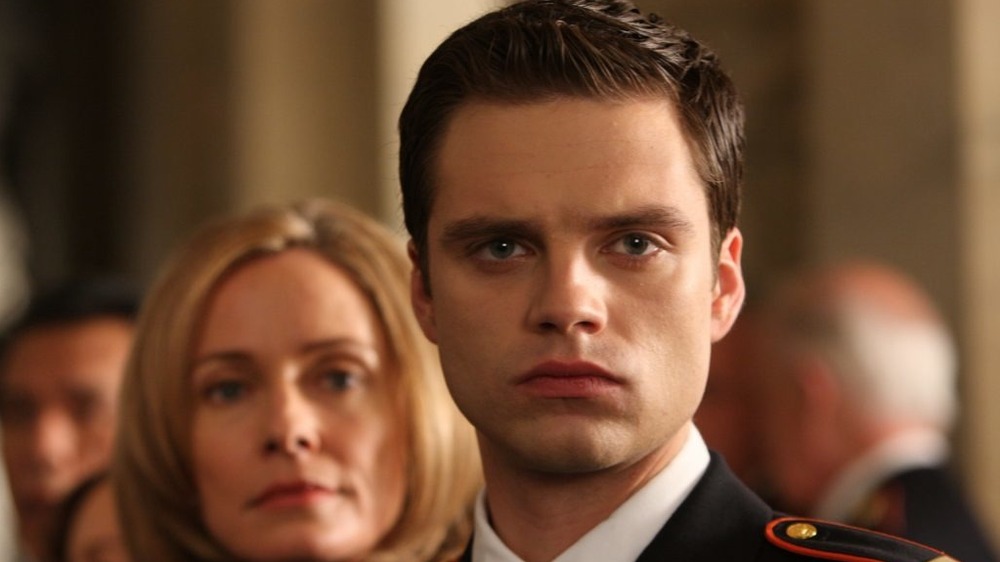 Kings often turns up on lists bemoaning shows canceled too soon – and with good reason. The short-lived NBC series reimagines the biblical story of King David in a landscape that looks like contemporary America but comes with a monarchy and a belief in the divine right of kings. Creative, unusual, and visually stunning, it features terrific performances from actors such as Ian McShane and then up-and-comer Sebastian Stan.
Stan plays Jack, the prince who would inherit the crown from McShane's King Silas. His wealthy playboy front hides that he's ambitious, emotionally complex, and — a problem if he wants to rule, as his father makes painfully clear to him — gay. He makes for the best kind of sympathetic semi-antagonist. The A.V. Club dubbed him the strongest among the show's younger actors, saying he gave a "wrenching performance" that proved his considerable acting talent.
As the pop culture site 25 Years Later puts it, "Stan does a beautiful job with this. His performance is subtle, graceful, and glorious. We stan you, Mister Stan." We do, indeed.
The First Avenger ushered Sebastian Stan into the MCU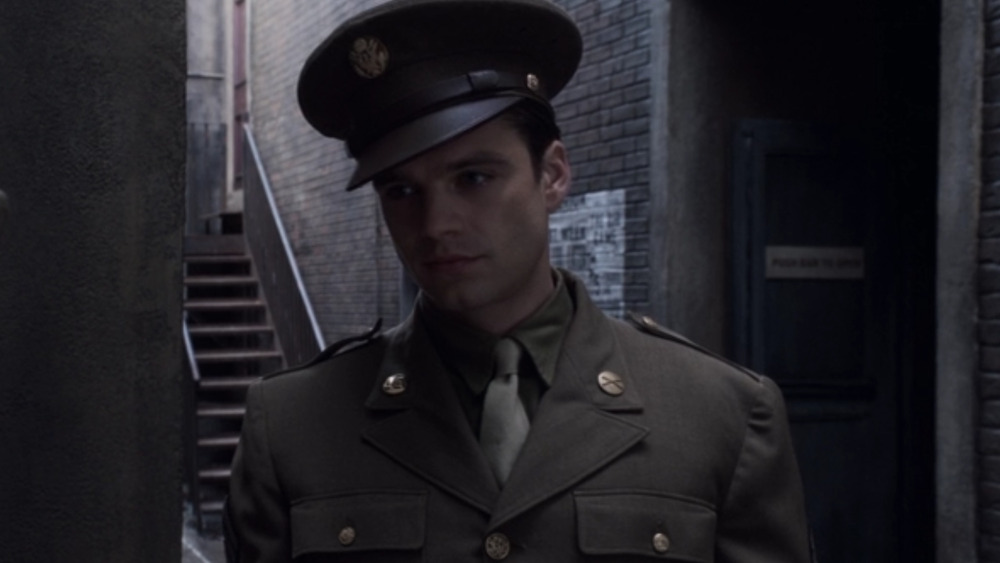 Released in 2011, Captain America: The First Avenger was a huge breakout role for Sebastian Stan, who played Captain America's best friend, Bucky — the guy who always had his back (and a ready quip), even before scrawny Steve Rogers got his shield and super-enhanced muscles.
Bucky is a big part of why the movie works, especially since it uses his apparent death to up the stakes. We have to mind him going — and we do. Stan gives Bucky a classic sense of charm that suits the 1940s soldier. It's like he could've walked straight out of a movie from the Golden Age of Hollywood. Plus, he and Chris Evans have a great rapport.
Even if getting in on the Marvel Cinematic Universe early gave him a major career boost, one that would eventually lead to his own Disney+ show, it didn't start changing his life right away. In a 2021 interview with ET, Stan revealed, "About a month [after The First Avenger's release], I had a call from my business manager telling me I had a month left to figure out how I was going to pay my rent." Thankfully, we got more Bucky, and Stan got more roles ... and more money.
He earned critical acclaim for Political Animals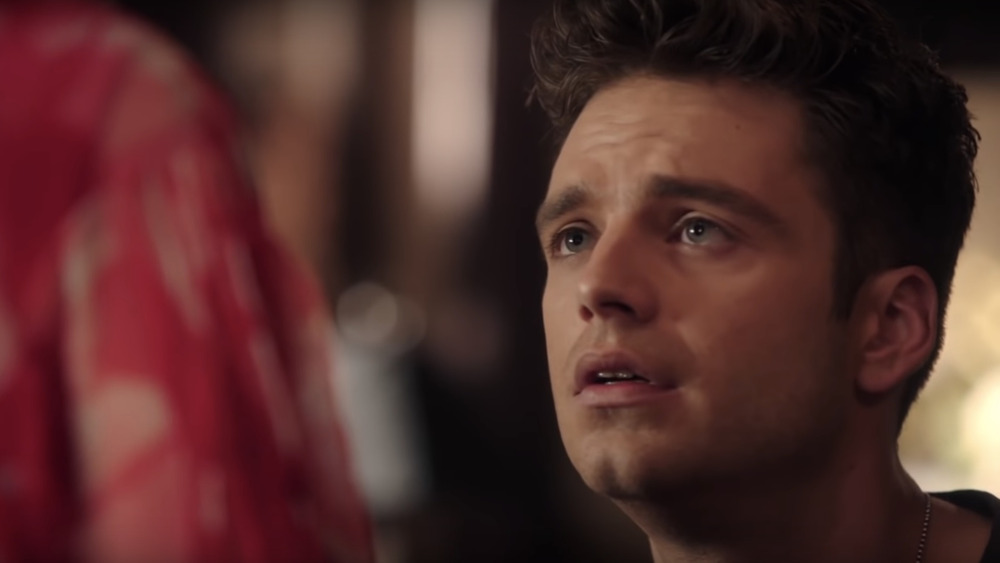 The year 2012 brought us Political Animals, a crackling, soapy miniseries about one Clinton-esque family's attempt to make it back to the White House via Elaine Barrish (Sigourney Weaver), former first lady and now secretary of state. Sebastian Stan truly pops in his role as her son, T.J. Hammond, a troubled and hard-partying young man who's still carrying around the damage of having had to come out of the closet — in front of the whole nation — when his father was president.
While T.J.'s character was drawn in broad (and arguably cliché) strokes, Stan excelled at giving him a sense of real depth. He represented the cost of the Hammond-Barrish family's political aspirations, the person who'd suffered the most from the constant spotlight. His portrayal earned him a Best Supporting Actor nomination with the Critics Choice Television Awards, and Vulture's Matt Zoller Seitz singled out his character as deserving a spinoff of his own, saying, "Sebastian Stan's performance is deeply affecting."
He went mad as a hatter in Once Upon a Time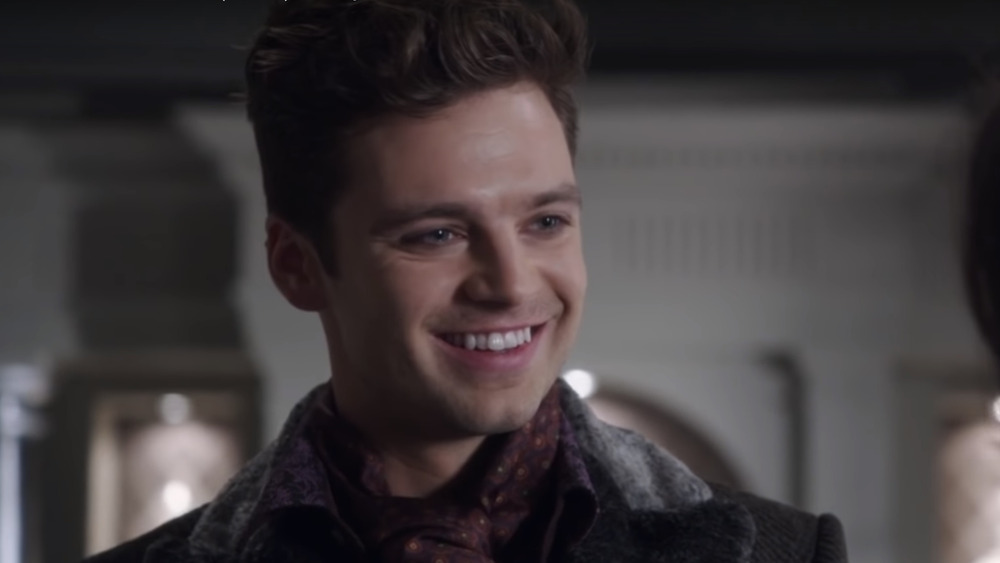 In ABC's Once Upon a Time, a show with cursed fairy tale and fantasy characters, Sebastian Stan plays the Mad Hatter, aka Jefferson. He's only a supporting character who shows up in a handful episodes, but he's a vivid one, half-villain and half-tragic hero, a father who wants to return to his daughter.
There's nothing we don't love about a part that lets Stan show off this kind of range. As Decider puts it, "Stan makes the most of the role, imbuing [the Mad Hatter] with layers of sinister menace, roguish charm, and real despondence over the loss of his daughter. ... He tackles the part with sincerity and wonder, and yes, more than a little bit of campy fun." Stan broods so well in films like Captain America: The Winter Soldier that it's easy to forget how much fun he can be, but work on Once Upon a Time lets him cut loose a little while still giving him a chance to show off what Decider calls his "wounded puppy-like charisma."
The Winter Soldier turned Sebastian Stan into a star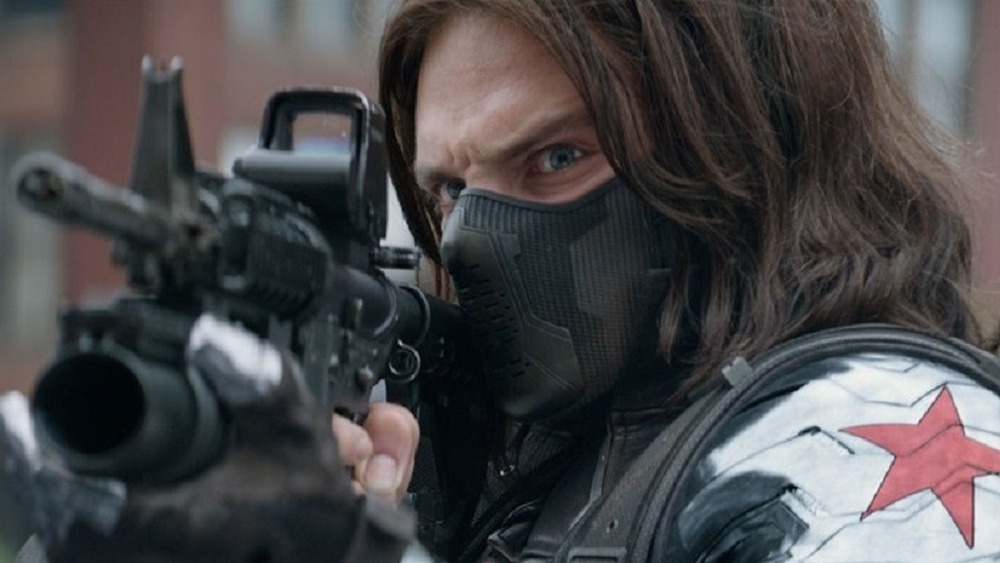 Sebastian Stan was already on the map before The Winter Soldier came along in 2014, but there's no denying the movie rocketed him to new prominence, both in and out of the MCU. Bringing back Bucky Barnes? Great. Bringing him back as HYDRA's brainwashed assassin, making him an even bigger part of Steve Rogers' arc, and catapulting him to the status of fan favorite? Even better.
Stan helps make Captain America: The Winter Soldier a standout in the MCU. In a 2018 article dissecting the film's reputation as the best of the franchise, EW's Devan Coggan says, "[The story is] made all the more powerful by Sebastian Stan and Chris Evans' performances here. We first saw their camaraderie and chemistry in The First Avenger, and The Winter Soldier takes advantage of their on-screen bond to devastating effect." Newsday seconds that, noting that Stan — with his "sad, soulful eyes" — "does a lot with a near-silent role." 
Stan helps the movie pack an emotional wallop that makes the film so effective. It would've been easy for the Winter Soldier to be nothing more than an obstacle. Even the best script can't sell an emotion the actors can't convey. But Stan and Evans make it work, and Bucky's reappearance is a revelation rather than a mere callback.
He helped save Matt Damon in The Martian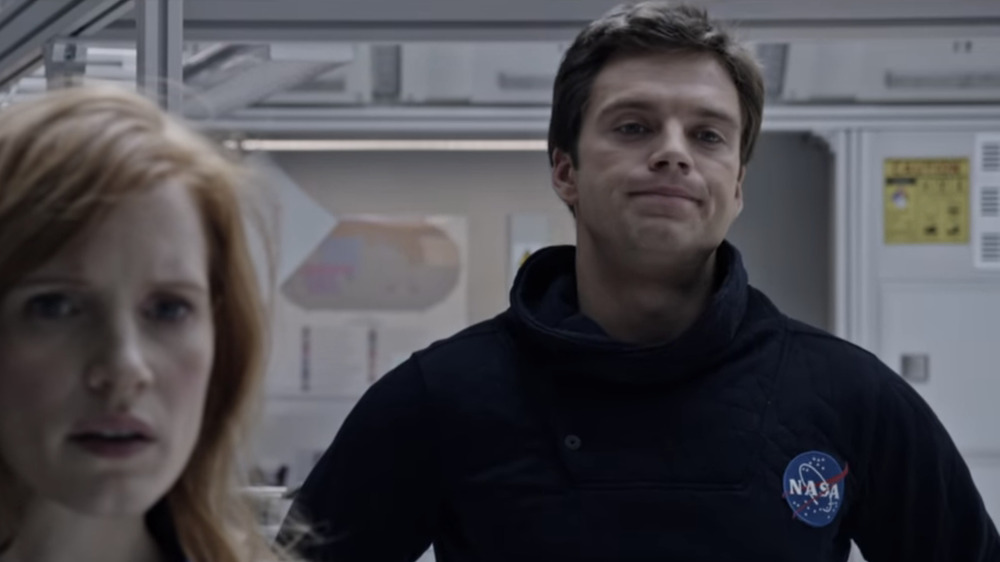 You can't find too many movies as completely likable as Ridley Scott's The Martian, from 2015. Matt Damon stars as astronaut Mark Watney, a botanist who's stranded on Mars during a sandstorm. His crew and everyone at NASA rallies to rescue him while he fights to stay alive in one of the universe's most inhospitable environments. The film is funny, exciting, beautifully shot, and populated with some of cinema's most charismatic actors — including Sebastian Stan as flight surgeon Dr. Chris Beck.
The role isn't a major one, but he's a memorable and vivid part of the film's ensemble, even getting a quiet but swoon-worthy romance subplot with Kate Mara's character. And Stan loved working on the film, telling Tim Talks Hollywood that it raised his game, saying, "Jessica Chastain, Michael Peña — everybody — they elevate you when they're around you. It makes you realize, 'I'm a better actor because of these guys.'" Besides, Stan always wanted to be an astronaut.
He continued to wow as Bucky in Civil War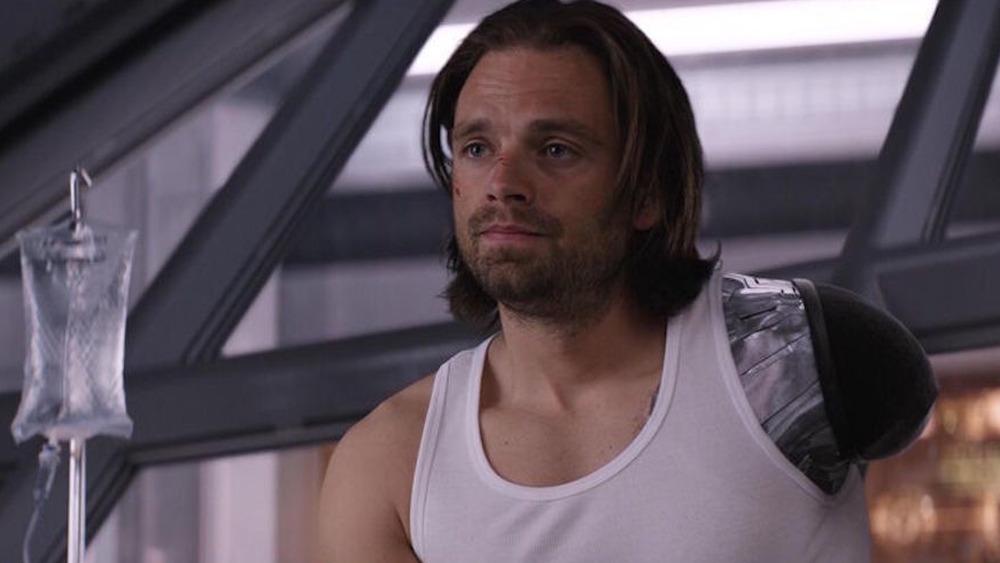 Sebastian Stan's presence in the MCU continued to mount up with 2016's Captain America: Civil War, where Bucky Barnes becomes the unwilling center of a high-stakes conflict of ideals between Iron Man and Captain America. Civil War dives headfirst into the question of how much — if it all — Bucky is responsible for what he did as the Winter Soldier. He was brainwashed and programmed, but as he says, "I still did it." Stan lets us see the weight of Bucky's guilt and his determination to deal with it one way or another.
Empire Online points out how the film shows Bucky caught between two different kinds of past, trying to make a present — and maybe even a future. As the magazine put it, he's mostly as "blank and frosty" as he was in The Winter Soldier, "allowing only the occasional warm glint of '40s sidekick Bucky." But we, like Steve Rogers, wind up feeling like that glimpse of the real Bucky is worth fighting for.
On top of that, we get a chase scene involving Bucky and a magnificent, cinematic motorcycle flip that's one of the best bits of action in the MCU to date. What's not to like?
Logan Lucky features a hilarious Sebastian Stan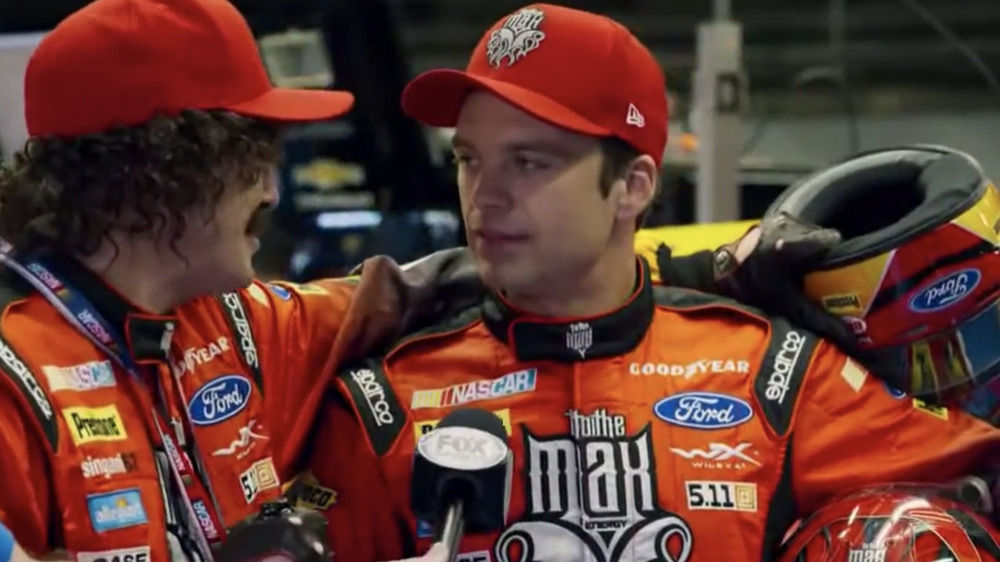 Even if you normally seek out Sebastian Stan's movies, you might've missed his small role in Steven Soderbergh's Logan Lucky. And that's totally understandable because Logan Lucky is so loaded with talented performers that locating any particular actor can feel like playing Where's Waldo? But Stan has been gradually building up a great body of work in the movies, especially in vivid supporting parts, and this is one of the best examples.
Stan's character, health- and fitness-obsessed NASCAR driver Dayton White, doesn't have a huge part to play in the story, but Stan imbues him with great comedic energy, gleefully seizing on the chance to play gloriously dumb. Nerdist lists him as part of the film's "relentlessly impressive" cast, and multiple reviews make special mention of him. In a sprawling, wonderfully overstuffed film like Logan Lucky, characters like Dayton White are a big part of the fun, making the movie fit right into our gallery of sparkling Stan performances.
I, Tonya let him play a very different type of character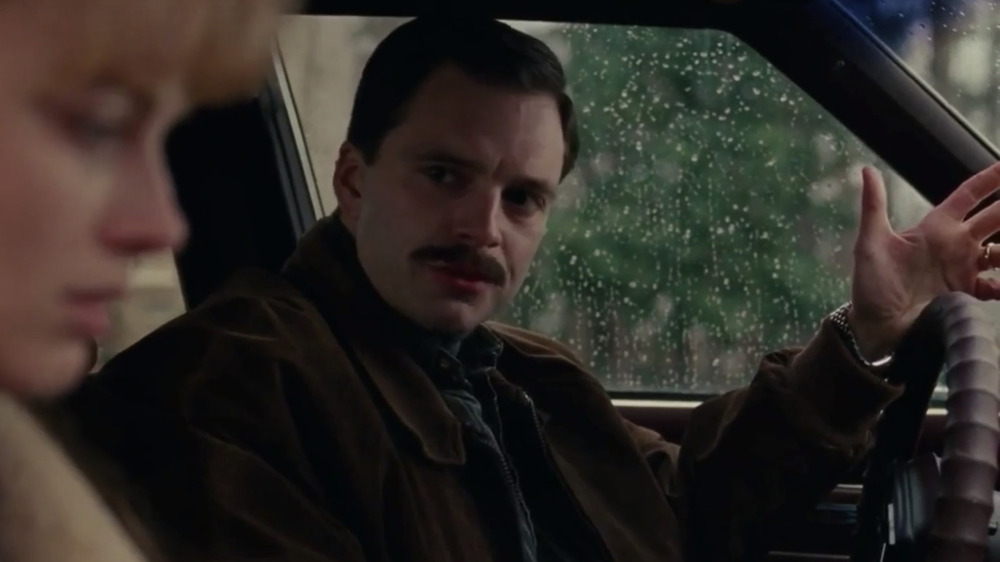 Released in 2017, I, Tonya is a darkly quirky biopic that follows the life and career of infamous figure skater Tonya Harding (Margot Robbie), who made skating history with her triple axels ... and national headlines with her connection to a conspiracy to kneecap her biggest rival. And in the film, Sebastian Stan plays Jeff Gillooly, her husband and co-conspirator.
Here, Stan's good looks are obscured beneath a goofy mustache, and his charm is twisted out of shape by outbursts of violence. It's a stretch from a lot of his previous work, but Stan was up for the challenge. "What excites me is finding a character that's so far removed from who I am," he told IndieWire.
The role didn't just get him acclaim — it won him advocates. Critic Christy Lemire described him as nailing both the "benign goofiness" and the "positively chilling" bursts of violence. Even more impressively, Cinemalogue argued passionately for him to get a Best Supporting Actor nomination, and their reviewer made a persuasive case for it, writing, "Stan walks a razor thin edge; too much, and he would be a caricature, not enough and it could be construed as almost romanticizing abuse. In one scene, Jeff threatens Tonya in a way that is both incomprehensibly cruel and emotionally manipulative, yet you find yourself wanting to comfort him. That level of fourth-wall manipulation requires incredible nuance and skill."
Sebastian Stan went the indie drama route with Destroyer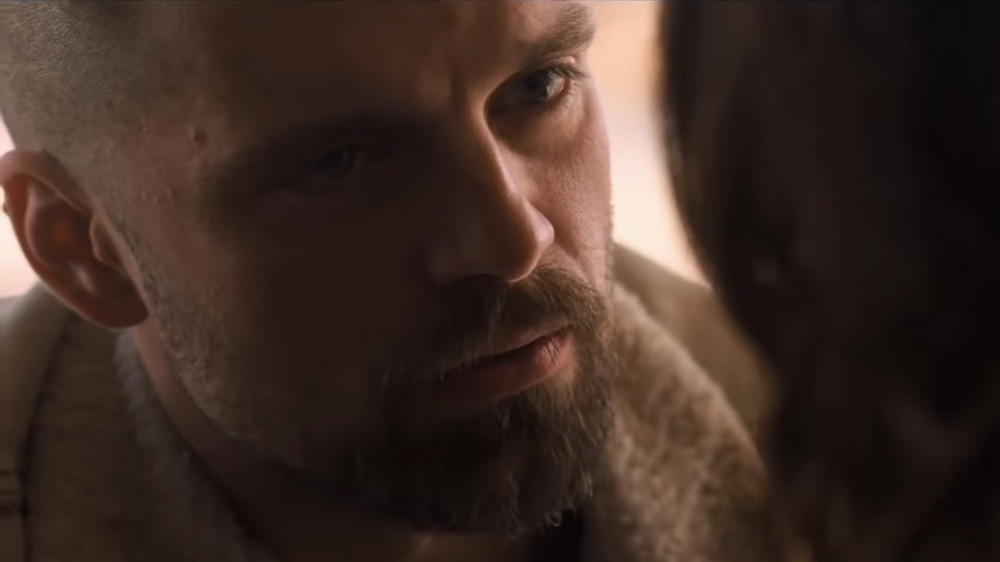 In 2018, Sebastian Stan moved on to Destroyer, a dark crime drama starring a shockingly deglamorized Nicole Kidman as a troubled LAPD detective. Stan plays Chris, her murdered partner whose death she can't get past without a little revenge. The film landed him a CinEuphoria nomination for Best Supporting Actor in their international category, one of his rare award nominations. And while the film was more of a critical success than a commercial hit, its dark tone, emotional complexity, and great performances won it accolades any movie could be proud of.
Stan was undeniably part of that. Rolling Stone called him "stellar" and said that he and Kidman "[created] a bond that is almost palpable." More important than the praise was the fact that the role was, for Stan, a step in the right direction. He told IndieWire that his work on I, Tonya had inspired him to seek out more indie roles that would stretch him as an actor. "[I wanted] to find more things that scare me, and that are challenging. I came out of that movie feeling like, 'I don't know how I'm gonna find the situation again.' I was really wanting to find that again, and lo and behold, I actually did."
We Have Always Lived in the Castle let Stan play the bad guy again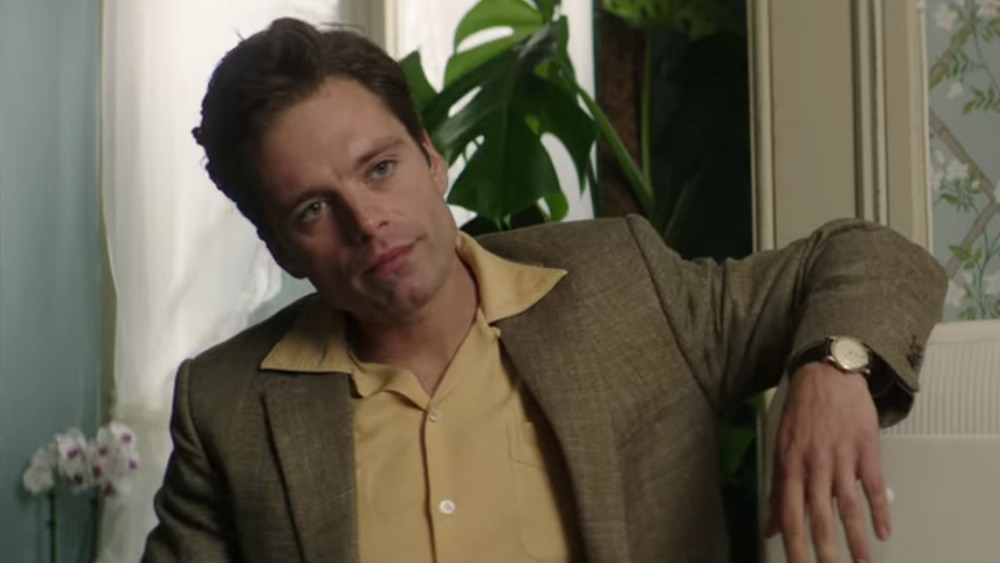 We Have Always Lived in the Castle follows the gothic story of two sisters, Merricat (Taissa Farmiga) and Constance (Alexandra Daddario), who live an isolated life with their paralyzed uncle (Crispin Glover). Their strange domesticity is shattered by the arrival of their scheming cousin, Charles, played by Sebastian Stan.
The film received decent reviews, but the performances were definitely considered the highlight. And Stan shines in his role as a man who's slimy, menacing, malicious, and impossible to stop watching, full of what The Wrap called "preppy villainy."
Film School Rejects saw the movie as a natural — and great — expansion of the abilities Stan had already proven in films like I, Tonya, saying, "[He] seems to have really nailed the toxic masculinity character. ... Stan brings Charles to a place we've [seen] Stan go before, and it's still very difficult to watch, but it's an excellent reminder that he can do more than the Winter Soldier."
Infinity War and Endgame give some love to Bucky Barnes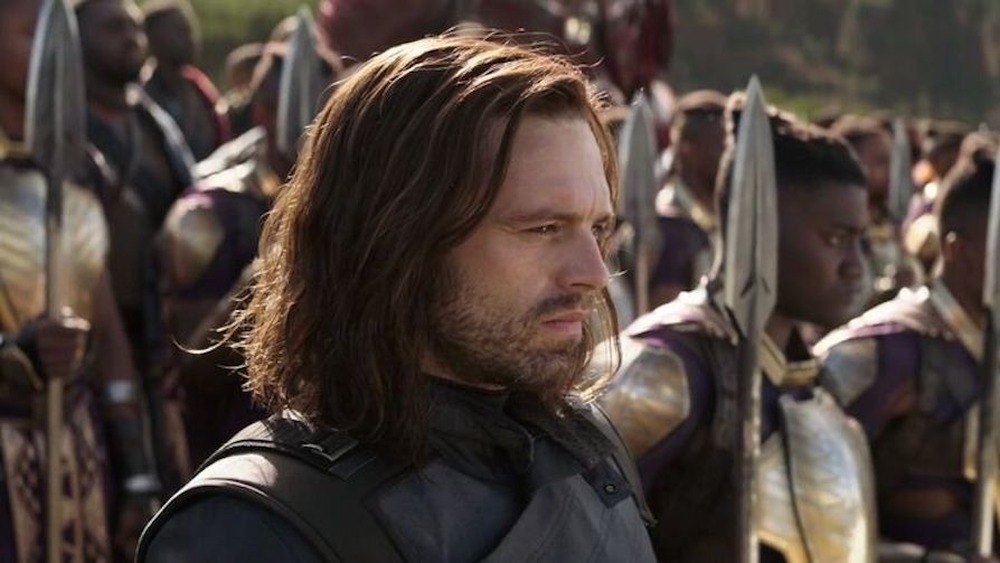 Infinity War and Endgame are such crowded movies with so much to do that a designated supporting character like Sebastian Stan's Bucky Barnes was never going to snag a significant amount of screen time. But in between epic battles and bittersweet triumphs, Stan finds the time to deepen Bucky's characterization in a way that perfectly sets him up for his co-starring turn in The Falcon and the Winter Soldier.
In Infinity War, we see that his time of rest and goat-farming in Wakanda has helped bring him back to himself. He gets to be snarky, providing a couple of deadpan laughs, and he provides one of our favorite fight details by doing some tag-team gunfire with Rocket Raccoon. And Endgame benefits from his interaction with Captain America, as he and Steve say a goodbye that turns out, belatedly, to be more lasting and more poignant than he knew.
The films are a necessary and well-handled step in his evolution towards being a lead character in his own right, and Stan proves why he deserves that slot.
The Devil All the Time gives us a great Stan villain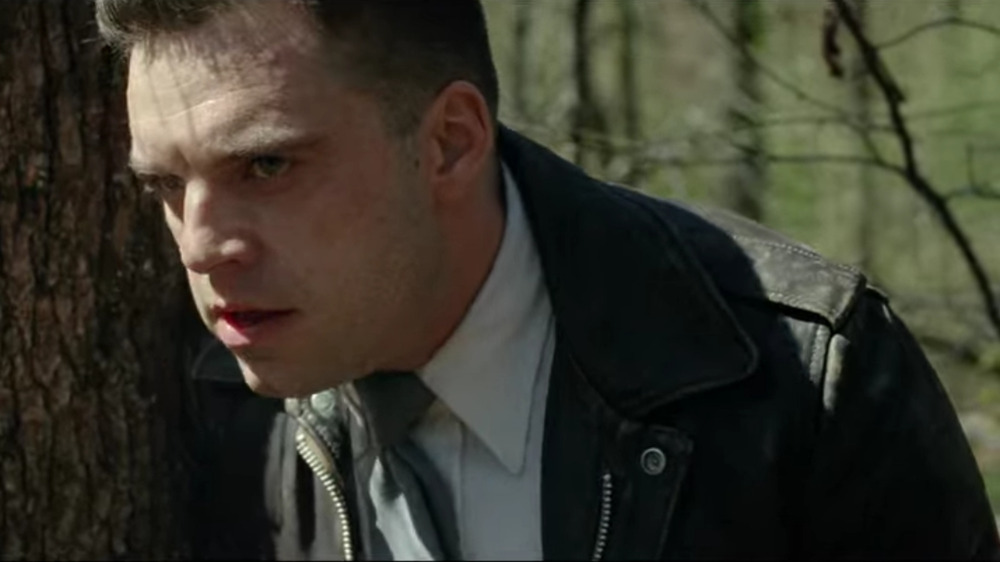 The Devil All the Time is a star-studded country noir film about the collision of a lot of down-and-out characters in the rural town of Knockemstiff. Sebastian Stan plays the ambitious and bent Sheriff Lee Bodecker, whose corruption and love for his sister toxically combines to make him one of the movie's antagonists.
When Chris Evans had to step down from the role, he threw his support behind his MCU co-star, and Stan didn't make him regret that. It's one of his best and most haunting villain roles, with Deadline saying the sheriff is "Stan at his most vicious."
And — especially notable given the physical fitness required for Marvel heroes — Stan changed his looks for the part, knowing he'd have to work hard to get them back again. He gained weight, deliberately taking away some of his Hollywood appeal to get the right feeling for Bodecker. That physicality proves essential, providing to be one of the most indelible images in the film.
The Falcon and the Winter Soldier puts Sebastian Stan front and center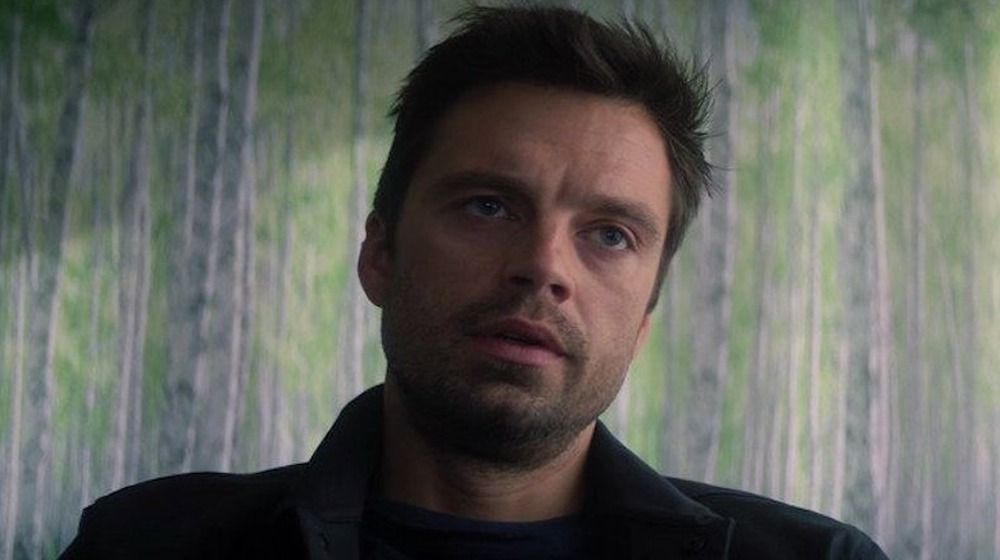 After years racking up fan love as a prominent supporting character in the Captain America movies, Sebastian Stan finally steps into the spotlight with The Falcon and the Winter Soldier, a Disney+ series about Bucky Barnes and Sam Wilson (Anthony Mackie). The movies have already established that the two can have great acerbic chemistry, and the series adds in even more action and pathos.
And, most importantly, it gives both Bucky and Sam's characters room to breathe and expand. Several reviews note that the series offers a down-to-earth, low-key realism (unlike WandaVision's metafictional playfulness), and Stan — especially after gradually building up a profile in indie movies and notable supporting roles — benefits from that more grounded and relaxed approach. But in addition to bringing the pain and sadness, Stan also proves quite hilarious when trading quips with his winged co-hero. After years in Cap's shadow, Stan has finally stepped into the superhero spotlight.