Exclusive Clip: Nicole's On A Desperate Search For Waverly In New Wynonna Earp Episode
Wynonna Earp's penultimate episode, both of its fourth season and of its entire run, is fast approaching — and it wouldn't be nearing premiere day if Looper didn't have an exclusive sneak peek to share with the Earpers of the world.
In the clip from the episode, entitled "Better Dig Two," Nicole Haught (Katherine Barrell) is seen geared up in her Purgatory deputy sheriff duds, holding a walkie talkie and frantically trying to get through to Wynonna (Melanie Scrofano). She's in the woods and searching for her fiancée, Wynonna's half-sister Waverly (Dominique Provost-Chalkley), who was put through the wringer and then some in Wynonna Earp's most recent episode. 
"Wynonna, can you hear me? Where's Waverly?" Nicole pleads before she finally picks up a voice on the other end. Unfortunately, the voice isn't a pleasant one with good news: It's a man delivering a "code red" directive to "eliminate all townspeople" and leave no survivors. Realizing the perpetrators are headed to her own area to kill "her townspeople," Nicole declares that she's going to "kick some government a**." Get 'em, Nicole!
Two roads diverge in Purgatory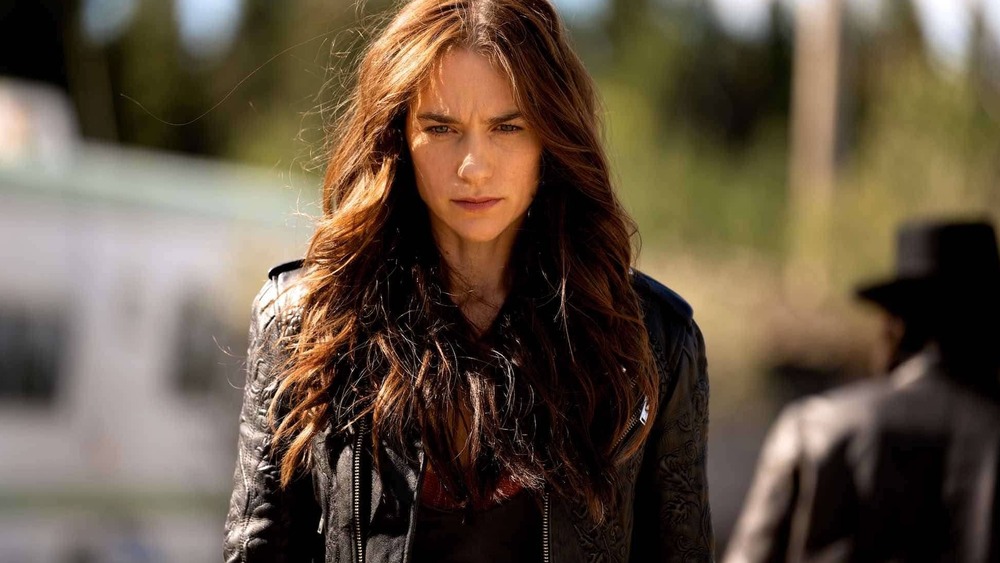 Michelle Faye/Syfy
Looper's exclusive clip is just a small taste of what's ahead in the second-to-last-episode of Wynonna Earp. A few days ago, the folks at SYFY Wire shared their own teaser for "Better Dig Two," and it highlights how different Wynonna and Waverly now are. 
Wynonna, appearing the same way she always has, sits on the ground in front of Waverly, seen pale-faced with huge black wings sprouting from her back. She's now a dark angel version of herself, the "journey" that she told Wynonna had just begun in the series' latest-aired episode. Wynonna believes her sister to be both beautiful and terrible as a dark angel, but based on what's shown in the clip, it looks like Waverly is going to be much more sinister than anyone bargained for, as she's seen watching a building burning down without making any effort to stop it.
While Waverly continues on this path of darkness and those around her attempt to bring her to the light, Wynonna has another trouble to confront: Doc Holliday (Tim Rozon). The former couple has been on a rocky road ever since the midseason finale, when Wynonna shot Hoyt (Ty Olsson) in the back, and it seems as though they'll face off in a gunslinger-versus-gunslinger duel "Better Dig Two." Who will emerge the victor? Will they ever kiss and make up? And who will be the one to get through to Waverly?
Tensions will run high and strengths will be tested in the upcoming episode of Wynonna Earp, co-produced by IDW Entertainment. Get yourself ready for the episode's premiere tomorrow night — Friday, April 2 — at 10 PM ET/9 Central on Syfy.