Exclusive Clip: Get A Sneak Peek At Wynonna Earp's Next Episode
Leave it to Wynonna Earp to have the most unconventional morning routine imaginable.
In advance of the next installment of Syfy's supernatural Western horror series Wynonna Earp, co-produced by IDW Entertainment, Looper can offer up an exclusive sneak peek from the episode — set to hit small screens tomorrow, March 26. 
The clip from the episode (season 4, episode 10, "Life Turned Her That Way") sees Wynonna (Melanie Scrofano) stuck in a Groundhog Day-esque loop. She wakes up; reaches for her trusty Peacemaker handgun, previously wielded by her great-great-grandfather Wyatt Earp; loads the weapon up with a fresh bullet; steps outside; finds a reanimated corpse waiting for her in the woods; then shoots the Revenant, heads back inside, flops down on her bed, and does it all over again. It's par for the course for Wynonna's life, but something's definitely amiss — and it gets worse when our hero blurts out a string of profanities upon realizing Peacemaker is missing.
The episode's logline teases that a "deadly foe" has returned to the Ghost River Triangle, "intent on finishing what they started." Who might this dangerous enemy be? And will Wynonna have what it takes to stop them? Earpers will have to wait until Friday night to find out.
Far from a Purgatory party in "Life Turned Her That Way"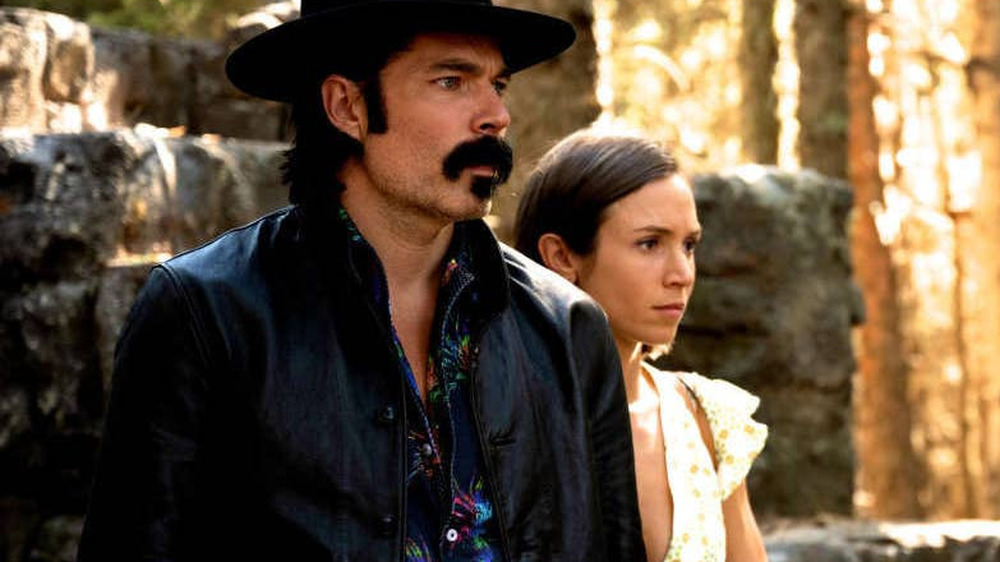 Michelle Faye/Syfy
It appears that Wynonna won't be alone in her battle against this approaching enemy, as the people of Purgatory will be affected by it in various ways. 
First, there's Doc Holliday (Tim Rozon), who's been thrown in jail, as another sneak peek from the episode reveals. The Black Badge Division put him there ... for reasons currently unknown. Later in the clip, Doc's eyes go bright orange and he growls at the police guards from inside his cell. Someone get this guy some vampire food, stat!
Then there's Waverly's newly engaged half-sister Waverly (Dominique Provost-Chalkley), who is, according to a demon from the Glory Hole, suffering a much worse fate than Doc. It seems someone is holding Waverly hostage, as she's shown sitting on the floor of what looks like a small cabin, tied to a pole with her hands behind her back. Wynonna and Waverly's fiancée Nicole (Katherine Barrell) make it their mission to find and rescue her, but by the time they get to her, she may be too far gone.
Brace yourselves for the return of Wynonna Earp tomorrow — Friday, March 26 — at 10 PM ET / 9 Central on Syfy.