Exclusive Clip: Waverly And Nicole Celebrate Their Engagement In Wynonna Earp's Next Episode
Love is in the air — and champagne's spilling on the floor ... and Doc's making suggestive jokes — in the newest episode of Wynonna Earp season 4. 
Everyone's favorite supernatural Western horror show about the great-great-granddaughter of the famous gunslinging lawman Wyatt Earp, her family, her friends, and their misadventures in battling long-dead outlaws come back to life returns for its midseason premiere this Friday, March 5. In advance of its debut, Looper is thrilled to share an exclusive clip from Wynonna Earp season 4, episode 7.
To say that fans are merely excited to see what happens on the upcoming episode would be the understatement of the century. The episode — the seventh one of season 4, aptly entitled "Love's All Over" — finds Wynonna's (Melanie Scrofano) younger half-sister Waverly (Dominique Provost-Chalkley) and her fiancée Nicole Haught (Katherine Barrell), the sheriff of Purgatory, celebrating their engagement. "WayHaught," as Wynonna Earp fans lovingly call the couple, have been through many triumphs and trials alongside one another. Most recently, they had to contend with Nicole being placed under a hex courtesy of the Swamp Witch Margo-Jean Clanton (Paula Boudreau), and then getting exorcised-slash-resurrected thanks to Jeremy Chetri (Varun Saranga) and Sheriff Nedley's (Greg Lawson) efforts. To see Nicole, Waverly, and the people they love celebrate their love is something truly special.
Sadly, though, Doc Holliday (Tim Rozon) won't be able to make it to Nicole and Waverly's "real" engagement party — just drinks at the bar. The sneak-peek clip shows Doc expressing his regret and giving a toast to "all the kisses we have snatched, and vice versa." That double-entendre-laced humor is par for the course for Wynnona Earp — one of many reasons why viewers love the show, co-produced and co-distributed by IDW Entertainment – and the remark prompts a hilarious reaction from Rachel Valdez (Martina Ortiz-Luis). "Sometimes, in a bar, a gentleman forgets himself," Doc tells the young woman. "I'd like to forget that," Rachel quips back as Sheriff Nedley grabs her shoulder and asks for help getting some ice.
WayHaught's in love, but Wynonna and Doc are on the rocks right now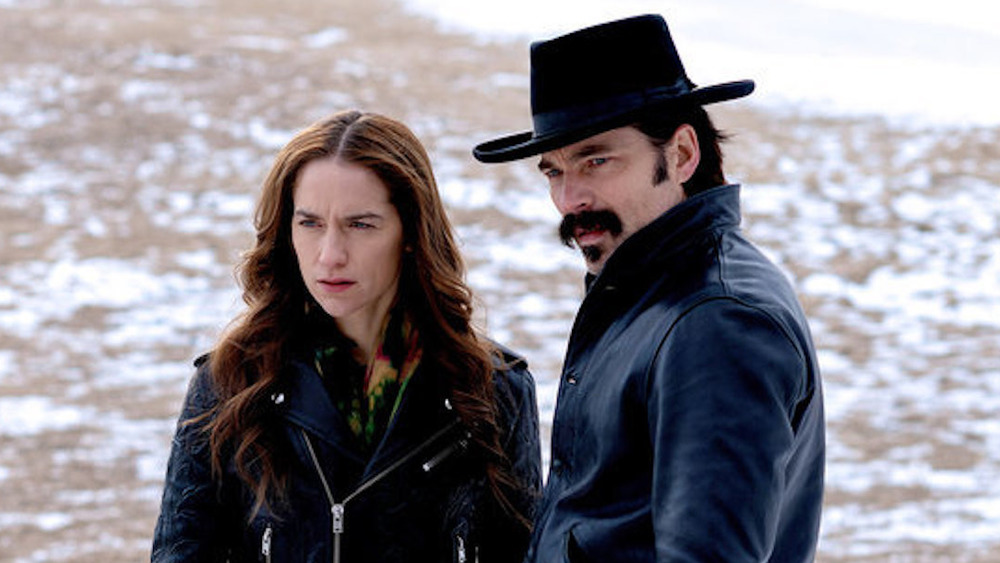 Syfy
Going into the midseason premiere of Wynonna Earp's fourth and final season, fans know that Wynonna's relationship with Doc isn't the strongest it's ever been. In the midseason finale, Wynonna finally got her hands back on Peacemaker, the magic-infused weapon her ancestor Wyatt wielded in his day, after she and Revenant Rosita (Tamara Duarte) headed to Sanctuary of the Scorned Woman, discovered that the head nun Madea (Heather Lea MacCallum) is actually a demon, then successfully duked it out with the sinister sister and her fellow nuns. As it turns out, a blue, glowing sword found in the Sanctuary's weapons room was Peacemaker all along.
What happens thereafter is, unfortunately, not as badass. Sheriff Holt and Wynonna are in a standoff after Nicole's brought back to life. Wynonna uses Peacemaker to shoot Holt, who had turned his back toward Wynonna after Doc attempted to persuade them to lower their weapons. Holt was ready to walk away, but Wynonna wasn't about to lose the fight. "Thanks for distracting him," she says to Doc after shooting Holt in the back. Later on in the episode, Doc tells Wynonna, "There's no lick of honor in shooting a man in the back."
Though Waverly and Nicole are riding the high of their engagement, Doc and Wynonna have a mountain between them to climb. Fans will found out how the two couples fare from here when Wynonna Earp returns with season 4, episode 7, "Love's All Over." The episode premieres on Friday, March 5 at 10 PM on Syfy.