Exclusive Clip: Rick Appraises A Lee Harvey Oswald Overcoat In All-New Pawn Stars Episode
 The guys at the World Famous Gold & Silver Pawn Shop have encountered customers from all walks of life bringing to their store artifacts with all sorts of intriguing backstories. In their time as the trio at the center of History's hit reality television series Pawn Stars, Rick Harrison, Corey "Big Hoss" Harrison, and Austin "Chumlee" Russell have gotten their hands on shipwreck treasure, a samurai sword, an inexpensive toy that wound up paying off big time, a six-figure-earning rare Italian book, antique pistols and other weapons, rare coins, fossils, cars, a unique pack of $10 bills, and just about everything in between. If you can think up an antique that might exist, chances are that the Pawn Stars guys have already come across it. 
That said, however, on the next episode of Pawn Stars, Rick will enter uncharted territory when a seller brings in an overcoat said to be previously owned by Lee Harvey Oswald, the man accused of assassinating President John F. Kennedy in late November 1963. 
Ahead of its debut on Monday, March 22, Looper is thrilled to share an exclusive clip from the newest episode of the show. 
In the clip, a young man named Lucas meets with Rick to discuss the navy-blue overcoat that Oswald purportedly owned and wore. As Lucas explains in a voiceover, his father gave him the coat, which he obtained from Oswald's brother Robert Oswald Jr. (who died in 2017 at the age of 83). "The coat is in pristine condition," Lucas says, adding that he's "hoping to get $20,000" for it.
Lucas and Rick hit it off as they discuss the conspiracy theory surrounding Oswald and his involvement in JFK's assassination. Oswald was accused of killing the then-U.S. president, but maintained that he was a "patsy" and was being framed; two days after Kennedy's death, Jack Ruby, a nightclub owner, shot and killed Oswald. This has led many to believe that Oswald may not have killed Kennedy, or that he potentially didn't act entirely alone or without influence. "I always like a very good conspiracy theory," Rick says in the clip. "This is incredible, and this is the mother of all conspiracy theories."
There's a lot at stake in the upcoming episode of Pawn Stars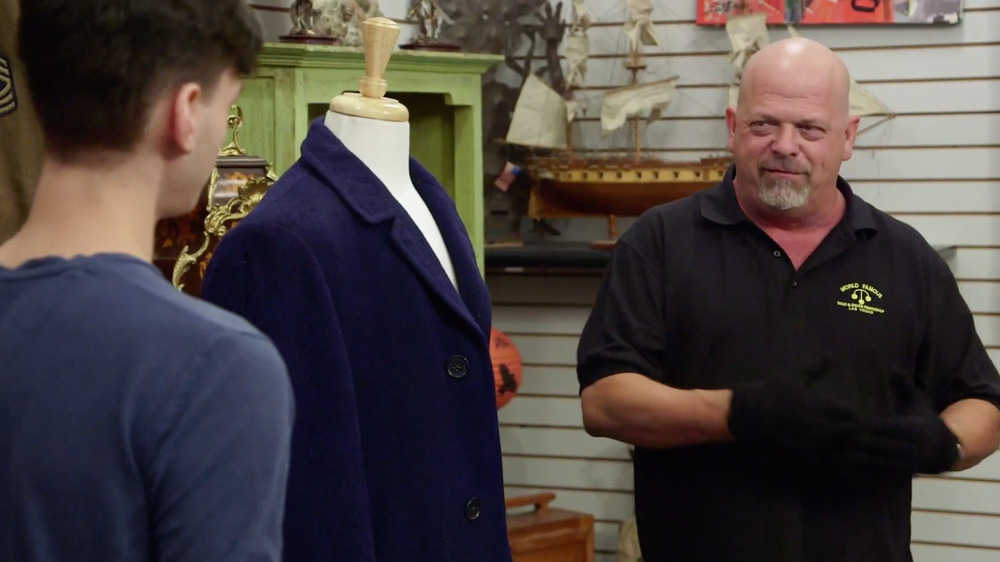 History
When Rick opens the coat, he sees "Lee H Oswald" stitched in yellow-gold thread along the inside, and that sparks his curiosity even more. Though he admits that he doesn't usually buy items from "murderers or mobsters or anything like that," Rick makes an exception here, explaining, "This is a little different because this is the man centered around the biggest conspiracy theory the world has ever seen." Clearly, Rick is interested in the overcoat, which appears to be the exact one Oswald was photographed wearing in Minsk, Belarus before he returned to the U.S. in 1962. 
But despite Rick's enthusiasm, there's a chance this ultra-rare curio might escape his grasp. The logline for the upcoming Pawn Stars episode teases, "Will the deal be a stroll on a grassy knoll, or will Rick lose his shot at owning a piece of history?" Fans will have to wait until the episode airs next week to find out.
As for what the rest of the Pawn Stars crew will get up to in the new episode, Corey will investigate a "30-year-old Gibson guitar with a factory mistake," hoping that the appraisal will result in a hefty profit. Chumlee has his work cut out for him when a customer rocks up to the World Famous Gold & Silver Pawn Shop with a "rare Mike Tyson Nintendo game." And outside of their individual tasks, Rick and Corey will partner up and take a trip to the desert, where a restored half-track from World War II is waiting to be checked out. 
Mark your calendars for the premiere of the next episode of Pawn Stars, debuting on History on Monday, March 22 at 9 PM.