What You'll Only Notice About Penelope's First Scene When Rewatching Bridgerton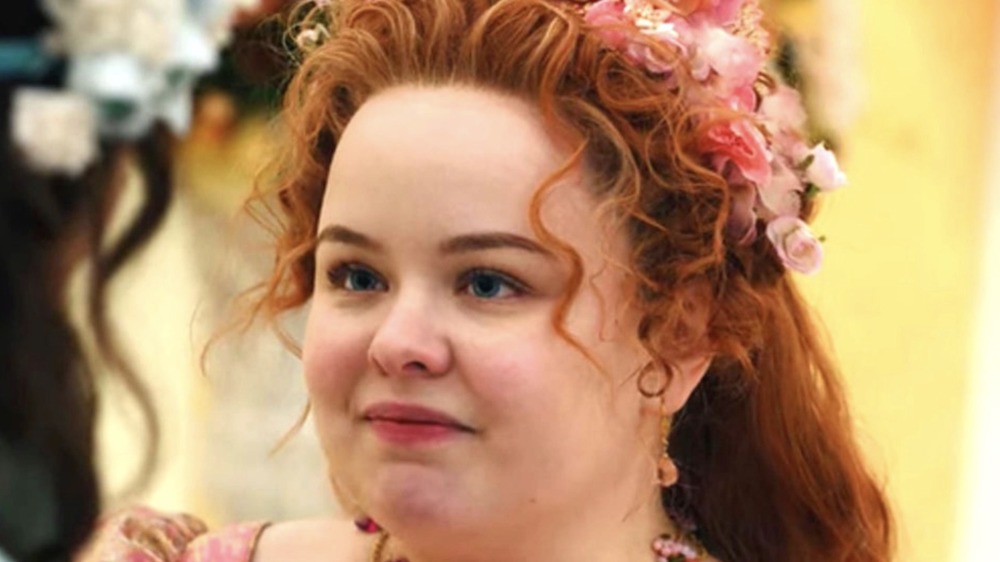 Netflix
If you haven't watched Bridgerton and would like to, you might want to use the back arrow on your browser immediately, as we discuss a major spoiler here. If you have, though, you probably guessed the spoiler way before it was finally revealed at the very end of Bridgerton season 1. That's right: We're talking about the identity of Lady Whistledown, the Gossip Girl-style narrator (voiced by Julie Andrews) of the Netflix Original series who seems to have an in on Regency-era high society that allows her to know shocking secrets about the ton. 
Despite all of Eloise Bridgerton (Claudia Jessie) and Queen Charlotte's (Golda Rosheuvel) efforts to unmask the gossip columnist, which ultimately saw Eloise suspecting everyone from tradespeople to the town dressmaker, the identity of Lady Whistledown remains secret through the end — with a little help from Eloise herself. Eagle-eyed fans realize that the Penelope, reluctantly yellow-clad youngest Featherington sister and Eloise's sidekick, is actually the one behind the mischievous public missives. 
It turns out, actress Nicola Coughlan herself, who plays Penelope, added her own little Easter egg to Bridgerton's very first scene to hint at Penelope's nom de plume.
Did you see that feather prop in the Featheringtons' first scene?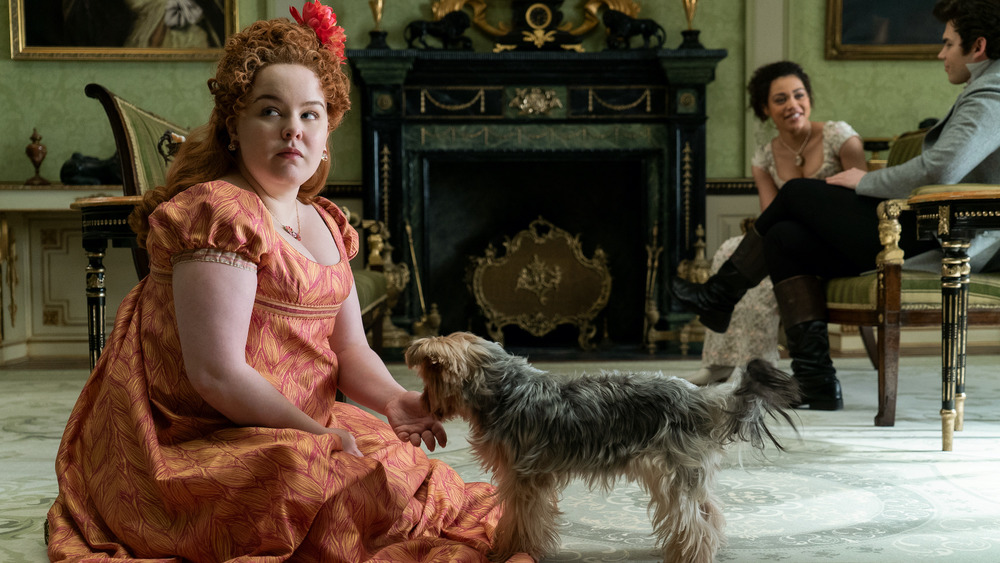 Netflix
The news about the Easter egg came from Coughlan's Twitter account. She posted on February 20, 2021, "Ok I'm just curious, has anyone spotted the massive Easter Egg about Penelope in the very first scene of Bridgerton?"
Some of her fans had indeed noticed the fact that Penelope, while watching her mother bind up one of Penelope's sister in a tightly-laced corset, was holding a large yellow feather. When one fan responded with the right answer, saying "The quill?", Coughlan confirmed it. She incorporated the fan's tweet into her answer, saying, "When I filmed Penelope's first scene I chose a prop, a massive massive feather that looked a lot like...'The quill?'" A few minutes later, in a separate post, Coughlan said she was "very impressed with those that spotted it!" She added, "I decided on a prop for the scene where you first see Penelope, that prop happened to be a giant feather that looked a lot like...a quill."
Other Lady Whistledown clues beyond the quill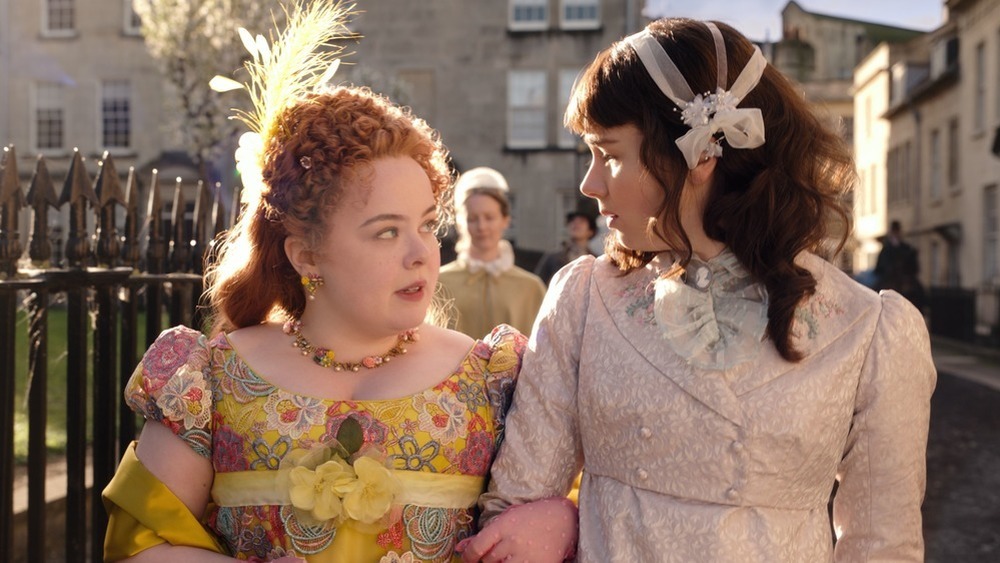 Netflix
Whether or not you saw that little hint, there were plenty of other clues dropped during the course of the first eight episodes of Bridgerton that led fans to figure out the true identity of Lady Whistledown before it was formally revealed. These included the gossip writer's early and intimate knowledge of Marina's (Ruby Barker) pregnancy and Penelope's own clever, book-loving personality. 
In fact, Coughlan admitted to the presence of other hints, offering on Twitter to confirm or deny the legitimacy of any clues fans have spotted. And fans delivered. They brought up everything from her character's nickname (Pen) to the fact that Lady Whistledown didn't write about the queen's luncheon because the Featheringtons weren't there after their invitation had been rescinded.
All this considered, it remains to be seen in the upcoming second season of Bridgerton whether Penelope can keep her Lady Whistledown secret, well, a secret as Anthony Bridgerton (Jonathan Bailey) and his new love interest take center stage. If you'll recall one major subplot, the Featheringtons suffered a tragic setback when Archibald Featherington (Ben Miller), Penelope's father, was killed during a wager gone wrong. Penelope is in for some tough times, it seems. It should be interesting to see how her changed circumstances affect the timely, witty observations of Lady Whistledown.