Bridgerton Season 2 Release Date, Cast, And Plot - What We Know So Far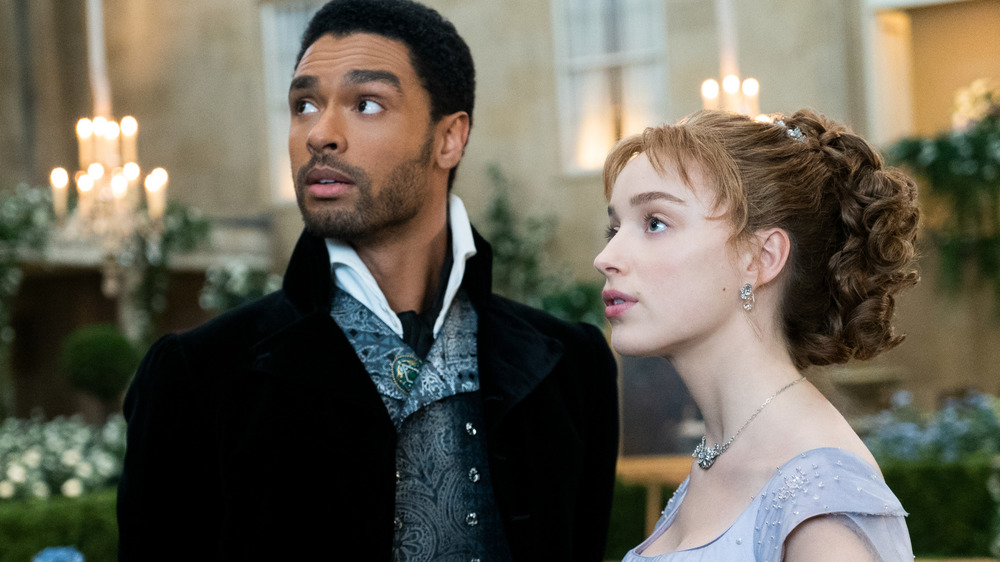 Liam Daniel/Netflix
Contains major spoilers for Bridgerton season 1
In late December 2020, Netflix's Bridgerton became the talk of the ton — and now, fans are doing all but writing to Lady Whistledown herself to beg for another season. 
The creative brainchild of longtime collaborators Chris Van Dusen (who adapted Bridgerton for the screen from author Julia Quinn's series of novels) and Shonda Rhimes (the television industry powerhouse behind Grey's Anatomy, Scandal, How to Get Away with Murder, and more), Bridgerton is one part Pride and Prejudice and one part Gossip Girl. Bridgerton's story takes place in London during the Regency era — specifically amid the 1813 "season," the time of year when members of upper-class society present themselves at court, attending balls and other events in the hopes of raising their social status and securing a fitting match for marriage.
As its title reveals, Bridgerton largely centers around Daphne Bridgerton (Phoebe Dynevor) — the eldest daughter of Violet, Dowager Viscountess Bridgerton (Ruth Gemmell), and her late husband — who is dubbed the "incomparable" and the "diamond" of the season. In order to attract the attention of worthy potential suitors, Daphne strikes a deal with the handsome Simon Basset, Duke of Hastings (Regé-Jean Page), who has no intention of marrying but needs to keep the bachelorettes and eager mothers of the ton (the term used to describe the members of high society) off his back. The two agree to pretend to be courting, but that faking turns real, and Simon and Daphne end up married and living in Simon's estate in Clyvedon before too long. 
All the while, there's the matter of the Featherington family trying to find the pregnant Marina Thompson (Ruby Barker) a husband; Daphne's brother Anthony, Viscount Bridgerton (Jonathan Bailey), coming to terms with the fact that he can never truly be with the woman he loves, opera singer Siena Rosso (Sabrina Bartlett); and Queen Charlotte (Golda Rosheuvel) and Eloise Bridgerton (Claudia Jessie) creating an alliance of sorts to discover the true identity of Lady Whistledown (voiced by Julie Andrews), an anonymous author who pens a newsletter revealing the ton's deepest secrets and setting the tone for society's proceedings. 
Response to Bridgerton has been bright and booming, and though Netflix hasn't officially renewed the series for a second season as of mid-January 2021, it seems inevitable that fans haven't seen the last of it. Here's everything we know so far about Bridgerton season 2.
What's the release date for Bridgerton season 2?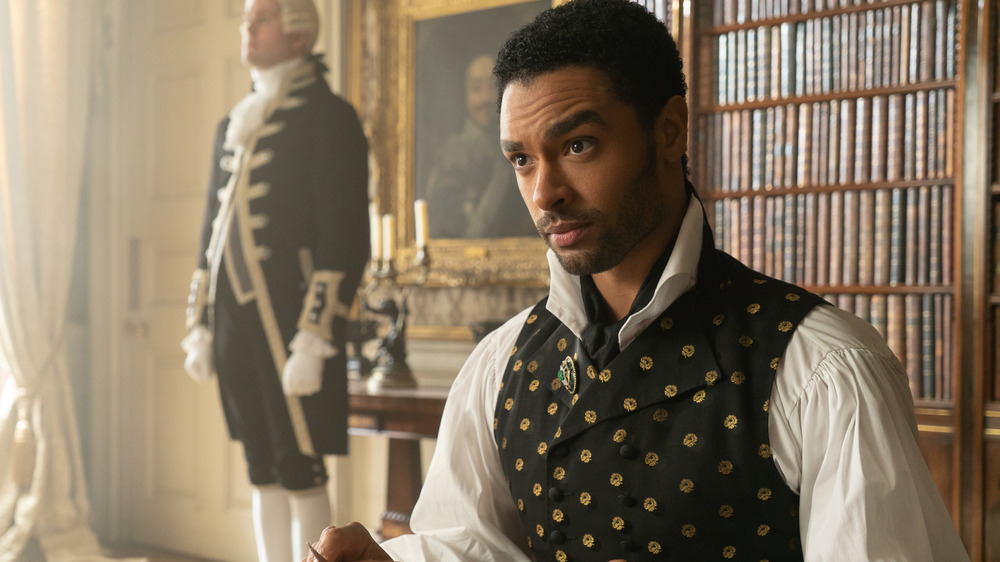 Liam Daniel/Netflix
With Netflix having not yet picked up Bridgerton for a second season, there's obviously no set release date for it. Still, there's a bit of educated guessing that can be done here to land on a plausible release window for a potential Bridgerton season 2. 
Throughout June and July 2019, the Bridgerton team began assembling its cast, and by February 2020, principal photography had already wrapped (via Entertainment Weekly). By November 2020, Bridgerton had a teaser trailer out, and on Christmas Day that year, the series premiered on Netflix. 
Using that timeline as a rough basis, one could predict that there would be a year between the start of filming on a second season of Bridgerton and the time it hits the streaming platform. As of January 2021, filming on any kind of project is either incredibly difficult or literally impossible. Bridgerton – which filmed its first season in London, Bath, and other places across England (via Bath Echo) — is in the latter camp; in late December 2020, U.K. Prime Minister Boris Johnson issued another, even stricter lockdown across England (and specifically London) in order to stem the spread of the novel coronavirus. Should Netflix renew the show for a second season in just a few days or weeks, filming might not be able to begin until late 2021 — or whenever it's deemed safe to do so amid the pandemic.
If that's the case, fans likely won't see Bridgerton season 2 until late 2022, or perhaps even early 2023, depending on how things pan out. This all, of course, hinges on Netflix renewing the series for another season, so fans should hold tight for an official announcement before getting too worked up one way or the other.
Who's in the cast of Bridgerton season 2?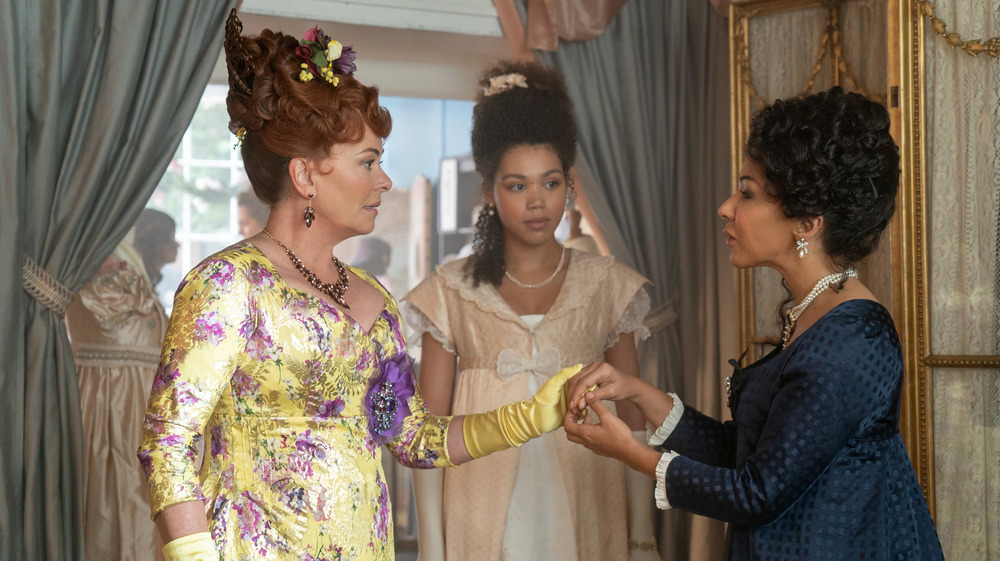 Liam Daniel/Netflix
When it comes to the cast of a possible Bridgerton season 2, the guessing game is simple: Basically everyone from season 1 should return, save for one character who meets his end in the finale episode. 
Actors who are shoo-ins for returns include Regé-Jean Page as Simon; Phoebe Dynevor as Daphne; Golda Rosheuvel as Queen Charlotte; Adjoa Andoh as the doyenne Lady Danbury; Claudia Jessie as Eloise; Jonathan Bailey as Anthony; Luke Newton, Luke Thompson, and Will Tilston as Daphne's other brothers Colin, Benedict, and Gregory; Ruby Stokes and Florence Hunt as Daphne's sisters Francesca and Hyacinth; Ruth Gemmell as Violet; Nicola Coughlan as Penelope Featherington; Harriet Cains and Bessie Carter as Penelope's sisters Philipa and Prudence; Polly Walker as Portia, Baroness Featherington; Martins Imhangbe as Will Mondrich, Simon's close friend and a boxer; and Kathryn Drysdale as the modiste Genevieve Delacroix. Plus, Julie Andrews will undoubtedly return to lend her voice to Lady Whistledown's narrations.
The person who most likely won't be back for a second season is Archibald, Baron Featherington, played by Ben Miller. In episode 8, "After the Rain," Baron Featherington (Ben Miller) makes a massive bet ahead of Will Mondrich's (Martins Imhangbe) boxing match. He liaises with the boxer, promising him great fortune if he agrees to throw the fight. Though the plan works and Baron Featherington ends up with a ton of money post-match, it all turns sour when his so-called associates murder him. With the Featherington patriarch gone, someone new is arriving to oversee the family's estate and inherit their fortune. That means a new actor will join the Bridgerton mix. 
Additionally, Ruby Barker may or may not return as Marina, given that she was last seen riding off with Sir Phillip Crane (Chris Fulton), the brother of Marina's lover George, who died in battle. Phillip proposed to Marina, saying his brother would have wanted Marina and her child to be taken care of. The same can be said for Sabrina Bartlett's Siena, who made it clear that her romance with Anthony Bridgerton needed to end — for the good of both of them. However, considering there are eight core novels and a collection of epilogues in Julia Quinn's Bridgerton book series, those two could play a part in a second season. And, of course, more books means plenty more characters fans haven't yet seen on screen.
What's the plot of Bridgerton season 2?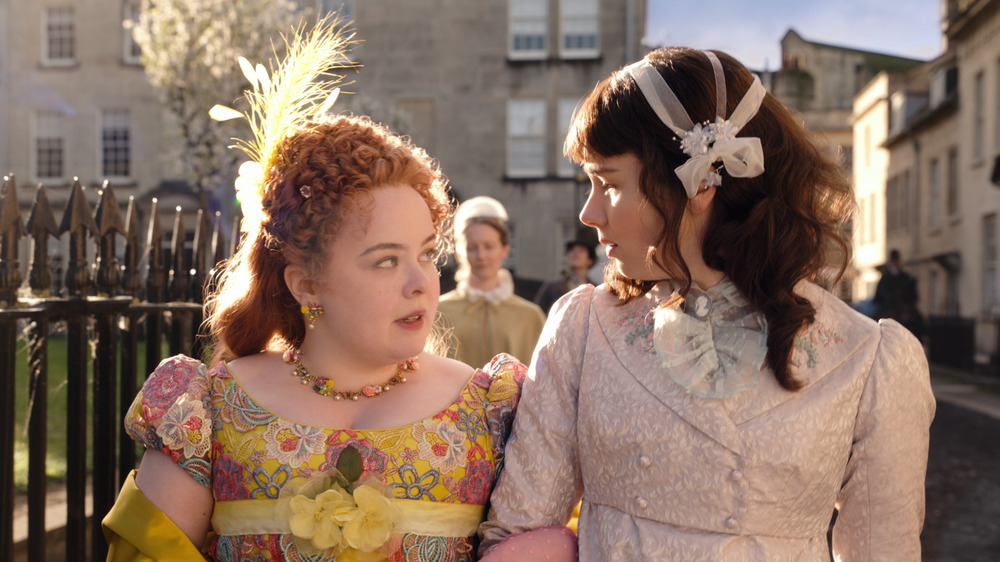 Netflix
The majority of screen adaptations don't stick to what's written on the pages of its source material, and Bridgerton is no exception. There are some significant differences between the Netflix series and the book upon which the first season is largely based – Julia Quinn's first Bridgerton novel, The Duke and I. Certain characters, characterizations, and whole storylines and resolutions are either different or entirely non-existent in The Duke and I.
All this is to say that while Quinn's novel series spans nine books total, all detailing the happy endings the characters receive, it'll be difficult to guess where the Bridgerton series plot goes from here. It's not as easy as picking up the next book in the collection, that being The Viscount Who Loved Me, and seeing what happens. Some of the characters in Bridgerton aren't in the books at all, and certain things that happen in the Bridgerton season 1 finale never take place on the page. Predicting the plot of a potential Bridgerton season 2 is tough, but there are some forecasts that seem more logical than others. 
A potential season 2 would likely show Penelope Featherington continuing to pen newsletters as Lady Whistledown, possibly even accidentally revealing her antics to her best friend Eloise, who spent most of season 1 trying to solve the mystery of the author's identity. Of course, there's also the matter of Simon and Daphne becoming parents to a yet-unnamed son, which will create some interesting dynamics for a possible season 2. (In the books, they have two sons named Edward and David, plus three daughters.) Future episodes will probably also show more marriage matches between well-off families in the ton during a new "season," follow along with Colin Bridgerton on his travels around the world, and see the Featherington family coming to terms with the man who's now in charge of their wealth. 
There's a lot of ground that Bridgerton season 2 can cover — all Netflix has to do is order it.