Being Chris Hemsworth's Stunt Double Is A Grueling Process. Here's Why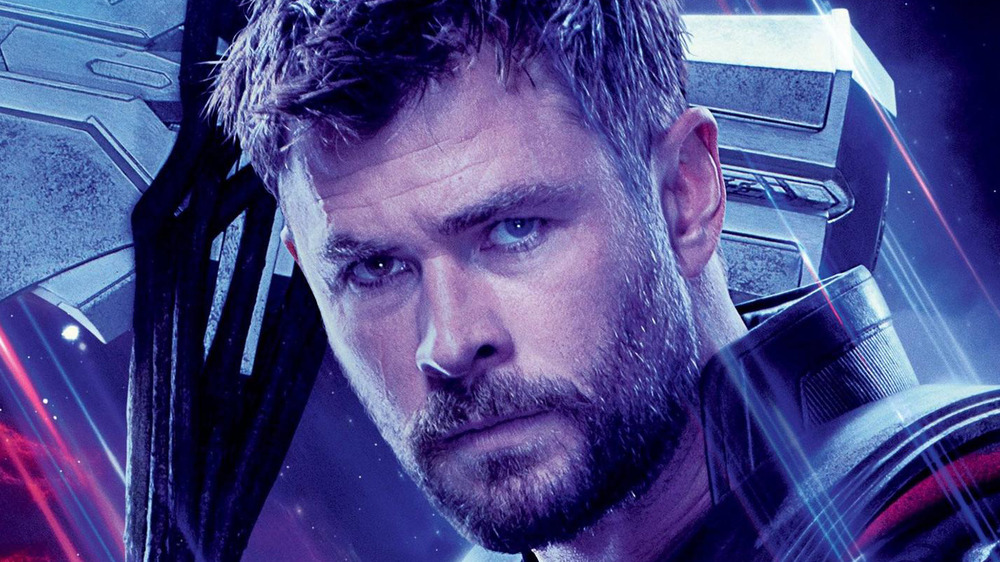 Disney/Marvel Studios
Of all the job descriptions in Hollywood, few sound more demanding than "stunt double for a literal god." Turns out that it's even tougher than you'd think.
Recently, the awesomely named Australian radio show Fitzy and Wippa caught up with Bobby Holland Hanton, who happens to hold that very title (via CNN). Since 2013, the stunt performer has doubled for the famously ripped Chris Hemsworth, beginning with that year's Marvel Cinematic Universe entry Thor: The Dark World. Hanton has admirably performed this function for a variety of famously fit actors: According to CBR, he's doubled for Daniel Craig on the James Bond movie Quantum of Solace, Chris Pine in Wonder Woman, and Henry Cavill in Mission: Impossible — Fallout. 
But while we're talking about impossible missions, consider that in nearly every one of his appearances in the MCU since The Dark World, Thor just keeps getting more and more jacked, and Hanton must follow suit. Of course, in Avengers: Endgame, a depressed Thor famously packed on the pounds — but unfortunately for Hanton, Hensworth seems to be overcompensating for that rotund appearance while shooting the upcoming Thor: Love and Thunder, which is currently before the cameras. "[Hemsworth will be] the biggest Thor he's ever been [in Love and Thunder]," Hanton revealed. "Everyone is like, 'Wow, look at the size [of] him', but I'm like yes, brilliant, now I have to put on that size as well. I text him, I'm like, 'Thanks very much dude, this is going to be even harder this time!'"
Hanton went on to say that it's not just Hemsworth's insane workout regimen that he finds it a challenge to keep up with but also his food intake. "Every two hours we're eating. It's become a chore. I don't enjoy [it] at all," Hanton said, further breaking down that for mere mortals, bulking up so much so quickly can take a toll. "I find carrying around the extra weight is difficult and hard to maintain on the ligaments," he explained. "But [Hemsworth is] all good. Look at him, he's a man mountain."
Chris Hemsworth pretty much never stops working out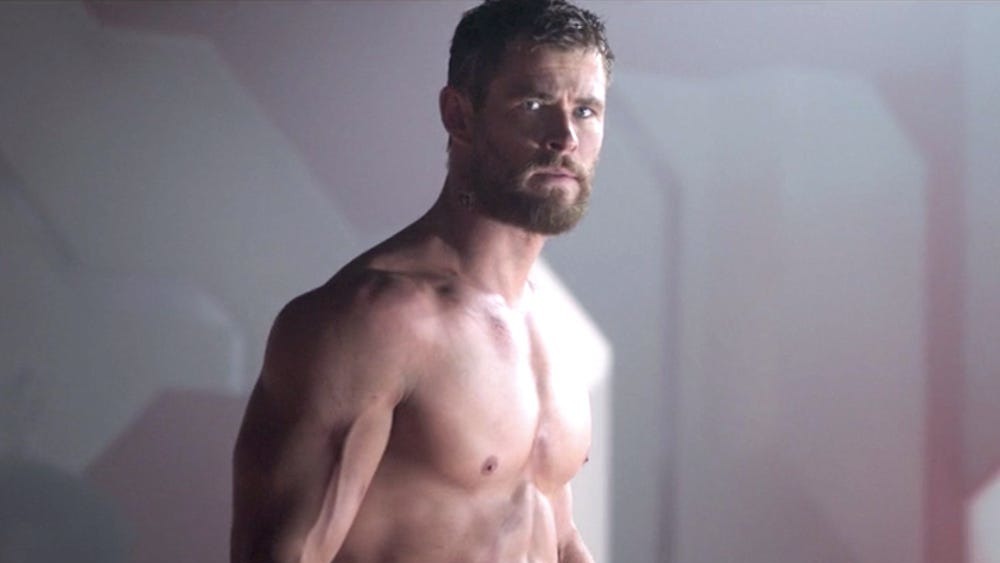 Disney/Marvel Studios
As long as Hanton continues to double for Hemsworth, he's likely to keep having this problem. It's not necessarily that Hemsworth wants to be the most ridiculously ripped actor in Hollywood — it's more of a by-product of pretty much being addicted to exercise. In a recent conversation with Australian Men's Health, the actor said that for him, working out has little to do with vanity and much more to do with the fact that he just can't seem to stand being away from the gym. "My body shuts down when I stop working out," the actor said. "I just don't feel good. I like it for a couple of days, then everything just starts to hurt. I get achy and there's inflammation, my back is stiff. I'm just well aware that in order for me to live healthier and happier, I've got to keep moving."
Hemsworth went on to explain his pragmatic approach to training, saying that too many of his Hollywood peers inexplicably box themselves into training regimens they don't actually like. "I speak to plenty of people who are like, 'Oh, I just hate training,'" he said. "I'm like, 'What do you do?' 'Oh, I just run. But I just don't like running.' I'm like, 'Don't run then!' I don't run. I do a lot of different things. You've got to be an explorer in the world of fitness and exercise and constantly be on the lookout for something fresh."
We can't help but think that this just sounds like a whole heck of a lot of extra work Hemsworth is creating for Hanton, who must at times feel like he's got the world's craziest personal trainer. On the bright side, though, the guy likely makes a pretty decent living to doggedly pursue what must be pretty much every guy's dream: to be ripped like Thor.