The Mission: Impossible Movies Ranked Worst To Best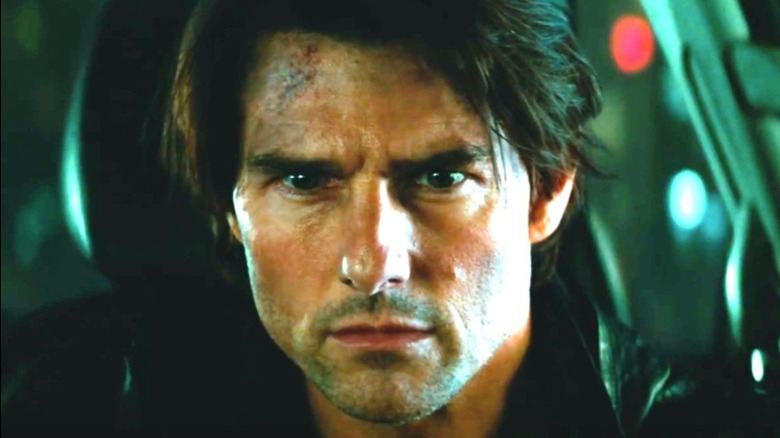 Paramount Pictures
In this time of uncertainty, when everything from masks to vaccines, and even "Tiger King" can be regarded as polarizing issues, it's nice to know that there is one banner we can all get behind: "Mission: Impossible II" is arguably the worst of the "Mission: Impossible" movies. Let's revisit the beginnings of this franchise to get a better understanding of where the films started compared to where they are now.
The film franchise began with "Mission: Impossible" in 1996, as a reimagined version of an old television series. With prolific director Brian De Palma at the helm and classic Hollywood star Jon Voight sharing the screen alongside a then-34-year-old Tom Cruise, the spy flick was a box office success and the third-highest-grossing film of that year (via Box Office Mojo). But predicting a franchise that would continue to one-up itself – currently sitting at six films, with two more due out over the next two years, according to The Observer – would have been ... well, impossible. For your consideration, these are the six films of the "Mission: Impossible" franchise ranked worst to best.
Mission: Impossible II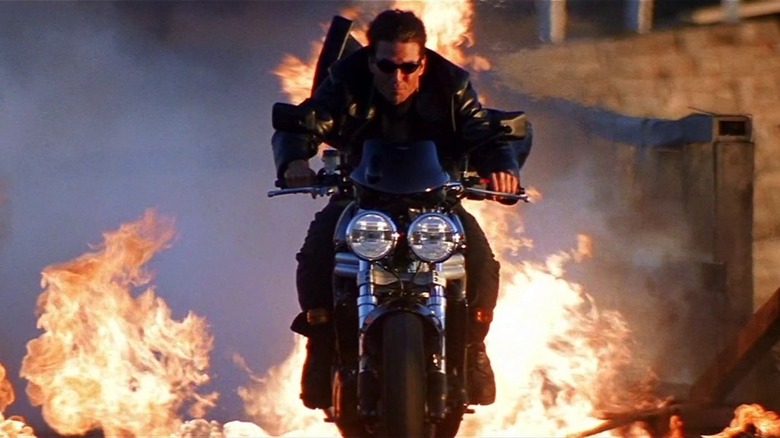 Paramount Pictures
First of all, it's worth saying that being the "worst" in an indisputably phenomenal franchise is a paper cross to bear. It's not that director John Woo's submission to the IMF compendium is bad, per se, it's just that it doesn't hold a candle (lit fuse?) to the other five films. Well, that and a motorcycle battle sequence is so outlandish it borders on insulting. (Yes, we know this is the same series that tethered a helicopter to a high-speed train.)
The movie pairs Tom Cruise's Ethan Hunt with professional thief, Nyah Hall — played brilliantly by Thandiwe Newton – and has the two of them battle her ex-boyfriend, who also happens to be a rogue IMF agent. The baddie in this one is attempting to steal a deadly virus and start a worldwide pandemic — so, maybe it's just a little too on the nose for our current circumstances? Either way, it's not the strongest of the series, and it would be six years before Ethan would choose to accept his next mission in "Mission: Impossible III."
Mission: Impossible — Ghost Protocol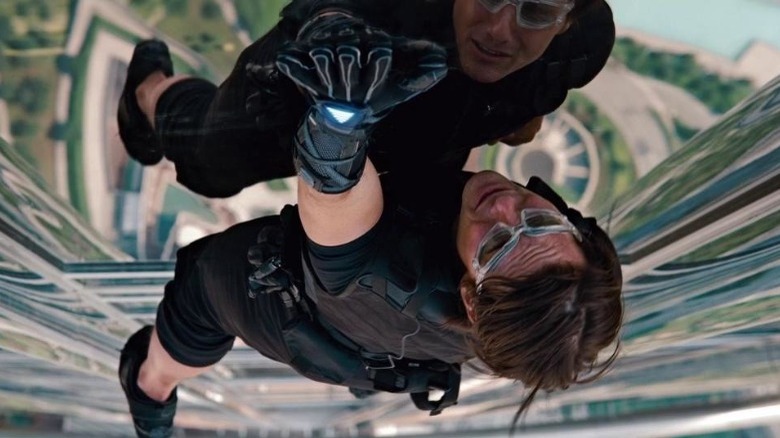 Paramount Pictures
Yes, yes, that stunt scene on the Burj Khalifa is cool. Okay, really cool. But that doesn't make up for Paula Patton's painful turn as Jane, or Jeremy Renner's whiney Brandt. If it wasn't for his wisecracking buddy Benji (Simon Pegg), Ethan might have thought about scrapping the entire team (a la the first "Mission: Impossible" movie) and starting fresh. But in fairness, director Brad Bird's "Mission: Impossible — Ghost Protocol" does an excellent job of setting us up for the "dashies;" the most recent three films in the franchise, which have a decidedly cooler take (and a more emotional through-line) than the three that preceded them.
The major set pieces — like the foot chase in a sandstorm, or the aforementioned scene that has Ethan Hunt sliding down the window panes of a 160-story building — lose a little urgency when you're watching them on a small screen (though odds are your palms will still be sweating when Ethan's gloves start malfunctioning). But all is forgiven when Benji incites a Russian prison riot against his better judgment, and when he and Ethan use virtual reality trickery (and a good old-fashioned fake mustache) to break into the Kremlin. That's the Impossible Missions Force we know and love.
Mission: Impossible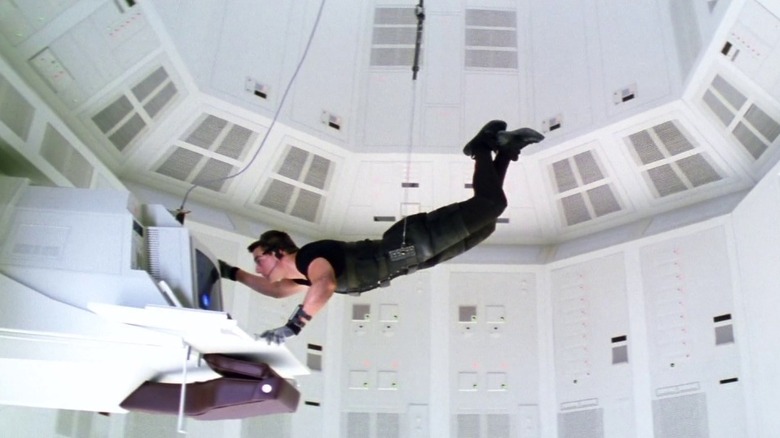 Paramount Pictures
There's nothing like an original. Er, actually, the first "Mission: Impossible" movie was based on a television series starring Peter Graves that ran in the '60s and '70s ... so really, that's the original (via Roger Ebert). But as any party planner worth their salt will tell you: the party doesn't start until Tom Cruise arrives. And if he arrives wearing a tiny black t-shirt and a smart pair of readers, suspended precariously from the ceiling, all the better.
It's hard to overstate how much of an impact this movie made when it debuted in 1996 — killing off half the cast in the first half hour, creating an almost-silent scene so heart-stopping it would be parodied for years to come, and, of course, introducing a new generation to an iconic theme song. Perhaps a good example of how the first of the franchise changed the status quo is the fact that audiences were originally baffled, some even angry, at how complicated and confusing the plot was. If you rewatch it today (and you should), you'll see just how sophisticated we've all become as moviegoers — the storyline now feels as elegant as it is easy to follow.
Mission: Impossible III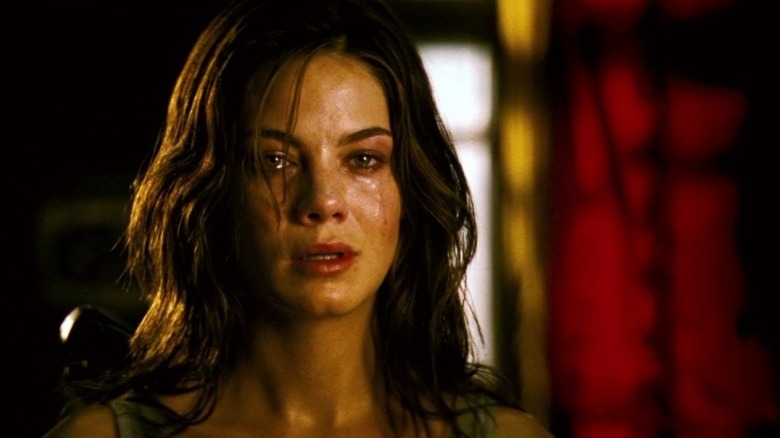 Paramount Pictures
The top three is where things get tricky because, really, they're all great. "Mission: Impossible III" by director J.J. Abrams marks the end of one era and the beginning of another; every "Mission: Impossible" is bigger and bolder, but the films that follow this one scale up considerably in terms of stunts, scope, and storytelling. "Mission: Impossible III" sets us up perfectly to embrace that change, introducing us to Ethan Hunt's foray into domestic life (he is engaged to the sweet, sincere Julia, played by Michelle Monaghan) and bringing back crowd favorite Luther (Ving Rhames), establishing that for Ethan Hunt, people matter more than politics. As such, the film also kicks off a question Hunt will be attempting to answer for the next three films at least: How can he save the world and save his buddies?
The film was the lowest-grossing of the franchise, and reviews were mixed — with Roger Ebert giving it two-and-a-half stars. But standout performances by Keri Russell and Philip Seymour Hoffman (who is genuinely terrifying as bad guy Owen Davian) place it firmly into our top three. Plus, seeing in hindsight all the emotional through-lines that were established in this one — Ethan Hunt as a mentor, Ethan Hunt as a man in love, Ethan Hunt as a team player and an all-around good guy — gives it a shine critics might not have seen when it premiered in 2006. And even if you don't buy that, it's still a delight to watch Tom Cruise run across roofs in Shanghai as if his franchise depended on it.
Mission: Impossible — Fallout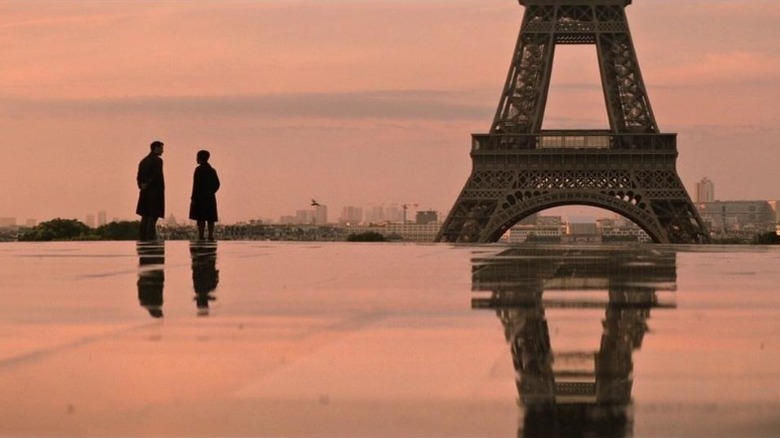 Paramount Pictures
"Mission: Impossible — Fallout" is the most recent film of the franchise, and picks up where "Mission: Impossible — Rogue Nation," the film that directly precedes it, leaves off. Ethan Hunt and the gang are still hot on the heels of the Syndicate, a shadowy organization composed of former field operatives who have become mercenaries. A new version of the Syndicate, called the Apostles, has wacky ideas about plutonium, dirty bombs, and suffering leading to a new world order — among other things. It doesn't matter because if you're watching "Fallout," you're probably already on board with whatever the IMF is up to these days.
Favorite faces return in "Fallout," like Simon Pegg, Ving Rhames, and the indomitable Rebecca Ferguson; but new additions to the cast, like Henry Cavill and Angela Bassett, make the film even more fun. The movie feels like a rollercoaster ride, with non-stop action, ups and downs that make you catch your breath, and a few loop-de-loops thrown in for good measure. The emotional scene between Hunt's former love and his current partner is as tense as the helicopter chase — though perhaps in a different way. And it's this movie that makes you realize no matter how far-fetched or implausible the scene, you're in good hands and along for the ride.
Mission: Impossible — Rogue Nation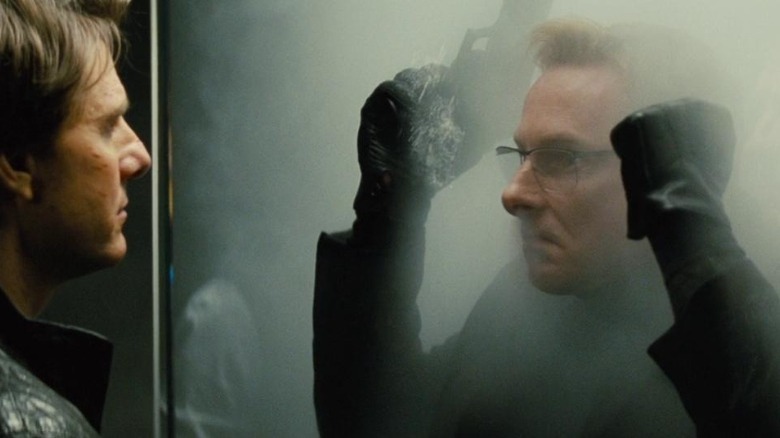 Paramount Pictures
Picking a favorite in the "Mission: Impossible" franchise is improbable, but not altogether impossible. From the moment we catch Benji playing "Halo" on his work computer (which he quickly minimizes when a colleague approaches), we know this one is going to be special. Not only does it introduce Alec Baldwin and Sean Harris — whose skills elevate everyone's performance and create realistic chaos for the films' heroes — but it also ushers in the McQuarrie era, in which director Christopher McQuarrie (writer of "The Usual Suspects" and "Edge of Tomorrow," per IMDb) takes the film series from good to great.
McQuarrie takes the deck of action sequences he's been given and fans them out. He knows you can't just stack cool fight scenes on top of one another, so he uses clever jokes, stunning visuals, and well-written characters to create a house of cards so perfect you'll be holding your breath and praying it doesn't all come crashing down. Tom Cruise cements it, of course, with the same charisma that won hearts in the first film and a weary wink that is downright charming in our favorite middle-aged spy. But what knocks this film into the top spot is Rebecca Ferguson, who makes her franchise debut with the character of Ilsa Faust. Faust is Hunt's equal, with ambiguous loyalties and a baller trench coat, and Ferguson steals every scene she's in — and when that scene involves Hunt's fight with an assassin disguised as a flutist atop the rigging of the Vienna State Opera as Puccini's "Turandot" plays on below, that's saying something.