Here's Why Gina Carano Was Fired From The Mandalorian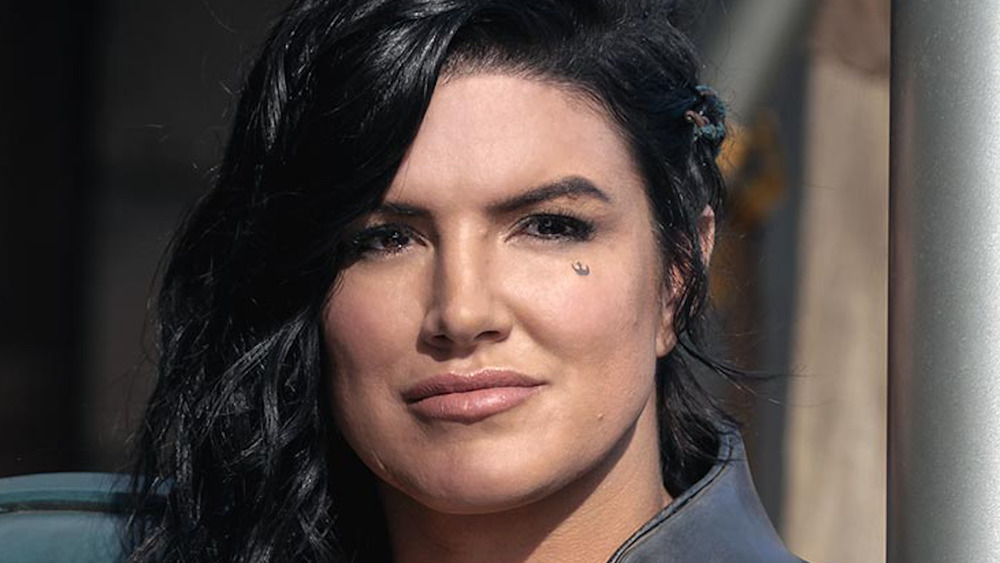 Lucasfilm/Disney+
Gina Carano's Cara Dune won't return for future seasons of the Pedro Pascal-led series The Mandalorian – or for any other Star Wars project, for that matter. 
On Wednesday, February 10, 2021, it was confirmed that Carano, a former mixed martial artist who has become a recognizable face in the action and sci-fi genres over the years, had been fired from The Mandalorian. 
As reported by Deadline, a spokesperson for Lucasfilm confirmed on Wednesday evening that Carano wasn't just dropped from the first-ever live-action Star Wars series — she's also no longer going to be considered for or offered employment with Lucasfilm in the future. The decision came after Carano continued to share on social media statements that Lucasfilm deemed "abhorrent."
Carano's Cara appeared throughout many episodes of The Mandalorian's first and second seasons, aiding Pascal's Din Djarin on his quest to reunite Grogu with other Jedi. Originally, audiences were impressed by Carano's introduction into the Star Wars universe, with many enjoying the strong presence she brought to the series as a former-Rebel-shock-trooper-turned-bounty-hunter. But the star's penchant for expressing her political opinions online — no matter how divisive or offensive those opinions might be — caused many Mandalorian fans to urge Lucasfilm to fire her. As Deadline details, Carano's most recent controversial post on Instagram suggested that being a Republican in the U.S. in 2021 is similar to being Jewish in Nazi Germany. This sparked renewed outrage online, and #FireGinaCarano started trending on Twitter as fans tagged both Disney and Lucasfilm in thousands of tweets in an effort to remove her from The Mandalorian.
At that point, Lucasfilm had already taken note of Carano's damaging social media presence, but her post implying that Republicans are being harmed in the same way Jewish people were harmed in Nazi-era Germany was the breaking point. Wednesday evening, the studio released a statement announcing her firing. It reads, "Gina Carano is not currently employed by Lucasfilm and there are no plans for her to be in the future. Nevertheless, her social media posts denigrating people based on their cultural and religious identities are abhorrent and unacceptable."
Alongside her exit from the Star Wars series, Carano was also dropped by her talent agency, UTA, due to the offensive nature of the comments she made online (via Variety).
The situation has been brewing for some time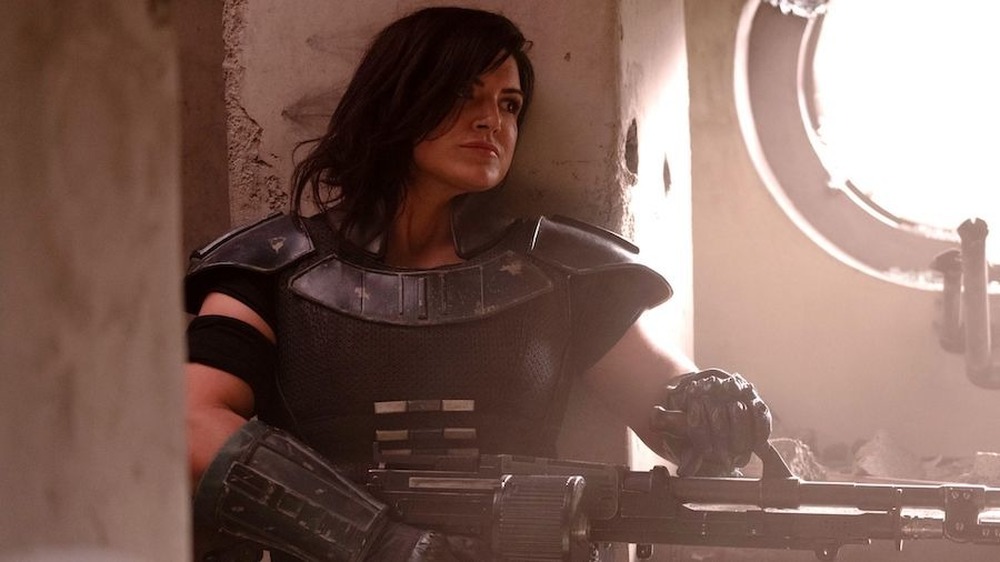 Lucasfilm/Disney+
For several months now, Star Wars and The Mandalorian fans have been banding together to call for Carano's firing. 
Carano previously caused controversy in November 2020 when she mocked social media users who list their pronouns — such as "she/her/hers" or "they/them/theirs" — in their bios, putting "beep/bop/boop" in her own profile. As noted by Variety, Carano also seemingly made a mockery of safety regulations put in place during the COVID-19 pandemic, sharing a photo of someone wearing several cloth masks over their nose and mouth and captioning it, "Meanwhile in California..." One fan created a Change.org petition in late 2020, writing, "Gina Caran[o] and her hateful beliefs and her spread of incorrect information are so harmful. She has no place on this show or working for Disney." Carano's most recent posts have since been deleted from Instagram, but screenshots are still circulating across various social media platforms.
Sources told The Hollywood Reporter that Lucasfilm executives had been planning for about "two months" to fire Carano, and that "today was the final straw." The outlet also revealed that Lucasfilm intended to announce a Cara Dune spin-off series during the Disney Investor's Day presentation in December 2020, but those plans were abandoned after Carano took to Twitter in early November to level accusations about voter fraud in the 2020 U.S. presidential election. "Flush out the fake votes," she wrote in part. "Make Voter Fraud end in 2020."
There was some support for Carano following the news of her firing, as a number of her supporters started tweeting #CancelDisneyPlus. With Disney's impressive slate of spin-off shows like Ahsoka Tano, The Acolyte, Rangers of the New Republic, The Book of Boba Fett, Andor, Obi-Wan Kenobi, and Lando – as well as all the Marvel Studios projects in development — "cancelling" the streaming service doesn't really seem possible. Others started and signed another Change.org petition calling for Lucasfilm to keep Carano in The Mandalorian. The organizer wrote in part, "This is a counter petition to support Gina Carano for keeping her role in The Mandalorian. Everyone is entitled to an opinion whether it be right or wrong." Many who signed the petition have argued that Carano's firing is the result of "cancel culture."
The only question left to ask is whether Lucasfilm will choose to scrap Cara Dune's character completely or recast another actor in the role ahead of The Mandalorian season 3. For now, Gina Carano is Cara Done with the Star Wars universe.