How The Mandalorian Has Shaped Upcoming Marvel Projects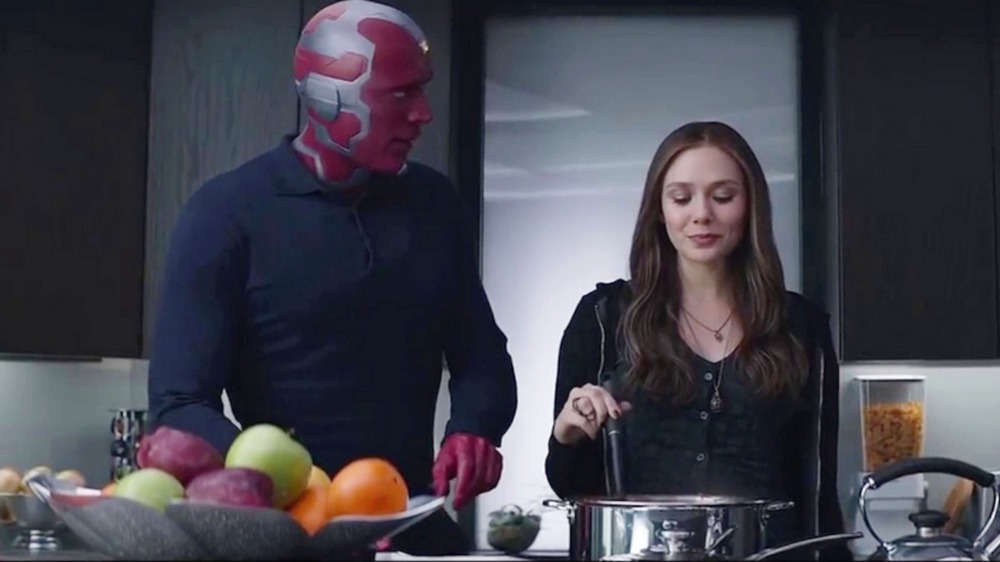 Disney+/Marvel Studios
Per Disney's 2020 Investor Day presentation, which was chock full of exciting announcements about the future of major franchises like Star Wars and Marvel, that future is streaming. In addition to all the Marvel Cinematic Universe projects that we already knew were headed to Disney+, the House of Mouse reaffirmed their commitment to the platform with the announcement of a slate of new streaming projects in development.
Á propos of this pivot toward the small screen, Phase 4 of the MCU is set to launch on January 15 after a quiescent 2020 with the two-episode debut of WandaVision on — where else? — Disney+. The upcoming series represents a bit of a tonal departure from the high adventure and intergalactic action of the Infinity Saga, which reached its formal conclusion with 2019's Avengers: Endgame.
From the earliest moments of the show's first trailer, it's been apparent that WandaVision ostensibly takes the form of a sitcom — or, rather, an homage to the sitcom form. Despite all the visual nods to iconic shows like Bewitched, Dick Van Dyke, and Full House, the series actually draws inspiration from a show that really wouldn't have worked with a laugh track: the spooky anthology series The Twilight Zone. That bit comes straight from WandaVision scribe Jac Schaeffer, who opened up about her process at a virtual press conference held on January 10 that Looper attended.
With so many diverse ingredients tossed into WandaVision's cauldron, it should perhaps come as no surprise that another massive Disney+ hit has also made some key contributions despite taking place such a long time ago in a galaxy far, far away.
Mandalorian technology made its way onto WandaVision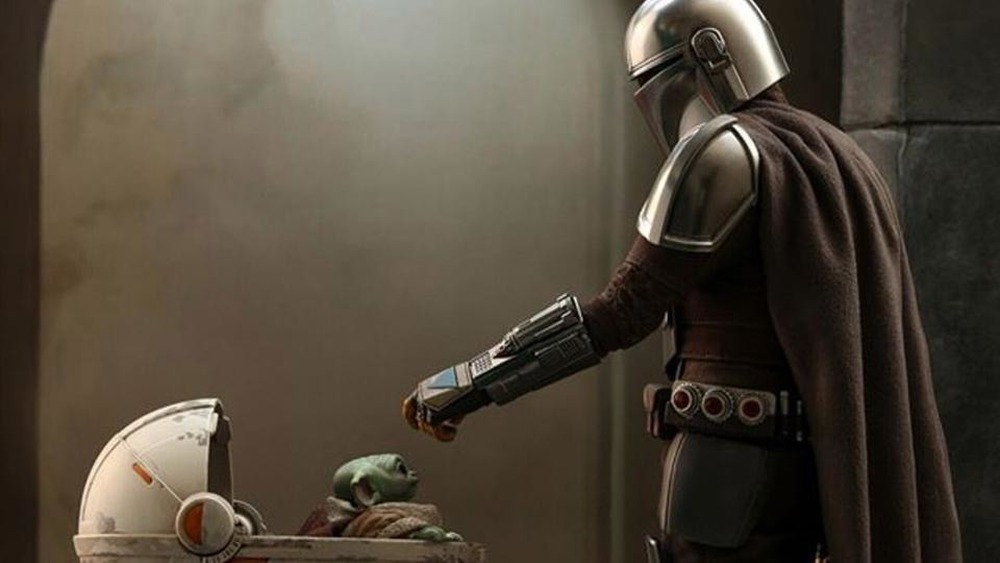 Disney+/Marvel Studios
During the January 10 presser, Looper's Tim Lammers asked Marvel Studios boss Kevin Feige a question about The Mandalorian's influence on WandaVision: "Kevin, a lot of people have observed that Jon Favreau and Dave Filoni have adopted the MCU's unique way of universe sharing in constructing The Mandalorian, and clearly that approach is going to be applied to future Star Wars series. Now, while the new Star Wars series and the MCU's are rooted in the same storytelling sensibilities, I'm wondering if there's something you saw in the making of The Mandalorian that was interesting, and applied it to WandaVision in any sort of way."
Feige pointed out that development of WandaVision was underway before The Mandalorian debuted, so it would have been impossible for Favreau's space Western to have any direct influence on the story development of the Schaeffer-written MCU series. Feige does, however, concede that The Mandalorian has inspired the Marvel Studios crew in other ways related to production. "There's lots and lots of The Mandalorian that has inspired us at Marvel Studios," Feige said. "Not the least of which, the stagecraft technology that they pioneered that we're using on some upcoming projects."
Although Feige didn't specify which elements of the first live-action Star Wars series' stagecraft technology actually made its way onto the WandaVision set — or whether he was referring elliptically to other MCU projects — they should provide some interesting Easter eggs for savvy fans to look out for throughout Phase 4.