Star Wars' Ahsoka Tano Fans Just Got Amazing Disney+ News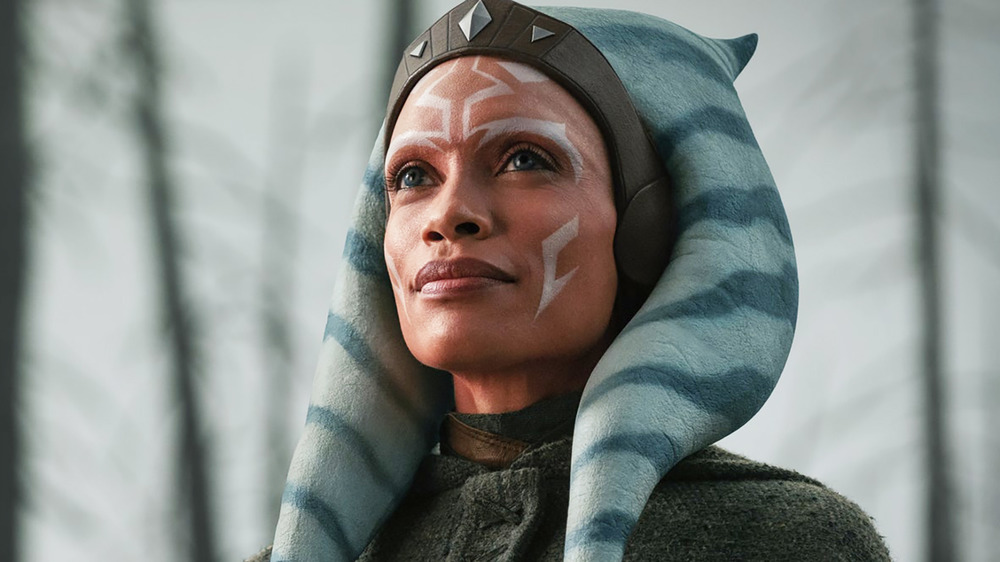 Disney+
Disney must have taken a peek at Ariana Grande's expansive book of lyrics, because the House of Mouse just effectively turned to its fans and said, "You want it? You got it."
During Disney's 2020 Investor Day event, webcast to the masses on Thursday, December 10, Lucasfilm head honcho Kathleen Kennedy announced that Ahsoka Tano is getting her very own spin-off series on Disney+. Rosario Dawson, who brought the character to life for the first time in live-action format on the second season of The Mandalorian, will portray Ahsoka in the series, which is simply entitled Ahsoka. 
True to form, the folks at Disney and its subsidiary Lucasfilm kept hush-hush on juicy details about the project, but we do know a few things. One, it's set within the timeline of The Mandalorian — five years after the events of 1983's Return of the Jedi, from the original Star Wars trilogy. Two, its title art, which the official Star Wars Twitter account shared as news of the series broke and which you can see above, is totally badass. Three, there's a chance it could arrive on the streaming platform next Christmas. The Rangers of the New Republic, a new Star Wars series also set within Mando's (Pedro Pascal) timeline, was announced alongside Ahsoka at Disney's 2020 Investor Day, and Kennedy shared her expectation that one of the two shows will premiere on Christmas Day 2021. Talk about bringing the holiday cheer!
For Star Wars fans, Ahsoka Tano getting her own series is a dream come true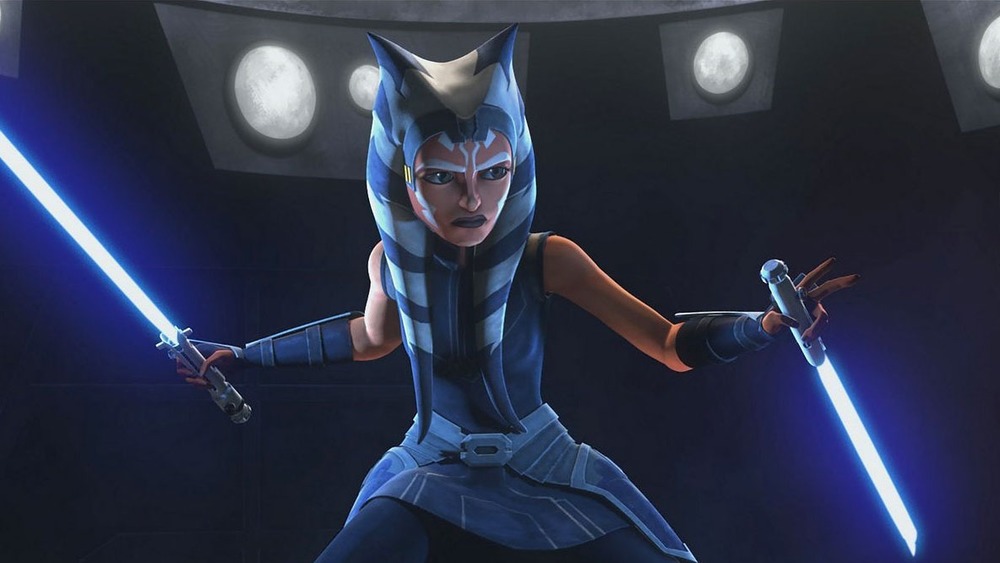 Lucasfilm
The announcement that there's another Star Wars project in the works is enough to get fans all worked up. But the announcement of a Disney+ show that takes place within the same timeline as The Mandalorian, which quickly took the internet by storm with its quick-witted lead character, cuddly green guy affectionately (but not formally) known as Baby Yoda, jaw-dropping visuals, tons of action, and even more callbacks to other places and faces in the galaxy far, far away? Well, that's another thing entirely. But what blows both of those announcements out of the water is, well, this – a streaming series all about Ahsoka Tano, Anakin Skywalker's former Jedi apprentice who witnessed the fall of her biggest mentor, broke away from the Jedi Order, and chose her own unique path. 
With her two white lightsabers representing her decision to always wield the light side of the Force but live differently than the Jedi, Ahsoka has been a fan-favorite character for years — stealing scenes (and the hearts of viewers) across the animated series Star Wars: The Clone Wars and Star Wars Rebels, in which she was voiced by Ashley Eckstein. That Star Wars loyals totally flipped when they heard Ahsoka's voice for a split second in Star Wars: The Rise of Skywalker is a testament to just how much they love the character. 
All that said, it comes as no surprise that many were thrilled when they heard the news that Ahsoka will lead her own Disney+ series. 
"THIS IS THE GREATEST THING TO EVER HAPPEN," user @NikolaiPCulp wrote on Twitter. Added Twitterer @MiaMilkovich26, "I'm screaming from excitement!!! This is THE best news I've heard in a while!" 
Many others chimed in with their own sentiments of excitement — ranging from GIFs of Kim Kardashian saying, "It's what she deserves," to unintelligible key-smashes — but one fan spoke for countless more with just ten words. As @Bertolocalypse tweeted, "AHSOKA GETTING HER OWN SHOW IS A DREAM COME TRUE."