The Pedro Pascal Superhero Movie That's Killing It On Netflix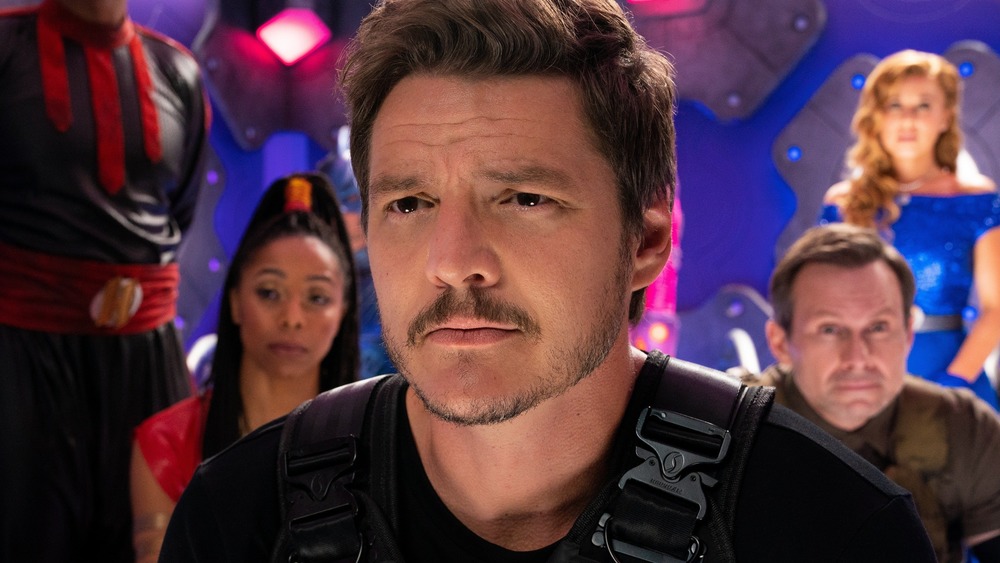 Netflix
Between the recently concluded sophomore season of The Mandalorian and the long-awaited debut of Maxwell Lord in Wonder Woman 1984, the world is experiencing a Pedro Pascal boom. Audiences have Pascal fever. They're Pascal-starved. "Pass the Pascal," the masses cry out as one, pounding their fists on the table, but there's just not enough Pascal to go around. It's a Pas-calamity!
Or at least it used to be, before Netflix pushed forward the release date for We Can Be Heroes by a week. The family-friendly superhero flick dropped on Netflix on December 25, and is now — just three days after its release –tearing up the streaming service's Top 10 Most Watched list, doling out generous helpings of Pedro Pascal as it goes.
Despite what its title and fresh cast suggests, We Can Be Heroes is actually a standalone sequel to 2005's The Adventures of Sharkboy and Lavagirl in 3D, which centers around a young boy named Max (Cayden Boyd) escaping his real-life bullies by jumping into a fantasy world by imagining the superheroic antics of, well, Sharkboy and Lavagirl. Chaos and adventure ensue when the two heroes become real and call upon Max's help to save their homeworld of Planet Drool. We Can Be Heroes picks up 15 years after the events of the first film, introducing a new generation of super-powered children with abilities from across the comic book spectrum. 
In the film, Pascal plays sword enthusiast Marcus Moreno, who's the leader of the Heroics, this universe's Justice League/Avengers analogue. When an alien invasion threatens the world, he and his fellow super-folk are called into action, but a brief altercation sees them outmatched by otherworldly forces. With Earth's greatest heroes held captive and alien invaders threatening to destroy the planet, it's up to the heroes' children to save the day.
Pascal — performing in his second Robert Rodriguez joint this year following The Mandalorian's "Chapter 14: The Tragedy" — isn't the only familiar face in the group. Boyd Holbrook, probably best known for playing the leader of the Reavers in 2017's Logan, plays Miracle Guy, the requisite Superman stand-in. Christian Slater plays Tech-No, the team's gadget guy, and Taylor Dooley returns to her role as Lavagirl after a 15-year absence. At the kids' table, there's YaYa Gosselin of USA Network's The Purge series playing Pascal's daughter, the seemingly non-super-powered Missy Moreno, who leads a cast of relative newcomers as they stretch, fly, and super-strength their way through a vibrant adventure story.
We Can Be Heroes is high-flying family-friendly fare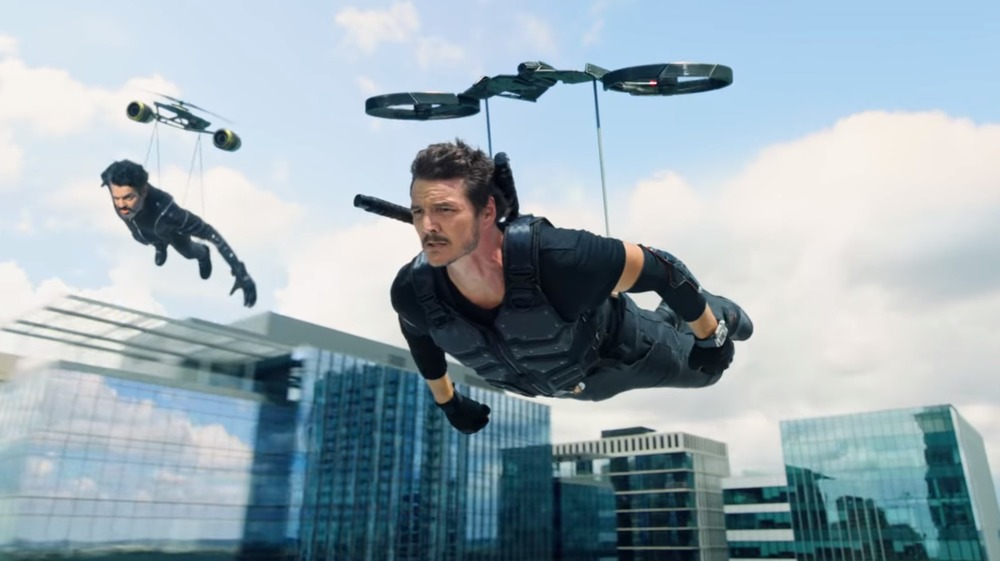 Netflix
Written and directed by Robert Rodriguez, We Can Be Heroes has all the earmarks of the filmmaker's distinctive brand of kids' entertainment. The bright colors and chroma key set pieces are out in force, creating a bombastic world that looks like it's made out of Play-Doh and Gak. It's packed from top to bottom with action, features plenty of comedic moments that both kids and adults can enjoy, and, perhaps best of all for everyone watching, sends a strong message about inclusion and teamwork. If you're anywhere past your pre-teen years, We Can Be Heroes isn't going to blow your mind in the way a superhero movie like the Captain America, Spider-Man, or Avengers franchises would, but it will entertain you for the duration of its runtime, despite being angled toward a younger audience. Plus, if you have youngsters of your own, it's a great film to stream over the holiday break. 
Reviews for We Can Be Heroes have trended positive; on Rotten Tomatoes, it touts a 67 percent approval rating from critics. The general consensus points to a bright, family-oriented story with "fun set pieces, fast pacing and silly, light-hearted comedy," and individual critics' reviews put the spotlight on We Can Be Heroes' many charms. 
The Chicago-Sun Times critic Richard Roeper wrote in his review of the film, "[We Can Be Heroes] has the vibe of a Saturday morning live action serial, only with better special effects. Though aimed at a young audience, this is one of those superhero adventures that will keep the adults entertained as well. [...] Heroes is actually the kind of movie that works just fine on the home screen. It's a perfectly serviceable 90-minute diversion, and we can't have too many entertaining diversions these days."
Writing for RogerEbert.com, Carlos Aguilar had similarly kind things to say about We Can Be Heroes. "On the scale of how solemnly movies take the extraordinary protectors of the Earth, We Can Be Heroes places somewhere between Disney's Sky High and Marvel's The Avengers, but boasts the distinct candy-colored futurism of Rodriguez's PG-rated oeuvre. Rodriguez pokes fun at the trite tropes and delivers on the action (often also lacing the fights with humor), but always with an earnest message on how adults, set in their stubborn ways, don't always know best. [...] With enough enjoyable originality to differentiate it from the numerous takes on the super men and wonder women that so heavily populate film and TV these days, We Can Be Heroes flies Rodriguez back to one of his main areas of interest."
Essentially, We Can Be Heroes is everything audiences have come to expect from a Robert Rodriguez children's film — plus, lest we forget, it's got Pedro Pascal center-stage.