The Real Reason We Don't Hear About Emilio Estevez Anymore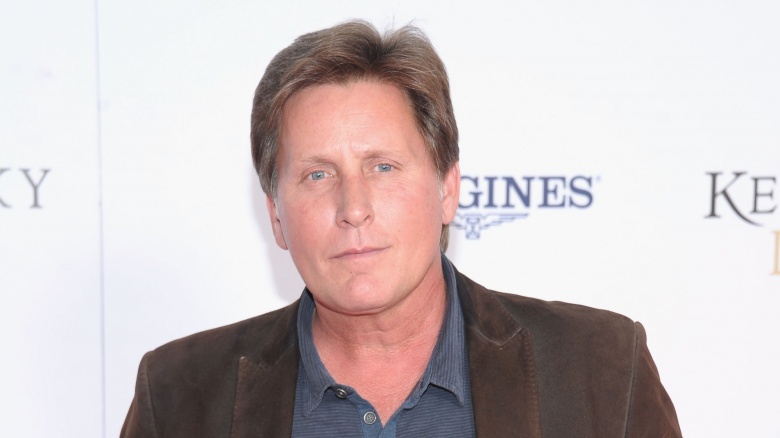 Getty Images
Born into a screen-savvy family that included Martin and Charlie Sheen and raised among rising stars (including Sean Penn and Rob Lowe), Emilio Estevez was a charter member of the "Brat Pack," a young crowd of A-list actors that graced the screen in a string of hit films during the '80s and early '90s. That early burst of success helped launch Estevez into Hollywood marquee status for years, and for a while, it seemed like pretty much any role he decided to take ended up being part of a hit project — whether he was riding for his life in Young Guns or whipping a motley crew of young hockey players into shape in the Mighty Ducks movies, he had an impressively reliable box office touch. In recent years, however, he's seemed to slip off the pop culture radar. Here's how it happened, and why we don't hear about Emilio Estevez anymore. 
He doesn't do television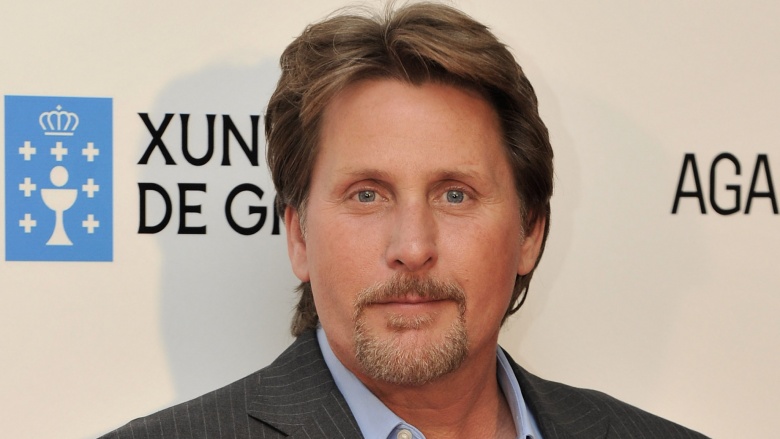 Getty Images
Although both Charlie and Martin Sheen got their second career winds on the small screen—starring in The West Wing and Two and a Half Men, respectively—Estevez has shied away from television, even at a time when it's arguably at a golden era for actors of his ilk. Estevez did come in for single-episode guest stints on each of those series, but most of his TV-related work has been behind the lens: he's directed several episodes of The Guardian, Cold Case, CSI: NY, and Numb3rs.
His brother has given him a new purpose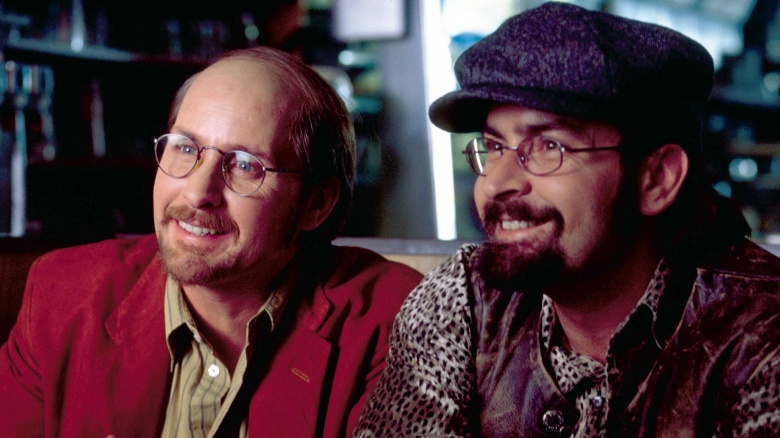 Getty Images
There's no doubt that Charlie Sheen has emerged as the most well-known of the Sheen/Estevez children, but these days he's more infamous than famous. Sheen has very publicly struggled with issues of addiction, relationship woes, and financial crises, and Estevez has said he believes his duty is to provide a healthy lifestyle example for his problem-plagued sibling. He told The Sunday Times (via ABC News) in 2011, "All I can do for Charlie, and I can't live his life for him, is to try to be an example. But really, I was a pretty poor one. As a kid, I was smart enough to be surreptitious about all my misbehavior, or at least stealthy. But it means that my opinions carry little weight with Charlie."
His family has been through some struggles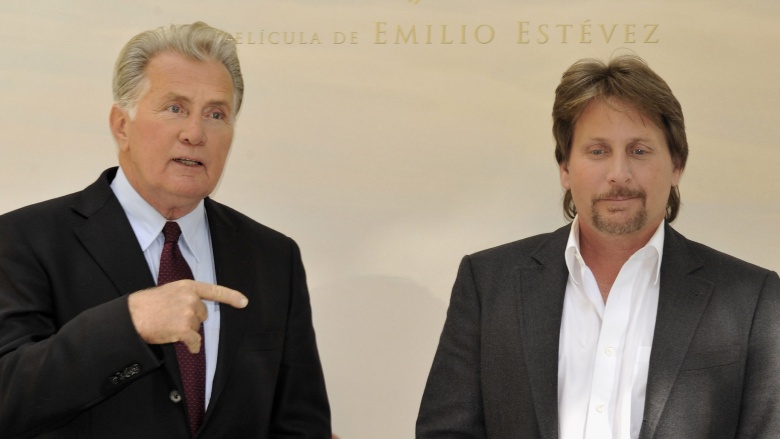 Getty Images
In an open letter to fans of his film The Way in 2015, Estevez revealed that he and his family had banded together to support his father Martin Sheen through quadruple bypass surgery. "The decision to operate on his heart was a proactive one, not an emergency situation," he wrote. "Not surprisingly, he is recovering beautifully, out of the ICU and is expected to not only be home for Christmas, but be 100% by the time he returns to work on season three of the Netflix series Grace and Frankie early next year."
It's not the only personal health issue that the family has dealt with. Charlie Sheen revealed that he was diagnosed with HIV the month before, and according to Martin Sheen, the family came together to support the actor's decision to reveal his struggle with the disease. Estevez had previously partnered with his dad to chair the Cinema Against AIDS event in Toronto in 2010 to raise more than $1 million for organizations supporting research and treatment of patients.
Celebrity isn't important to him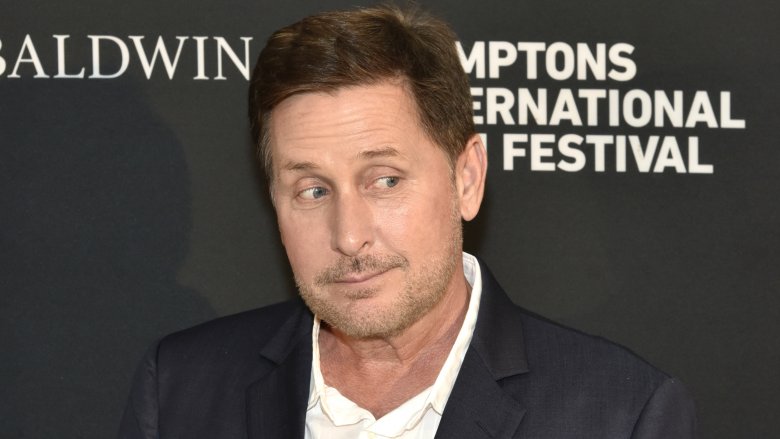 Getty Images
Estevez has found his name and face on the cover of many a tabloid over the years, particularly when it came to the dissolutions of his relationships with ex-fiancée Demi Moore and his former wife, pop starlet Paula Abdul. He's said he faced allegations in the court of public opinion that he was a "partier and a womanizer," but that it just wasn't true. "That's not my bag ... what young man has not gone out and had a few drinks?" he asked The Guardian. After suffering the spotlight, Estevez has lost interest in maintaining his celebrity—or even knowing who the paparazzi are following now.
Even so, he's admitted to looking himself up online and regretting it almost instantly. "It's a cruel world out there. I've been at the unpleasant end of that poisoned pen," he explained. "I would put my name in a Google site and see what came up and often it was very hurtful. Hollywood is guilty of turning out s***. I've turned it out myself, but what the journalists don't do is to take a moment to think that maybe this actor has got a family and he has got to feed them."
He's been busy with behind-the-scenes work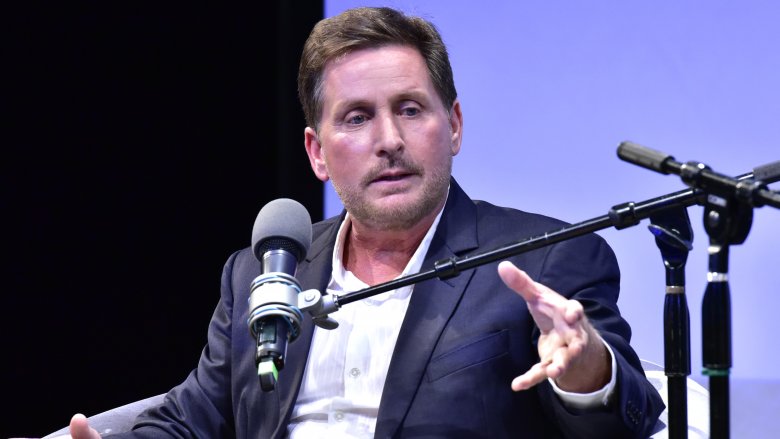 Getty Images
In addition to his turns at the helm of several popular television shows, Estevez has also written and directed several of his own feature films, including the 1990 action-comedy caper pic Men at Work, which featured himself alongside Sheen. His crowning achievement came in 2006 with his Golden Globe-nominated historical biopic Bobby, about the assassination death of Senator Robert F. Kennedy. Estevez told The Guardian that the feature was meant to serve as "a call to action and re-engage" on a political level and that he cast then-mega celeb Lindsay Lohan in the movie "to sex up the political process ... and make it chic again." A more recent effort, 2010's The Way, featured Estevez alongside his father, who starred as a grieving parent on a spiritual adventure in France while retrieving his son's ashes. In 2018, Estevez directed, wrote, and starred in The Public, a drama about Cincinnati librarians who allow homeless patrons to use the building as a shelter during a bitter cold snap.
He avoids reunions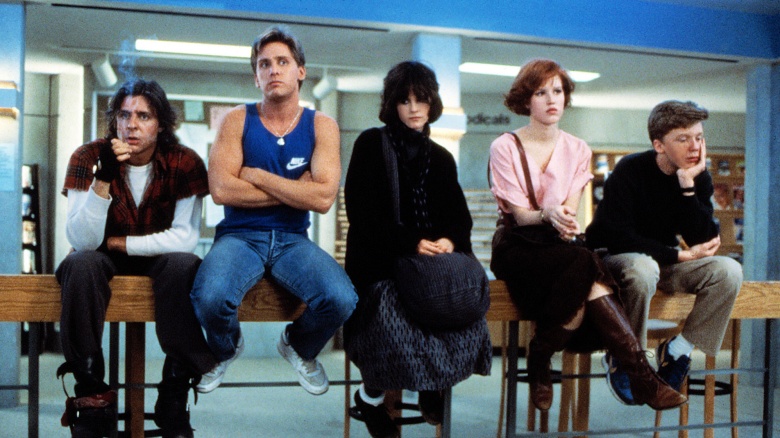 Estevez starred in a number of the most beloved teen and young adult-centric flicks of the mid-'80s, including The Breakfast Club and St. Elmo's Fire, and even though the popularity of those pics has lasted for generations, he's been resistant to reunions. For example, nearly every one of his Breakfast Club co-stars has appeared in at least one of the milestone anniversary gatherings to celebrate the John Hughes classic, while Estevez has been noticeably absent for each.
According to fellow Breakfast Club alum Molly Ringwald, he's the only one who doesn't keep in touch with the others, even when there aren't any cameras around. "The only person I don't see is Emilio Estevez. He won't really have anything to do with anything having to do with [the film] ... He's just like, 'That's the past, and that's not really what I want to do," she explained to Australia's The Morning Show while commemorating the show's 30th anniversary in 2016. As for why he refuses to wax nostalgic, it's hard to say. He's certainly showed some social media support for another fan favorite from his filmography, The Mighty Ducks, by live-tweeting a crucial match-up involving the Anaheim Ducks.
His kids are the industry's young guns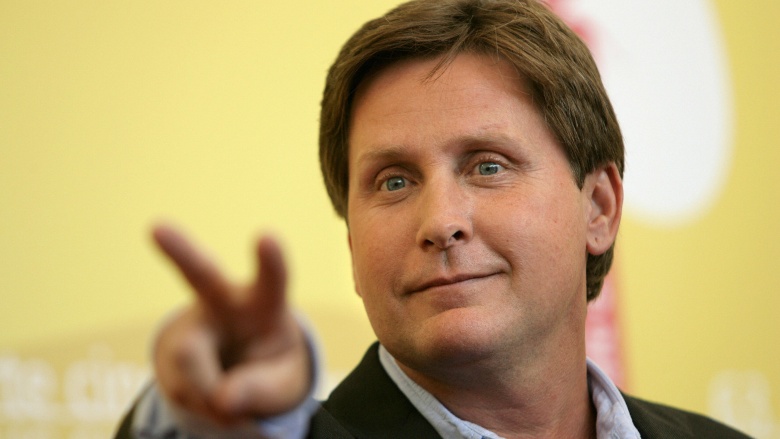 Getty Images
Estevez has two now-grown children with his ex-girlfriend, model Carey Salley, and they've both become professionals in the arts themselves. His son Taylor Levi Estevez is an active stuntman in Hollywood, and served as an executive producer on The Way. In fact, Taylor served as partial inspiration for his father and grandfather teaming up to make the movie, once he met his eventual wife during a pilgrimage to the El Camino de Santiago trail location the movie surrounded. Meanwhile, daughter Paloma Rae Estevez is a professional drummer who has garnered her own cult following and has contributed to several of her father's productions, including The Way.
He's advocating for Cincinnati as the new Hollywood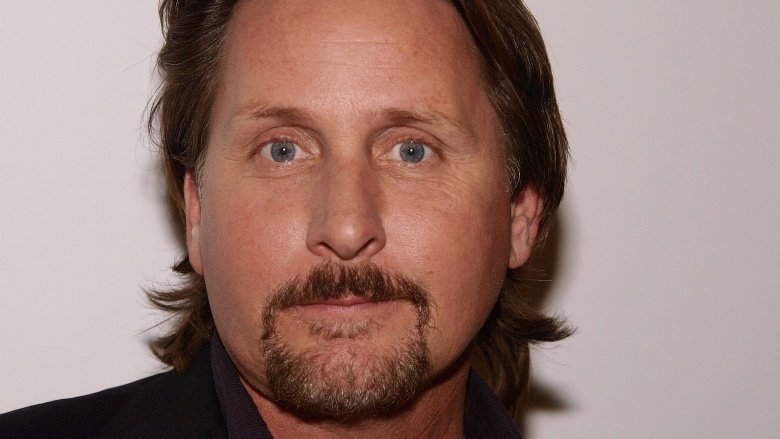 Getty Images
In 2016, Estevez made a rare appearance at the Sundance Film Festival to speak to members of the Cincinnati Film Commission about his hopes to help bolster the city's film industry opportunities as a nod to his father's upbringing in nearby Dayton, Ohio. "My plan is to eventually move there and live in Over the Rhine," he explained to press at the fest. "Cincinnati itself, it's just a magical place. I feel very at home there. When I go back there, people say, 'Welcome back. Welcome home.' ... Back in L.A., I'll talk to people about Cincinnati and they kind of roll their eyes. They say, 'Cincinnati? What's there?' I say, 'You know what, come visit me here." Estevez himself has put his money where his mouth is on this issue, as he shot his Johnny Longshot project in the city.
He owned a vineyard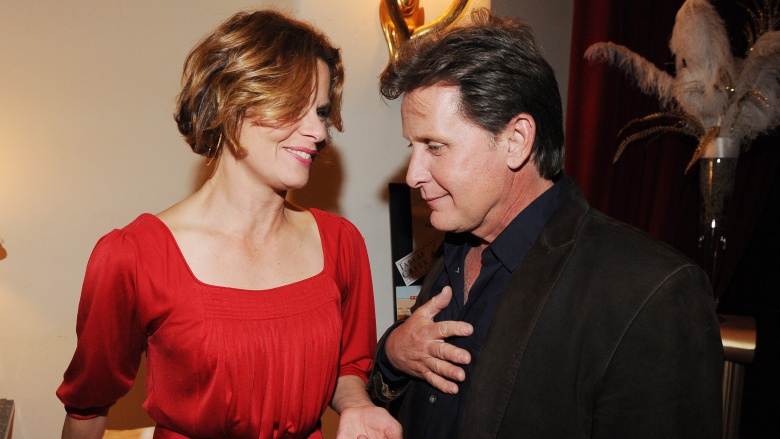 Getty Images
Like a lot of Hollywood stars, Estevez has invested in side businesses to keep himself busy when he's not working on films. He quietly owned a vineyard in Malibu making Pinot Noir and other vintages for several years with his then-fiancée, Sonja Magdevski; as he told The Hollywood Reporter, he and Magdevski initially bonded over making wine together.
"On our first date, I dug the holes and she planted the vines," he explained. "There was never any grandiose plan to start a winery." Things escalated from there, and they established Casa Dumetz Wines in 2004, complete with a Los Alamos tasting room and appearances at high-profile food and wine festivals. The couple ran the business for over a decade before their split, and he eventually sold the vineyard in 2016.