The CSI: NY Episodes You Likely Forgot Were Directed By Emilio Estevez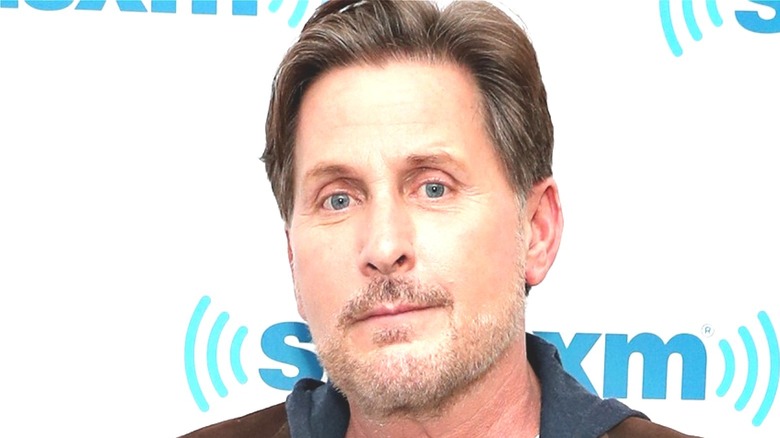 Cindy Ord/Getty
Emilio Estevez, the oldest son of actor Martin Sheen and the older brother of actors Charlie Sheen, Ramón Estevez, and Renée Estevez, is probably most well-known for his on-screen roles in a string of successful movies from the 1980s, including films like "The Outsiders," "St. Elmo's Fire," and "The Breakfast Club." 
Since the actor's heyday as a member of the so-called "Brat Pack" (via Independent), Estevez has also starred in three "Mighty Ducks" movies and was a series regular in the first season of "The Mighty Ducks: Game Changers," a Disney+ TV series based as a continuation of the original films. Notably, Estevez departed the series after the first season as a result of what he called a "contract dispute" and "a myriad of creative differences" (via Deadline). Initial reports indicated that Estevez left the series over COVID-19 vaccination requirements, but he has since denied those claims (via Deadline).
In addition to the actor's well-known on-camera work, he has also stepped behind the camera for a number of different projects. Estevez's directorial credits include two episodes of "Crime Scene Investigation: New York," the third series in the "CSI" franchise.
Emilio Estevez directed two episodes of Season 1
Estevez's contributions to "CSI: NY" came towards the end of the inaugural season of the series. Season 1, Episode 18 ("The Dove Commission") (via IMDb) proved to be a busy time for the New York City CSI crime lab, especially Mac Taylor (Gary Sinise), the team supervisor. While investigating the murder of a man at the center of an NYPD corruption case, the team must also look into the brutal murder of an unlicensed taxi driver. According to more than 300 reviews left on IMDb, fans routinely scored this episode at around 7.3 stars out of 10, a rating that is about average with the rest of the first season's scores.
Estevez's next directorial effort came only a few short weeks later in Season 1, Episode 22 ("The Closer"), the penultimate episode of the season. With a very sports-focused episode, the CSI team investigates the deaths of a sports agent (Margo Trent) and a Boston baseball fan (Marty Yost). In a parallel storyline, Mac reopens the case of a death row inmate (Michael Clarke Duncan) convicted of murder as a result of his testimony. IMDb reviewers also ranked this episode at around 7.3 out of a possible 10 points. Notably, this episode also features guest appearances by Sonya Walger, Raphael Sbarge, Amaury Nolasco, Kathryn Harrold, and Petros Papadakis (via IMDb). 
In addition to these episodes and a handful of films over the years, Estevez is also the director behind various episodes of "The Guardian," "Cold Case," "Close to Home," and "Numb3rs" (via IMDb).