Doritos 3D's Flat Matthew McConaughey Commercial Is Dividing The Internet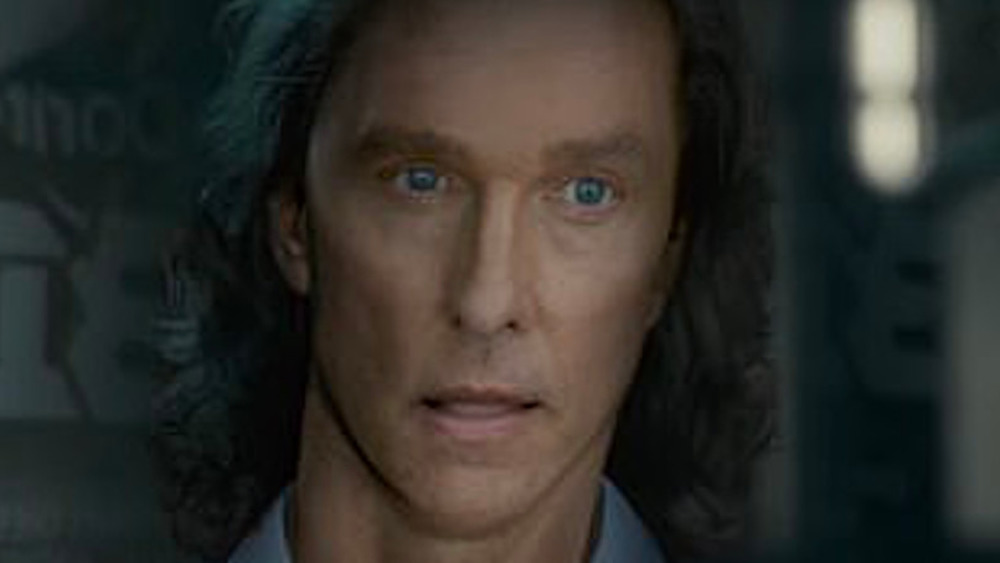 Doritos
Celebrities always pop up in Super Bowl ads — after all, the night is one of the biggest commercial opportunities of the year — and this year's festivities were no different. Amid the action between the Kansas City Chiefs and the Tampa Bay Buccaneers, companies aired ads featuring all sorts of celebs. Cardi B made a surprise cameo in an UberEats commercial that brought Wayne's World stars Mike Myers and Dana Carvey back to their iconic head-banger roles. Everyone from John Travolta to Carl Weathers popped up in a Miracle-Gro ad. Don Cheadle and his lookalike brother Colin had everyone doing a double-take while watching Michelob ULTRA's commercial for its Organic Seltzer. And Paramount+ did the unthinkable by bringing together Sir Patrick Stewart, SpongeBob SquarePants, James Corden, DJ Khaled, Beavis and Butthead, and the creepy girl from The Ring. 
But there was one celeb whose Super Bowl LV spot had viewers feeling not quite alright, alright, alright. Academy Award-winning actor Matthew McConaughey outdid himself once again in a super-creepy ad for Doritos 3D, the snack food company's product that promises "a bold experience in snacking and beyond" (via Doritos.com).
Throughout the commercial, a completely flat, paper version of McConaughey is shown struggling to do the normal, everyday things he'd do if he weren't squished so thin. The two-dimensional dude has trouble driving his convertible, ordering a coffee, appearing on talk shows (alongside Mindy Kaling and Jimmy Kimmel, who are thoroughly confused by his flat appearance), playing football, and going on walks. People can't see him if he's turned to the side, the wind that whips past him as he walks his dog lifts him high up into the air, and when his buddy throws a football his way, the force of it against his paper-light body sends him flying across the backyard. Things get especially sad when the compressed McConaughey gets his foot stuck in his Roomba, which promptly vacuums up his foot and shin before short-circuiting.
Thankfully, there's a product that brings fullness back to McConaughey's life: Doritos 3D. He effortlessly slips into a vending machine filled with the snack, then begins to munch on the cheesy, crunchy puffed snack. After eating a 3D Dorito, McConaughey becomes a three-dimensional human again (though he ends up trapped in the vending machine for his trouble).
There's no question that the ad is clever, but the unsettling, Uncanny Valley styling and the way that the totally flat McConaughey moves and acts is causing a stir online.
Everyone has an opinion about Matthew McConaughey's Doritos 3D ad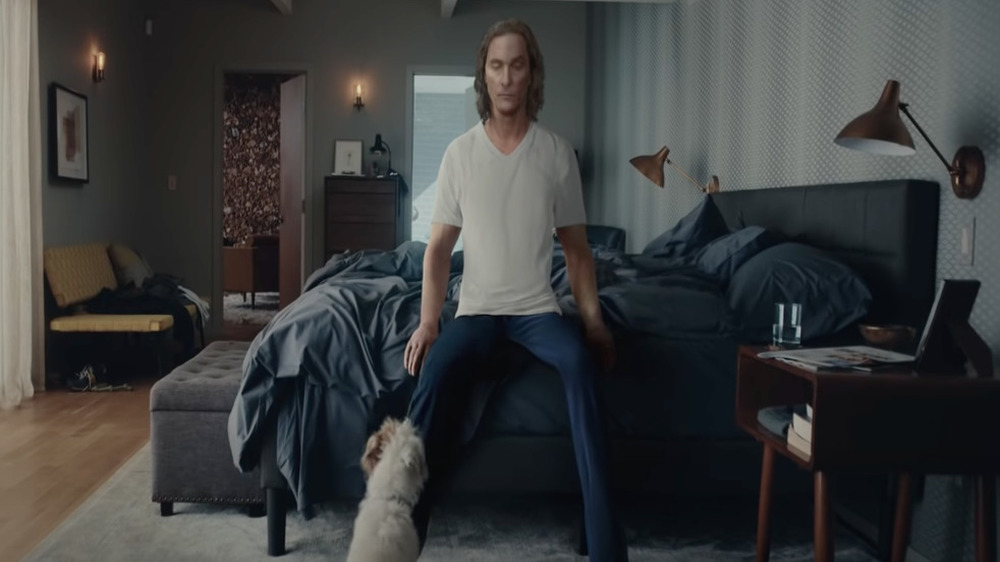 Doritos
Over on Twitter, Super Bowl viewers and Doritos eaters alike wasted no time expressing their feelings about the commercial, sharing that they were unsettled and creeped out by the look of two-dimensional Matthew McConaughey. It seems most people understood the creativity and humor that went into the creation of Doritos 3D's Super Bowl ad, but that didn't stop some from fearing they'd experience nightmares after watching the flattened-out version of the actor wriggle around inside a vending machine.
Ashley Reese, who uses the handle @offbeatorbit, joked on Twitter, "Matthew McCdhdjsoskfjdofjfkhey looking all flat deeply upset me." Meanwhile, Frozen actor Josh Gad suggested a lucrative idea: "3D Dorito matthew mcconaughey needs to do a crossover with Lincoln matthew mcconaughey," referencing the numerous ads McConaughey has done for Ford's luxury automobile division Lincoln. (For what it's worth, McConaughey's appearances in those commercials have driven up sales over the years, so celebrity endorsement really does work.) 
Comedian Jared Freid was much more blunt about how McConaughey's Doritos commercial made him feel, writing on Twitter, "Paper Matthew McConaughey will haunt my dreams for the rest of time." Elsewhere, comedian Frank Caliendo hilariously wondered, "How much weight did Matthew McConaughey lose for that commercial?"
Others in the Twitter-sphere said things like, "the matthew mcconaughey flat stanley doritos commercial was the thing of nightmares & my life is worse for having witnessed it," and "that Matthew McConaughey Doritos advert is going to haunt my nightmares." 
On the flip side, some thought the commercial wasn't creepy at all, and only found the funniness in it. "So far the Matthew McConaughey Doritos commercial is in the lead for best ad," Twitter user @Ayers4President wrote. Another viewer argued, "The 3D Doritos commercial with Matthew McConaughey was the best one of the night." Award-winning reporter Laura Gellar admitted that she found the ad "pretty funny," but also confessed she might be biased because she has "a minor crush on Matthew McConaughey."
However, it was Bachelor producer Elan Gale who arguably summed the whole situation up the best. He simply tweeted, "Flatthew McConaughey."
As for McConaughey himself, he hasn't weighed in, but clearly, he was willing to appear in the segment in the first place so he must have gotten some joy out of it. You'll have to check out McConaughey's commercial for yourself and determine whether it's funny or just plain freaky.