The Super Bowl Ad That Had SpongeBob Fans Jamming Out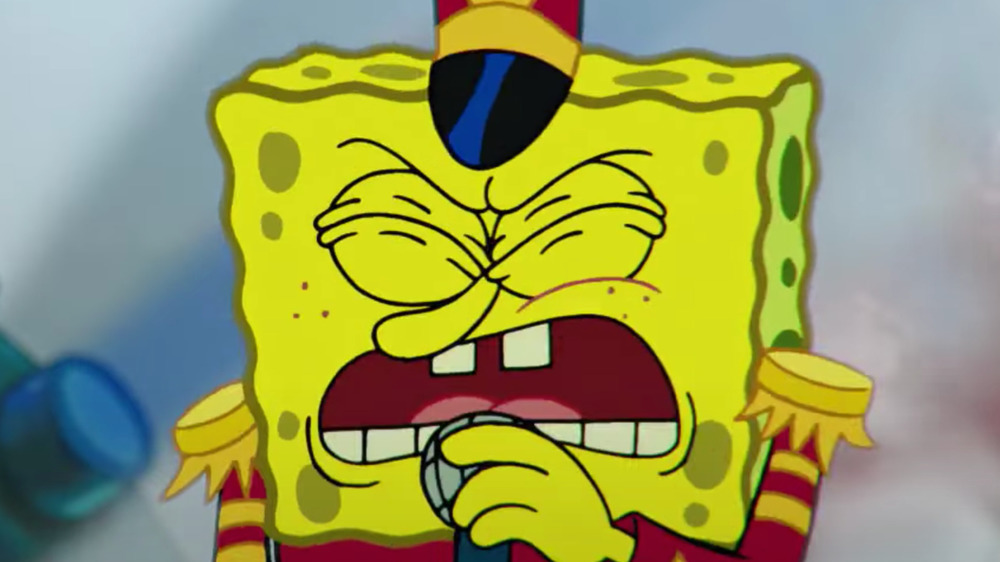 Paramount+/YouTube
The little yellow sponge who lives in a pineapple under the sea was recently seen rocking out in a tiny glass dome at the top of a mountain. 
Yes, SpongeBob SquarePants made an appearance in a commercial that aired during Super Bowl LV on Sunday, February 7. In a 90-second TV spot for Paramount+, the streaming platform that will soon be formerly known as CBS All Access, the porous protagonist of one of Nickelodeon's best-loved cartoons was seen alongside his animated pals, jamming to "Sweet Victory" just as they did in the SpongeBob SquarePants episode "Band Geeks." 
This particular Paramount+ commercial marked the culmination of a series of ads released online prior to the Super Bowl, and was shown again during the actual event. The ads followed various characters and actors from Paramount-owned properties — like Dora from Dora the Explorer, Beavis and Butthead, young Sheldon Cooper from (of course) Young Sheldon, TV legends like Gayle King, Sonequa Martin-Green's Michael Burnham from Star Trek: Discovery, and a whole lot more – climbing Paramount Mountain. Finally, in this spot, they reach the summit, where Star Trek: Picard actor Sir Patrick Stewart and late-night host Stephen Colbert greet them. Stewart says that everyone lives on Mount Paramount now, and they all must dance. Colbert presses a button to "make this weirder," and up pops the dome containing all the SpongeBob characters.
A sweet victory for Paramount+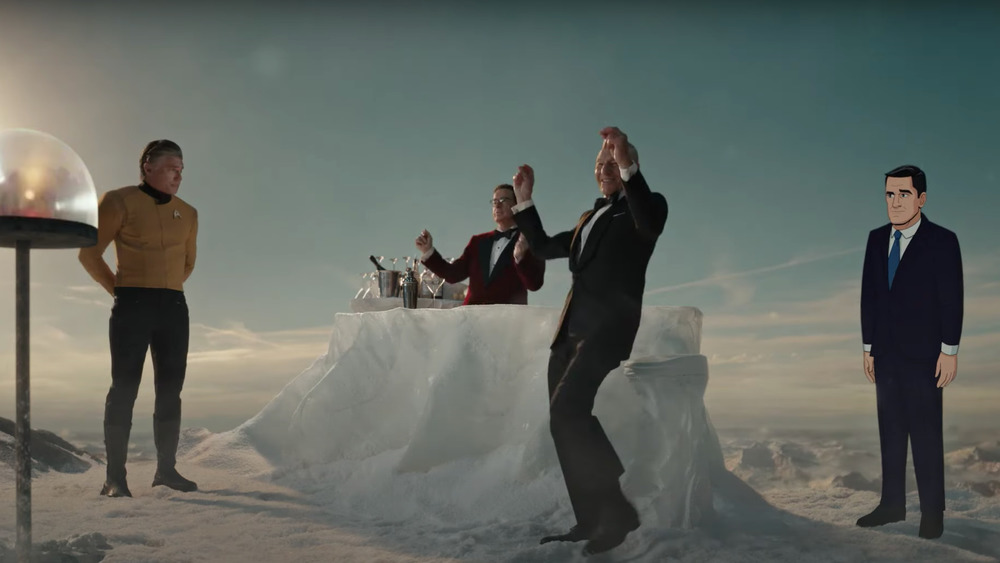 Paramount+/YouTube
The moment is one millions of SpongeBob fans across the world remember: SpongeBob, Patrick, Sandy, Squidward, Plankton, Pearl, Mrs. Puff, Mr. Krabs, and a bunch of Bikini Bottomites perform "Sweet Victory," created by David Glen Eisley and Bob Kulick, at the Bubble Bowl after many grueling band rehearsals conducted by the unyielding perfectionist Squidward.
"I AM IN TEARS!!" Twitter user @loyalseidisixx wrote in response to the Paramount+ commercial. "SWEET VICTORY YEAH." Another fan could hardly believe what they were seeing, tweeting as they watched the Paramount+ commercial, "YO DID THEY JUST BRING BACK THE SPONGEBOB BUBBLE BOWL DURING THE LITERAL SUPER BOWL????" For many, including Twitterer @CassieO10, the moment was everything they could have hoped for: "Sweet victory from spongebob played in a super bowl commercial? Okay I'm pleased I can die happy now."
Overall, the consensus is that this ad was spot-on. As one Twitterer put it, "What a way to end an amazing campaign! At least now too we can finally say SpongeBob and his friends played Sweet Victory at the Super Bowl finally! YES."