Super Bowl Viewers Had A Lot Of Thoughts About Uber Eats' Wayne's World Commercial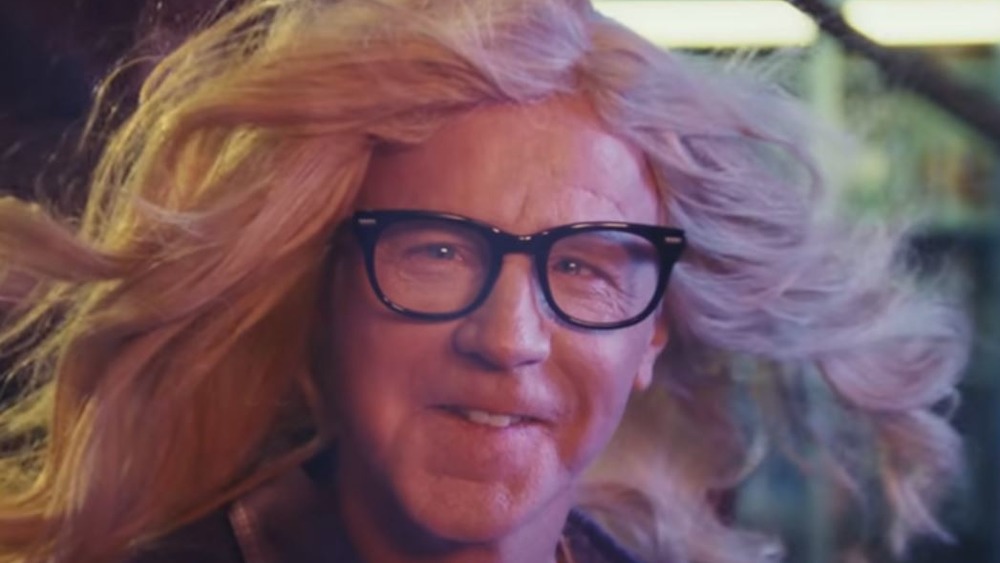 Uber Eats/YouTube
A solid candidate for this year's Super Bowl ad MVP was Uber Eats' "Shameless Manipulation," which delivered a big, tasty helping of nostalgia with the surprise return of Wayne's World. The classic Saturday Night Live sketch about heavy metal slackers Wayne Campbell (Mike Myers) and Garth Elgar (Dana Carvey) hosting a late-night local access show from Wayne's basement spawned two movies that turned the characters into 1990s icons. The untold truth of the first Wayne's World movie in particular is full of pop-culture-defining moments, such as the legendary "Bohemian Rhapsody" scene that resurrected the classic Queen song. 
With a history like that, seeing Myers and Carvey embody the characters after so many years is a pretty big deal, and people have been quite happy to see them return for a Super Bowl LV commercial. However, the ad wasn't without its peculiarities, and ... well, let's just say that people have opinions about it. Here's why Super Bowl LV viewers had a lot of thoughts about Uber Eats' Wayne's World commercial.
Fans are happy but confused about Uber Eats' Wayne's World commercial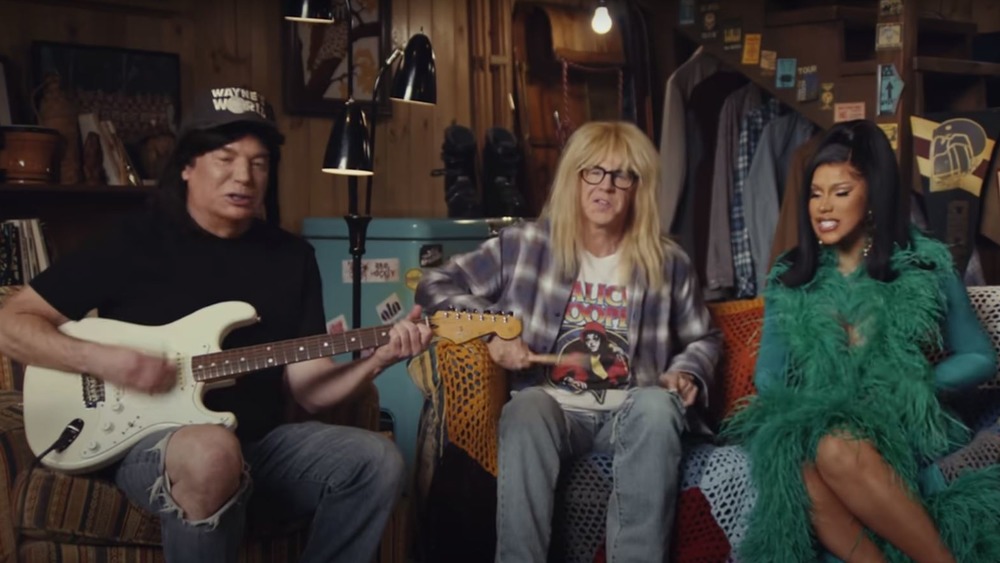 Uber Eats/YouTube
Uber Eats' Wayne's World Super Bowl ad is a fun, deliberately hypocritical piece that shows Wayne and Garth shamelessly shilling the company's "eat local" slogan, while repeatedly claiming they'd never stoop as low as to do the exact thing they're currently doing. Over the course of the action-packed minute of the spot, the viewer is treated to some classic Wayne's World banter — as well as a highly glamorized Garth, a pair of Wayne and Garth-themed babies, and ... a surprise appearance from Cardi B as the celebrity cameo that the hosts just swore they'd never have. It's all great fun and the humor is exactly what you'd expect from Wayne's World, but some people find the Cardi B cameo quite jarring. 
"Am I wasted or was that a commercial with Wayne's World and Cardi B?" Twitter user @oliviabelser asked. Meanwhile, @ChrisDaniels5 pointed out the inevitable passing of time. "Cardi B was born in 1992, the same year Wayne's World was released," they tweeted, prompting others to wonder whether Cardi B even knows what Wayne's World is all about. 
Despite the confusion, it appears that fans welcomed Wayne and Garth's return with open arms, and thought Cardi B's cameo made the commercial even cooler. In fact, Twitter account @bettiepagegurl went as far as calling the ad "the BEST commercial of Super Bowl." They added, "No other brand can come close to touching that. It had nostalgia, humor and a good message. Bravo." Now, how about that Wayne's World 3, Mr. Myers and Mr. Carvey?