What Donald Glover Would Look Like As The MCU's Prowler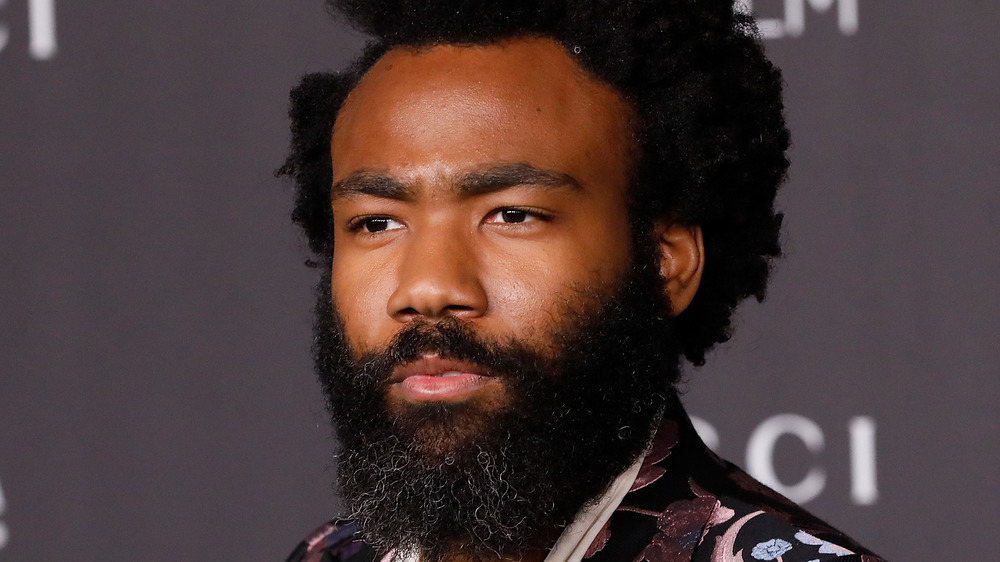 Taylor Hill/Getty Images
When you think of Marvel movie villains, which characters immediately come to mind? Josh Brolin's Thanos is a good pick, given how his enormous, inevitable shadow loomed over the Marvel Cinematic Universe for years upon years. Tom Hiddleston's Loki is another solid choice, with the upcoming television show centered around the trickster god sure to cement his legacy even further. Alfred Molina's far more grounded Doctor Octopus works too, even if he isn't part of the MCU (though it looks like he will be soon).
How about Aaron Davis from Spider-Man: Homecoming? It's not much of a supervillain name, but that's only because we haven't seen the character, as played by Donald Glover, in his suit as the menacing Prowler. First seen conducting an arms deal with Adrian Toomes' (Michael Keaton) cronies, things go awry and he's saved by Spider-Man (Tom Holland). The webslinger later tries (and hilariously fails) to interrogate Davis to find out where the arms dealers have gone.
It's not much in the way of screen time, but Glover makes the most of it. Meanwhile, Marvel fans get plenty of the Prowler in the animated Oscar-winner Spider-Man: Into the Spider-Verse, voiced by Mahershala Ali. Still, seeing Glover don the suit and clawed gauntlets in a live-action MCU entry would be a dream come true. Digital artist ApexForm has given us the next best thing with their idea of what Glover's Prowler could look like.
It's all in the (super) family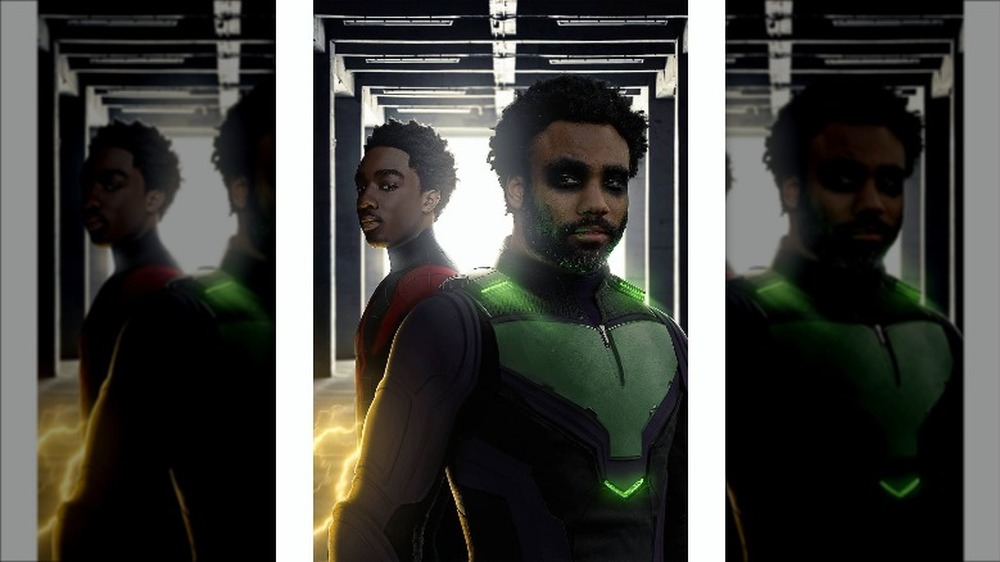 ApexForm/Instagram
In Homecoming, Davis mentions his nephew, though that nephew's name is only mentioned in a deleted scene: Miles — as in, Miles Morales, the main Spider-Person of Into the Spider-Verse. Those who've seen Into the Spider-Verse are well aware of how the uncle-nephew relationship is affected by the film's superpowered conflicts, but the prospect of Miles being a part of the MCU is exciting indeed. That's why ApexForm's art features actor Caleb McLaughlin as Miles in the back. For now, though, let's focus on Glover's Prowler.
Traditionally, the supervillain's fit is a mix of green and purple, but in the absence of an official appearance in the MCU, ApexForm has taken free reign in terms of the costume's design. The green is still prominently there, however, highlighted by the suit's more technical elements on the shoulders. The inky makeup over Glover's eyes implies that he'd be even more intimidating with his mask on. Ever since his debut in Stan Lee and John Buscema's The Amazing Spider-Man #78, the Prowler has stuck to the shadows, so the look is only fitting.
MCU fans can only cross their fingers in hopes that Glover will eventually get the chance to expand on his role as Aaron Davis, and that Miles (maybe portrayed by ApexForm's choice of McLaughlin) gets his live-action debut. Until then, ApexForm's art is a welcome holdover.