Loki TV Series Release Date, Cast, And Plot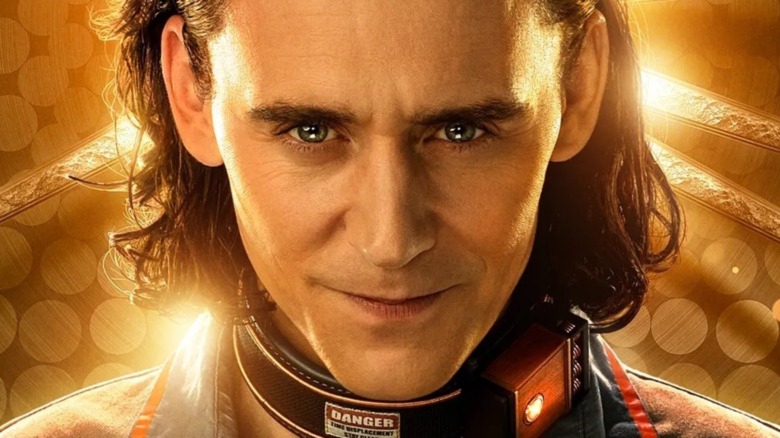 Disney+ has become a massive success, thanks largely in part to its almost complete catalog of Marvel Cinematic Universe movies, as well as introductions of some fantastic original series. "WandaVision" and "The Falcon and the Winter Soldier" have done phenomenally for the platform, with both shows breaking streaming records, per Deadline. One that's sure to give them a run for their money is "Loki," the third original Marvel Studios series on Disney+, whose announcement absolutely shocked fans at 2019's San Diego Comic-Con.
When it was revealed that Tom Hiddleston would be back as the God of Mischief after dying — for good — in "Avengers: Infinity War," fans absolutely lost their minds. The actor will be reprising his role as Loki Odinson, marking the eighth time he'll play the character in an MCU project. Trailers for the series make it seem like we're in for quite a bizarre ride, as Loki is suspected to travel through several timelines as he rights his wrongs with the Time Variance Authority (TVA).
Here's everything we know about the upcoming "Loki" series on Disney+.
When will Loki debut on Disney+?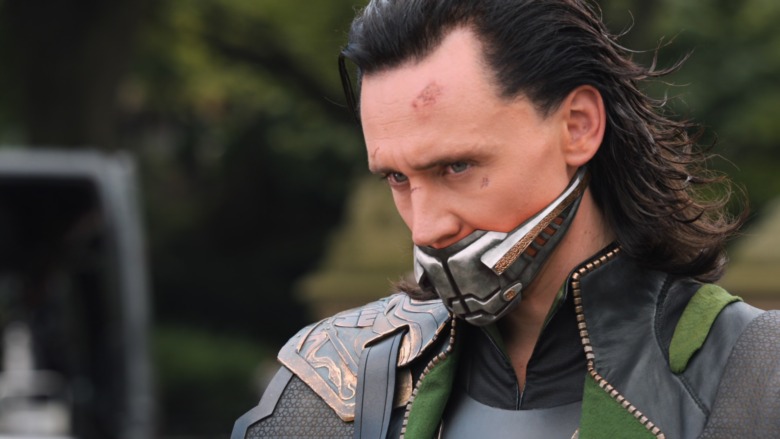 It's been almost two years since the announcement of the "Loki" series, which has dragged on forever as we've awaited the highly anticipated project. It's now closer than ever, with a release date of June 9. Yeah, that's right — "Loki" is breaking tradition, as all good trickster gods should. Even though "WandaVision" and "The Falcon and the Winter Soldier" both aired on Fridays, the premiere episode of "Loki" will air on a Wednesday, as will every subsequent episode.
As for the time? Well, we don't know for sure, but they're most likely dropping at 3 AM Eastern Standard Time. So diehard fans in the United States will have to continue to wake up early — or stay up late — to catch Tom Hiddleston in action. While Disney hasn't addressed why their shows release so early, it's likely to prevent the platform from crashing due to an influx of streamers at one time. According to Deadline, Disney+ crashed for over 2,300 users on multiple occasions when new episodes of "WandaVision" were released.
Regardless of the time, "Loki" will be the show of the summer for sure, and if its Disney+ predecessors are any indication, it should be a massive hit for Marvel Studios.
How many episodes of Loki will there be?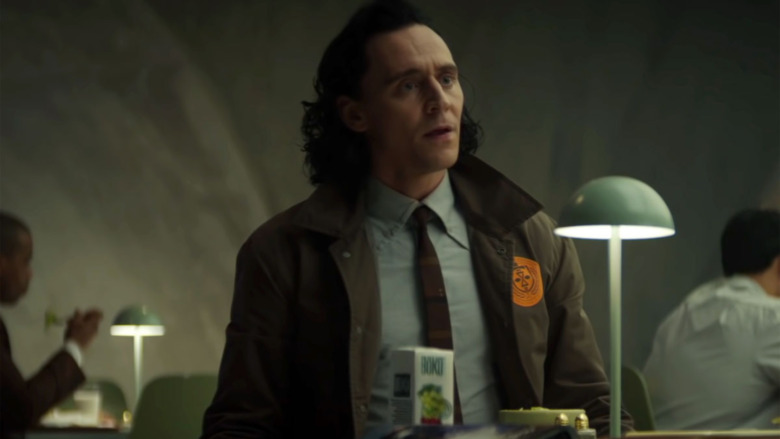 For a while, the number of episodes in "Loki" was rumored to be between 10 or more, thanks to an interview from Agent Coulson himself, Clark Gregg. The "Agents of SHIELD" star told Variety in May 2020 that Tom Hiddleston had mentioned to him that he was working on 10 or 12 episodes, but that's not going to be the case after all. "Loki" will have six episodes, per Collider. Episode length is still being speculated upon as it's not quite confirmed, but many outlets, like Tech Radar, are saying they will fall between the 45- and 55-minute mark. This would be in line with "The Falcon and the Winter Soldier," which offered longer episodes, as opposed to "WandaVision," which gave us nine episodes with shorter runtimes.
This doesn't necessarily mean Gregg's comments about 10 to 12 episodes of "Loki" were completely incorrect, however. It's very possible that perhaps "Loki" originally started out with shorter episodes, upping the total episode count. But since trailers for the new series suggest a very convoluted plot, longer episodes were definitely the way to go. Another way to look at Gregg's comments is to suggest maybe there really are 10 or 12 episodes, which leads us to our next big "Loki" detail....
Will there be a Season 2?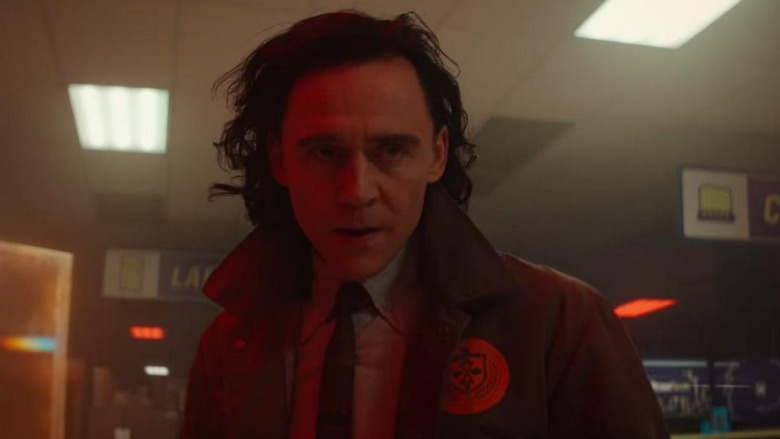 Will there be a second season? Maybe. Deadline all but confirmed a "Loki" Season 2 when reporting on Michael Waldron signing a new deal with Marvel Studios. Waldron is the executive producer on "Loki" and will be penning the script for the "Star Wars" film that Kevin Feige is producing. He's also expected to return for Season 2 of the Disney+ series as a part of his contract. This could go in line with Clark Gregg's comments, suggesting that there will be 10 to 12 episodes of "Loki" but spread out between two seasons.
Marvel Studios producer Nate Moore also seemed to confirm more Loki adventures, as he explained (via Slash Film), "I think there's a lot of storytelling in 'Loki' that's really irreverent and clever and cool, but also lends itself to multiple seasons in a way where it's not a one-off."
What we saw with "WandaVision" and "The Falcon and the Winter Soldier" might give some hints as to what's to come with Tom Hiddleston's show. It's almost basically been confirmed that "WandaVision" will not get a Season 2, as Nate Moore told IndieWire that the Elizabeth Olsen-led series was "a show you can only do once." As far as "The Falcon and the Winter Soldier," it's still up in the air if there will be a Season 2. The series ended with Sam Wilson (Anthony Mackie) taking the mantle of Captain America, so the show's title might get a tweaking as it did in the end-title card after Episode 6. (Although, we know for a fact that Sam will be returning in "Captain America 4.")
In other words, while no one has straight-up officially said there will be a Loki "Season 2," it's looking very likely. And we can't wait to watch all six episodes to get a better understanding of where the show could go.
Who's Owen Wilson playing in the series?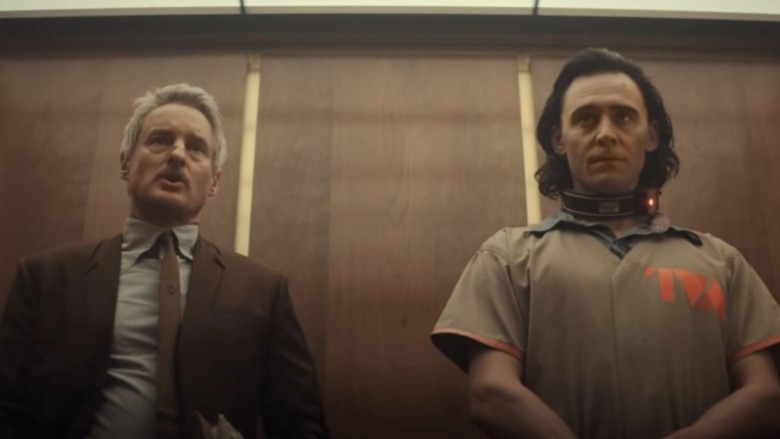 A series about "Loki" just wouldn't work without Tom Hiddleston, so we're happy to report that the charming actor will be reprising his role as the God of Mischief. But when it comes to who'll be starring alongside him, there are some pretty stellar names on the cast list, including one beloved comedian.
Owen Wilson has been confirmed to be portraying Mobius M. Mobius, a manager in the Time Variance Authority. In the comics, Mobius is a TVA bureaucrat in charge of taking care of time. And if you disrupt the proper flow, he'll make sure to throw the book at you, even if you're a member of a group as powerful as the Fantastic Four. As for the series, from what we can tell by the trailer, Mobius appears to be a major character in "Loki" who'll be working alongside the trickster god to fix the timelines he interrupted when stealing the Tesseract in "Avengers: Endgame."
Interestingly, this isn't the first time that Hiddleston and Owen have acted alongside each other ... and in a project involving time travel, no less. Both men played in 2011's "Midnight in Paris," which found Wilson as a modern-day tourist accidentally stumbling into 1920s Paris, where he encounters Hiddleston's F. Scott Fitzgerald.
Who else is in the cast?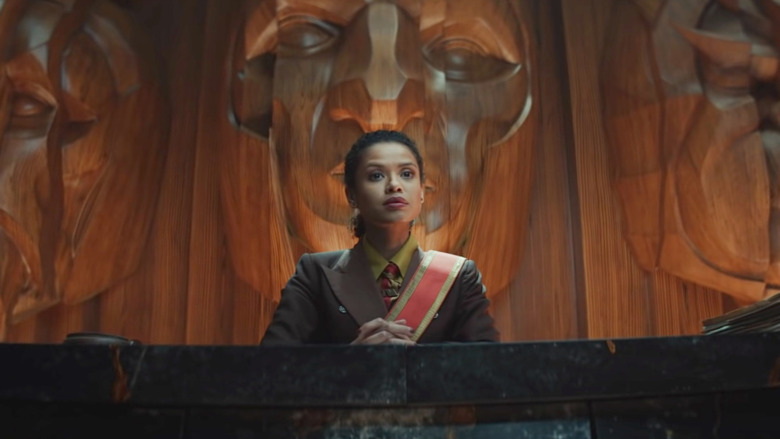 So who else is filling out the cast of "Loki?" Well, it looks like Gugu Mbatha-Raw ("Beyond the Lights," "Doctor Who") will be playing a powerful member of the Time Variance Authority known as Judge Renslayer. From the trailers, we can tell she's obviously a force to be reckoned with, sitting behind a large, imposing desk and looking down on Loki. And chances are good that Judge Renslayer is actually Ravonna Renslayer, a character who hails from the 40th century and is romantically linked with Kang the Conqueror. (We'll see him show up in "Ant-Man and the Wasp: Quantumania," played by Jonathan Majors).
"Loki" will also see Erika Coleman ("Stranger Things") as Florence Schaffner. If that name sounds familiar, it's because Schaffner was a real-life flight attendant involved in the infamous D.B. Cooper hijacking. And from the trailers, it looks like ol' D.B. might actually be everybody's favorite trickster god.
We also know that Wunmi Mosaku ("His House") will be playing a heavily armored TVA officer, and we see her escort Loki through a portal in one of the trailers. In another scene, she looks prepped to fight while holding a machete — we'd just hate to be on the other end of that thing. And Mosaku will be joined by Sasha Lane ("American Honey"), who also seems to be playing an armored TVA agent who'll most likely be giving Loki a hard time.
What's up with these mysterious roles?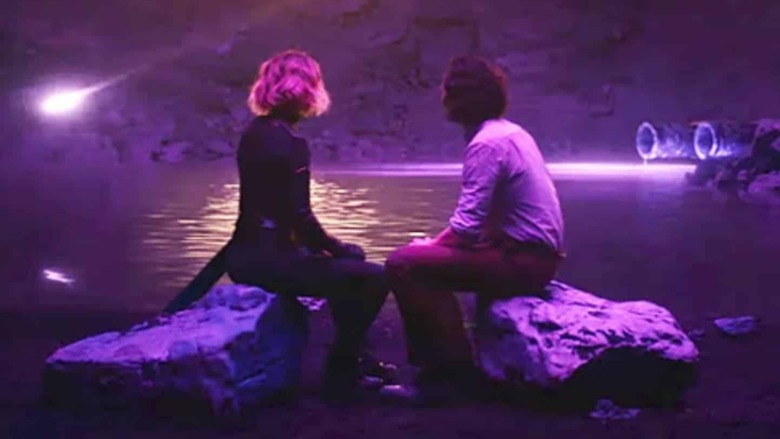 In March 2020, Variety reported that Richard E. Grant — most famous for his roles in "Withnail & I," "Gosford Park," and "Can You Ever Forgive Me?" – was joining the cast of "Loki." Grant's role is still being kept under wraps, but we know that he'll show up in at least one episode. There were no obvious appearances of Grant in any of the "Loki" trailers or sneak peeks, so we'll have to wait till the show debuts on June 9 to see what his mysterious character is up to. However, some fans suspect he might be showing up as an older version of the titular trickster god.
Sophia Di Martino has also been confirmed for "Loki," and the actress — known for roles in "Yesterday" and "Into the Badlands" — is playing another mysterious role in the MCU project. Some Redditors believe she's playing either Lady Loki (a female form of Loki the god takes after dying in the comics) or even Enchantress (an evil Asgardian sorceress), but neither have been confirmed at this time.
Who's working behind the scenes on Loki?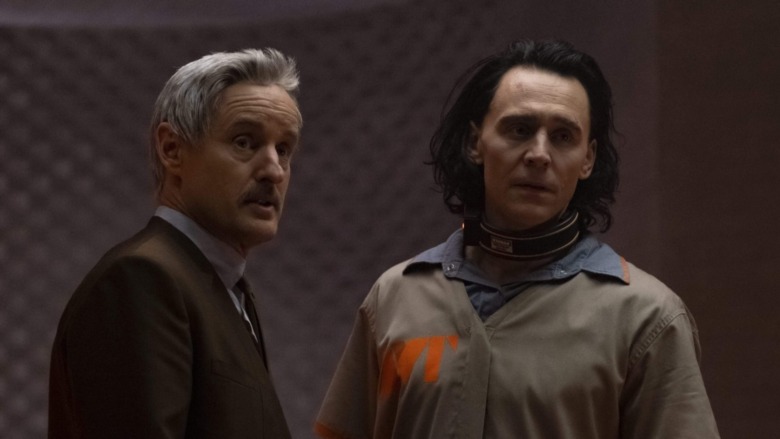 If you're wondering about the behind-the-scenes talent, Michael Waldron wrote all six episodes of "Loki," and he also serves as an executive producer on the series. And the show is directed by Kate Herron ("Sex Education"), making her the second woman to direct a Marvel Studios series for Disney+, behind Kari Skogland ("The Falcon and the Winter Soldier"). Herron will also serve as an executive producer alongside Kevin Feige and Stephen Broussard ("Doctor Strange"). Kevin R. Wright – known for his work on other MCU projects including "Black Panther" and "Ant-Man and the Wasp" – is credited as a supervising producer.
Fans of the MCU should be super excited for this experienced creative team, and some of the "Loki" actors are paying respect to those on the other side of the camera. Gugu Mbatha-Raw praised Herron on her MCU directorial debut. "I feel like even though you're dealing with this big universe, she still makes it feel very intimate. She just brings it back down to character and moments and emotions," the actress said on "The Big Ticket" podcast, per Variety.
Another noteworthy name on the "Loki" crew list is Natalie Holt, the series composer. Holt has previously created the score on the television series "Knightfall," and she also served in the music department on the much-loved film "Paddington."
What do we know about Loki's story?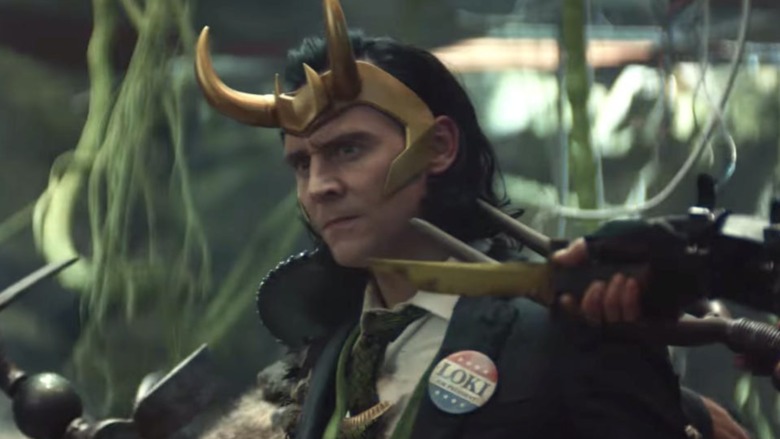 For almost two years, we've speculated about what the plot for "Loki" could entail, and in true Marvel Cinematic Universe fashion, mum was the word on what the series would be about. But with the release of trailers and sneak peeks, we have a better understanding of what to expect from "Loki" this June. 
Kevin Feige confirmed at San Diego Comic-Con in 2019 that the series would follow the events that took palace immediately after the trickster stole the Tesseract in "Avengers: Endgame." The trailers have confirmed that by making off with the Space Stone, Loki screwed up a whole bunch of timelines, and the series will watch him fix these broken timelines while being guided by the Time Variance Authority.
From the trailers, we saw Loki and Mobius in Pompeii, so we do know the pair will be traveling back in time, as far back as 79 AD. What other eras Loki might find himself in remains a mystery, but he's also suspected to be on Earth somewhere in 1971, based on the D.B. Cooper hints in the trailer. Loki appears to be the famous hijacker, who held a plane ransom for $200,000 and disappeared via parachute, never to be seen again.
What comic storylines is Loki pulling from?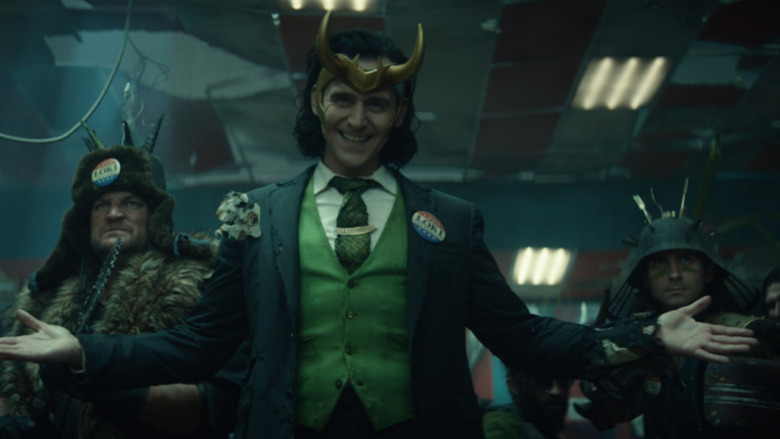 MCU projects rely heavily on the source material, and "Loki" will be no exception. And we can make our best guesses on which comic issues the series will pull from based on what we saw in the trailers. 
There definitely will be inspiration from 2016's "Vote Loki," which was a satire on the United States presidential election of the same year. Loki can be seen in the trailer wearing a pin that says "Vote Loki," while others around him also don the campaign accessory. And since the Time Variance Authority will play a major role in the show, we know several aspects will be pulled from the comics regarding the organization. The TVA first appeared in "Thor" #371 in 1986, and the group has had encounters with a handful of famous Marvel names including the Fantastic Four, Kang the Conqueror, and She-Hulk — characters we all know are showing up in the MCU sooner rather than later.
How will the show connect to other MCU projects?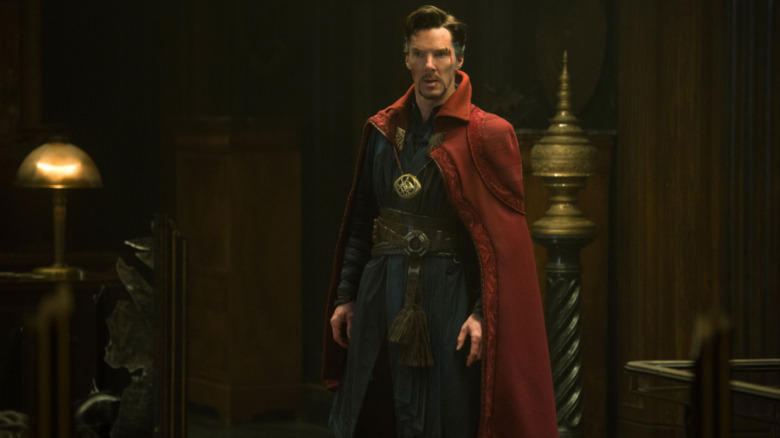 The Marvel Cinematic Universe is one giant web of interconnecting plots, and you can expect "Loki" to follow suit. It hasn't been confirmed at this time, but some believe Tom Hiddleston will show up as Loki in the upcoming "Thor: Love and Thunder" film, with him ending back up with his brother due to the events of the Disney+ series. Since the mercurial villain is confirmed to be traveling through time and realities, he very well could return to the main timeline on Earth — and space — with his brother.
We also expect "Loki" to connect to "Doctor Strange in the Multiverse of Madness," which will delve heavily into alternate realities that play a part in "WandaVision" and "Spider-Man: No Way Home." Loki's storyline in the Disney+ series directly connects to "Doctor Strange 2" based on both projects dealing with alternate realities. And in an interview with Bloomberg Businessweek (via Slash Film), Kevin Feige noted that the two projects will definitely connect. "I'm not sure we've actually acknowledged that before. But it does," he said of the two MCU properties interlinking.
"Doctor Strange 2" is set to premiere on March 25, 2022, with "Thor: Love and Thunder" following on May 6, 2022. It's very possible Loki shows up in the "Doctor Strange" sequel, possibly running into Stephen Strange (Benedict Cumberbatch) or the Scarlet Witch (Elizabeth Olsen) in another reality. If either helps bring him back to the main timeline, it's likely the opening for Loki to waltz into the events of "Thor 4" like nothing had ever happened.
What are some theories surrounding Loki?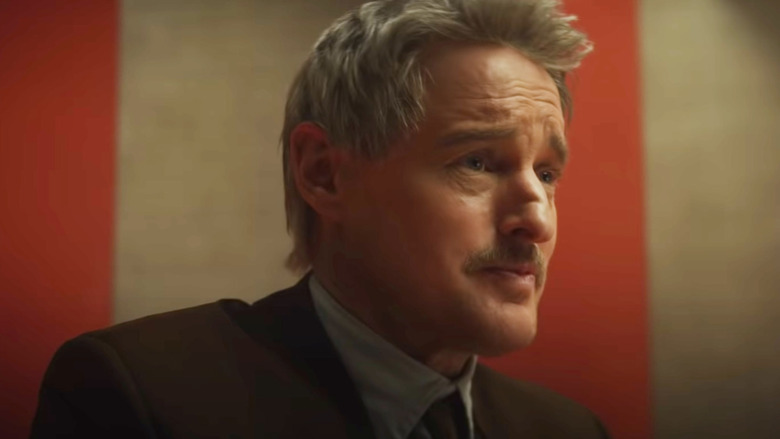 There's no shortage of fan theories surrounding upcoming MCU projects, and ones regarding "Loki" are a dime a dozen. One of the biggest fan theories about the show — which gained a lot of steam on Reddit – was that the plot would see the Loki from the "Endgame" time heist meeting with other versions of himself in different timelines. It's suspected that in the "Vote Loki" scene we see in the trailer, Loki is actually talking to another version of himself when he says, "What did you expect?" Lady Loki is also highly rumored for the series, and many are assuming she's the mysterious woman sitting with the mischievous god in one of the trailer scenes (sorry everyone, it's probably not Natasha Romanoff).
A second Reddit theory has expanded on that, suggesting that each episode will see Loki with an alternate version of himself, meaning there will be seven versions of the character throughout the show (the main Loki and one for each of the six episodes). Some also believe that Loki will keep in line with his villainous ways and try to get some other Infinity Stones while traveling around other realities. One theory suggests he'll attempt to steal the Time Stone from the Ancient One, well before it was even given to Doctor Strange.
As we know from "WandaVision," theories these days can get out of hand, and more often than not, they probably aren't going to pan out. Based on what we saw in the trailers, however, the various versions of Loki seems plausible, and we can't wait to see how this all pans out.