The Paul Bettany Tease That Could Hint At WandaVision's Big Bad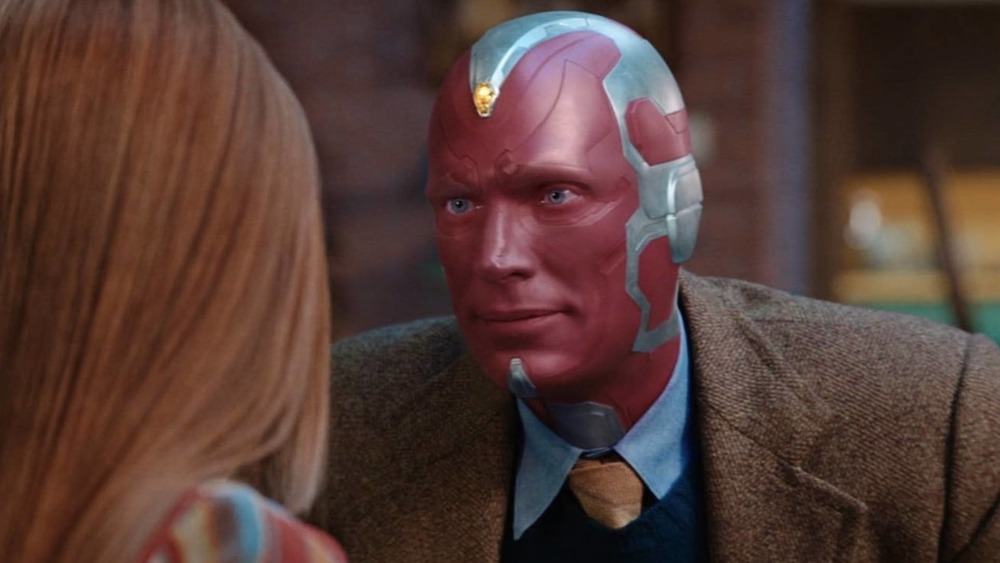 Marvel Studios/Disney+
Contains spoilers for WandaVision
WandaVision is a slow burn in the very best sense of the term. The first two episodes draw heavily from popular sitcoms of the past, pretty much functioning as straightforward T.G.I.F. entertainment until some interesting turns take place to show the audience that not everything is as it seems. Episode 3 of WandaVision really starts making some connections to the rest of the Marvel Cinematic Universe by having Geraldine (Teyonah Parris) bring up how Ultron killed Wanda's (Elizabeth Olsen) brother, Pietro. 
The remarkable thing is that we're already three episodes into a nine-episode season, and it's still not entirely clear where precisely all this is heading. The only thing we know is that Wanda is content in what's seemingly a false reality — with even Vision (Paul Bettany) momentarily breaking out of the trance to voice his trepidation about this strange world.
All of this secret-keeping has caused fans to go wild with theories about what direction the series is going to take next. Based on recent comments from Bettany himself, one of those theories may actually have some merit. 
Is Mephisto coming to WandaVision?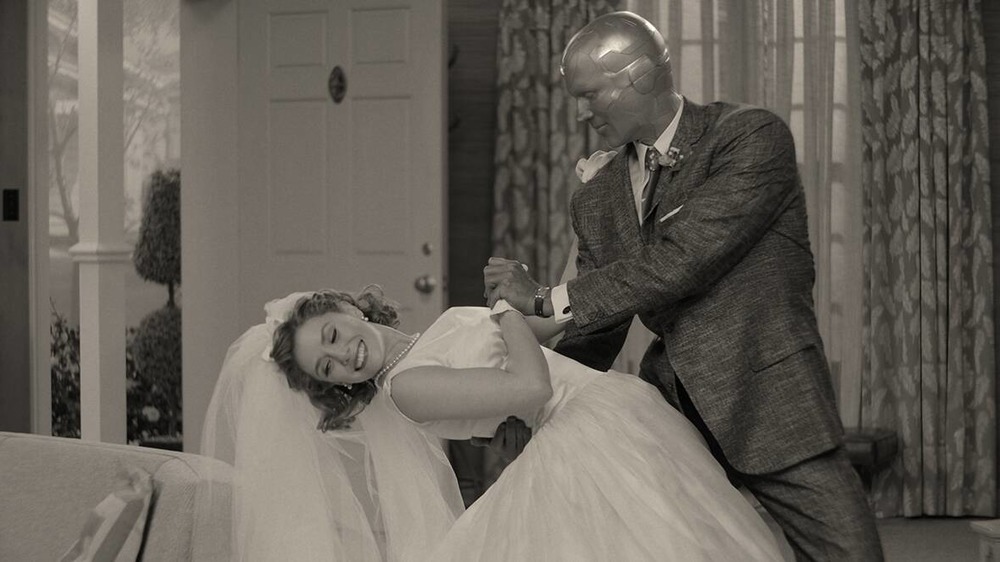 Marvel Studios/Disney+
In this age of scoops and exclusives, it's pretty impressive when a major property manages to keep its plot points secret for as long as possible. (That happened with another Disney+ series, The Mandalorian, when Luke Skywalker appeared in the season 2 finale.) If Bettany's recent comments to Lights, Camera, Barstool are anything to go by, it looks as though fans should expect a monumental WandaVision surprise before the season's end. 
Bettany shared with the outlet that "there's this thing that's been kept completely under wraps that happens" in WandaVision, and that an actor involved with the unidentified "thing" is someone he's "always wanted to work with." He continued, "The scenes are great, and I think people will be really excited. I've always wanted to work with this guy and the scenes are pretty intense."
There are some actors we know are coming to WandaVision who haven't appeared yet, like Agent Jimmy Woo actor Randall Park, but it seems as though this is a performer who hasn't been announced at all in connection to the show. What's more is that it seems like Bettany might be discussing the eventual arrival of the series' villain, considering he also told Lights, Camera, Barstool that viewers will be "massively surprised by the end of the show," which will make them "look at the MCU in whole new light and also have a much deeper understanding about in what direction it's moving."
The predominant theory amongst fans is that the big bad of WandaVision is going to be Mephisto. This antagonist is basically Marvel's version of the devil who makes deals with various characters over the years in the comics — at a high price, of course. He also has a strong connection to Wanda and Vision's kids, Billy and Tommy, and eventually reabsorbs them, thereby erasing them from existence. (They do eventually return to life and become teenaged superheroes named Wiccan and Speed.)
While Mephisto seems a likely candidate to emerge on WandaVision eventually, his presence may not end there, based on Bettany's other comments. A major actor, and one whom Bettany has always respected, could come on for a couple episodes of the Marvel-Disney+ show, but it makes even more sense if the actor does a handful of episodes and then also transitions into the movie side of things. It would absolutely make sense to get Mephisto involved in the MCU going forward, particularly in reality-bending projects like Doctor Strange 2 and the upcoming Spider-Man sequel. 
You'll just have to keep watching WandaVision to find out what all this means and what might end up happening.