Marvel Just Dropped Seriously Awesome News About WandaVision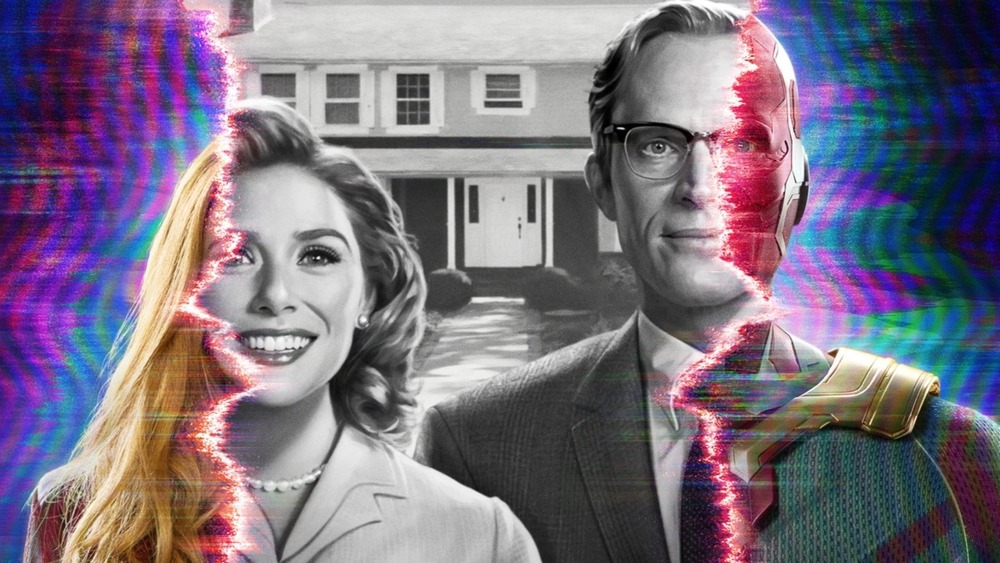 Marvel Studios/Disney+
2020 turned out to be a historic year for the Marvel Cinematic Universe, but not for the reasons Marvel Studios hoped for. As a byproduct of the COVID-19 pandemic, theaters, as well as film sets, faced widespread closures — which, unsurprisingly, had an adverse effect on the MCU's upcoming release slate. The studio had no choice but to postpone all of its major releases for the year, marking the first since 2009 in which not a single Marvel story hit the big screen. As of this writing, most theaters remain closed; however, that doesn't mean that 2021 won't end the Marvel content drought in short order.
With the second season of its hit Star Wars program The Mandalorian now in the books, Disney+ has begun shifting its focus into the MCU arena — revving up for the release of WandaVision in January 2021. Starring Elizabeth Olsen as Wanda Maximoff (aka Scarlet Witch) and Paul Bettany as the android Vision, the series promises a reality-warping, genre-blending thrill ride for all types of Marvel fans, expanding on a post-Avengers: Endgame world. As if that proposition wasn't intriguing enough, Marvel Studios just revealed some important information about the show that'll only serve to bring the excitement to a whole other level.
WandaVision includes more episodes than expected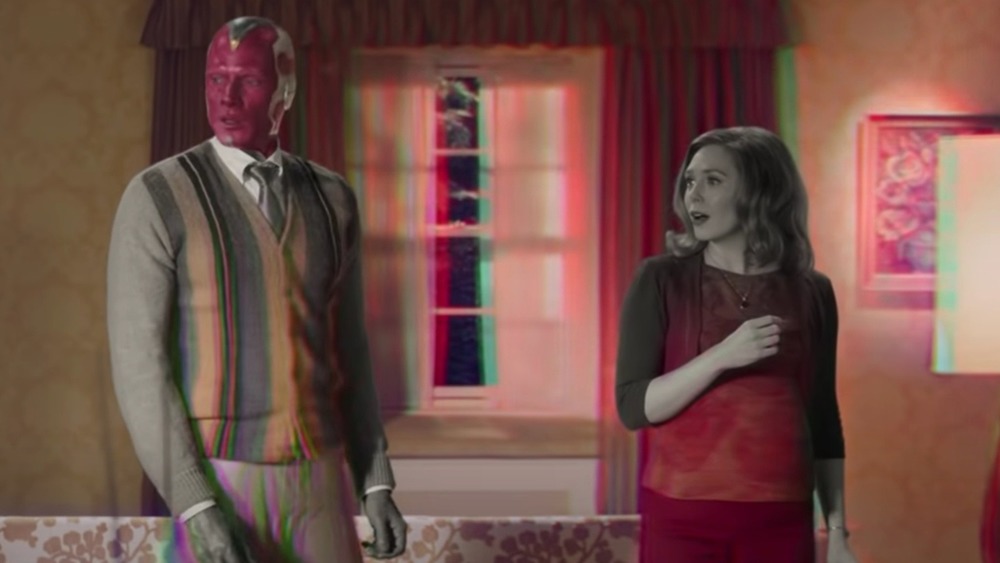 Marvel Studios/Disney+
In the lead-up to WandaVision's premiere on Disney+, speculation has swirled not only about the show's content but also about its the format. One of the biggest burning questions fans had surrounded how many episodes the series would span, with the leading rumor setting it somewhere around six or so. Thankfully, after ages of uncertainty, on January 4, 2021, Marvel Studios went ahead and set the record straight — announcing in a press release that WandaVision is prepared to run for nine installments (via ComicBook.com).
Much like The Mandalorian's previous two seasons, all nine WandaVision episodes won't hit streaming in a lump sum for your binging pleasure. Instead, they'll arrive weekly beginning on January 15, 2021, setting the season finale for a March 12, 2021 air date. As a result, WandaVision will wrap up exactly one week before The Falcon and The Winter Soldier makes its debut on Disney+, leaving little breathing room for MCU die-hards.
Even better still, should nothing go awry, the MCU is going full steam ahead in 2021 via all available formats. Black Widow, the untitled Spider-Man 3, Shang-Chi and the Legend of the Ten Rings, and The Eternals will grace the big screen, while Loki, Ms. Marvel, Marvel's What If...? and Hawkeye dominate the TV scene, making for quite the super-powered year. Suffice to say, Marvel Studios is doing everything in its power to make up for its unintentionally lackluster 2020, and WandaVision is a prime choice to lead the pack.