Why Billy Hargrove From Stranger Things Looks So Familiar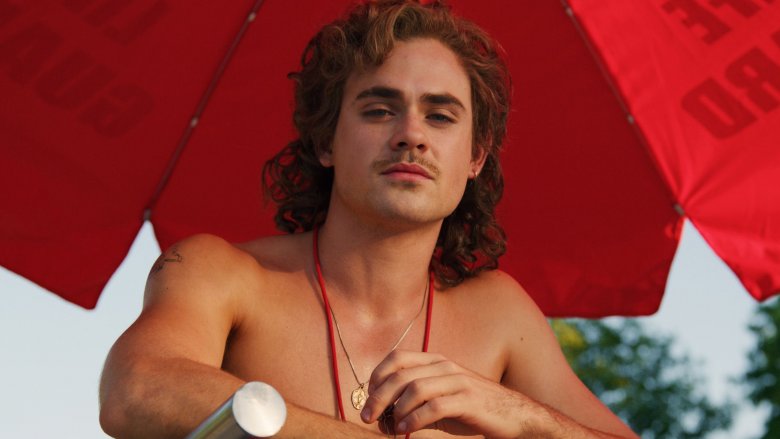 Netflix
When Stranger Things debuted on Netflix in 2016, it brought a brand-new generation of bright young stars into the Hollywood spotlight. The acclaimed sci-fi series, created by Matt and Ross Duffer, continued this pattern with its second season by tacking new characters Max Mayfield and Billy Hargrove onto the Stranger Things roster and giving the actors who play them a shot at Netflix-backed super-stardom. 
The man behind the callous-yet-cool bad boy Billy caught many fans' eyes on seasons 2 and 3 — both for his performance that grew increasingly captivating as Billy's personal arc became more complex, and for his striking good looks that viewers couldn't help but feel were oddly familiar. The guy in question, you ask? Dacre Montgomery, an Australian actor and poet who had only a handful of credits under his belt before securing the role of Billy on Stranger Things. Though his filmography is short, there are a few projects Montgomery has been in that fans will recognize. 
Born in Perth, Western Australia to Canadian mother Judith Barrett-Lennard and New Zealander father Scott Montgomery-Harvey, Montgomery began pursuing acting when he was still a child — an interest partly fostered by his parents, who were both in the film industry. "They both worked behind the camera, so I like to think that I have a really good understanding of how all the parts of the puzzle come together to make a film or TV show," he told Teen Vogue in a March 2017 interview. "I always wanted to get into acting. I've been pursuing that for a long time."
Montgomery continued to explore his passion in his adolescence, then honed his talents throughout his adulthood by completing an acting degree through the Western Australian Academy of Performing Arts at Edith Cowan University. This led Montgomery to roles in short films like Betrand the Terrible and Godot's Clinic, as well as the Australian flick A Few Less Men, a follow-up to the comedy from Down Under entitled A Few Best Men. 
Those experiences then set him on the road to a big break, which came with the 2017 Power Rangers reboot. Montgomery appeared in the Dean Israelite-directed superhero movie as Jason Scott, better known as the Red Ranger. Audiences were so impressed with the new kid on the block that they came together to vote for him at the 2017 Teen Choice Awards. For his performance as the Red Ranger, Montgomery scored a nomination for Choice Sci-Fi Movie Actor (but sadly lost out to Guardians of the Galaxy Vol. 2 star Chris Pratt).
After taking a turn as the mighty morphin' Power Ranger, Montgomery appeared as Jeremy in the Christmas-themed horror pic Better Watch Out, described by critics as "an ingenious and efficient black-comic shocker" bolstered by its charismatic cast. 
Now, if Montgomery's screen work isn't the reason why he looks so familiar to you, you might be a music fiend with an affinity for Australian music and a fantastic memory. In 2015, Montgomery appeared in the music video for "Old Souls" by Perth heavy metal band Make Them Suffer. He circled back to the music scene in 2017 for indie-folk group Angus & Julia Stone's "Chateau" video.
Of course, Montgomery is best known as Billy on Stranger Things, but sadly, it seems that his two-season turn may be all the Aussie actor was destined for on the show. The third season of Stranger Things saw Billy, who was working as a lifeguard at the Hawkins community pool over summer break, become the first host for the remnants of the Mind Flayer that was left trapped on the other site of the gate at the end of season 2. With each passing episode, Billy devolved into a shell of a person — turning on his sister Max (Sadie Sink) and her friends, kidnapping Hawkins residents to sacrifice to the Mind Flayer, and threatening to kill anyone who crossed his (and the Mind Flayer's) path. Through Eleven's (Millie Bobby Brown) psionic powers that allowed her to connect with Billy's memories, we learned that Billy had a rough childhood that influenced his tendencies toward violence in his young adulthood. During the finale, when Billy was closing in on an injured Eleven, her powers fading, she calmed him down by mentioning the fond memory he had of his mother. Billy wound up defending Eleven from the Mind Flayer, sacrificing himself to protect her. Billy's apparent death suggests that Montgomery won't reprise his role on a potential fourth season of Stranger Things, but never say never. After all, much stranger things have happened on the series. 
Next up for the actor is Justin Kurzel's film True History of the Kelly Gang, so even if he isn't a part of Stranger Things season 4, Montgomery's mug will remain on screens everywhere for the foreseeable future. Staunch Montgomery fans can also tune into the actor's two-years-in-the-making podcast "DKMH," for which he collaborated with musicians to bring his poetry to life.