Why You Should Keep Watching Through WandaVision's Credits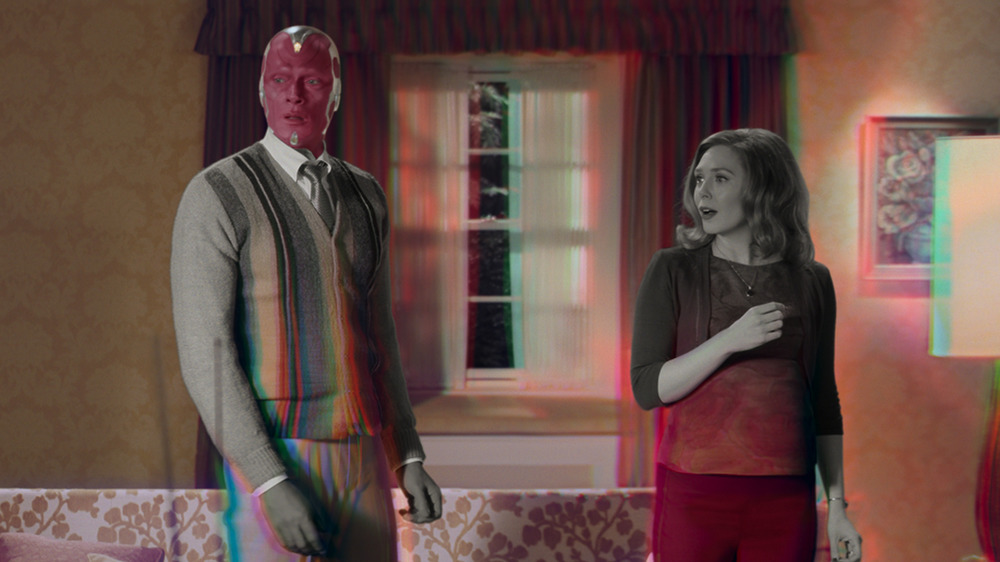 Disney+/Marvel
Only three episodes in and Marvel Studios' beautifully cracked Disney+ streamer WandaVision is far and away the wildest project the superhero powerhouse has ever conjured. Set amid some as-yet-identified realm in which Wanda Maximoff (Elizabeth Olsen) is sharing a classic TV-tinged existence with her previously departed love Vision (Paul Bettany), the mystery as to what's actually happening in WandaVision remains a genuinely intriguing one. And, while everything is clearly not as it seems in the lives of Wanda and Vision, so far the series' decade-and-genre-jumping shenanigans have proven an utter (at times eerie) delight.
As far as its singular small screen charms go, WandaVision works thanks in no small part to its whole-hearted dedication to indulging in classic television tropes. That even includes fronting every single episode with a campy, era-specific credits sequence fit with its very own theme song. Even as those opening credit themes continue to kick every episode of WandaVision off on a kooky foot, they also provide clever nods to what may or may not be happening within series itself. 
Ditto for the series' gloriously pixelated end credits, which continue to boast a far more traditional Marvel Cinematic Universe look and feel — straight down to that epic musical score. It turns out, the end of WandaVision's episodes may become a lot more like other MCU entries than we'd previously expected: in a recent interview, showrunner Jac Schaeffer said that the series' Easter-eggy end credits may be a tease for things to come — perhaps even a legitimate pre-cursor to some good, old-fashioned Marvel post-credits fun.
Post-credits shenanigans may be coming to WandaVision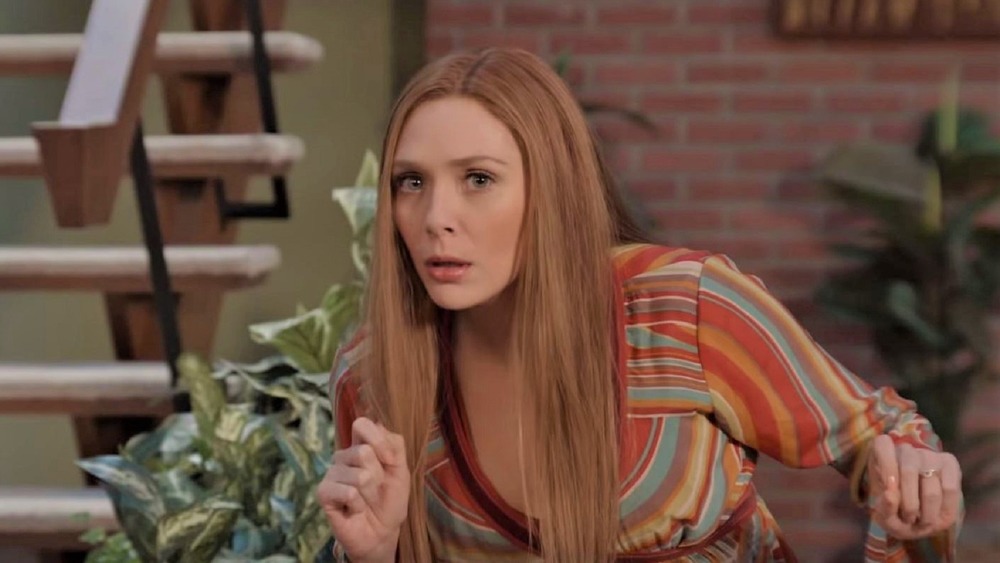 Disney+/Marvel
Post-credits scenes setting up future MCU events is obviously a big part of what set Marvel Studios apart from the competition. Once Marvel announced it was taking part of its super-powered crew to the land of streaming, many fans wondered if it would take the post-credits penchant along for the ride. Schaeffer's recent comments to Entertainment Tonight will undoubtedly have fans on high alert moving forward, as she not-so-artfully dodged a direct question about post-credits scenes for WandaVision.
When asked if she ever considered post-credit scenes, Schaeffer responded, "We looked at the show in a lot of different ways and a lot of different structural ways, but yeah. That's a tricky question and I'm having trouble dodging it." That squeamish non-answer prompted an even more direct question about WandaVision post-credits scenes, and earned an equally dodgy retort, "I would say that in any Marvel property, you should watch the thing in its entirety, no matter what. That's what I would say."
Without making any assumptions, does Schaeffer's chafing at such questions all but ensure a post-credits scene for WandaVision at some point? Fans will want to keep watching to the bitter end for fear of missing the fateful tease. Exactly what we can expect from said potential scene(s) clearly remains as mysterious as the series itself — though we wouldn't be at all surprised if Peter Parker (Tom Holland) and/or Doctor Strange (Benedict Cumberbatch) show their faces. Here's hoping.