The Truth About Anna Shay From Bling Empire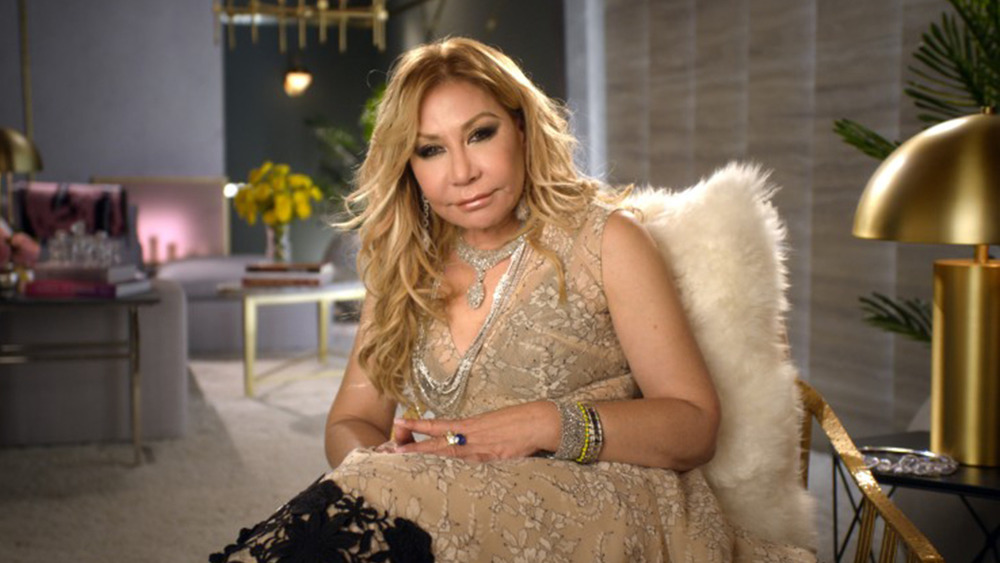 Netflix
Anna Shay is at the center of Netflix's big new reality series Bling Empire — the streamer's effort to ride the coattails of Crazy Rich Asians' cinematic success — and it's not just because she's an ungodly level of rich. The Dior and jewel-clad heiress has a dynamic personality perfectly suited for reality TV, a treasure trove of a backstory, and more wild tales to tell than you can count on both hands. 
A January 2020 Netflix release, the series follows the lives (and drama) of a group of wealthy Asians and Asian Americans living in Los Angeles, including socialite Christine Chiu and denim empire heiress Cherie Chan. While Keeping up with the Kardashians and Real Housewives all feature the antics of wealthy families, Bling Empire is unlike its counterparts, serving as a historical first within the genre. If it can be believed, before the Netflix series, no other American reality television show had featured a main cast comprised entirely of East Asians. 
In tandem with Shay's grand presence, her life of excess, and unmatched net worth, that peek at a brand of American wealth never before seen on a national stage helps make the series even compelling to watch. But how did Shay, an heiress married four times and a mother to one son, come into her power and prestige? Much of it is thanks to her father, whose wealth helped her live a life so opulently wild it sometimes feels like fiction. 
Anna Shay's father owned a billion-dollar global defense company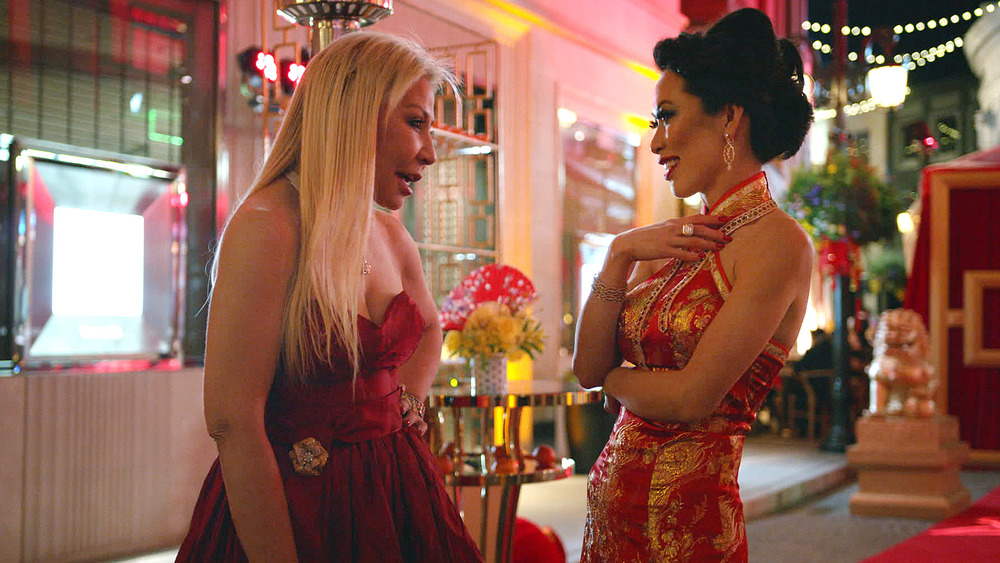 Netflix
With a potential net worth of more than half a billion, Anna Shay's got more "bling" and "empire" than all her co-stars combined. According to Town & Country magazine, a solid chunk of that comes from the sale of a company started by her American father, Edward Shay, the founder of the global defense contracting company Pacific Architects and Engineers. The business leader whose company was founded in 1955 and brought in revenues of around $2 billion by 2016 from "bombs, guns, defense technology," according to fellow Bling Empire star Kane Lim, met her part Japenese and part-Russian mother, Ai Oizumi Shay, in Japan after he moved there in the 1950s. 
Edward was from the South Side of Chicago, while Ai-San was the granddaughter of a Russian Count and Ambassador to both China and Japan (via The Los Angeles Times). Ai-San had her own business working in pearl and silk flower exports, in addition to patenting child-friendly scissors. Described in her obituary as a woman of "quiet strength," Anna's mother supported her husband's endeavors with Pacific Architects and its stake in Japanese real estate company, K.K. Halifax. In addition to their shared love of business, the duo — with Edward being Ai-San's second husband — also shared a love of the fine arts, owning an extensive Japanese art collection. 
The family kept their property in Tokyo, Japan, but moved to Los Angeles in 1968, and eventually made the west coast city their home. Anna is one of three of Ai-San's children, with Jun, her half-brother from her mother's first marriage, and Allen, her younger brother. Following their father's death in 1995 and then their mother's death 20 years later in 2015, Anna and Allen sold Pacific Architects and Engineers in 2006 for $1.2 billion, giving way for Anna to build her own financial empire.    
Anna Shay's got a derth of wild stories thanks to her affluent upbringing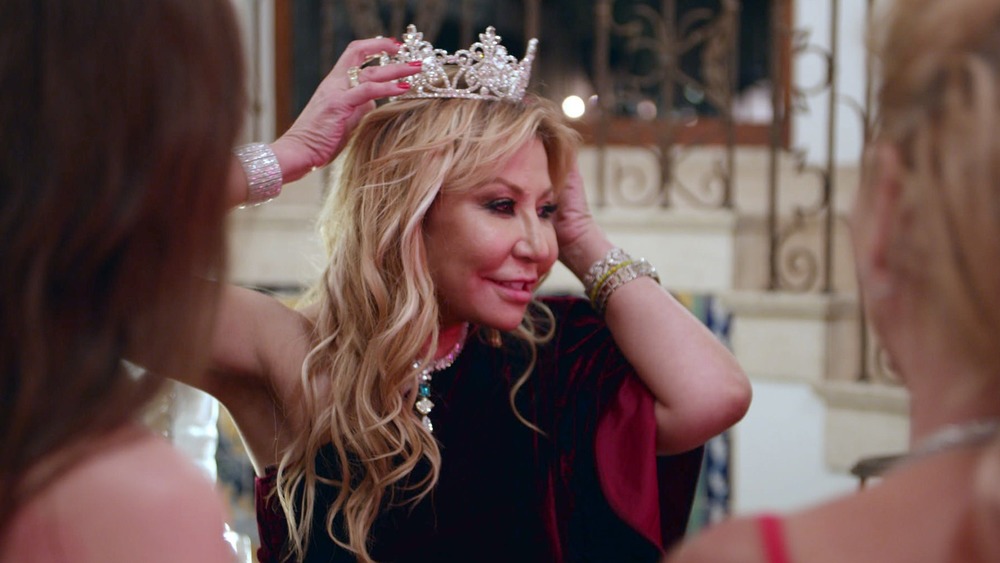 Netflix
Due to the nature of her parents' work and the wealth that came from it, Anna and her family navigated life very differently than most. During a Zoom interview with Town & Country, the multi-millionaire socialite relayed that basically, she didn't know everything her father did. But as a contractor for the Department of Defense, State Department, Armed Services, United Nations, and more, her family took extra precautions — and got a bevy of experiences. 
When the family traveled together, Anna went with her father while her mother and brother went separately to their destination "for safety reasons," she told the magazine. In addition to visiting embassies and attending state dinners, she also received military training running obstacle courses, and learning how to pilot a helicopter.
All that wealth also bought the now 60-year-old Anna and her family comforts beyond imagination and led to other experiences that seem somewhat out of this world. In an interview with Oprah Magazine, Anna Shay shared that her mother once told her, ""You were born in a crystal ball with a silver spoon.'" 
That's never more evident than when Anna talks about everything from smuggling her pet monkey on a plane as a child to hearing a Cuban salsa band's music and becoming their manager and producer on the spot despite not speaking any Spanish. While talking to Town & Country, Anna revealed that she wasn't aware of the existence of retail chain Target until two years ago and that when her friends' wallets were stolen at a Jack in the Box drive-thru, she hand-delivered her own to the robbers after they failed to nab it. "They came back, and I said, 'Here. Next time, three girls equals three wallet[s].'" 
If all that isn't enough to convince you that Anna Shay is a perfectly compelling leading lady for Bling Empire, nothing will.