The Best Movies And TV Shows To Watch On Netflix In January 2021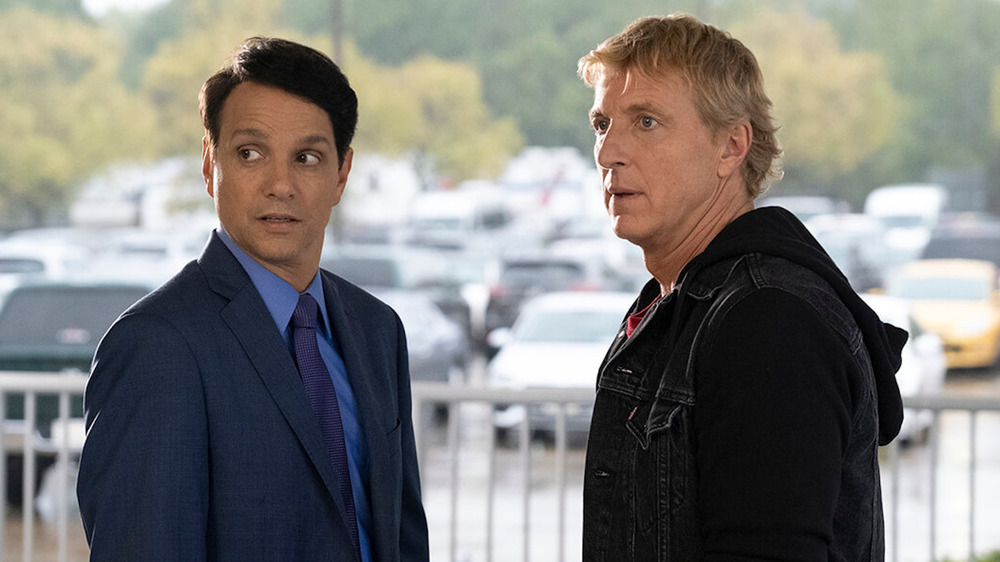 Netflix
It's almost a new year, and as it does every month, Netflix is celebrating impending newness with a slew of fresh releases. 
After a year that marked a ton of successful Netflix Original releases, including acclaimed shows like The Queen's Gambit and popular films like Da 5 Bloods and The Old Guard, Netflix is ready to start 2021 off on the right foot. While the world waits out a winter and — hopefully — looks forward to the decline of the COVID-19 pandemic, there's still plenty for audiences to stream, whether you're looking for hard-hitting documentaries, beloved classic movies, or new originals. 
From incoming Netflix hits to classic Scorsese mob films, here are the movies and TV shows you definitely won't want to miss on Netflix in January 2021.
Netflix has some cool new original films coming in January 2021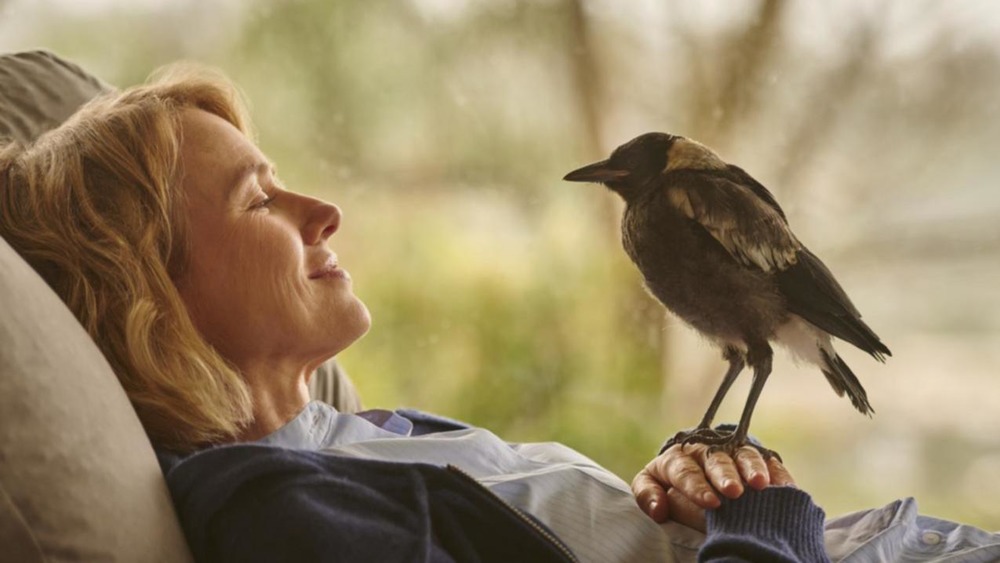 Netflix
If you're someone who can't get enough of Netflix's original movies, you'll be delighted to hear that the streamer has a solid selection of new projects set to kick off 2021.
Fans of fairy tales looking for a new take on an old classic will definitely want to check out Charming, an irreverent animated flick that forces Prince Charming to seek out his one true love, rather than the other way around; the film drops on January 8. Then, on January 15, you'll want to catch Outside the Wire, which features Marvel Cinematic Universe favorite Anthony Mackie and Damson Idris as a droid officer and drone pilot in a futuristic military zone. Together, the two must find a doomsday device before it's too late. On January 27, don't miss Penguin Bloom, which stars Naomi Watts, Andrew Lincoln, and Jacki Weaver as a family struck by tragedy. Their lives are turned around by a tiny injured bird named Penguin. 
The full list of new Netflix Original films hitting the service in January 2021 is below, so be sure to mark your calendar for anything that sounds exciting.
January 1
What Happened to Mr. Cha?
January 7
Pieces of a Woman
January 8
Charming
January 15
Outside the Wire
January 22
The White Tiger
January 27
Penguin Bloom
January 29
Finding 'Ohana
The Dig
Coming Soon
June & Kopi
January 2021 marks the return of some beloved original Netflix shows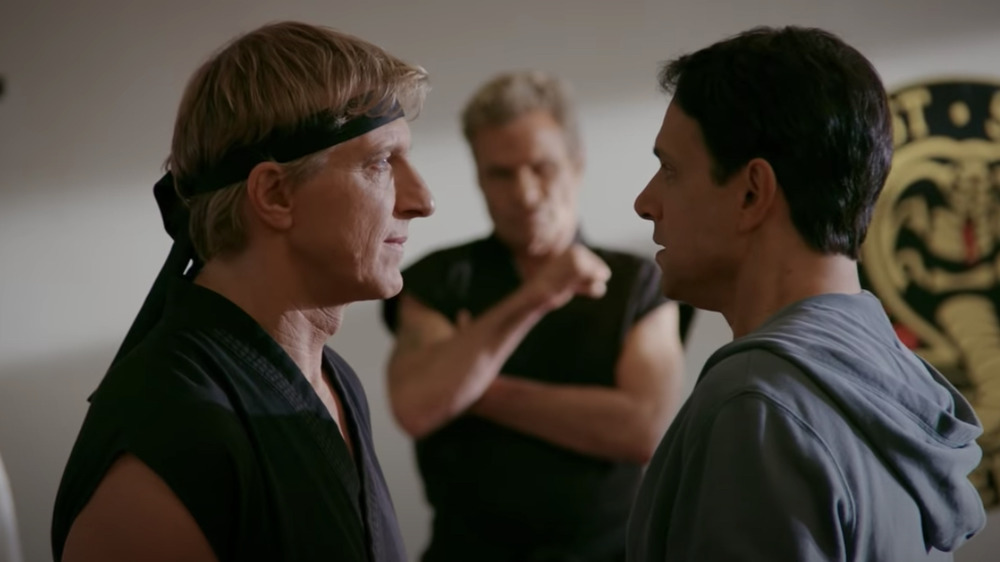 Netflix
After buzzy December 2020 debuts like Shonda Rhimes' period piece Bridgerton and new seasons of Big Mouth and Chilling Adventures of Sabrina, there aren't quite as many new shows dropping in the new year. However, the exciting news is that some beloved favorites are returning for new installments.
At the top of the month, Netflix subscribers can see Nicolas Cage share the interesting and unexpected origins of the English language's most ... colorful words in History of Swear Words, which arrives to the platform on January 5. A bit later, Disenchantment fans can finally see Part 3 of the medieval-fantasy-kingdom-set animated series. On January 21, the French comedy Call My Agent!, which features Emily in Paris star Philippine Leroy-Beaulieu, returns for its fourth season. If you haven't checked out the sharp show-business comedy, now's the time. 
Though there's no release date just yet for the highly anticipated third season of Cobra Kai, the modern spin-off of the Karate Kid story, fans can get excited: The new season will hit the service sometime in January. 
January 1
Dream Home Makeover: Season 2
January 5
History of Swear Words
January 8
Inside the World's Toughest Prisons: Season 5
Lupin
January 15
Bling Empire
Disenchantment: Part 3
January 20
Spycraft
January 21
Call My Agent!: Season 4
January 22
Blown Away: Season 2
Busted!: Season 3
Fate: The Winx Saga
Coming Soon
Cobra Kai: Season 3
The Netflix Afterparty
Bonding: Season 2
50M2
A whole bunch of beloved movies are joining Netflix in January 2021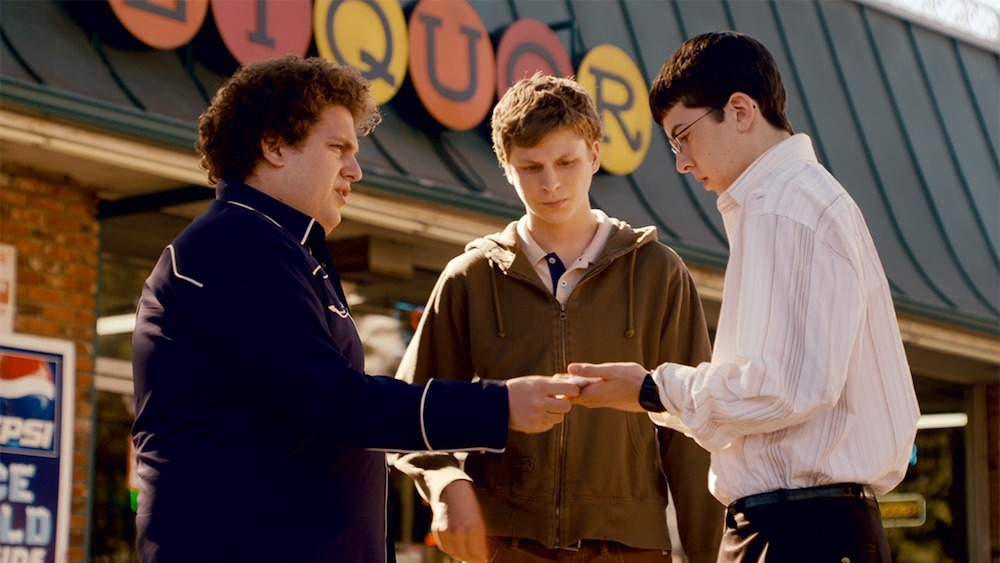 Sony Pictures
If you want to revisit some classics and favorites in January 2021, Netflix definitely has you covered. A huge group of movies hits the service on New Year's Day, so you can start your year off right on January 1 with everything from Academy-Award-nominated flicks to gut-busting comedies.
A small selection of the January 1 drop includes favorites like Steven Spielberg's Catch Me If You Can, Martin Scorsese's Goodfellas and The Departed, the feel-good biopic Julie & Julia, Julia Roberts' beloved romantic comedy Mystic Pizza, the first Robert Downey Jr.-led Sherlock Holmes movie, both Sex and the City films, and the raucous coming-of-age comedy Superbad – to name just a few. After that, a few more awesome movies will join the Netflix ranks — including The Girl with the Dragon Tattoo, Spring Breakers, and Hook, which hit the service on January 5, January 10, and January 15, respectively. 
As Netflix subscribers continue to hunker down at home in January 2021, they certainly won't be hurting for options whenever they want a movie night.
January 1
17 Again
30 Minutes or Less
Blue Streak
Bonnie & Clyde (1967)
Can't Hardly Wait
Catch Me If You Can
Cloudy with a Chance of Meatballs
Cool Hand Luke
Enter the Dragon
Gimme Shelter
Good Hair
Goodfellas
Gothika
Into the Wild
Julie & Julia
Mud
Mystic Pizza
Eddie Murphy: Raw
Sex and the City: The Movie
Sex and the City 2
Sherlock Holmes (2009)
Striptease
Superbad
The Creative Brain
The Departed
The Naked Gun: From the Files of Police Squad!
What's Eating Gilbert Grape
January 5
The Girl with the Dragon Tattoo
January 10
Spring Breakers
January 11
The Intouchables
January 15
Hook
January 16
A Monster Calls
Radium Girls
January 18
Homefront
January 20
Sightless
January 31
Fatima
Some great TV shows are airing new seasons on Netflix in January 2021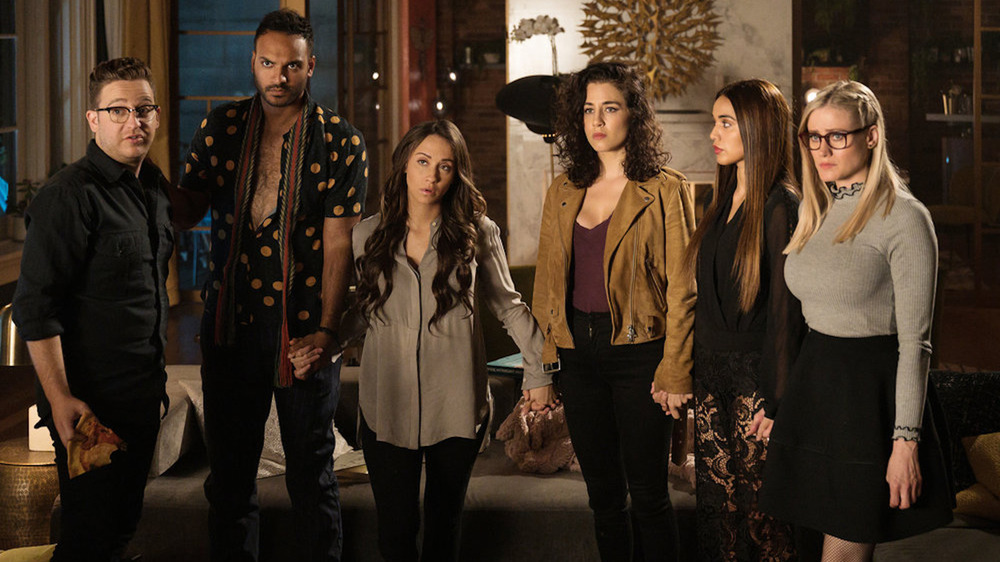 Eric Milner/Syfy
Netflix is adding a handful of new and returning non-original shows to the service in January 2021, but there's one big standout. On January 15, the fifth season of the buzzy Syfy series The Magicians – which, with its focus on teenagers at a secret school of magic, is sort of like a darker take on Harry Potter — arrives on Netflix. Pretty soon, fans of The Magicians will be able to catch the latest season of their favorite show.
January 1
Abby Hatcher: Season 1
The Haunted Hathaways: Seasons 1 & 2
January 12
Last Tango in Halifax: Season 4
January 15
Henry Danger: Seasons 1-3
Kuroko's Basketball: Season 1
The Magicians: Season 5
There are some important documentaries arriving on Netflix in January 2021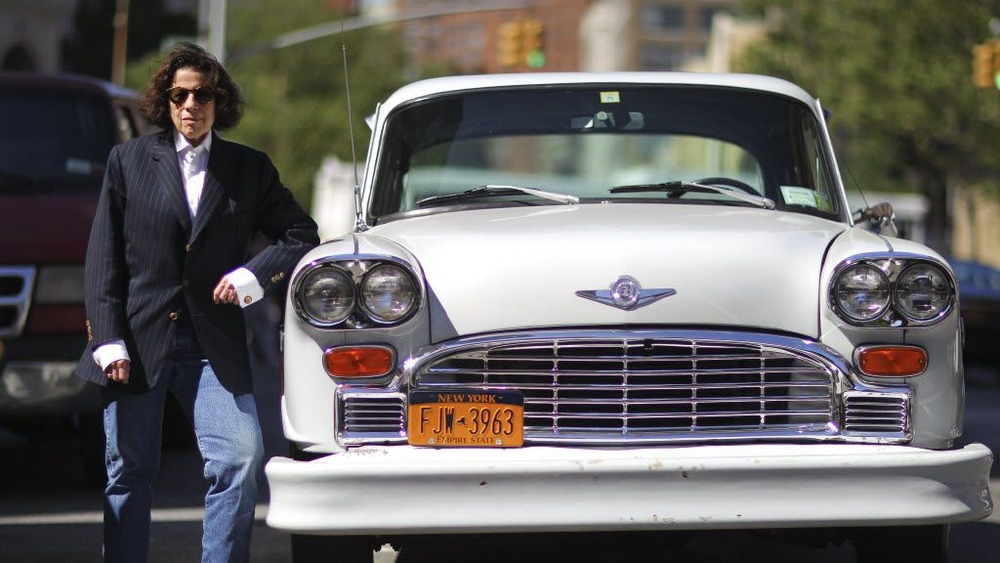 Netflix
If you're looking for hard-hitting documentaries on Netflix in January 2021, the service has you covered. 
On January 1, learn how to make your everyday life more efficient with The Minimalists: Less Is Now. A few days later, on January 6, you can check out Surviving Death (about the possibility of an afterlife) and Tony Parker: The Final Shot (a look at the life and games of French basketball star Tony Parker).
Pretend It's a City, writer Fran Lebowitz's wry take on Manhattan, arrives on the service on January 8, and on January 11, you can learn more about the history of one of America's most infamous illegal drugs in CRACK: Cocaine, Corruption, & Conspiracy. Two days after that doc's arrival on Netflix, travel back to 1985 and learn about a real-life manhunt in Night Stalker: The Hunt for a Serial Killer. Finally, on January 29, follow the Brooklyn Saints football players and their crusade to make the world a better place in the four-part series We Are: The Brooklyn Saints.
January 1
The Minimalists: Less Is Now
January 6
Surviving Death
Tony Parker: The Final Shot
January 8
Pretend It's a City
January 11
CRACK: Cocaine, Corruption & Conspiracy
January 13
Night Stalker: The Hunt for a Serial Killer
January 29
We Are: The Brooklyn Saints
Everything leaving Netflix in January 2021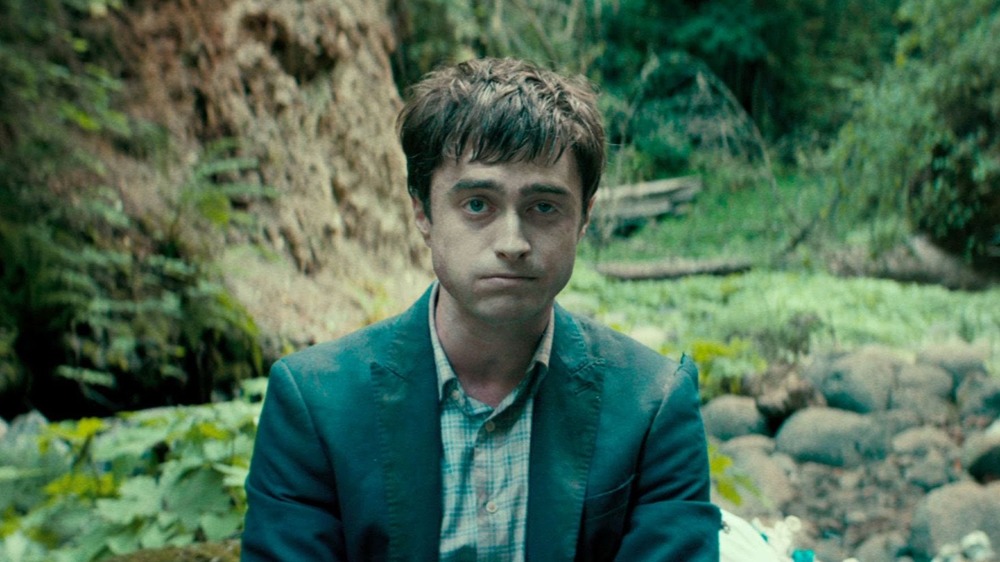 A24
As is the norm on Netflix, in order to make room for all the stellar new films and shows arriving to the digital library during any given month, the streamer must do away with a number of other flicks and series — even ones that subscribers hold near and dear. 
January 2021 marks the last chance for Netflix subscribers to stream dozens of great titles — like four seasons of The Tudors, leaving on January 7; 2018's Mary Poppins Returns, flying away from Netflix via a magical umbrella on January 8; the critically acclaimed drama Dallas Buyers Club, exiting the streaming platform on January 15; and the Daniel Radcliffe-starring black-comedy-drama Swiss Army Man, swimming away on January 29. A little before then, those who like to turn to Netflix and use their laptops or TV screens as a digital fireplace will be sad to hear that a bundle of fake fireplace streams – Fireplace 4K: Classic Crackling Fireplace from Fireplace for Your Home, Fireplace 4K: Crackling Birchwood from Fireplace for Your Home, and Fireplace for Your Home — will be gone from Netflix on January 20. 
Before the end of the month, be sure to load up Death at a Funeral, Employee of the Month, For Colored Girls, Mr. Deeds, and Pineapple Express, as they're all leaving Netflix on January 31, 2021.
Leaving January 1
Bloodsport (1988)
Leaving January 3
QB1: Beyond the Lights: Season 2
Leaving January 4
Mara (2017)
Leaving January 5
The Monster (2016)
Leaving January 7
The Tudors: Seasons 1-4
Leaving January 8
Mary Poppins Returns (2018)
Leaving January 14
Haven: Seasons 1-5
The Master (2012)
Leaving January 15
A Serious Man (2009)
Dallas Buyers Club (2013)
Waco: Limited Series (2018)
Leaving January 16
Friday Night Tykes: Seasons 1-4
Leaving January 20
Fireplace 4K: Classic Crackling Fireplace from Fireplace for Your Home
Fireplace 4K: Crackling Birchwood from Fireplace for Your Home
Fireplace for Your Home
Leaving January 24
When Calls the Heart: Seasons 1-5
Leaving January 26
We Are Your Friends (2015)
Leaving January 29
Swiss Army Man (2016)
Leaving January 30
The Hundred-Foot Journey (2014)
Leaving January 31
A Thin Line Between Love & Hate (1996)
Braxton Family Values: Seasons 1-2
Death at a Funeral (2010)
Employee of the Month (2006)
For Colored Girls (2010)
Malicious (2018)
Mr. Deeds (2002)
Pineapple Express (2008)