The Jerry Seinfeld Flop On Netflix You Forgot Starred Larry King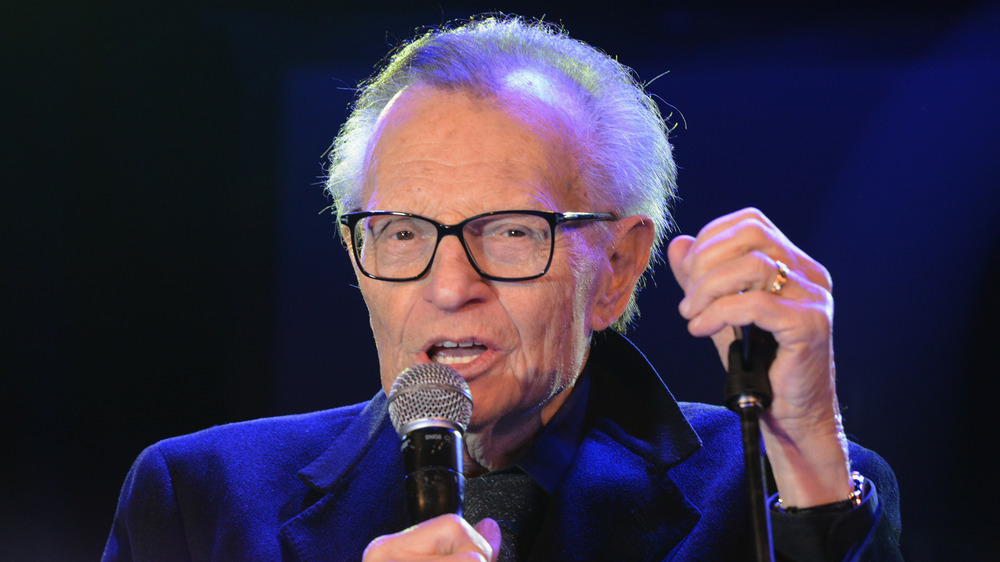 Albert L. Ortega/Getty Images
When most of us hear Larry King's name, we probably think of his tenure as an interviewer and television host. Throughout his decades-long career, he became a household name due to his unique, direct approach to interviewing his guests. King built up an undeniable legacy, so much so that the January 23, 2021 news of his death at the age of 87 led to an outpouring of memorials and recognition of his impact on Hollywood.
Still, King was more than just a TV host. His status as an icon in the entertainment industry meant that he took numerous guest-starring and cameo roles in movies and TV shows. King often played himself, appearing in everything from critically acclaimed TV series like Gravity Falls to groundbreaking franchises like Ghostbusters and even WWE Raw (no, seriously). He also dabbled in acting, with a hilarious voice role as Doris in the Shrek franchise as well as other gigs, proving he had plenty of hidden talents.
Some of King's Hollywood endeavors were a bit less noteworthy. It's safe to say that was the case for his brief appearance in DreamWorks Animation's 2007 flop Bee Movie. The Jerry Seinfeld-led animated movie faded quickly into obscurity after its release. However, it is currently available to stream on Netflix — and it may be worth revisiting, if only to delve into one of the lesser-known ways Larry King left his mark on the movie industry.
Larry King played himself in bee form in the not-so-buzzworthy Bee Movie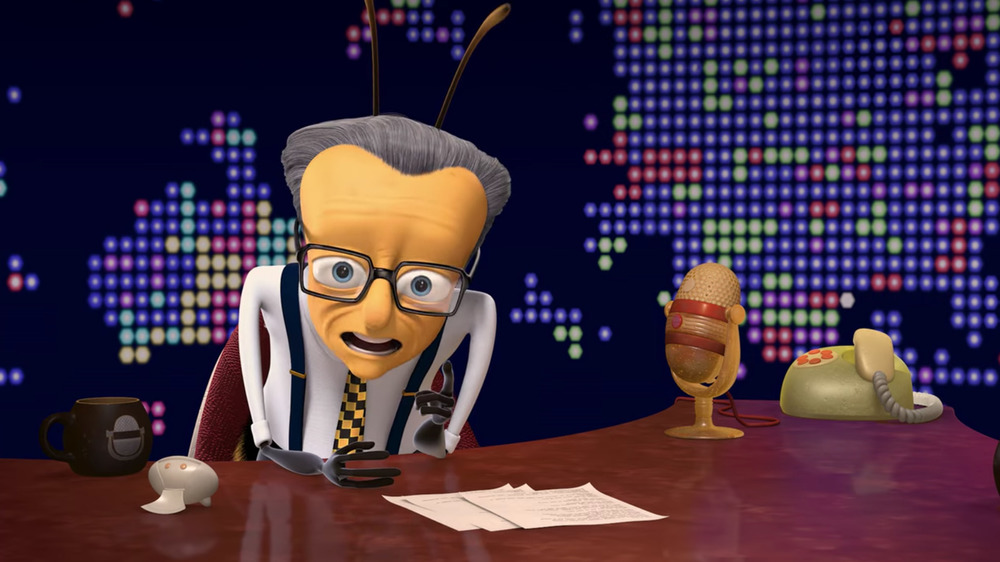 DreamWorks Animation
In Bee Movie, Larry King voices Bee Larry King, which plays out probably exactly how you'd imagine. While the film's main character, Barry B. Benson (Jerry Seinfeld), is rapidly rising to fame due to a lawsuit he's filed against the entire human race, he makes an appearance on Bee Larry King's talk show. They talk about Barry's sudden rise to fame, and Bee Larry King helps move the plot along by acting as a conduit for the entire bee community, telling him they're all behind him.
The cameo works well because the interview between Bee Larry King and Barry perfectly captures what real Larry King's interactions with his guests were often like. He asks him to reflect on his newfound notoriety, then showcases his dry humor when Barry tells him there's a Larry King in the human world too.
King wasn't the only person to play himself in Bee Movie — Sting and Ray Liotta gave their voices for quick cameos, too. Unfortunately, none of the famous names behind the movie were enough to propel it to success. More than ten years after its release, Bee Movie remains one of DreamWorks Animation's most notable flops. 
Bee Movie wasn't the first film to utilize King's famous TV series hosting gigs to serve as a pop-cultural reference point (nor would it be the last). Still, while Bee Movie wasn't King's most memorable foray into movie-making, it is a great reminder that he was a good sport when it came to his own fame. Even when his appearances bordered on self-parody, like they do in Bee Movie, it's a nice reminder that King was willing to be in on the joke.