The Shrek Character You Never Realized Larry King Played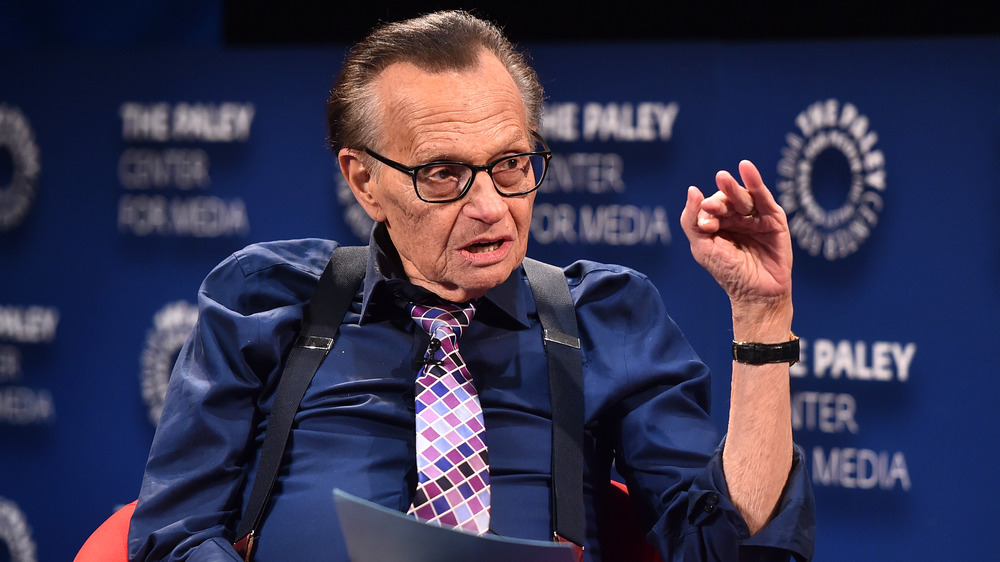 Alberto E. Rodriguez/Getty Images
On Saturday, January 23, Larry King's death at the age of 87 was announced on his verified Facebook account. While a cause of death wasn't immediately disclosed, the TV host was hospitalized in December due to COVID-19, and he also suffered from a number of other health complications over the years, including multiple heart attacks and lung cancer.
The sad news has prompted numerous tributes to King, who dedicated his life to his award-winning career as an interviewer. With his distinctive Brooklyn accent and penchant for conducting in-depth, but conversational interviews, King's voice is as instantly recognizable as his oversized glasses. But while he is best known for his pioneering CNN series Larry King Live, he also famously lent his voice to a number of animated projects over the years, including an unforgettable role in the second, third, and fourth Shrek films.
While most of King's movie appearances are obvious — he played himself in everything from Ghostbusters to Gravity Falls — his role in Shrek is a bit harder to spot. Rather than lend his voice to an animated version of himself, King took on the role of Doris, Cinderella's ugly step-sister who works at The Poisoned Apple. And while the role was a bit of departure for him, the talk show host must have enjoyed the challenge, because he reprised the role of Doris again in Shrek the Third and briefly in Shrek Forever After.
Larry King was effortlessly hilarious as Doris in the Shrek movies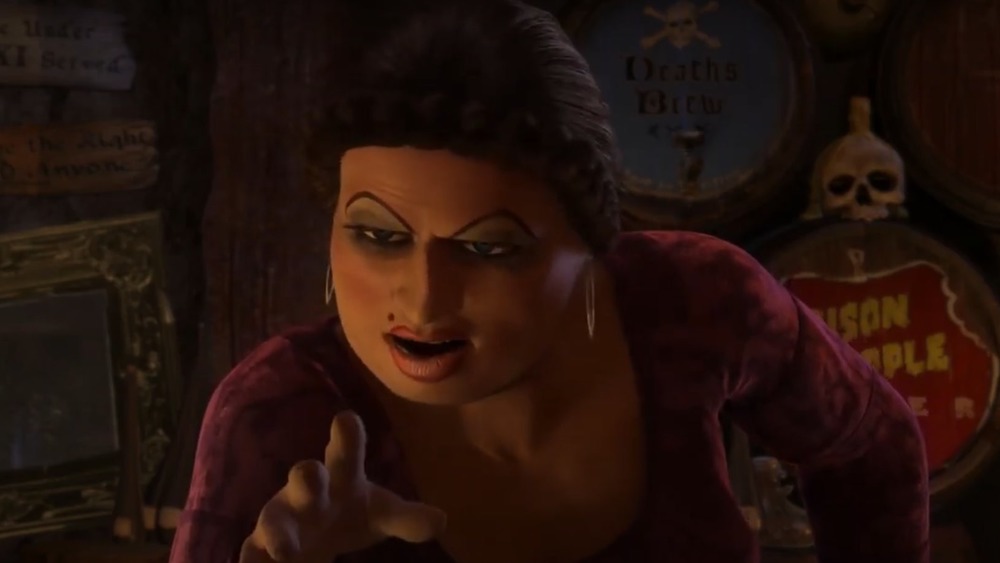 Dreamworks Animation
With her gruff voice and demeanor, Doris is a hilarious standout in Shrek 2 — which is quite the accomplishment since the second film also introduced the wide-eyed Puss in Boots (Antonio Banderas). When she's first introduced, Doris is tending the bar at The Poisoned Apple when Fiona's father comes looking for someone to assassinate his soon-to-be son-in-law Shrek. This leads Doris to point him in the direction of Puss after warning him that the cat assassin "doesn't like to be disturbed."
It's a short scene, but King returns later in the film to sing "Girls Just Wanna Have Fun," and he also went on to appear in Shrek the Third. In the third film, Doris' story is expanded to include a reunion with her estranged sister Mabel (Regis Philbin).
King's role in the Shrek franchise serves as a reminder that he was always game to try new things — especially if it meant entertaining kids. In addition to Shrek, he also appeared in Sesame Street, Arthur, and Jerry Seinfeld's Bee Movie, among other projects. Ultimately, the famed host became just as well-known for his memorable appearances in children's movies and shows to a generation of kids who grew up in the '00s as he was for his numerous interviews with politicians and celebrities.
Let Doris be a reminder that King's talents went well beyond his long career as a radio and television host — and that no one could ever accuse him of taking himself too seriously.