How We Could Get This Karate Kid Reboot Star In Cobra Kai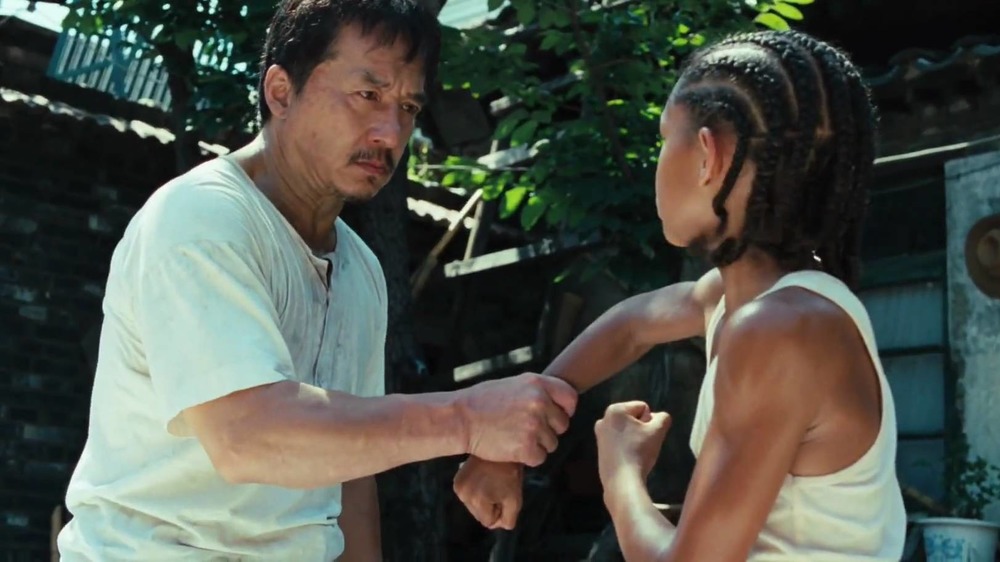 Sony Pictures Releasing
The pleasures of the hit Netflix series Cobra Kai are many, from its careful blend of drama and comedy, to its bone-crunching fight sequences, to its plethora of callbacks to the Karate Kid film series. Early on, the series had a pretty tight focus on Johnny Lawrence (William Zabka), the ex-student of Cobra Kai sensei John Kreese (Martin Kove), and the relationships central to his life: with bullied teen Miguel (Xolo Maridueña), who inspired him to reopen the Cobra Kai dojo, as well as with his estranged son Robby (Tanner Buchanan) — a kid with a king-sized chip on his shoulder — and, of course, with longtime rival Daniel LaRusso (Ralph Macchio), the two-time All-Valley Under 18 Karate Champion who now owns a successful auto dealership, and who is himself "inspired" (to use the term loosely) to open his own dojo, Miyagi-do, in response to Cobra Kai's return.
As the series has progressed, it has widened its focus, to more fully explore the relationships between Johnny's and Daniel's students, including nerd-turned-bully Eli "Hawk" Moskowitz (Jacob Bertrand), Daniel's daughter Samantha (Mary Mouser), and the ultra-troubled, underprivileged Tory (Peyton List). It's also diligently been checking off boxes in terms of guest appearances from veterans of the Karate Kid movies. Kreese, still portrayed with a predatory steeliness by Kove, made his return at the conclusion of the first season, and has since become the main antagonist. Randee Heller, who portrayed Daniel's mother Lucille in the films, has popped in during the first two seasons, as have several of Johnny's old Cobra Kai buddies. And, season 3 saw the characters of Kumiko (Tamlyn Tomita) and Chozen (Yuji Okumoto) from The Karate Kid Part II return. Oh, yeah — plus, following intense speculation, Elisabeth Shue returned for a two-episode stint as Ali, Daniel and Johnny's onetime mutual love interest.
With all these guest spots, fans are priming themselves for appearances by recurring characters from the two remaining flicks in the main series, The Karate Kid Part III and The Next Karate Kid — but what about the 2010 reboot, which starred Jackie Chan and Jaden Smith?
Fans can't help but wonder who will guest star on Cobra Kai next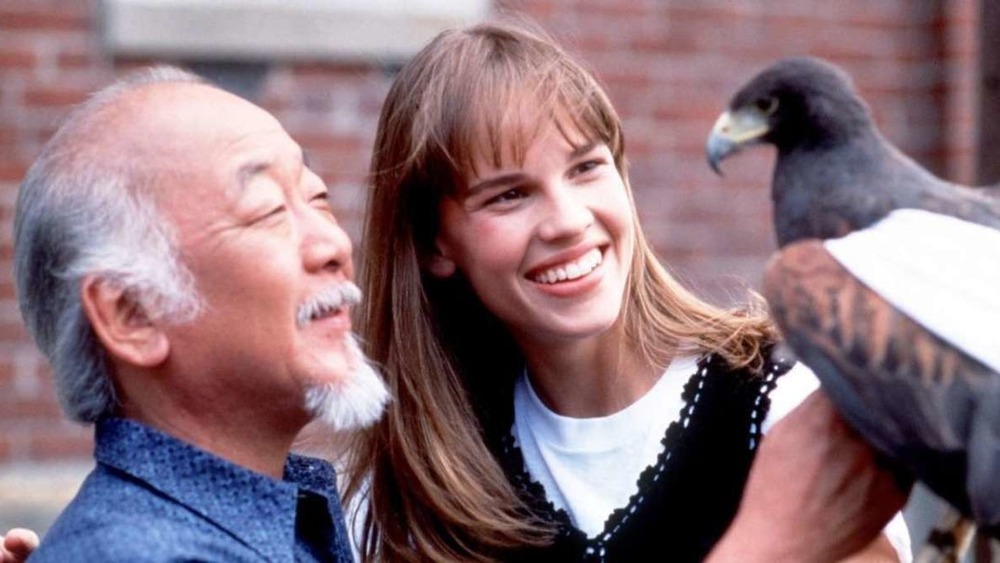 Columbia Pictures
It's an interesting question, because Cobra Kai certainly seems to be making its way through the entire Karate Kid series to see which characters could most effectively spice up the proceedings. Based on several wartime flashbacks involving a young Kreese and a mysterious Army buddy during season 3, most fans are reasonably sure that the next season will see the return of Terry Silver (Thomas Ian Griffith), who antagonized Daniel and his mentor Mr. Miyagi on Kreese's behalf in The Karate Kid Part III. Heck, it's not even outside the realm of possibility that we could see Oscar-winning actress Hilary Swank, who portrayed Mr. Miyagi's post-Daniel protégé Julie Pierce in The Next Karate Kid, drop by. 
As for the reboot, which is set in China and features Smith's Dre Parker learning (oddly enough) kung fu from Jackie Chan's Mr. Han, it was a bit unclear whether it even takes place in the same universe — until recently.
In a recent sitdown with Slashfilm, series co-creator Jon Hurwitz revealed that the show's creative minds decided early on that the 2010 reboot is not canon as far as Cobra Kai is concerned. "We've ruled [the inclusion of Parker and Han] out completely," Hurwitz said. "Jackie Chan is mentioned in season 1 of the show as a human, so I think in our world, Jackie Chan is an actor and a performer. If the characters on our show have seen a movie called The Karate Kid, they've seen [the reboot]."
That makes perfect sense — but just because Mr. Han won't be making an appearance on Cobra Kai doesn't mean that Mr. Chan couldn't.
Cobra Kai could go meta with an appearance by Jackie Chan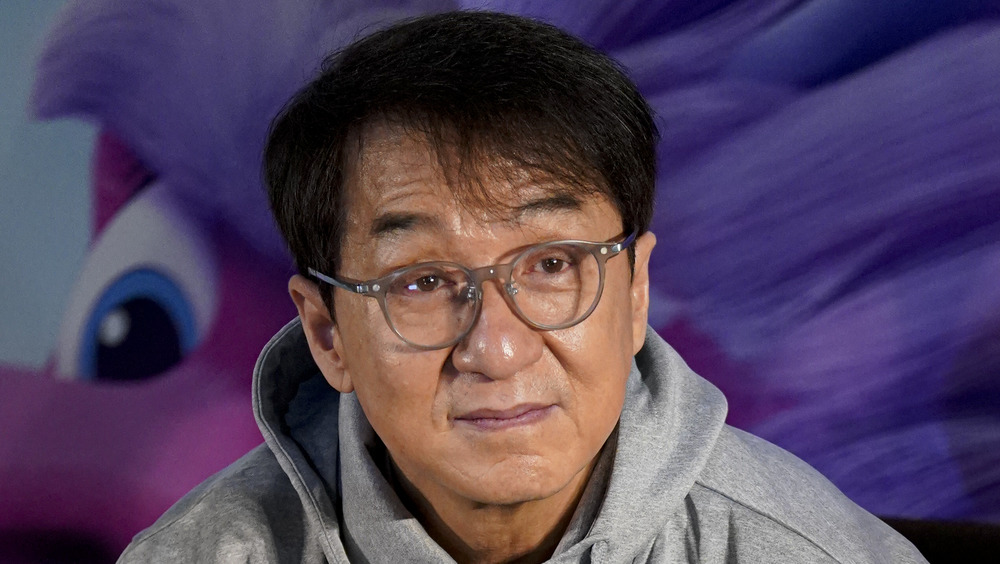 Fred Lee/Getty Images
Hurwitz's remark might seem like a throwaway one, but this is not necessarily so. Think about it: if any of Daniel's Miyagi-do students did happen to see the Chan-starring Karate Kid, they would likely be struck by how its story mirrors Daniel's own, and by the similarities between Mr. Han and Daniel's beloved mentor Mr. Miyagi. As one of the biggest stars in the world, it wouldn't be outside the realm of possibility for Chan to be in L.A., where Cobra Kai takes place, at any given time. Perhaps Daniel's students, seeking to give their sensei a morale boost, could seek out the iconic actor in hopes that he can offer Daniel some Miyagi-esque wisdom?
Perhaps we're reaching here, but it sure seems like the kind of thing that Chan — who by most accounts is a lovely man with a self-deprecating sense of humor — would totally be up for. It would also be a stroke of genius on the part of Cobra Kai's writers. Bonus points if Chan's attempts at wise counsel were to fall totally flat, and he ended up spending his entire visit regaling Daniel and his students about all of those movie scenes that nearly killed him.
It's probably a long shot, but two things are certain: Cobra Kai season 4 will undoubtedly have some interesting surprises for us, and we really need an invite to join the series' writers' room. All three seasons of Cobra Kai are available for streaming on Netflix right now.