Xolo Mariduena Reveals What Training For Cobra Kai Is Really Like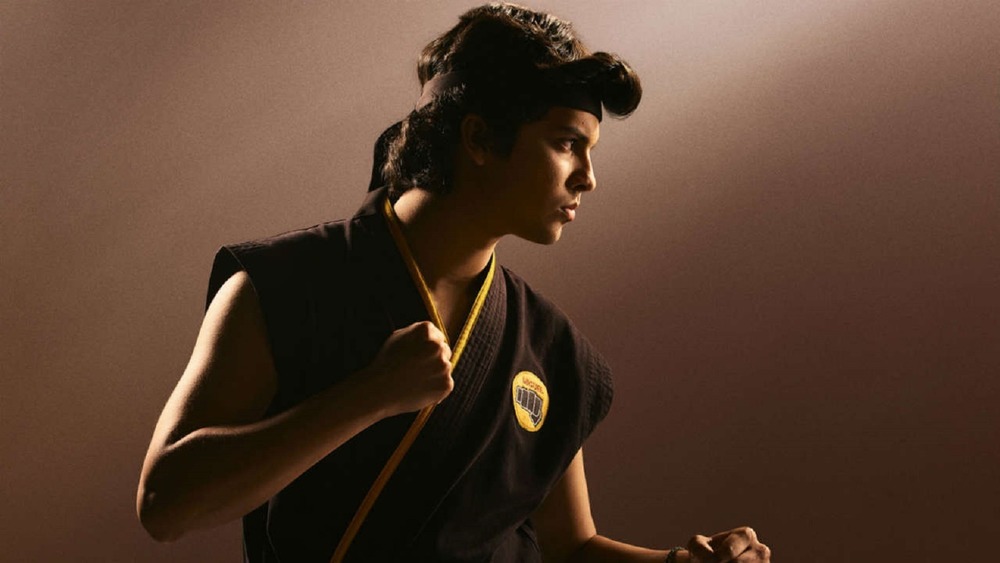 Sony Pictures Television
Fans of the hit Netflix series Cobra Kai know that aside from its generous helpings of heart, humor, and drama, the Karate Kid spin-off has also kept them hooked another way — with plenty of hard-hitting, spin-kicking martial arts action. Over the course of the series, the stakes have only gotten higher for Johnny Lawrence (William Zabka), his longtime rival Daniel LaRusso (Ralph Macchio), and their young students — a group which includes Daniel's own teenage daughter Sam (Mary Mouser), Johnny's estranged, troubled son Robby (Tanner Buchanan), and the kid who inspired Johnny to repoen his dojo in the first place: bullied teen-turned-karate champion Miguel, portrayed by Xolo Maridueña.
Maridueña recently sat down for a chat with GQ, during which he confirmed that — as his co-star Jacob Bertrand, who plays Eli "Hawk" Moskowitz, has also estimated — all of the series' young cast members are asked to do "90 to 95 percent" of their own stunts. "That last five percent is just stuff that's not safe for me to do," he said, "like getting thrown into a tree or down a staircase."
Well, that's understandable. Maridueña went on to offer a deep dive into what it's really like to get whipped into shape by Cobra Kai's crack team, revealing that when he was hired to play Miguel at 16, he didn't exactly know what he was in for. "We did a month of training before even getting to film. It was the toughest I've had to train. I spent high school and middle school playing basketball for fun, and I was on a tennis team in high school, but there's nothing that prepares you for the flexibility that martial arts requires. I have videos of those first couple of days where my legs just felt like noodles."
Xolo gets by with a little help from his friends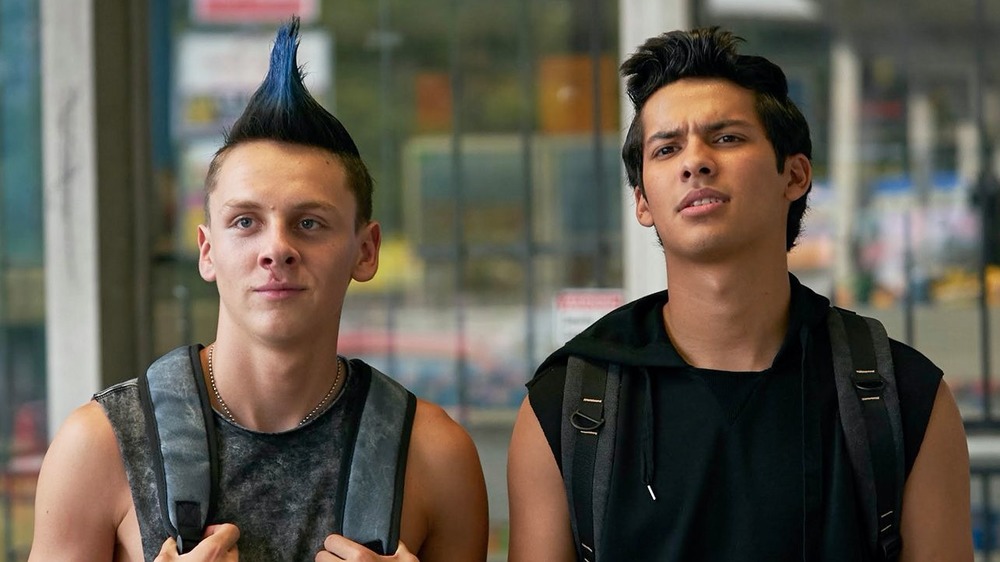 Sony Pictures Television
Maridueña explained that when Cobra Kai was first starting production, the storyline was heavily focused on himself and Johnny — meaning that he was the only cast member getting put through his paces by the trainers on a daily basis. That, of course, changed before too long. "Going into season three, we [had] a group of maybe six people [who train regularly]," the young star said. "So now we get to work out together. Having someone other than our trainers help push us really works wonders."
And what does that day-to-day regimen consist of? "We start off with some kind of cardio and a light stretch. If we're not going over choreography, it's usually [high intensity interval training], doing circuits back-to-back. That could be 30 seconds doing pushups, 30 seconds doing jumping jacks, putting on the gloves and doing some sparring, just trying to keep that heart rate up. And then if we have choreography we'll go into that."
If you're anything like us, you got a little bit tired just reading that. Fortunately, though, Maridueña's close relationships with his co-stars helps to make it all feel like a little less work than it really is. "I was super excited to train with my friends," he said. "On the other hand, I felt like I had accomplished so much, and then they're are all so frickin' athletic — it felt like they weren't even trying and they were doing better. But competition is always good in moderation, and it felt like I had a goal."
The physical changes not just to Maridueña, but to the entire young ensemble cast, is pretty apparent from Cobra Kai's first episodes to its most recent. Of course, as they — and their characters — have become more experienced martial artists, that training regimen has undergone a bit of an evolution.
The Cobra Kai stars' training regimen has evolved over three seasons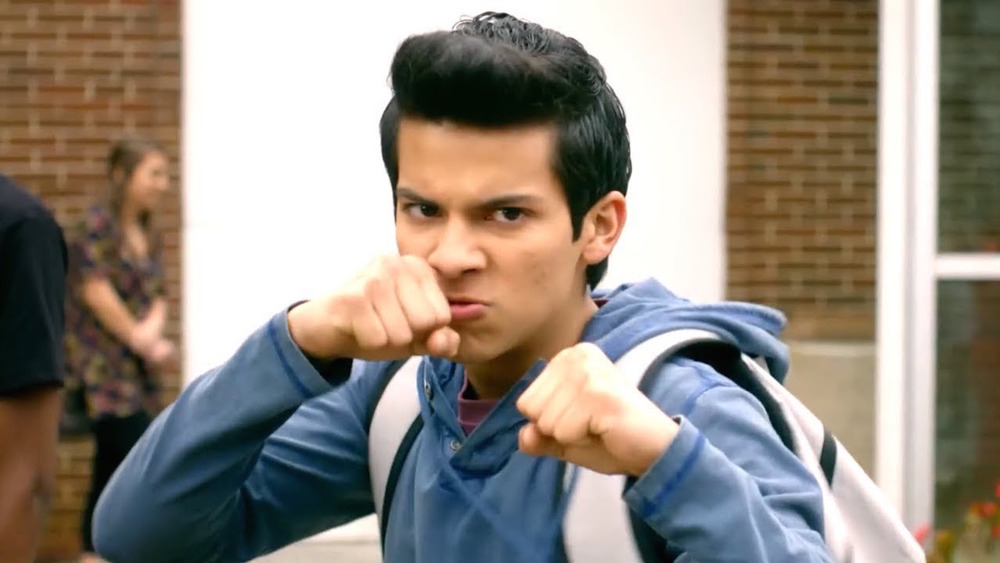 Sony Pictures Television
For one thing, the beginning of each new season brings with it a refresher course for the cast. "Every season[...] there's an initial week of getting back into the groove of things," Maridueña explained. "Usually it's just learning the basics again, mastering your front kicks, your side kicks, your roundhouse kicks, making sure your form is really great so that when [filming starts], we already have the form down and we can start to make things fancier or more intricate."
Maridueña has found, though, that supplementing each season's new training regimen with his own gym-based workouts has helped him to keep up as the intricacy of Cobra Kai's fight sequences have ramped up. "Because [the rest of the cast and I are] not all training at the same time, I've recently been getting into weight training, which is a lot of fun," he revealed. "I'm the youngest of the cast, and they've had more years at the gym than I have. Before we started filming season three, I had never really been to a traditional gym before and worked out with weights. It's been fun to get into that and build strength."
One might think that along with all of that increased strength, those increasingly brutal fight scenes would inevitably result in a few gnarly injuries to its cast — but Maridueña says that accidents are few and far between, with one notable exception. "The only serious injury I've had was in the first season. I had braces on the show and during the tournament scene, Tanner kicked me the face by accident," he recalled. "The wire from my braces went through my cheek." Holy moley! How long did that shut production down? Apparently, not long: "We kept on doing the fight," Maridueña said, "and I didn't even notice."

Fight choreography might be even tougher than training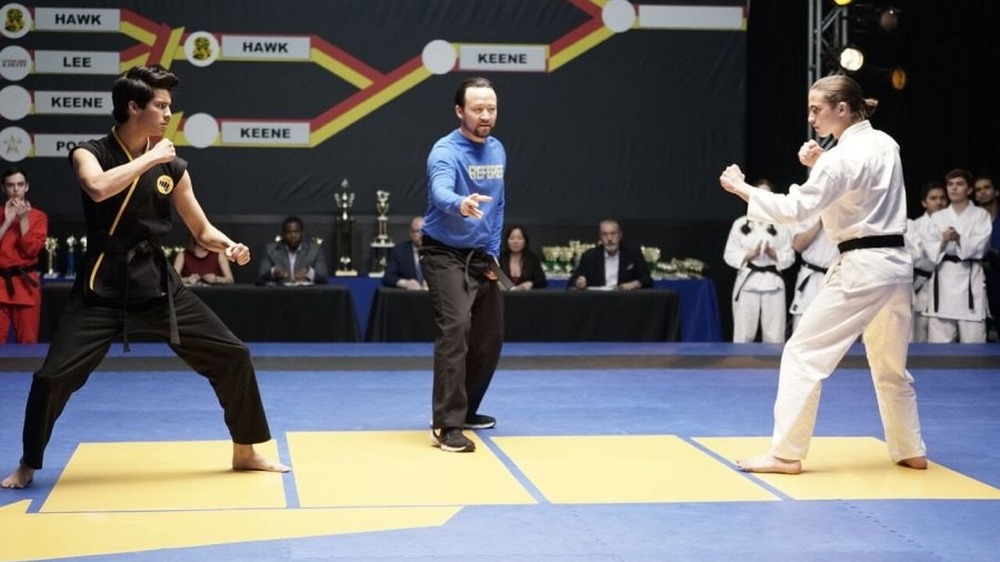 Sony Pictures Television
As to that choreography, Maridueña explained that making the fights look realistic is even tougher than it might seem, because he and his co-stars don't even stop between takes. "It's almost like a dance," he said. "We have to make sure that we're getting to our places on time and that if we're on camera that we're on our A game, and if we're off camera we're still maintaining that heart rate so that when we pan around we're able to pick back up where we left off." He went on to give us a hilarious mental image of what learning the steps to those dances typically looks like: "We fake spar, it's called kicking and receiving," he explained. "Our mics are off, so we'll yell out where we're about to go, like, 'Hook! Body punch, body punch!' like an improv fight. That's just making sure that you're taking the reactions and you're throwing the hits."
It's pretty hysterical to think of Cobra Kai's cast calling their shots while sparring as if they were playing a real-life version of that old arcade classic Punch Out, but Maridueña says that like everything else the show's trainers throw at them, it's all in the interest of added realism. "Our stunt coordinators take so much time designing these fights and making these characters three-dimensional, and that's reflected in their martial arts," he said. "We all practice different forms of depending on which dojo our characters are at, and [the trainers] take that effort to design different [styles]."
Of course, there's a fair amount of creative license taken with those styles — Cobra Kai, after all, isn't a documentary. But the dedication of the series' trainers and its young cast are certainly a big part of what makes the show one of television's best, and keeps its fans pumped for more.