Cobra Kai Season 4 - What We Know So Far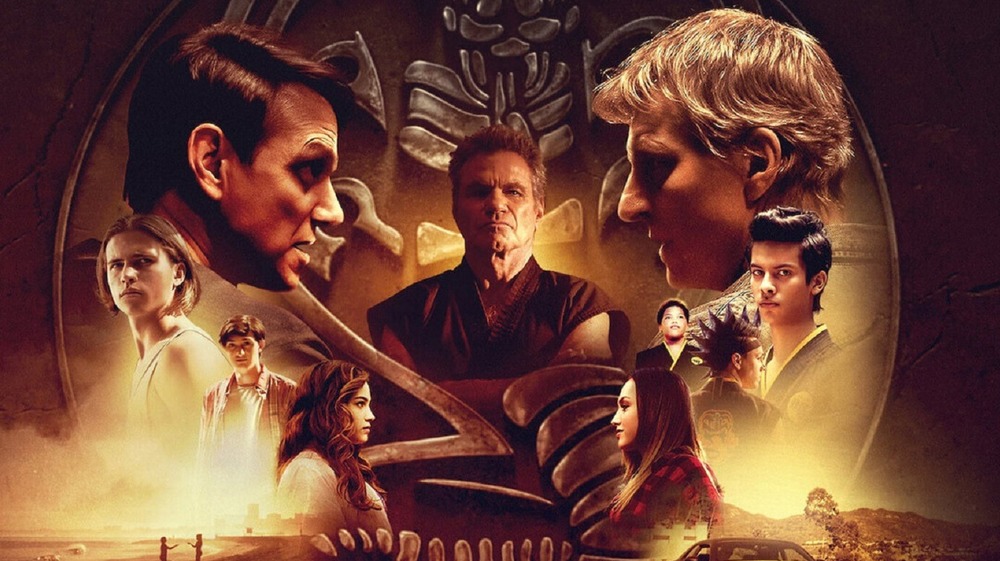 Netflix
Contains major spoilers for Cobra Kai season 3
Season 3 of the hit Netflix series Cobra Kai was everything we could have hoped for. It was full of the heart, humor, melodrama, and butt-kicking karate action we've come to expect from the Karate Kid spin-off, and it even gave us a few amazing and unexpected cameos from veterans of the '80s film series. Plus, it left its principal characters in a most interesting place, with ex-Cobra Kai sensei Johnny Lawrence (William Zabka) and Miyagi-do sensei Daniel LaRusso (Ralph Macchio) finally ending their decades-long rivalry and combining their dojos to take on nefarious Cobra Kai ringmaster John Kreese (Martin Kove) and his band of ruthless students. 
We already know the work that the two frenemies have in front of them in Cobra Kai's upcoming fourth season, which Netflix ordered back in October 2020: to take home the first-place trophy at the next All-Valley Under 18 Karate Tournament, and force Kreese to honor his agreement to get out of town for good. However, Kreese has a serious scruple deficiency, and he's likely to do everything in his power to ensure that Daniel and Johnny's unlikely alliance ends in failure. Kreese was last seen calling up an old friend (whose identity was kept a mystery) for help in this endeavor, and while it's unclear exactly how he'll be taking it to Johnny, Daniel, and their students, we can expect him to strike first, strike hard, and show no mercy.
Indeed, the only disappointing aspect of Cobra Kai's third season is that it didn't lead immediately into the fourth. Few details about the next batch of episodes have been released, so please allow us to indulge in a bit of informed speculation as we present everything we know so far about Cobra Kai season 4.
What's the release date for Cobra Kai season 4?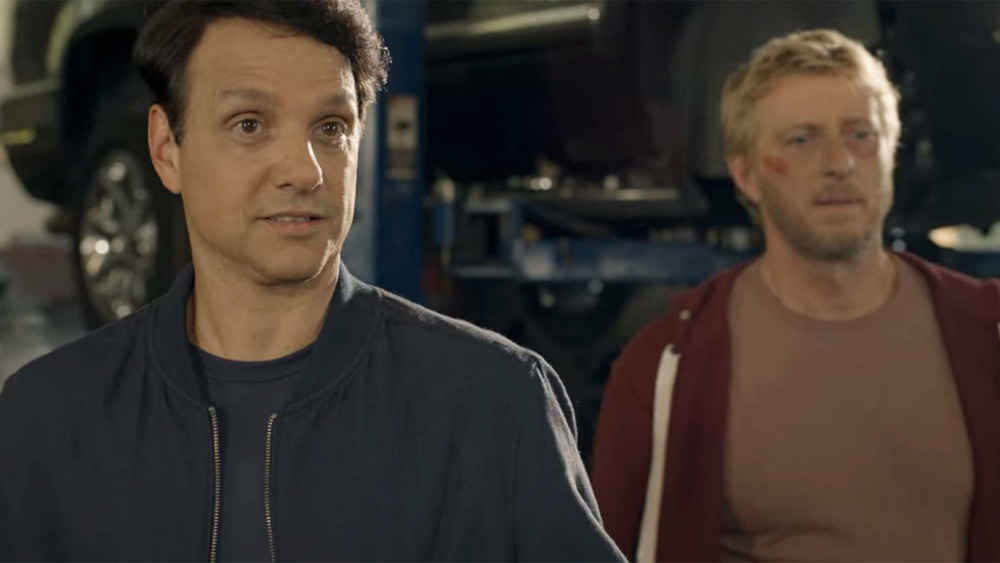 Netflix
In early January 2021, Cobra Kai co-creator Josh Heald gave fans an update on the fourth season's production during an interview with PopCulture. What he had to say is pretty promising.
"We are looking to make season 4 in 2021," Heald said. "COVID has thrown a wrench into everyone's plans for exactly when production begins. But our expectation is [that] in early 2021, we will be in production. We are just keeping our heads down and making sure that the story makes sense and the scripts are solid, and getting our ducks in a row so [that] the moment that everything looks good, we can begin." Later, it was announced that the season finished filming in April 2021, giving fans even more reason to be excited.
Ultimately, fans got the news they were hoping for: in August 2021, Netflix officially released a brand new teaser for Season 4, saying the season would release "in December." Finally, during the streamer's big Tudum event in September, it was revealed Season 4 would officially drop on December 31. What a way to kick off the new year, with a brand new season of "Cobra Kai."
Who's in the cast of Cobra Kai season 4?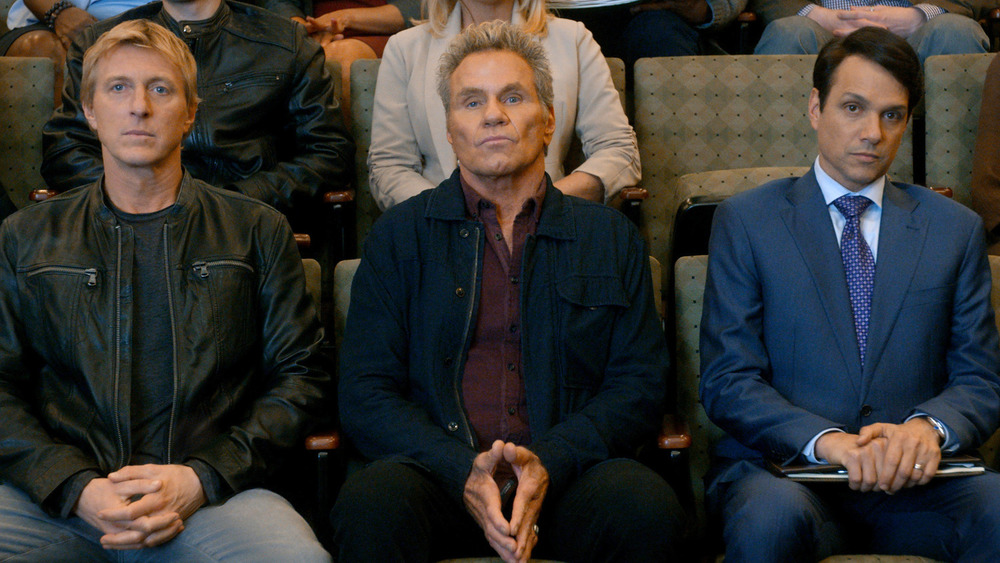 Netflix
While no official casting announcements for Cobra Kai season 4 have been made, it's safe to say that we can count Zabka, Macchio, and Kove in, along with the rest of the principal players. Of course, we can't rule out another surprise departure or two — like Nichole Brown's Aisha and Paul Walter Hauser's Stingray, who were both absent from season 3 — but it's tough to imagine that we won't be seeing pretty much all of Cobra Kai's young ensemble cast returning. Among those who are probably shoo-ins are Tory (Peyton List), Eli "Hawk" Moskowitz (Jacob Bertrand), Miguel (Xolo Maridueña), Samantha LaRusso (Mary Mouser), and Demetri (Gianni Decenzo).
While we're speculating, though, let's talk guest spots. Cobra Kai's third season had some cracking ones — including the returns of Kumiko (Tamlyn Tomita) and Chozen (Yuji Okumoto) from The Karate Kid Part II, not to mention a surprise appearance by Johnny and Daniel's former love interest Ali (Elisabeth Shue) in the season's final two episodes. It makes sense that for season 4, Cobra Kai could bring in one of the key players from The Karate Kid Part III: Terry Silver (Thomas Ian Griffith), an army buddy of Kreese's who manipulated and terrorized Daniel and Mr. Miyagi on his friend's behalf. (For our money, he's the "Twig" seen in season 3's flashback sequences involving Kreese, and also the guy that the Cobra Kai sensei was on the phone with in the season's closing moments.) Thomas Ian Griffith is still active in television, having most recently served as a writer on the NBC series Grimm (via IMDb). 
Heck, we might even see the return of "karate's bad boy" Mike Barnes (Sean Kanan), Silver's protégé, who appeared briefly in a season 3 flashback. Sean Kanan, too, has kept busy as an actor for the last several decades — and as one of the only opponents to ever put some serious fear into Daniel, Barnes' reappearance would make for a compelling plot wrinkle.
What's the plot of Cobra Kai season 4?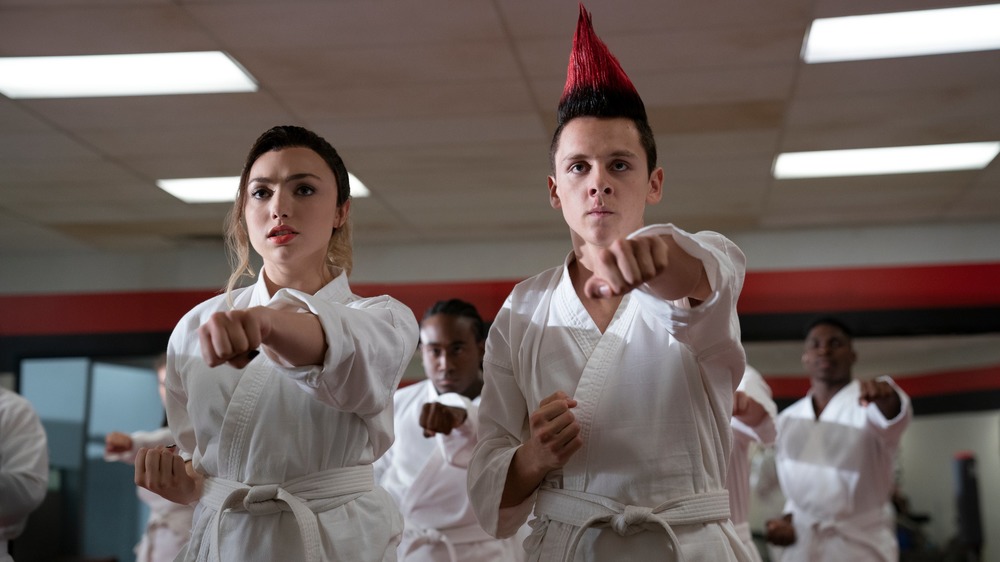 Netflix
Obviously, Cobra Kai's creative minds have yet to give us even a brief plot synopsis for season 4 — but again, we're down to field an educated guess. 
When season 3 concluded, two fan-favorite characters were in very interesting places: Hawk had decided to renounce Cobra Kai and rejoin his old friend Demetri in Miyagi-do-slash-Eagle-Fang, and Tory had become more determined than ever to prove herself to Kreese and pursue her vendetta against Sam. It's a safe bet that Cobra Kai season 4 will explore the ramifications of Hawk's choice; he'll be at least a little tempted at some point to return to the dark side, and his emotional volatility (and physical formidability) should continue to make him the series' most interesting wild card.
Speaking of emotionally volatile characters, it seems like Tory's fixation with getting revenge on Sam has to be leading somewhere, and probably nowhere good. It's always possible that she could pull a Hawk and become disillusioned with Kreese and his brutish philosophy, but it's just as likely — especially if the slick, manipulative Silver does indeed enter the picture — that she'll continue to sink even deeper into her seemingly bottomless well of anger.
Beyond that, one thing seems certain: Cobra Kai's fourth season will be setting us up for an all-out war (well, another one) between Johnny and Daniel's students and Kreese's disciples at the upcoming tournament. Which dojo will emerge victorious, and which student will be the one to take home the belt? It's anybody's guess — but if you're as obsessed with Cobra Kai as we are, then we suggest you bookmark this page, because we'll be updating this post with new information on Cobra Kai season 4 as soon as it becomes available.