The True Lies TV Series That Almost Happened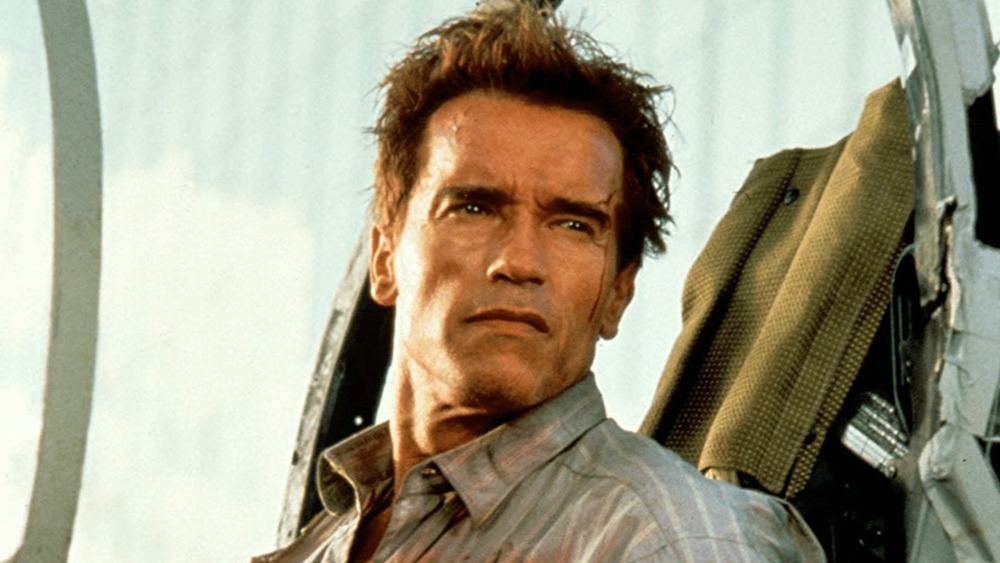 20th Century Studios
The 1990s added up to one big decade for larger-than-life star Arnold Schwarzenegger — undoubtedly one of the best of his acting career. He kicked it off with cult-favorite Kindergarten Cop before returning to the Terminator franchise for Terminator 2: Judgement Day in 1991, which he then followed up with 1993's Last Action Hero. Not missing a beat, he dove into his next project in 1994, once again collaborating with director James Cameron for the action-comedy True Lies.
The movie stars Schwarzenegger as secret U.S. government agent Harry Tasker, alongside Jamie Lee Curtis as his unhappily neglected wife, Helen Tasker. As a consequence of living a secret life as a spy, Tasker spends the film attempting to patch up his crumbling marriage while also stopping terrorist Salim Abu Aziz (Art Malik) and his nuclear arsenal. Despite its goofy dialogue, dated premise, and over-the-top action, fans look back on True Lies fondly. As of this writing, it holds a 71% fresh rating on Rotten Tomatoes from critics, and enjoys a 76% score from audiences.
Naturally, such a positive response would warrant an eventual sequel of the Taskers, especially now that they're both Omega Sector agents. As it turns out, years ago, there was an attempt to conjure up a True Lies continuation for the small screen, although, those plans fell through before it could get off of the ground. Here's what happened.
The True Lies TV series disappeared without a trace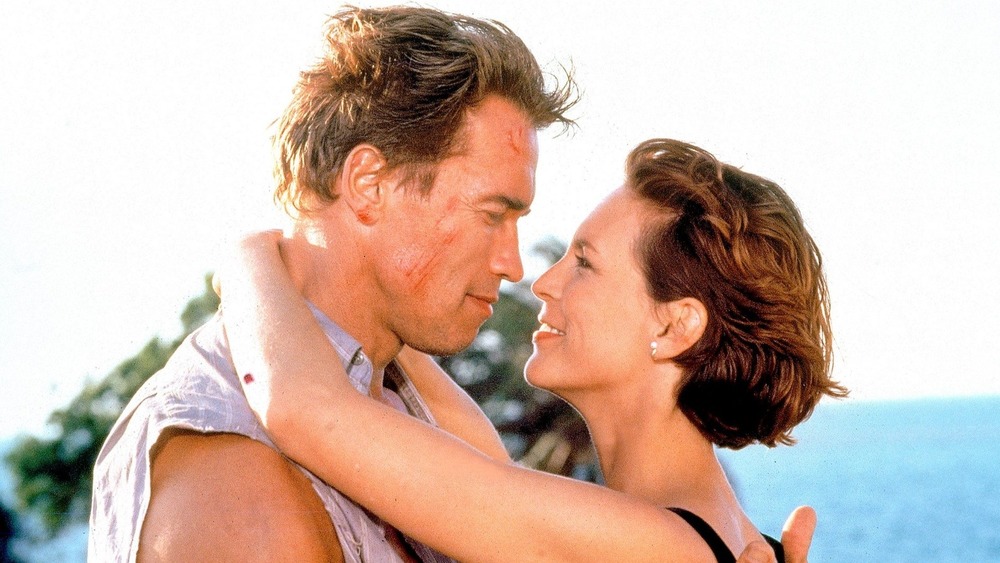 20th Century Studios
As announced by Deadline back on September 13, 2010, Cameron — hot off the heels of Avatar — eyed a return to television for his next creative venture. The project he had in mind was "a TV series take on his 1994 action comedy True Lies," according to the report. Renee Echevarria sat in the writer's chair, sharing executive producing duties alongside Cameron, Rae Sanchini, and Jon Landau, but Schwarzenegger and Curtis' involvement wasn't a certainty. At the time of publication, the Titanic director was supposedly shopping around for a network to air the program, evidently to no avail. 
Now a decade after this revelation, the fate of Cameron's True Lies TV adaptation remains a mystery. Surprisingly, it's hardly the first expansion of the IP to end up on ice. Around the turn of the century, both Schwarzenegger and Curtis prepared to work with Cameron yet again for a True Lies cinematic sequel, with the script completed by 2001. However, following the September 11, 2001, terror attacks on the World Trade Center and the Pentagon, the director opted to halt production of the movie. Given the first installment's use of terrorism as a punchline, to Cameron, maintaining this tone for a post-9/11 sequel would be in poor taste (via Den of Geek).
On April 4, 2019, Curtis echoed this sentiment to the International Business Times, telling reporters "I don't think we could ever do another True Lies after 9/11." She elaborated, saying that, before the attacks, terrorism could be approached less seriously because it was considered outrageous." "We can't ever make fun of them ever again," the Halloween star concluded, making her stance on the creation of more True Lies content crystal clear. Even still, she did mention her adoration for her character in the film, Helen Tasker, calling her performance "probably the most complete experience I ever had."
Will True Lies find a home on Disney+?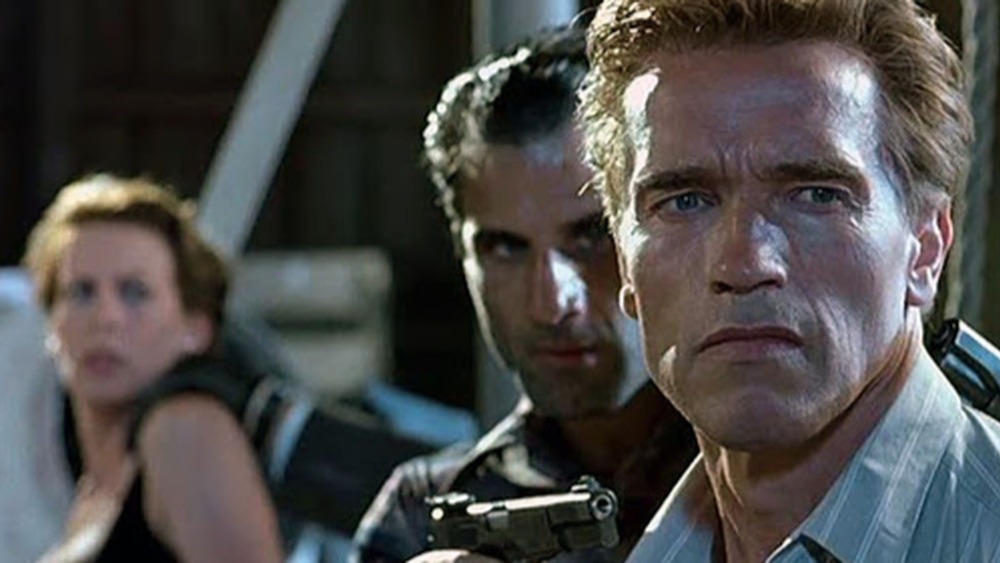 20th Century Studios
As of right now, True Lies is still a standalone feature, but that may change in the very near future. In March 2019, the Walt Disney Company purchased one of their biggest competitors in the film industry: 20th Century Fox. In the process, the House of Mouse gained the rights to all of its franchises, including the Marvel Cinematic Universe-bound X-Men, Home Alone, Alien, and countless others. True Lies was also included in that lengthy list, meaning Disney can do with it as they please.
Fast-forward two months to May 2019, and Terminator Salvation director McG dropped a bombshell that the studio was planning on doing just that. As he announced on Collider Live, he's in the process of putting together a True Lies television series, this time for the Disney+ streaming service. "I'm writing that one, which is very exciting, because I'm so passionate about that story where you think you know your partner but you don't," he revealed, going on to say that the project is largely a reboot.
On the topic of Schwarzenegger potentially returning to reprise his role of Harry Tasker, McG vaguely answered that "there's talk of that[...]there may be a spot there, we'll see." Additionally, he also mentioned that Cameron handed over the reins himself and is more than happy to see him take the franchise into the future. Since then, it's been radio silence, so it's fair to say that the potential True Lies TV show is still up in the air.