9/11 Musical Come From Away Being Adapted For Film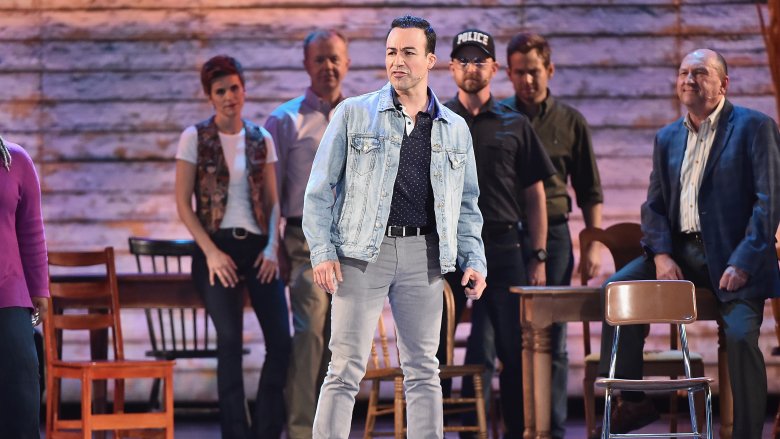 Getty Images
The September 11-invoking, Tony Award-winning Broadway musical Come From Away is heading from stage to screen, according to a news item by The Hollywood Reporter.
The movie will be written by Irene Sankoff and David Hein, the couple who wrote the musical. Its first production took place in Oakville, Ontario in 2013, and the show moved to Broadway in February of this year after successful runs in Seattle, San Diego, Toronto and Washington, D.C. 
Many, if asked, would expect the prospect of "a 9/11 musical" to be tacky in a timeless way, something too offensive to ponder, much less watch. But according to critics and audiences both, Come From Away has a deft handle on its heavy source material, at times being poignant, moving, and raw. 
As a play, the story is one of unexpected sympathy and shared humanity, following the true story of 7000 passengers on 38 planes who became stranded in a small town on the Canadian island of Newfoundland on September 11, 2001. When the attacks on the World Trade Center occurred, all plane traffic over the United States was grounded indefinitely, trapping passengers and airline crew at the nearest ports of call. Come From Away focuses on the communion between the locals and the strangers in the aftermath of the unthinkable, as Canada's government and people launch an effort to aid, house, and comfort the wayward travelers in their time of fear and need.
The play was nominated for seven awards at the 2017 Tony Awards, walking away with the award for best direction of a musical. On stage, Come From Away was directed by Christopher Ashley. No director is yet attached to the film adaptation.
"Irene, David and Christopher created an experience that celebrates the triumph of humankind's solidarity and compassion in the face of adversity," said Mark Gordon, whose production company will finance the feature. He went on to call the show "an experience that is equally breathtaking, inspiring and cathartic." 
"We are proud to create a feature film adaptation to share with audiences around the world," Gordon said.