Why Agnes From WandaVision Looks So Familiar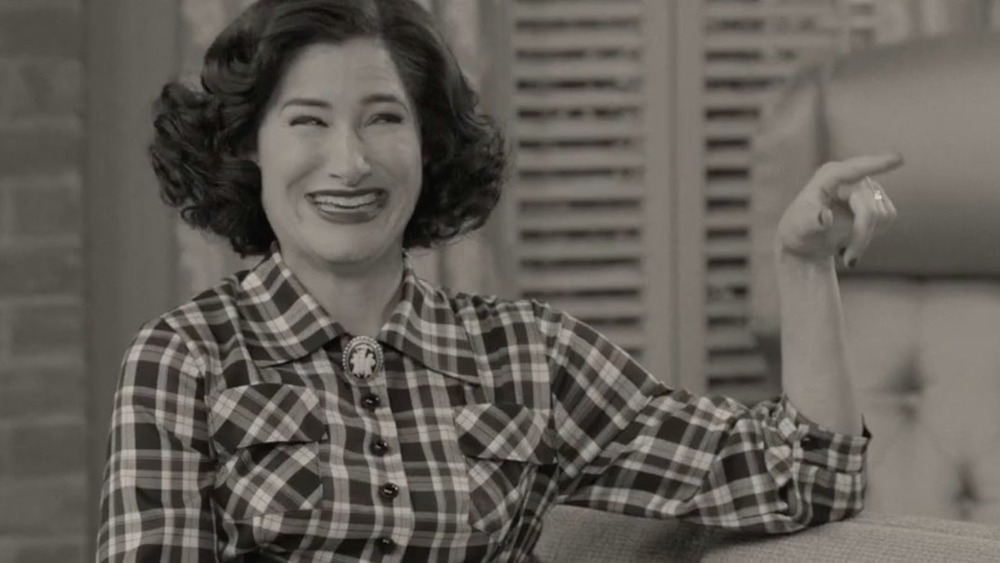 Disney+/Marvel Studios
With the hotly anticipated Marvel TV series WandaVision finally premiering on Disney+ on January 15, 2021, fans can't stop talking about the show. Elizabeth Olsen and Paul Bettany reprise their Avengers roles as Wanda Maximoff and Vision, respectively, in a mind-bending series that launches the couple through decades of sitcom history. The cast of WandaVision is rounded out by familiar faces — like Thor's Kat Dennings as Darcy Lewis, Ant-Man's Randall Park as Agent Jimmy Woo, and Teyonah Parris as the new face of Monica Rambeau. Then there's newcomer Agnes.
The character of Agnes, who is given no last name, has sparked a lot of intense theorizing by fans. Many suspect that the character might secretly be someone more important — a key character in Wanda's story in Marvel Comics named Agatha Harkness. As a witch with similar powers to Wanda, she could have a lot to do with the strange universe Wanda and Vision find themselves in. 
Veteran actress Kathryn Hahn landed the role, and we're guessing you feel like you've seen her before. Not sure where? Here's a roundup of her extensive career.
Kathryn Hahn has always been comedy gold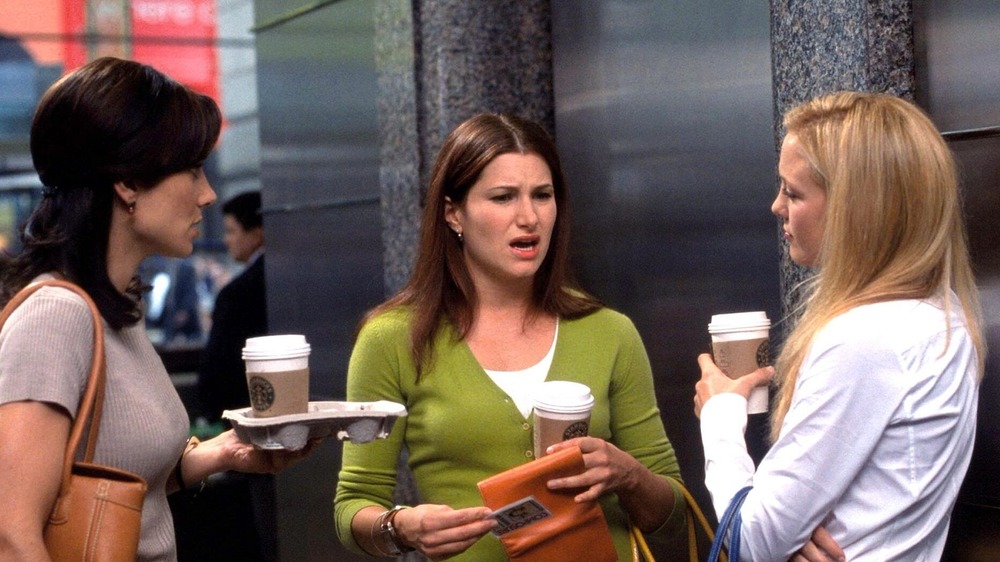 Paramount Pictures
When Hahn began acting way back in the late '90s and early '00s, her first few roles were small and supporting, though she always made an outsized impression. Take How to Lose a Guy in 10 Days, for instance: Hahn plays a character named Michelle, who works at a women's magazine and has continuous trouble with guys. She might not be in the starring role, but she definitely steals the spotlight anytime she's in a scene. 
Hahn continued to grab small roles that she could transform into memorable performances in movies like Anchorman: The Legend of Ron Burgundy, and The Holiday. And don't forget her entertaining performance as Alice, the sister-in-law of Dale (John C. Reilly), in Step Brothers. Alice is married to Derek (Adam Scott) and initially appears uptight and a little crazy. She ultimately initiates a hilarious affair with Dale, though it doesn't last long.
Through these key roles, however small they may seem, Hahn gained recognition for her comedic talent and soon started getting bigger and better roles.
Hahn's roles got bigger every year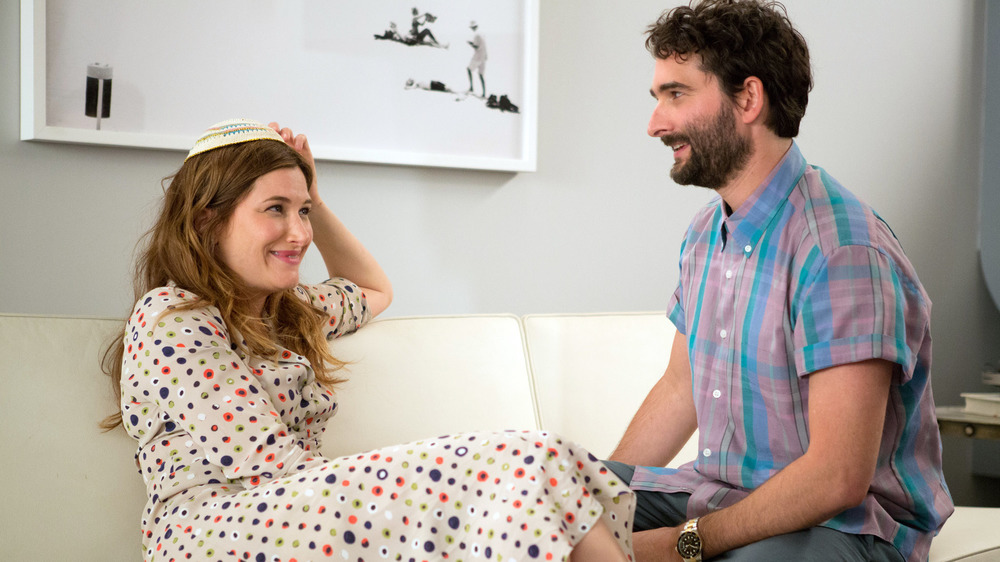 Amazon Studios
Soon after Step Brothers, Hahn started to appear in significant supporting roles in many prominent comedy series. In 2012, she first appeared on Parks and Recreation as the character Jennifer Barkley, who is brought in to be the campaign manager for Bobby Newport (Paul Rudd) in his race for City Council against Leslie Knope (Amy Poehler). She would appear sporadically on the show over the next few years, slowly becoming a political ally to Knope.
Shortly after her first appearance on Parks and Recreation, Hahn guest-starred on Girls as Katherine Lavoyt, a mother of two young girls who makes the mistake of hiring unconcerned Jessa (Jemima Kirke) to nanny. After this, Hahn guest-starred on the Kroll Show, and then played a rather significant and long-running supporting role on the award-winning series Transparent. Hahn plays Rabbi Raquel Fein on the series, a performance that garnered the first and only Emmy nomination of her career so far. At the time, many thought it was overdue. Slate's been clamoring for more Kathryn Hahn recognition since way back in 2012.
You might recognize Hahn's voice from popular animated movies and TV shows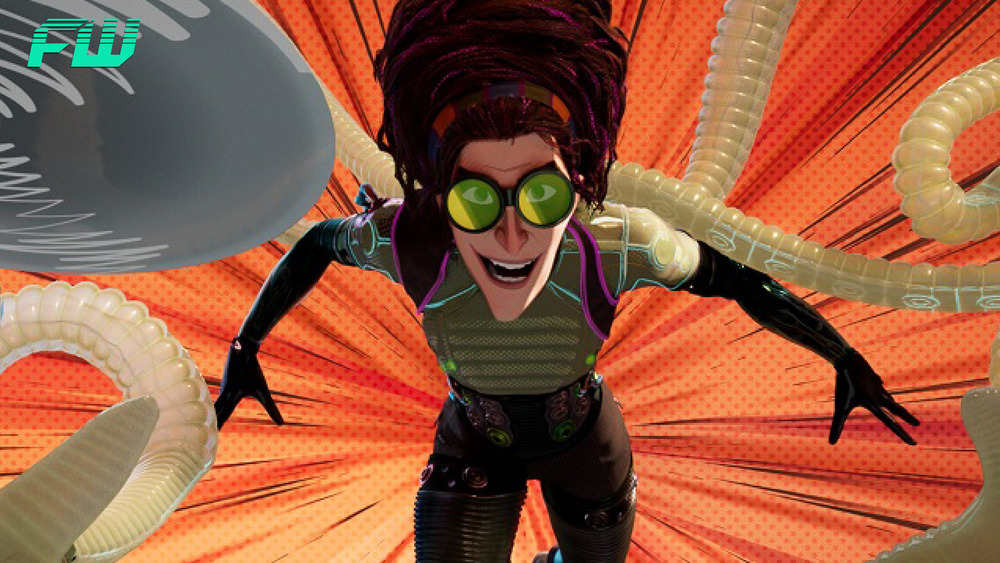 Sony Pictures
Though her face is appearing more and more frequently on screen, Hahn's voice is also gaining prominence. She definitely has a distinct style of speaking, which makes Hahn perfect for animated roles. After a small voice role on Seth Green's bonkers Robot Chicken in 2012, Hahn played a recurring role as Tracy on the adult animated series Chozen, a short-lived show about a gay white rapper who attempts to rebuild his career after being released from prison. 
She also had a guest role on both Bob's Burgers and American Dad! the same year. Hahn then took a break from voice work to take on other roles, before finally returning in 2018 for Hotel Transylvania 3: Summer Vacation as Ericka Van Helsing, one of the film's antagonists. The same year she also played the villain Doc Ock in Spider-Man: Into the Spider-Verse, to fantastic results.
Thankfully, Hahn doesn't plan to take another break from voice work anytime soon, as she joined the regular cast of Central Park, a new adult animated series on Apple TV+ co-created by Loren Bouchard of Bob's Burgers. She plays a character named Paige Hunter, an ambitious reporter for an unknown New York newspaper who wants to work on more serious stories, instead of the fluff pieces she's been getting. The first season premiered in 2020 to rave reviews with a 94% on Rotten Tomatoes, and has already been renewed for a second season, expected sometime in 2021.
Kathryn Hahn's now a leading lady, and she does dramas, too!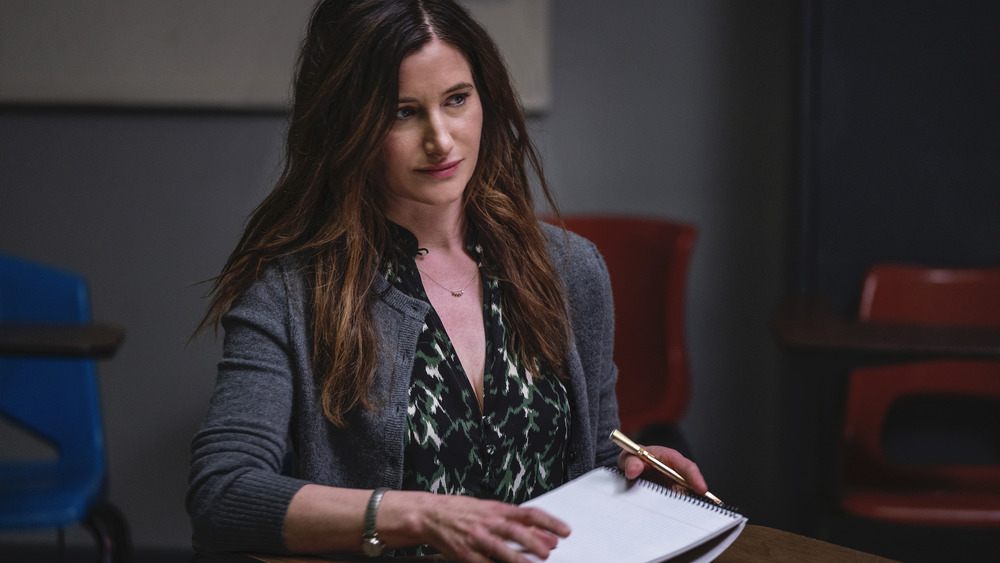 HBO
Considering her monumental talent, it's taken quite a while for Hahn to get a real chance to show it off. In 2011, she starred in the comedy Free Agents, but it was canceled after four episodes (via THR). Then followed 2015's Happyish, about a clinically depressed man named Thom (Steve Coogan) and his search for happiness. Hahn plays his wife, Lee, who is having trouble balancing work and motherhood. The series didn't get a second season. 
But there's no stopping Hahn, who next joined Kevin Bacon in I Love Dick as an unsuccessful artist named Chris. Chris finds inspiration in her husband's coworker, Dick (Bacon), and begins writing undelivered confessional letters to him. Of course, despite great reviews, this series didn't last long either. Perhaps it just wasn't meant to be. Her next role was on Transparent, before starring in the HBO miniseries Mrs. Fletcher. The perfect stage to showcase her talent, Mrs. Fletcher is about Hahn's character Eve, a divorced single mother going through a midlife crisis. 
Hahn's most recent role is also her first as a leading lady in a true drama. She plays Dessa Constantine opposite Mark Ruffalo's Birdsey brothers in I Know This Much Is True. The miniseries focuses on Ruffalo as identical twin brothers, one with paranoid schizophrenia who relies on the other to survive. Hahn's character is the ex-wife of Dominick, whose life caring for his mentally ill brother fractures their relationship.
With such an extensive résumé of comedic and dramatic roles, you're bound to have seen or heard Hahn from somewhere. If not, then just wait and see her steal the spotlight in WandaVision as the mysterious and nosy neighbor Agnes.