What To Expect From Captain Marvel's Monica Rambeau In WandaVision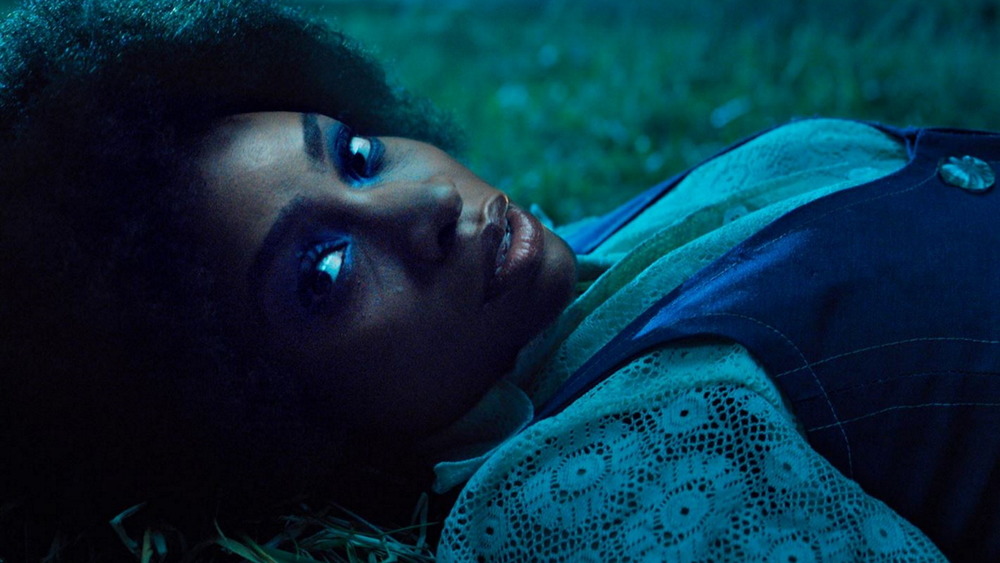 Disney+/Marvel Studios
Marvel's upcoming Disney+ series WandaVision is, if the glowing early reviews are any indication, unlike anything that Marvel Studios has ever done before. However, as Wanda Maximoff (Elizabeth Olsen) and Vision (Paul Bettany) venture off into the surreal, sitcom-influenced, Twilight Zone-like experience that appears to be waiting for them, there will be some familiar faces along for the ride. 
Aside from the titular duo, WandaVision will also see the return of Kat Dennings as Darcy Lewis, the former assistant of Jane Foster, who hasn't been seen in the MCU since Thor: The Dark World. FBI Agent Jimmy Woo (Randall Park), previously featured in Ant-Man and the Wasp, will also be coming along.  Probably the most significant returning character of all, though, is Monica Rambeau. 
First introduced in Captain Marvel as the young daughter of Carol Danvers' best friend, Maria Rambeau, Monica (Akira Akbar) was portrayed as a brave and outspoken kid, nicknamed "Lieutenant Trouble" by the titular superhero, who seemed primed for a big future. Sure enough, WandaVision will mark the character's much-anticipated return — a couple decades older, wiser, and now played by Teyonah Parris.
For now, the circumstances of Monica's return, and how she gets involved in the strange events of WandaVision, are mysterious. On January 10, though, Looper was invited to attend a Marvel Studios press conference that promoted WandaVision, and at the event, Teyonah Parris revealed some hints about what her character is up to — and where her future is leading.
'Lieutenant Trouble' has come a long way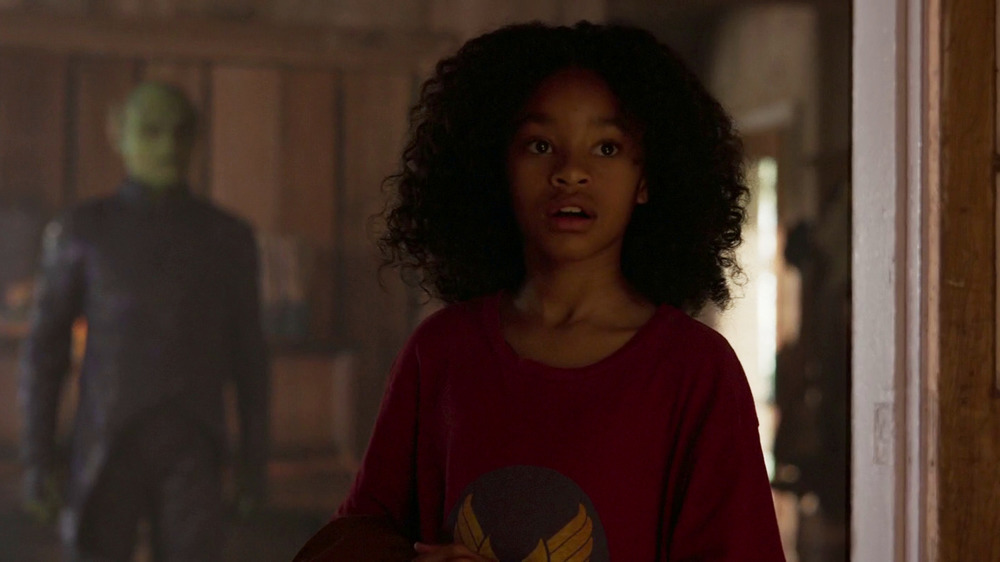 Disney/Marvel Studios
To be clear, WandaVision is only setting Monica Rambeau up for bigger things in the future. While it's unclear just how big her role will be in the Disney+ series, Teyonah Parris was quick to remind people that she'll also be coming back in Captain Marvel 2. That said, those wondering what Monica has been up since the nineties will get some answers, and a clear portrait of who she has become. 
"Basically, in WandaVision, we pick up with who she is now as a grown woman," Parris explains. "Through the course of the show we find out what she's been up to, what's happened to her in that gap."
What is known, at this point, is that Monica has become an agent of S.W.O.R.D., the seemingly Nick Fury-led organization glimpsed briefly at the end of Spider-Man: Far From Home, which appears to be an intelligence agency set to deal with extraterrestrial threats. Given Monica's past connections to both Fury and the Skrulls (whom Fury is working with), it makes sense that she'd take this path, and according to an Entertainment Weekly interview with WandaVision writer Jac Schaeffer, Monica will be as much a badass as her comic book counterpart, possessing "a toughness and an ability to be a woman in a man's space."
At this point in MCU history, of course, Monica has lived through some fairly insane world events, from the rise of the Avengers to the Infinity War. Speaking of what Monica has gone through over these years, Parris said that in WandaVision, "We actually do get to learn, particularly, what those things are that Monica has seen and gone through and how they have shaped her life. I don't want to give too much away, because we will actually touch a lot of that as we go through the show."
Who is Monica Rambeau in the comics?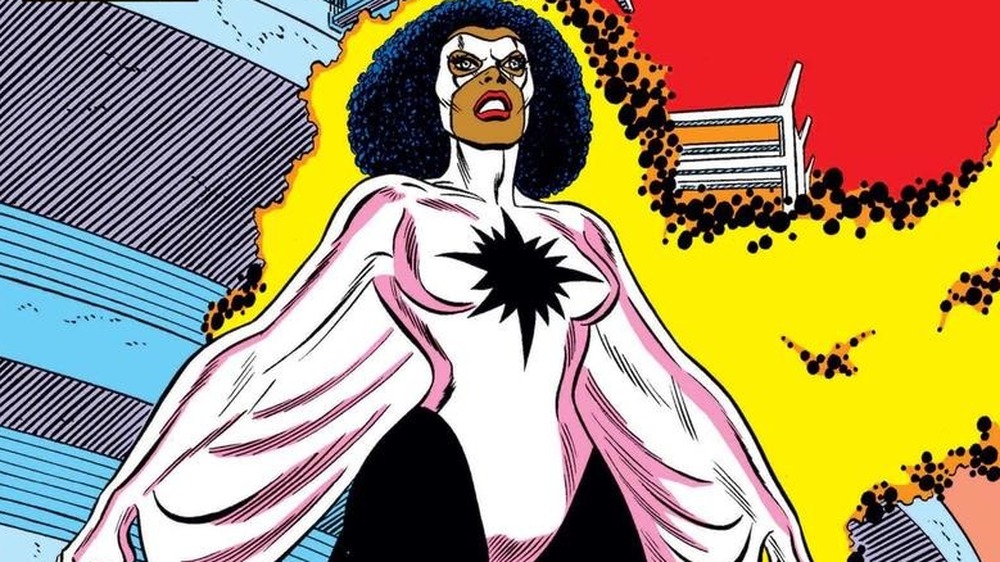 Marvel Comics
While Monica Rambeau is not yet a household name, she's actually a fairly significant comic book character. Known as one of the most prominent Black female superheroes in Marvel history, she is also a distinguished member of the Avengers, having at one point risen to become the leader of the team. Her appearances in Captain Marvel and WandaVision are, presumably, paving the way for her to become a superhero in the Marvel Cinematic Universe ... but the question is, well, which superhero?
To some extent, it doesn't matter what codename she uses, as long as Marvel gets the character right. That's because, in the comics, she's had quite a few identities. Back in the eighties, Monica was actually the first woman to wield the title of "Captain Marvel," years before Carol Danvers took on that role, but the odds of her using that name in the MCU don't seem high, if only to avoid confusion. Instead, it would seem more likely that whenever the MCU Monica gets the energy powers of her comic counterpart, she'll probably go by the name Photon. Captain Marvel already planted seeds for this, by having her mother, Maria, use "Photon" as a callsign. 
Alternatively, she could become either Spectrum or Pulsar, depending on the path that Marvel Studios wants to take. Either way, though, don't count on this happening as soon as WandaVision. Right now, the primary goal is for Monica to get her foot in the door, and the onscreen character is likely a film or two (or more) away from her destiny. But it's coming, eventually, and WandaVision will be the next big step toward that direction. 
WandaVision will premiere on Disney+ on January 15.