The Truth About The BoJack Horseman Theme Song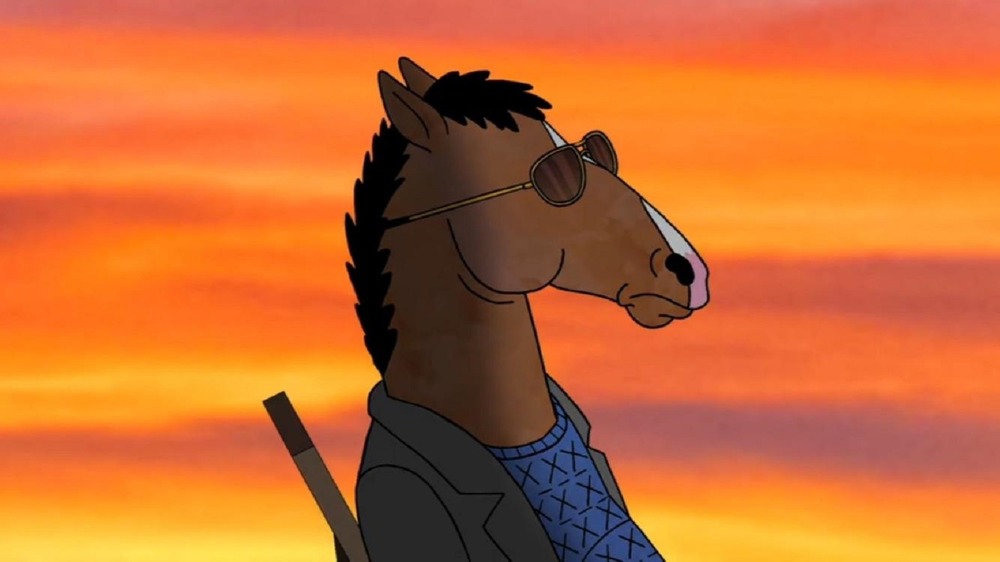 Netflix
The Netflix original series BoJack Horseman, which concluded in 2020 after six increasingly stellar seasons, is by any measure one of the greatest animated shows of all time. The story of a washed-up, alcoholic former sitcom star (who happens to be an anthropomorphic horse) and his attempt to drag himself out of the depths of addiction and self-loathing was singularly unique; equal parts hilarious, heartfelt, dramatic, and disturbing, it demonstrated a mastery of tone that few television series of any type have ever come close to, let alone matched. That it did this while hitting its viewers with far too many inspired sight gags to catch, even with multiple viewings, was just icing on the cake.
BoJack's ever-shifting opening credits sequence, which depicts the increasingly inebriated cad stumbling through a succession of whatever messes happen to be blowing up his life that season, is soundtracked by an eerie tune that's just as unique as the show itself. Its dream-like vibe, punctuated with pounding, distorted drums and a knife-edged horn section, is nothing short of perfect; it somehow manages to broadcast the show's entire aesthetic despite its complete absence of lyrics. Unique as it is, though, sharp-eared viewers may have found some of its production elements just a touch familiar — particularly if they happen to be fans of the Grammy-winning blues-rock duo The Black Keys.
BoJack's theme was composed by the band's drummer and producer Patrick Carney, with a huge assist from his late uncle — uber-talented multi-instrumentalist Ralph Carney, a respected session musician who appeared on recordings by the likes of Tom Waits, Galaxie 500, the B-52's, and many more. In 2016, the pair — along with BoJack Horseman executive producer Noel Bright — spoke with Hrishikesh Hirway for his Song Exploder podcast, during which they explained how the now-iconic theme song came to be.
BoJack's theme wasn't written for the show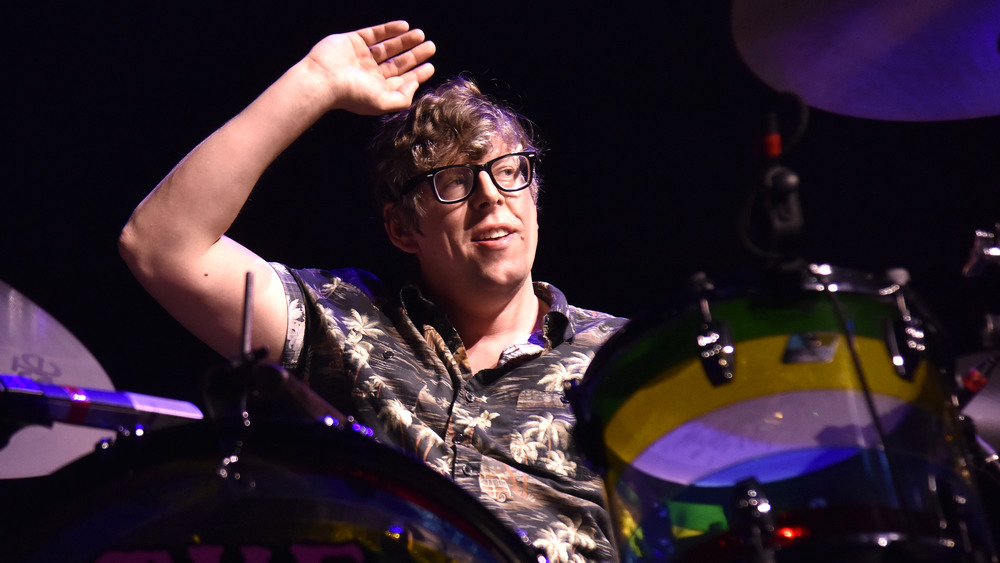 Tim Mosenfelder/Getty Images
Patrick Carney began by sharing that it had been his uncle Ralph who had inspired him to become a musician in the first place. As a youngster, he had caught Ralph performing with Waits on The Tonight Show, and Ralph recalled that at around 16, Patrick had begun sending him cassettes of his compositions to see if there was anything Ralph could add. The BoJack theme came about in pretty much the same way, but it actually wasn't written for the show — it began as a sort of test run for a home studio Patrick had just finished building.
"I [had] bought a Roland Jupiter-4 [synthesizer] off a buddy in Ohio, and I plugged the ProTools click track into the CD input, and then turned the arpeggiator on," recalled Carney, explaining how he came up with the woozy synth line that anchors the track. "The whole sound of that is from glitching out the clock. It moves in that way because I have so much volume... going into the CD input... that it's just totally glitching it out."
After sketching out the composition and laying down drums and bass, Patrick sent the audio files via email to Ralph, who could play virtually every horn and woodwind instrument known to man, and who immediately heard wide-open spaces in the track for his contribution. "I put it on, I just look around my room, [and] I'm like, 'There's a tenor sax right there,'" Ralph remembered. "And then there were a couple of rhythmic things... [I would] double [them] or triple [them], and I sort of beefed up some of the parts as if they were written-out horn parts."
After layering in some baritone sax and trombone, Ralph emailed his work back to Carney, who knew right away that it was all clicking. What he didn't know, though, was what exactly he was going to do with the four-and-a-half minute composition — until he received an unexpected email from one Noel Bright.
One of BoJack's producers reached out to Patrick Carney and struck gold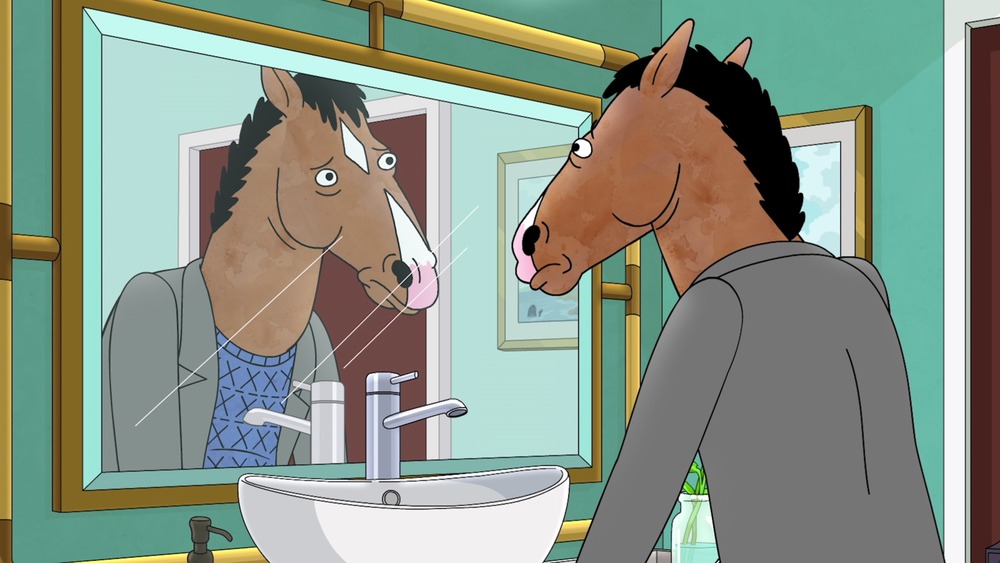 Netflix
Noel Bright was involved in BoJack Horseman's casting process, and he told Song Exploder that this process had been going far better than he'd expected. The producers had already secured their dream leads in Will Arnett as BoJack and Aaron Paul as his slacker roommate Todd, and Bright was feeling like the team was on a bit of a hot streak. "We started to realize we had something special... and working on the main title, it felt like, 'Okay, what are we gonna do that going to be very special, that's gonna be very emblematic of the show?'" he remembered. "And it felt like, 'Well, it's worked all along to this point — let's go for what would be our dream.' And for me personally, I've always been a Black Keys fan."
Bright took a shot in the dark, and Patrick Carney responded with the loopy, somewhat sinister track that he and Ralph had completed about three months prior. "This is a show that's not a typical animated comedy," Bright said. "It has a dark side to it. When we heard the original track, we knew immediately that it worked. It just captured the tone so well... we showed it to the team at Netflix, and said, 'We think that we have our main title.'"
The rest, as they say, is history — and while the track was obviously trimmed down for BoJack's credits sequence, you can hear the full version on Patrick's YouTube channel. Unfortunately, Ralph Carney passed away in 2017 at the age of 61 — and BoJack Horseman, in typical blink-and-you'll-miss-it fashion, paid homage in a season 5 opening credit sequence. Look closely during the first few moments, as a bleary-eyed BoJack drifts through his sun-drenched living room, and on the TV screen behind him you'll see an animated rendering of Ralph wailing away on his saxophone, accompanied by the numbers "1956-2017."