Why Aaron Paul Struggled To Land Movie Roles After Breaking Bad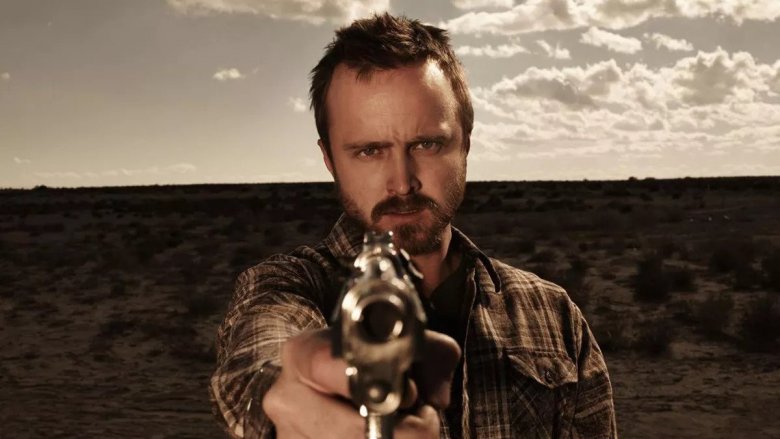 AMC
He was the heart of perhaps the greatest television drama of all time — but that hasn't translated to big screen stardom.
In a recent sitdown with Vulture, Aaron Paul — star of the AMC TV series Breaking Bad and its upcoming sequel film, El Camino: A Breaking Bad Movie — offered a little insight as to why he hasn't popped up more often in feature films, and why he's not likely to in the future.
Paul recalled that, in the wake of the wild popularity of Breaking Bad and his subsequent stardom, he was eager to parlay his success into starring roles in other projects, whether on the big screen or small — and he was in no way hurting for opportunities. "I was so spoiled," he recalled, "I was being offered everything." After Breaking Bad ended in 2013, he starred in several smaller, independent features, including the drama Grounded for director Michael Uppendahl, a TV veteran with episodes of Mad Men, American Horror Story, and Fargo under his belt.
Indie work did little to raise his profile, but Paul's chance to make a splash in a big, expensive blockbuster came his way in 2014, when he appeared in the lead role in the video game adaptation Need For Speed. Unfortunately, the flick failed to jump-start Paul's movie career. It underperformed at the box office and was savaged by critics, and his next big studio effort — the Ridley Scott-helmed biblical epic Exodus: Gods and Kings — didn't fare much better.
It simply seemed that Paul's acting style — all barely-contained emotion, with worlds of subtext plainly visible in his soulful, expressive eyes — was much better suited for the small screen, and he also appeared to thrive the most when his characters were given the room to breathe and grow afforded by the serial format. His next television effort, in the lead role in the Hulu original series The Path, drew critical accolades for his performance — but the creative minds behind the series weren't quite as focused as those responsible for Breaking Bad, and Hulu axed the show after three seasons. "I love everyone on that show," Paul said of The Path, "but story-wise, I don't know if we knew the direction it was going."
Paul continued to surface in indie features and smaller major studio productions, but he continually ran up against the same problem: casting directors who seemed to think that they were securing the services of Jesse Pinkman, rather than Aaron Paul. Exhibit A: the 2016 Dwayne Johnson/Kevin Hart comedy Central Intelligence, in which Paul's character makes frequent use of a certain five-letter "B" word with which Pinkman was known to pepper every other sentence.
Eventually, the phone calls from the big studios became fewer and further between, due to the perception that Paul couldn't carry a major Hollywood production on his own. "You do one commercial film that's not the success they think it's going to be, and you're damned," the actor said.
Fortunately, Paul had found plenty of space to flex his creative muscles as the voice of the eternally cheerful yet deceptively complex Todd Chavez on the Netflix animated series BoJack Horseman, and roles in smaller features — such as Zack Whedon's 2016 thriller Come and Find Me and Jake Scott's 2018 drama American Woman — have kept him busy. We'll be seeing him on the small screen early and often in the months to come, starting with a triumphant return to his signature role in El Camino: A Breaking Bad Movie, an opportunity which presented itself directly after his agent had discouraged him from taking a role in a feature (which Paul declined to name) that went on to become "a major, major hit."
"There were some big thorns in my side that I had to let go," Paul said of that experience. "My wife knew all of this was going on, so when I told her what [Breaking Bad creator] Vince [Gilligan] wanted to do, she threw her arms around me. She knew it was an opportunity for me to spread my wings again."
What's next for Aaron Paul after El Camino: A Breaking Bad Movie?
Gregg Deguire/Getty Images
Breaking Bad fans absolutely cannot wait to see Paul saddle up as Jesse Pinkman one more time, and while it's almost certainly the last we'll ever see of Pinkman, we're going to be seeing plenty of Paul. He can currently be seen in one of those small indie thrillers, The Parts You Lose, as a violent fugitive who forges an unlikely friendship with a deaf youngster — but he seems most excited about his involvement in the upcoming third season of HBO's Westworld, in which he'll play a role that's shrouded in secrecy. About that experience, he didn't mince words: "You walk on [the set] and you're like, 'My God, they have a lot of money. Holy s**t,'" he said.
He's also set to appear in the Apple TV+ series Truth Be Told, which is based on the 2017 Kathleen Barber novel Are You Sleeping, and concerns the efforts of a true crime podcaster to uncover the truth behind a slaying attributed to a notorious serial killer, whom Paul will be portraying. The series also stars Octavia Spencer (Ma), Mekhi Pfifer (8 Mile), Lizzy Caplan (Castle Rock), and Elizabeth Perkins (Sharp Objects). 
But as far as big-budget features are concerned, Paul appears to have had his fill of that world. "I can't live with that pressure on me, nor will I," the star says. "I'm happy."
We can only hope that Pinkman will be able to say the same at the conclusion of his story. El Camino: A Breaking Bad Movie premieres on Netflix on October 11.