Vanessa Rubio Talks Cobra Kai Season 3 - Exclusive Interview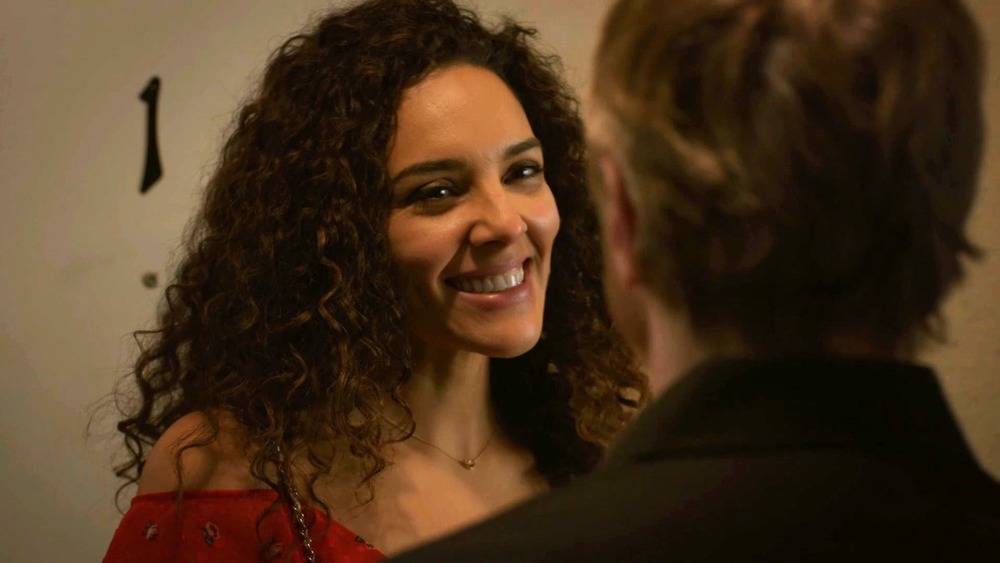 This interview contains spoilers for Cobra Kai season 3.
Cobra Kai is back with an all-new season, and while it hasn't even been that long since the third season's big New Year's Day premiere, anticipation is already high for the hit show's inevitable fourth outing. But don't hold your breath — while the writer's room has teased scripting progress on social media, production has yet to officially begin. It'll be a while before we find out how the new alliance between Miyagi-Do and Eagle Fang plays out, not to mention the sure to be all-out war with their ruthless opponent John Kreese and his merciless Cobra Kai gang.
So many questions linger and speculation is already running rampant. Who will win the All Valley Tournament? Will Karate Kid III villain Terry Silver join the fray, which is clearly teased in the season finale? Will Daniel (Ralph Macchio) and Johnny (William Zabka) finally see eye to eye and effectively train their freshly merged karate crew without bumping heads? But another major question is — will Johnny and Carmen finally become an official thing? While it's clear that Johnny finally got to show Carmen some adult moves in his private dojo of love, the big moment when he was about to profess his true feelings was sidelined by yet another bloody crawl which left Miguel Diaz (Xolo Maridueña) once again bruised and battered.
Carmen Diaz is the mother of Miguel, who is essentially the new karate kid in Cobra Kai. The single mom has been through the emotional ringer due to her son's constant clashes with his rivals. Another possible killjoy for Carmen could be the arrival of Ali Mills (Elizabeth Shue), Johnny's former flame, who we last saw in the original Karate Kid. As we saw during season 3's penultimate stroll down memory lane, there were still some sparks between the former high school sweethearts — they even almost locked lips. While Ali ultimately seemed to sway Johnny to the realization that Carmen is "the one," who knows which love triangles could lie ahead in season 4?
Carmen is played by Vanessa Rubio, who you might also recognize as Nagaina, the Pagan nemesis from the third season of Chilling Adventures of Sabrina on Netflix. Looper recently had an exclusive virtual chat with Rubio and talked to her about her now three-year tenure on Cobra Kai. During the interview, she chimed in on one of the biggest debated Karate Kid franchise questions of all — who's really the villain, Daniel or Johnny? Rubio also shared her thoughts on her favorite film in the franchise, where she stands on Miyagi-Do versus Cobra Kai and Eagle Fang, and whether Carmen will ever learn some karate moves of her own and join in on the martial arts action.
Ralph Macchio is generous, graceful, and classy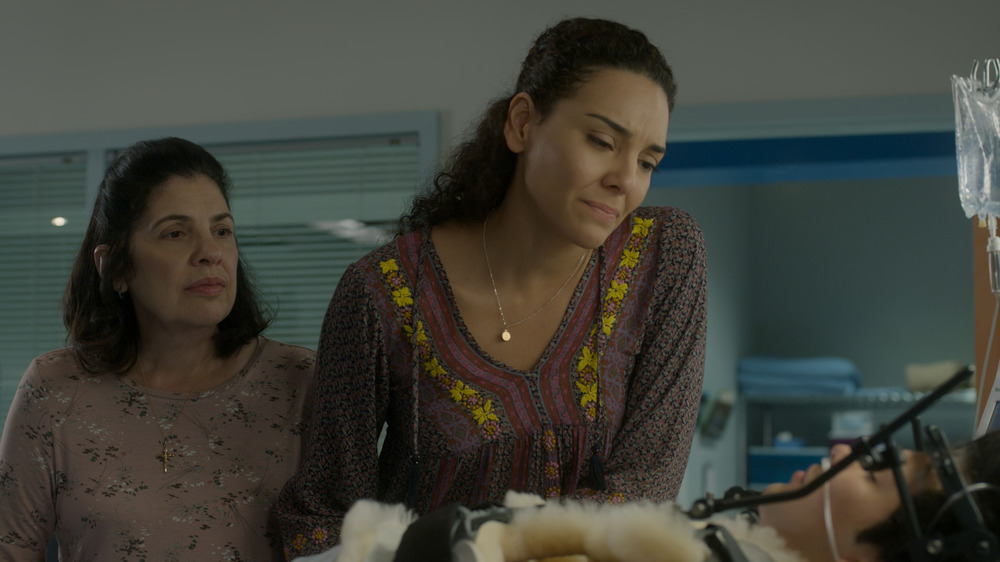 When you first became aware of the Cobra Kai project, were you already familiar with The Karate Kid movies — and did you have a favorite movie in the franchise?
Yes, of course. I mean, I grew up in the 1980s. I'm the youngest of three. I had an older brother and an older sister, so I was always trying to act older to keep up with them. My brother was really into The Karate Kid, so this was just a movie that was on repeat in our house along with a few others like The Breakfast Club or The Last Dragon. And yeah, I mean, who doesn't know The Karate Kid? My personal favorite is the first one. Although I love the tsunami scene in the second one. When I first heard about the project, I guess I didn't take it too seriously, for my own actor purposes, not to throw myself off. So I was just like, okay, I'm just going to treat it like another thing and just do my best and not get too bogged down with the whole big story that it was continuing.
When you met Ralph Macchio for the first time, did the old fangirl who grew up in the 1980s come out?
Totally. Oh gosh. Yeah, I'm not immune to fangirl-ism. I was like "Oh my God. It's freakin' Ralph Macchio." It was amazing, but it was also very grounding too, because I had grown up with the series. And there's this thing where you feel like you know him. And he's so generous and graceful and just very classy.
Now that this show is on Netflix, it's going to be seen by a lot more people. Have you noticed a difference in the fanbase between the time the show was on YouTube and now?
Yeah, absolutely. I mean, Netflix is the biggest streaming service in the world, so it took on a whole new life when it went to Netflix. And there was a period when we were on YouTube and it was successful, and it was great and the social media numbers did grow. And occasionally, I'd get recognized. And then there was this interim period where we didn't really know where it was going to end up. And I just remember that I was just like, "Please, Netflix, please," so I was really happy that was where it ended up.
What are you most excited about this season? Do you have a favorite moment or scene that you're dying for the fans to see?
I don't know. I just treat all the scenes as they are. They're all very special. I think there's just so much good stuff happening in season 3. My character is just so grounded in this emotional reality of what's happening, the rehabilitation of her son, and this relationship with Johnny that is still figuring itself out. I particularly love the scene when Carmen goes and talks to Johnny and gives him a kick in the ass to, pardon my language, to fight for the tournament, because she is the least likely you'd expect to do that. But I think it goes in line with how perceptive and intuitive she is. She knows what's going on and she's that gentle, but firm voice that's like, "Okay, you really want to do this? Let's do this."
Vanessa Rubio is Team Miyagi-Do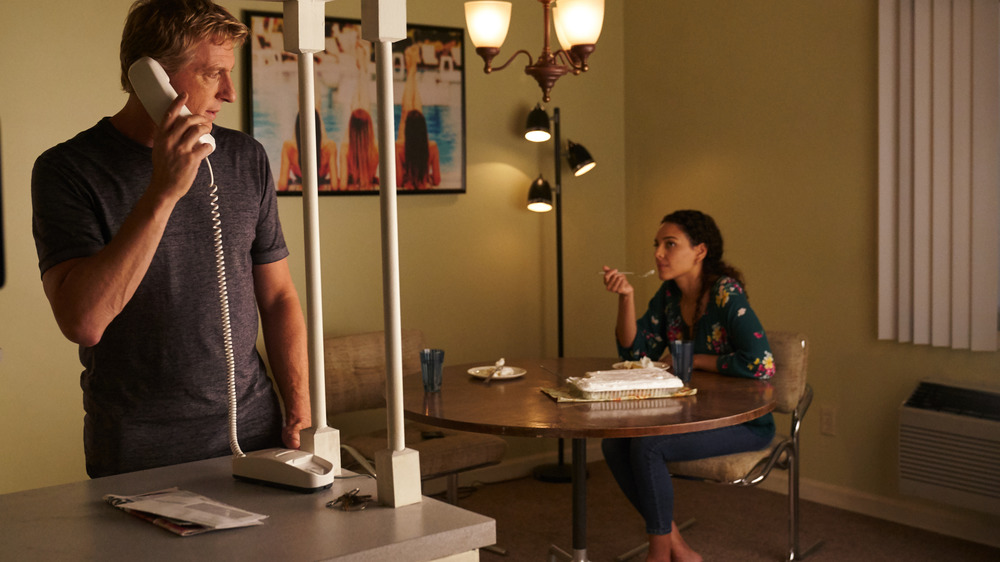 There are many characters in the show and a lot of complex relationships going on. Obviously, Carmen hasn't had a chance to interact with everybody. Is there a character that you'd like for her to cross paths with down the road?
It's so Interesting. I'd love for her to interact more with Amanda (Courtney Henggeler), Samantha (Mary Mouser), and Robby (Tanner Buchanan). I think maybe Robby would win out because it's like that's the close relationship that's hanging over Johnny (William Zabka), and I think she would be really instrumental in helping to mend that.
When this first season came out, it sparked this debate: who is the real villain here, Johnny or Daniel? Who you think is the better role model for Miguel between the two?
Oh Lord. I think there's so much that Carmen doesn't know in terms of [the fact that] she's not too familiar with Daniel LaRusso and Miyagi-Do's way of living. I think if she did know, she would definitely be like, "You're going to Miyagi-Do, Miguel." But she doesn't know. So right now, in her eyes, the one who has been there for her son has been Johnny. And she has to go by that.
Carmen is one of the few characters that obviously doesn't get in on any of those big fight scenes. But now that Johnny and Carmen seem to be a thing, are you secretly hoping that he might train her so you can do a fun fight scene or two? Or would that be out of character for her?
That would be amazing. I don't think it's too out of character for her. I think she's a secret badass. But again, that's in the hands of the writers, so I just have to take the journey that they write and do my best with it. But me, as the actress, of course I'd love to train in some karate.
Do you ever like to watch the rest of the cast film all those fight sequences even though your character is not in them?
Yeah, not for all of them, but going back to your question about my first thoughts about how this continuation as a reboot was going to work out. I think during the first season, we all didn't know how it was going to turn out. But filming the last episode of the first season, the tournament scene, I remember feeling certainty because I was watching all of the stunt performers doing their thing on the mat that day. I was like, "This is going to be amazing. This is going to be crazy good, because they're just so impressive with what they're able to do."
Will sparks fly between Carmen and Ali?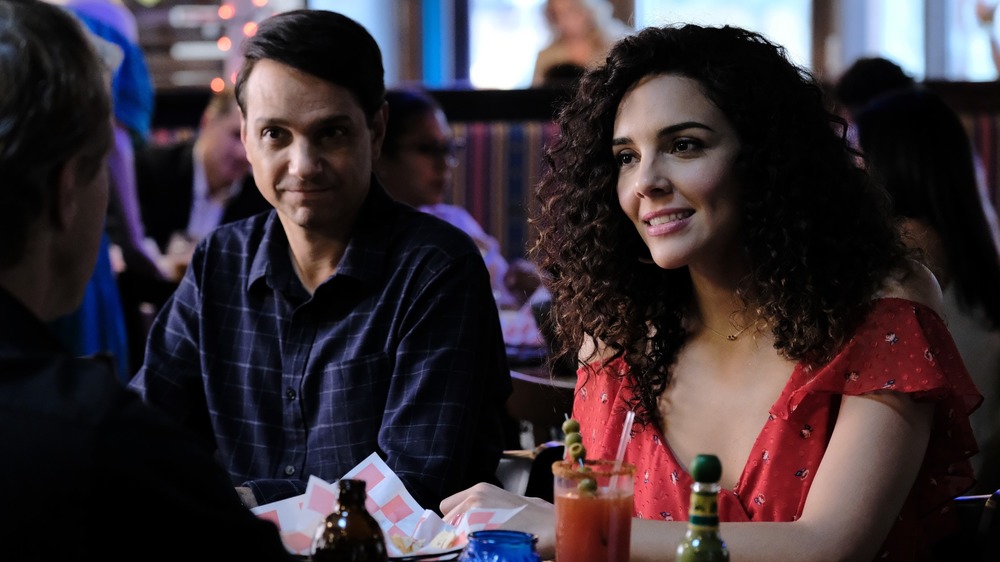 Some fans are really rooting for Carmen and Johnny to be a thing. But of course, right when they mend their relationship in season 3, because they had a little falling out in season two, Ali (Elizabeth Shue) shows up. Are you worried that sparks might fly between Ali and Carmen?
Of course. I mean, it's a TV show so there's got to be some bumps and hills along the way in a romantic relationship. And I mean, that's what makes it kind of good. This fraught romantic relationship that really wants to happen, but real-world things may come in the way. I think Carmen is unaware as a character, but as me, as the actor, yeah. I'm reading it and I'm like, "Oh my God, what's going to happen?" I'm also half a fangirl who's just watching and wondering like, "Oh, man." But it's almost a good thing that Carmen doesn't know, right? Because it'll throw her off her game.
Another person who was unaware is Miguel. We don't know how he's going to react to finding out his sensei is having an intimate relationship with his mother. How do you think Miguel might react when he ultimately finds that out down the road?
Yeah. We haven't really broached it too much except maybe at the very end of season 3. I don't know. That's also a curveball that they're throwing in there. That would be very interesting to see, how he reacts.
This show deals with a lot of heavy topics that some might relate to, such as bullying or knowing someone who's recovering from a fatal accident, like Miguel at the opening of the season. Do you draw from any real-life experiences when you're performing on set?
Of course, I mean, that's part of my creative craft. I have to empathize deeply with whatever my characters are going through and the story or plot line. With Carmen's character, I connected with the feeling of how to be a survivor and how to survive a past that threw her a lot of surprises. And she had to get on her feet and make it one way or the other. But also finding that no matter how bad that was, she has a general optimism about life, which I can relate to. And just this yearning to heal and have a whole life, no matter how hard it may be. I mean, she's, at the end of the day, a single mother, so that's hard enough.
What do you hope audiences ultimately take away or learn from a show that deals with those resonating topics?
There are so many human topics and lessons to take away from this show. But maybe my personal favorite is just the ability to channel those feelings of aggression and anger, and to channel them into something quite beautiful, which I think is the essence of martial arts. That anger or that aggression is an energy, and it can be channeled and transmuted like any other. So you get to see Johnny going through that himself. I love Miguel's character so much. He just has this intuitive knowing. And I think that would be really nice if young kids and adults too could just take that away.
Vanessa Rubio will be working on Cobra Kai season 4 sometime in 2021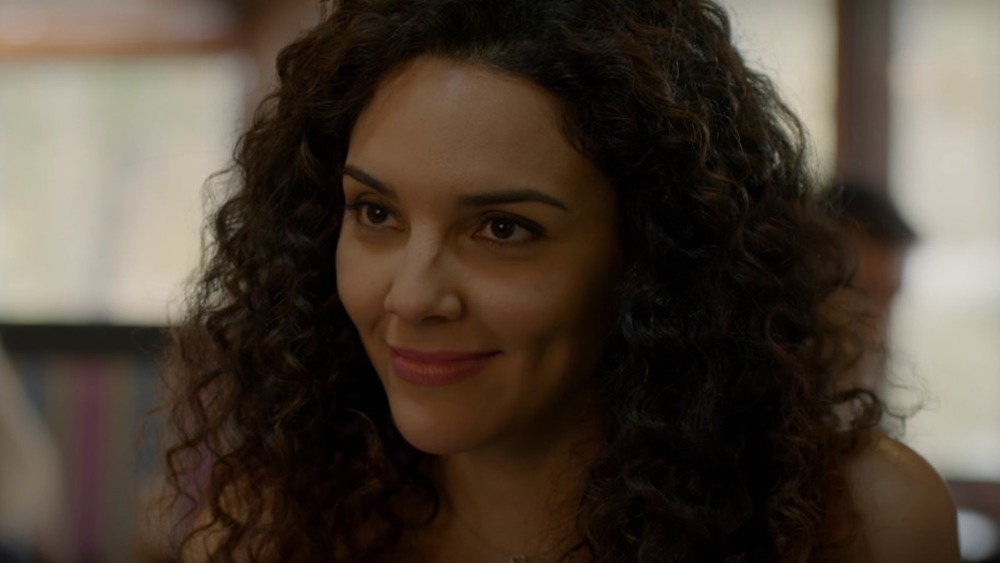 There are a lot of clashing ideologies going on in Cobra Kai. You have someone like Daniel on one side who is more like a Zen warrior, he's more peaceful. He strives to avoid violence. On the polar opposite side, you have someone like Kreese, who's pretty much the ultimate villain in season 3. He takes that "strike first, strike hard, no mercy" mantra so seriously. Johnny is still evolving, but he's somewhere in the middle. Where do you stand? How do you feel about martial arts, and whether it's right or wrong to resort to violence?
I think, personally, I would skew more towards the Miyagi-Do — Daniel LaRusso's way of thinking about it. And especially in season 3, we get to see how beautiful that contained power is. So I think it's a lesson in just learning how to use your energy well. Johnny's still learning that. Although, yeah, there's some things that are charismatic about Johnny that I think could pull towards that way of doing it. But me personally, I would go with Miyagi-Do.
I do want to talk about Chilling Adventures of Sabrina — that was another big Netflix show you recently had a role in. What was that experience like for you, and what was your number one takeaway from being on that show?
First of all, their production in Vancouver was just so fun, silly, and supportive. I mean, everybody just had this really unified community going. And Kiernan Shipka is such a good number one on the call sheet. She was the best. There was just so much hair and makeup. My biggest takeaway was like "Oh my God. I didn't know the hair and makeup can take this long." But it was certainly fun to work on. The character that I played, Nagaina, is a Medusa-esque character. And playing a character that is such a female power archetype was amazing. It was just really great to dive into the archetype of Medusa and all the mythology of it. That was amazing.
What's next for you? Can you tease us about any projects you have coming down the pipeline, and what you're excited about in the near future?
You can see me next in Bonding season 2 on Netflix. That was really special because we did it just before the lockdown in New York. It's a very New York-based show and a very fun character I played. I'm a New Yorker at heart. And I think it brought together all my favorite parts of New York. That should be coming out in early 2021. And then besides that, we're going to be working on season 4 of Cobra Kai and just seeing what else comes down the line. I'm just grateful to be working in this new world that we're in.