The Surprising Character Cobra Kai's Xolo Maridueña Thinks Would Dominate The Original Karate Kid - Exclusive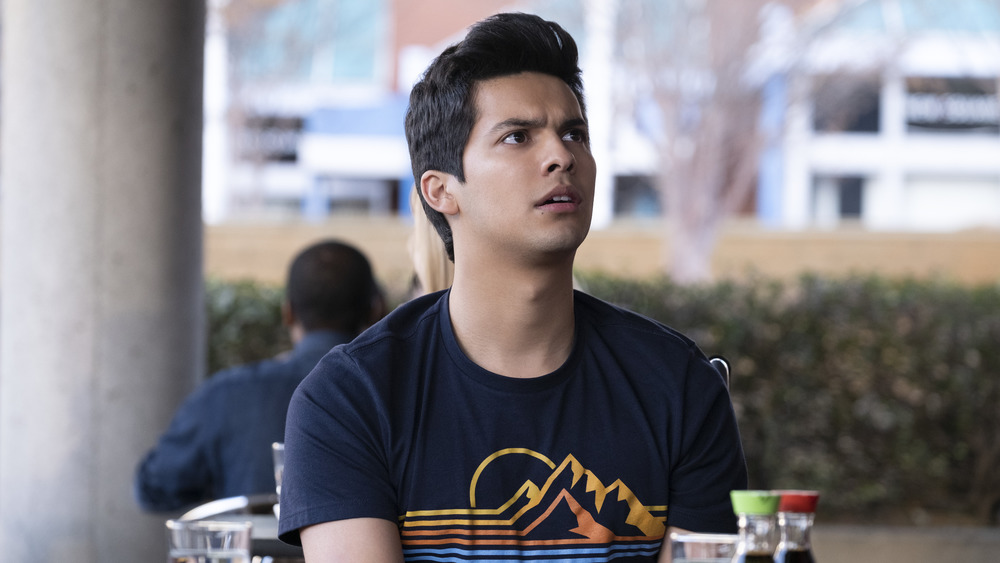 Netflix
Contains spoilers for Cobra Kai season 3
Who is the true villain of The Karate Kid? The misunderstood Johnny Lawrence (William Zabka)? Or the seemingly bullied new-kid-in-town Daniel LaRusso (Ralph Macchio)? That was the question that sparked a whole new debate for the newly invigorated franchise when the first season of Cobra Kai premiered nearly three years ago on YouTube Premium. While the first season examines the original movie under a whole new lens and makes a somewhat convincing case to support Johnny's claim that Daniel was indeed the true ruffian, as former flame to both rivals Ali Mills (Elizabeth Shue) pointed out during her long-awaited return in Cobra Kai's season 3 finale, there are more than two sides to the story — there's Daniel's side, there's Johnny's side, and then there's the cold, hard truth.
As Ali matter-of-factly calls it out, the two senseis are more alike than they care to admit. They recognize the same qualities in each other and don't always like what they see. That's a pretty spot-on observation. But no matter who you see as the villain, there's that old saying: "The enemy of my enemy is my friend." That now applies to both Johnny and Daniel, who are merging their once-dueling dojos to team up against the true villain of the story — the merciless John Kreese, whose twisted version of Cobra Kai takes the "strike first, strike hard, no mercy" mantra oh so seriously.
If you asked the Cobra Kai cast who they thought the villain of the original Karate Kid was, you might be surprised to learn that Xolo Maridueña, who plays the new karate kid, Miguel Diaz, doesn't necessarily sway toward the side of his predecessor Daniel LaRusso. In fact, the young actor wasn't even born yet when the original movie came out (it was 17 years before his time), but after landing his role in Cobra Kai, he finally saw the movie and ultimately leaned more in favor of his onscreen sensei. He explained his stance to Looper during our exclusive interview.
"I think I was familiar [with The Karate Kid] enough as anyone. I knew what the crane kick was and what sweep the leg was, but I wasn't really familiar with the story," Maridueña says. "It wasn't until after I booked the project that I went back and watched all the movies. Now having said that, the original is definitely the best. I wasn't into it at the beginning, but now I definitely am Team Johnny, even during the original Karate Kid."
'If you want your kid to be part of Kreese's Cobra Kai, you shouldn't be a parent'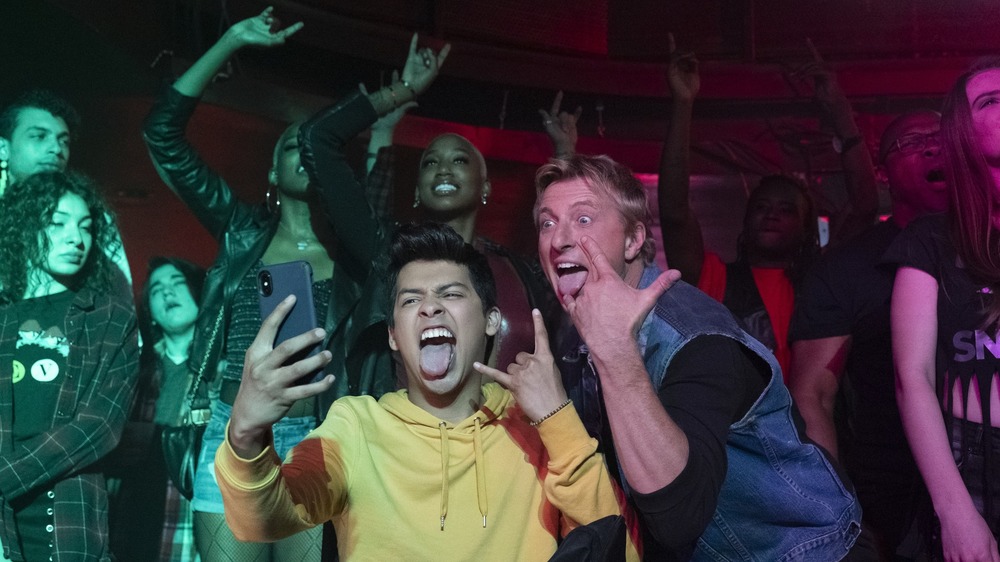 Netflix
Even though Maridueña is clearly loyal to Team Johnny, you'll never guess who he thinks could have won that original 1984 All Valley Tournament, had things gone down differently. Just for fun, Looper asked him how Miguel might have fared during that same tournament if he had time traveled back to 1984, and he thinks a far more unstable Cobra Kai member might have wreaked even more havoc had he progressed any further.
"I think Dutch [Chad McQueen] is such an unpredictable character that had he made it any further in that tournament, someone definitely would've gotten some broken bones," says Maridueña. "But maybe Miguel could have [won]. I think it could be interesting to think about."
As fans of the original film may recall, Dutch was Johnny's right-hand man during the events of the original movie. During an exchange in the Cobra Kai season 2 episode titled "Take a Right," we learn that he remained a hot-headed loose cannon and that he ultimately ended up in prison — a path that could likely be a reality for Robby (Tanner Buchanan) or Tory (Peyton List) if they remain under the brainwashing tutelage of Kreese.  
With season 3 having paved the way for all-out war at the All Valley Tournament in Cobra Kai season 4, we now have Miyagi-Do, Eagle Fang, and Cobra Kai — three different dojos led by three different senseis — with the third being the most potent form of martial arts in all the wrong ways and, arguably, the most dangerous (just ask Dutch). Maridueña is ready to chime in on which of the three dojos he'd support if they existed in real life.
"I think if you want your kid to be part of Kreese's Cobra Kai, you shouldn't be a parent," he tells Looper. "I think Eagle Fang really does, at least for me personally, come from the best place. I think Johnny had some good intentions when he brought back Cobra Kai, but I think there's a lot of those underlying mantras and underlying messages that you can't really escape from without creating his new dojo. So, I think Eagle Fang really does come from the best place and he has the best heart. I wish more people thought that way, but I think each dojo has its benefits."
Cobra Kai season 3 is now streaming on Netflix.