The Martial Arts Series Everyone's Obsessed With On Netflix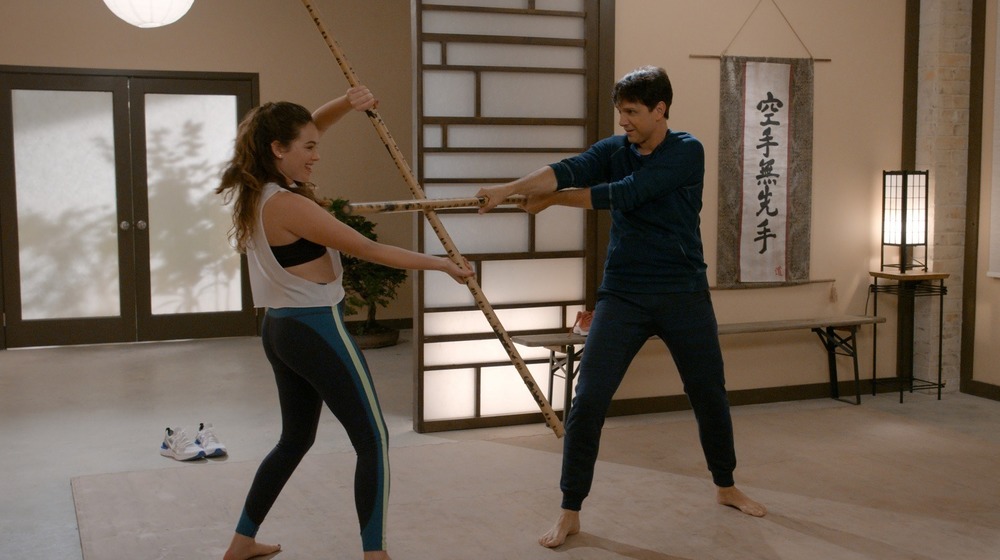 Netflix
2021 is off to a thrilling start, as the third season of Cobra Kai finally arrived on New Year's Day, and the series has already crane-kicked its way to number one on Netflix's list of the most-streamed movies and shows in the United States.
For those longtime fans who've been patiently waiting for more than a year for Cobra Kai to return after that massive cliffhanger from the second season finale, the new season's debut is probably already a drop-everything event. Thanks to its recent move from being a YouTube Red exclusive to a Netflix Original, though, Cobra Kai may be reaching a wider audience now. After originally debuting on YouTube in 2018, the series' first two seasons finally became available to stream on Netflix in August 2020 in anticipation of its third-season debut on the new streaming service home, and now Cobra Kai is topping the chart.
If you don't yet know what all the fuss is about with Cobra Kai, though, here's a look at why this martial arts series has become the latest pop culture obsession on Netflix.
Cobra Kai continues the Karate Kid film series with a new style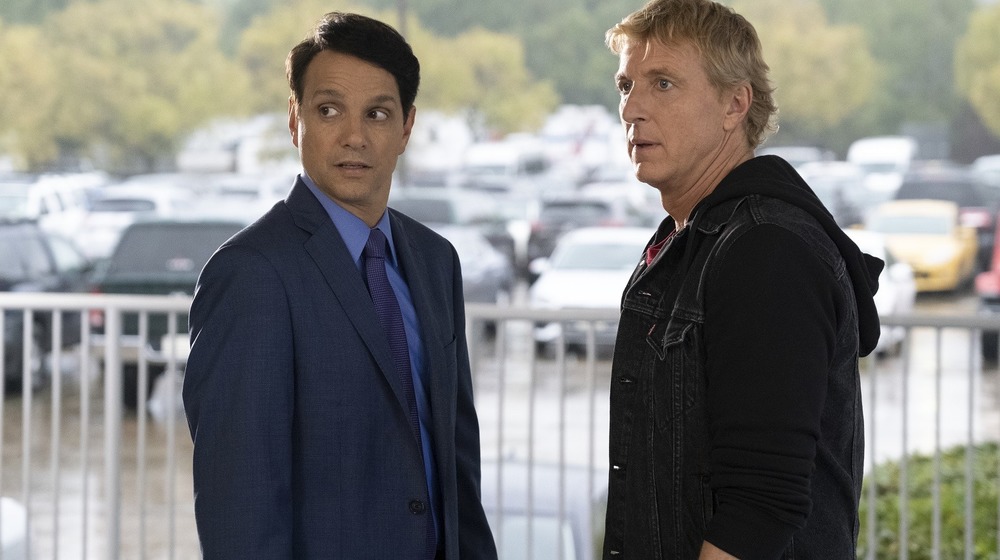 Netflix
Cobra Kai is named for the dojo where The Karate Kid antagonist Johnny Lawrence (William Zabka) was trained, and it picks up with the character now in his 50s, as he decides to reopen his former stomping grounds to teach some young misfits how to fend for themselves in a fight. Johnny still struggles with his finances, alcohol abuse, and being an absentee father to his son Robby Keene (Tanner Buchanan), but he finds new purpose as a sensei, particularly when it comes to training his bullied teen neighbor Miguel Diaz (Xolo Maridueña).
Johnny's longtime rivalry with Karate Kid protagonist Daniel LaRusso (Ralph Macchio) comes back into play early in the series, and their bickering — which can be either playful or extremely serious, depending on the day — is only part of the parallel storytelling that emerges with these two characters. While Johnny's intentions are nobler than his brutal former sensei John Kreese (Martin Kove), he still maintains the same "strike first" methodology that was so diametrically opposite to the defense-first approach Daniel learned from the late, great Mr. Miyagi (Pat Morita).
The distinction becomes especially important when it comes to how their children and the students of their teachings interact with one another. Just as The Karate Kid film franchise largely focused on Daniel's father-son-like relationship with Mr. Miyagi, the parental dynamics in Cobra Kai loom large with these characters, and this introduces an entirely new generation of compelling fighters for fans to love (or loathe).
The Easter eggs are aplenty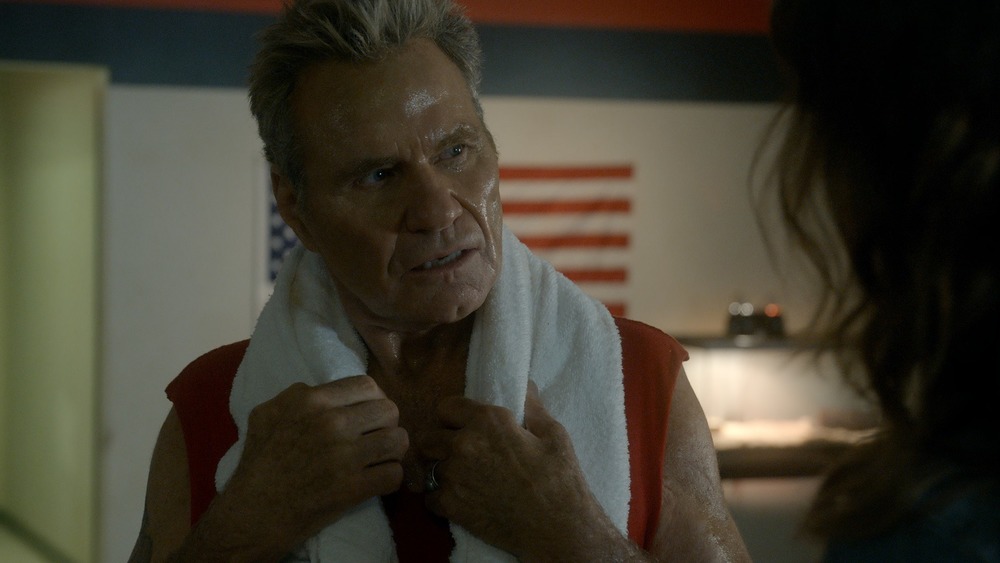 Netflix
Fans of the original Karate Kid films will find a lot of familiar faces and places in Cobra Kai. Daniel LaRusso and Johnny Lawrence are not the only film characters that come back into the picture for the streaming series — in fact, they aren't even the only main characters in the series that call back to the films. Without spoiling too much, let's just say that John Kreese is not done with Cobra Kai or his prized pupil just yet.
Even if you're a bit rusty on your Karate Kid trivia and haven't watched the movies in decades, the series takes great care to remind audiences — with well-placed flashbacks and exposition — of the significance of most of its reintroduced characters, locales, and even props from the original films so that you can keep up. For those who do still know the Karate Kid films through and through, there are plenty of subtler winks to the pics that are scattered throughout the series as well to make it an especially fun and nostalgic experience. All the while, it's jam-packed with exciting fight sequences and soapy drama, and what results is an irresistibly feel-good series that leaves you ready for another round. 
All three seasons of Cobra Kai are now available to stream on Netflix, and the series has already been renewed for a fourth season.